At this point, there's been a ton of talk about Yasmany Tomas, the deal he signed, and his quicker-than expected call-up to the majors. But there hasn't been a ton of talk about his performance now that he's arrived in Phoenix. Jake Lamb got off to a hell of a start before being injured, forcing Ryan to cry himself to sleep nightly and prompting Tomas's insertion into the lineup. Since that time, there's been limited analysis of Tomas' game, and I think now that we're nearly a month into his career, it's time to take a peek. A definitive peek seems like a bad idea, but an observational one seems in order.
And maybe the best place to begin our little project is to revisit his scouting reports. There are no two people in the press that I trust more to evaluate international prospects than Ben Badler of Baseball America and Jesse Sanchez of MLB.com. Here are some excerpts from them before Tomas signed.
As a corner outfielder with well-above-average raw power who turned 24 last week, Tomas has considerable upside, but teams have to weigh that against the risk, which centers around his swing-and-miss history. He has tweaked the way he loads his front leg when he swings in recent months, and the bat path to the ball isn't long, but the concern is more about the swing plane and his strike-zone management.
Tomas is known for his power and has a reputation for launching long home runs, but he's also prone to big swing and misses. He's agile for his size, and he has a strong arm, but there is room for improvement on defense. As a result, he's characterized as "high-risk, high-reward" type of player in some international scouting circles. He is said to be in much better physical shape than he was in Cuba and has worked on his approach at the plate since leaving the island.
So let's summarize quickly what it was that the Diamondbacks thought that they were buying when they signed Tomas.
Big raw power
Swing and miss
Questionable approach
Best-suited for LF
Boom or bust profile
Now, let's see what Tomas has done so far and see if that lines up.

Big raw power? No. Swing and miss? Not really. Poor approach? Well, yeah, we've got something there.
Tomas is swinging a lot. Of 297 players with at least 60 plate-appearances, only 33 players have swung more often. That places him just outside the top 10% of free swingers in the game. That would be fine if he were receiving a proportional number of pitches in the zone, but he's not. Almost 80% of the players in this sample have received more pitches in the strike zone than Tomas. So, that tells us one thing: he's been expanding the zone. Sure enough, he's swinging at over 39% of pitches outside the strikezone, placing him on the fringes of the top 10% of those willing to chase. In case you're a visual learner, here's what that looks like: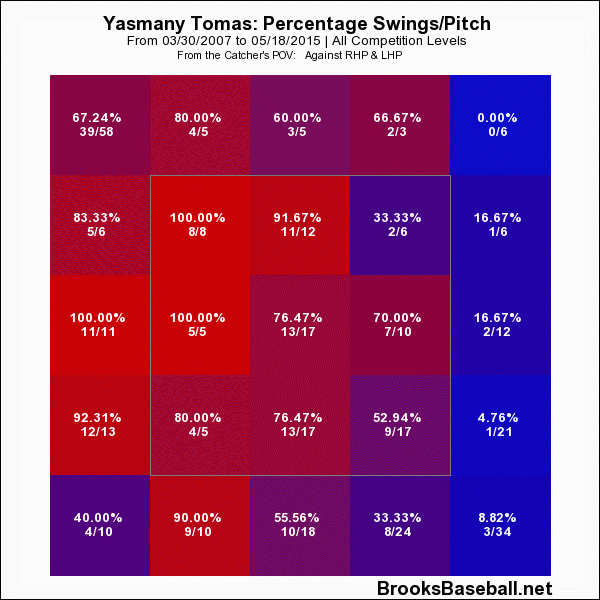 This is where he's swinging, and given that we've figured out that he's chasing a lot of pitches out of the zone, this is a bit of a surprise. I completely expected to see him chasing low-and-away, but that's not the case. Instead, he's tried to hit nearly every pitch that's inside. He's not striking out much, so he's making contact, but he's clearly looking to the hit the ball in one areas of the strikezone: inside. If we look at where he's getting pitches in the first place, maybe we can find a clue as to why.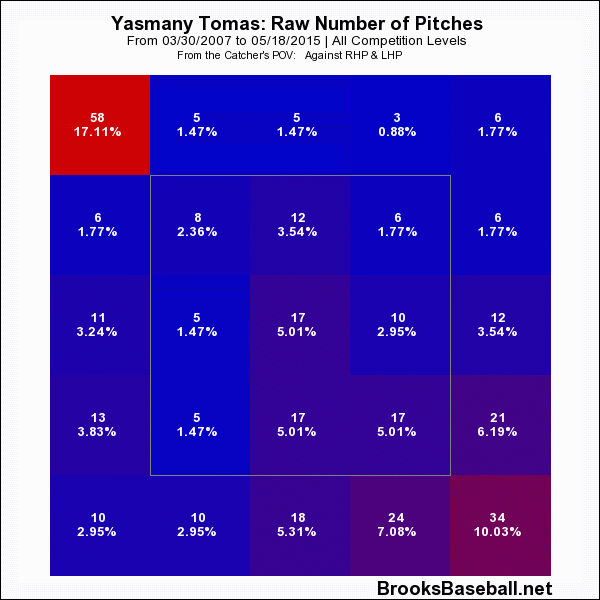 Nope, nothing really conclusive there. Pitchers have tried to get him to chase those pitches down and away, but as we can see, he's done a good job of laying off. I don't know, I kind of like this. Sure, he's expanding some, but he's doing so in an area that allows him to maximize the raw power that found its way into all of those scouting reports. If he were to be chasing all of those pitches low and away, that would be more troubling as there's nothing a hitter can really do with those pitches anyways. It could be an issue of him getting around on those pitches inside, something that he's probably adjusting to.
And maybe he's already making that adjustment. While talking to Ryan yesterday about this topic, he relayed the following information:
…Tomas is really starting to gain some traction. In the last two weeks, Tomas has collected 33 PA — and slashed .344/.364/.438. He has a dramatic reverse platoon split right now, but in reviewing who he's faced, it looks to me like the LHP he's faced have been fairly difficult, and he's only been asked to hit RHP when success was maybe more likely. He's also been asked to pinch hit 8 times with just 2 singles to show for it, also dragging down his LHP
The matchups that Ryan refers to are important to consider, especially when we look at such a small sample. But if we start looking at where in the zone Tomas has been hitting the ball in the last two weeks, maybe we can see some signs as to the turnaround. Here is where his hits had come from prior to May 4th: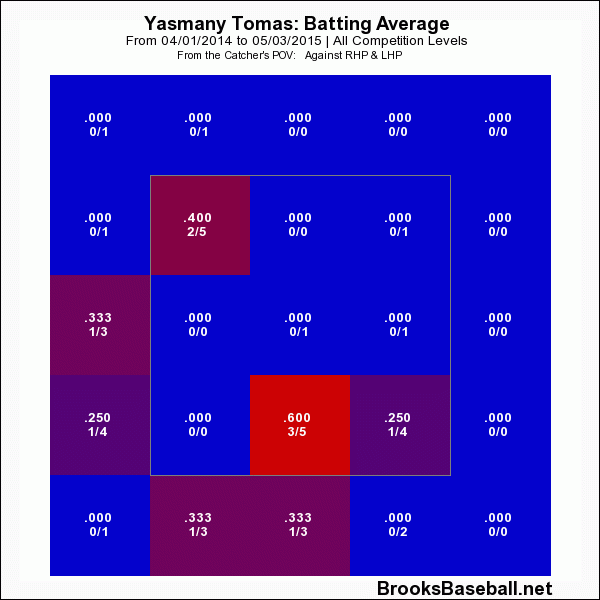 And where they've come from since: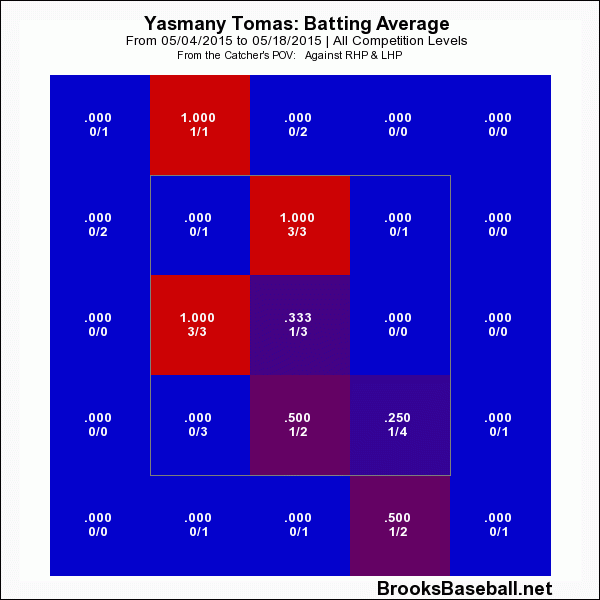 Instead of looking so far inside, Tomas has begun to generate his hits out over the plate. Sure, he's only got one homer and two doubles in 73 plate appearances, but you kind of have to trust the process, and that's what Diamondbacks coaches have been preaching with Tomas and our perception of him, according to Steve Gilbert of MLB.com:
"Sometimes, that gets too much in his mind or in any player's mind that comes up and people expect him to hit [home runs]," D-backs manager Chip Hale said. "He's making solid contact and he's hitting the ball all over the field. The home runs will come with him eventually. Sometimes, players can be a little harsh on that stuff. We just have to keep him focused on what he does best right now."
And I guess if we're reading all of this correctly, we can take away a few things. First, Tomas' power hasn't shown up. Second, he's having to make adjustments. Third, the team would like everyone to be patient with him and the results. Which all points to one thing: Tomas is still adjusting. And this adjustment really should be taking place in Reno, but the team elected to go another route with him. While they blamed the 40-man roster for calling him up in the first place, they've had no problems manipulating it since, hinting at the fact that the original reasoning for the call up was a smokescreen anyways.
But all of that's more or less beside the point at this juncture anyway. He's still playing third base and not looking especially good, but he hasn't be a complete train wreck either. The outfield as currently constructed is doing a pretty good job and Jake Lamb is due back at some point in the next few weeks. How that all shakes out will be more than interesting to observe. For now, we should keep our eyes on Tomas at the plate and see if he continues to work out over the plate more than off of it inside. If that's a purposeful adjustment on his part and/or the team's, they deserve some kudos, because that appears to be working. Pitchers will ultimately counter, but for now, let's see if he stays more selective and the power arrives.