Baseball is so unpredictable. Take, for instance, the struggles that Rubby De La Rosa had on Wednesday. Through two innings, he'd surrendered six earned runs to the Braves. Through three innings, the total was up to seven. Freddie Freeman had taken him yard twice, but still reeling from The Milwaukee Marathon, Chip Hale stuck with RDLR in order to try and preserve his bullpen. De La Rosa nursed it through five full and the bullpen never yielded a run. Meanwhile, the team chipped away at the lead and, when it was all said and done, a game that started with the Diamondbacks down 6-0 through only one and half frames culminated in a 9-8 D-backs win. Who saw that coming?
Of course, that's just a footnote t0 the news that pretty much immediately followed: Mark Trumbo was dealt to the Mariners, along with Vidal Nuno, for Welington Castillo, Dominic Leone, Gabriel Guerrero and Jack Reinheimer. My thoughts following the news were measured and conservative.
AHHHHHHHHHHHHHHHHHHHHHHHHHHHHHHHHHHHHHHHHHHHHHHHHHHHHHHHHHHHHHHHHHHHHHHHHHHHHHHHHHHHHHHHHHHHHHHHHHHHHHHHHHHHHHHHHHHHHHHHHHHHHHHHHHHHHHHHHHHH

— Jeff Wiser (@OutfieldGrass24) June 3, 2015
Okay, not so much. I pretty much freaked out as did most others who had been on the trade-Trumbo bandwagon, and I think it was warranted. This came out of nowhere, in a way. Sure, the writing was on the wall that Trumbo didn't fit this team, which was obvious from the day that Kevin Towers pulled the trigger on him. But it was also well-known that the team needed catching help. If we take a look at where the team ranks positionally, catching was an obvious hole: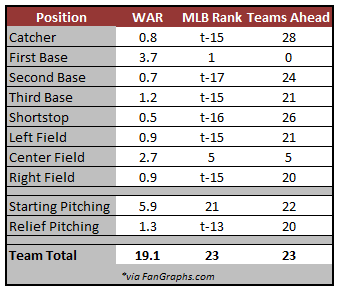 Shortstop has been weak, but playing Nick Ahmed has its merits. Aaron Hill has cooled off some and Chris Owings didn't exactly get off to a hot start, causing second base to sag. But Owings needs his time and Hill needs to develop some trade value. The outfielders have been pretty good, aside from the departed, and Tomas has hit while playing bad defense in Jake Lamb's absence. But catcher, well, there was just no answer there. Take a look at what the D-backs were operating with:

In review, Tuffy didn't hit much, but he made up for it by being above average defensively, both by Defensive Runs Saved and by Framing Runs. Jordan Pacheco hits better, but is still below league average at the plate and is basically awful behind it. Jarod Saltalamacchia has been worse than Tuffy was at the plate and is worse behind it than Pacheco as a framer. In terms of his arm and blocking ability, he may be a slight upgrade, but he gives it away calling and framing pitches. He was let go by the Marlins, the only team worse at catcher than the D-backs. If that doesn't tell you something, I don't know what will. Gerald Laird is out for a long, long time and it's not like he was good anyways, but probably a little better than Salty and about as good (bad?) as Pacheco. Essentially, the D-backs lost Plan B to back surgery after only 4.1 innings caught, lost Plan A to a knee injury after a third of a season, forcing into action Plan C and causing them to create Plan D. And if we include Oscar Hernandez in this mess, it only gets more depressing.
If you were upset about this, it's because you should have been. It appeared the team may just have a blind spot to the principles of defensive catching and created this situation by choice when Dave Stewart decided not to make a trade for a catcher after dealing Miguel Montero. Welington Castillo may not be the answer here, but we'll get to that in a minute. Stewart  refused to pay the prices that were being asked and they were left shorthanded, even more so than before. I don't know what those prices were and whether or not he was right in his analysis, but it left him on very thin ice. With these injuries, the ice has cracked and the there's no escaping the deadly waters below. Observe the internal options:
Blake Lalli: at 32-years old with just 22 games played at the major league level, Lalli's window never really existed and he hasn't hit at all in AAA this year.
Mark Thomas: he's 27 and is in his fourth season of the AA level where he's having his best offensive season, hitting .208 (not a typo)
Peter O'Brien: first he was going to be a catcher, then not going to be a catcher, then, well, maybe a catcher again. The organization has jerked O'Brien around something fierce since coming over from New York. He can hit for power but won't be any kind of defensive upgrade over what the organization has in place right now.
Oscar Hernandez: a broken hammate bone slowed his start to the season, then he re-injured it during rehab. He's 21 and has never played above full-season A-ball but needs to see the active roster if the D-backs want to keep him as a Rule 5 selection. He won't hit, but he can field the position if he makes it onto the field.
Stryker Trahan: the former first-round pick has been a big disappointment, not able to hit with any kind of regularity and being moved out from behind the plate, then back behind it, then to the outfield again. Trahan is basically a younger version of the O'Brien situation.
Michael Perez: once thought to be on the fast track, Perez's development has more or less stalled in High-A, his second attempt at the California League
So yeah, no easy solutions here. Just a bunch of guys with major flaws, either defensively or with the bat. Hernandez is still the best internal option, but whether his hand heals well enough to allow him to gain some comfort at the plate is yet to be seen, plus, he's never seen pitching like he'll experience in the majors, so he should struggle mightily.
Beyond 2015, something had to give. They could have gone the free agent route and spent a little bit of cash, which I guess is still technically on the table. Here's a look at who will be available this winter (ages in parenthesis):
Okay, that's a pretty gross list of options. Avila might be alright as a stop-gap, Iannetta isn't terrible and Wieters might be something of interest once he is fully recovered from Tommy John surgery, but he's still rehabbing in AAA right now. The rest of the list isn't anything the team would have seriously considered an upgrade.
So, enter Welington Castillo. The D-backs had checked in on him this winter and decided against a deal with the Cubs. We don't know what the Cubs were asking, but either the Mariners were either asking less than Theo Epstein was or the injury to Tuffy pushed Stewart over the edge. My guess is a combination of the two. Now Arizona has Castillo, who's under team control through 2016. Will he help shore up the position?
The immediate answer is a soft yes. He's surely better than Saltalamacchia and Pacheco from a defense and framing perspective. He still ranks near the bottom of baseball in framing, but he's twice as good as Salty, which really says more about how bad Saltalmacchia is at framing than how good Castillo is at the same task. Pacheco is a touch better at framing, but appears to lack some of the other important defensive aspects, like throwing out runners and blocking balls. Castillo's a better hitter than both Gosewisch and Salalamacchia, too, so the team should improve at the plate and behind it. That's a win-win even if Castillo is pretty fringy as compared to most starting catchers. We can't oversell Castillo here, but compared to the other options, he's a bigger upgrade in Arizona than he could possibly be anywhere else.
With Oscar Hernandez due to see the active roster in the near future, the team needed someone who could start every day. They weren't comfortable with the remaining healthy options, nor should they have been. But Casitllo gives them a guy they can put in the lineup five or six days a week when Hernandez is ready, allowing them to hold onto their Rule 5 pick should they choose to, which appears to be the case. That's helpful, too.
So what does this mean for Salty and Pacheco? They really don't need both on the roster with Castillo in place, and since Pacheco has some defensive flexibility, DFA'ing Saltalmacchia should be the obvious answer. He doesn't offer much offense unless the team thinks he's going to turn things around in a big way and he's a monstrous liability behind the plate. That's clearly not very helpful, plus he just doesn't fit the long-term plan. Castillo is younger and better and under team control. He really makes the newly-acquired Saltalamacchia obsolete, which he kind of was to start with.
Without a major financial commitment to Castillo, the team can play out the catching situation a little longer. Sure, you can make a very valid argument that Castillo is not the long-term solution to the black hole that they had created, but he's at least capable and will keep the team from giving up so much production, both at the plate and behind it. That makes this team better. They can still explore more lucrative trades this winter or go shopping in the 2016 offseason. All options are open again with Castillo in the mix without the team's back being firmly against the wall. That's a good thing.
Adding Castillo was smart and needed to happen. They couldn't continue on with what they had, especially with this team still sniffing the wild card race. Now Jake Lamb can play, Yasmany Tomas can finally move to the outfield and the team doesn't really skip a beat. The benefits here are numerous. Castillo provides his own, but moving Trumbo creates a number of others. It would have been nice to have done this sooner, but it got done in the end and as I'm fond of saying, better late than never. For now, things are moving in a positive direction as the biggest logjam has been cleared and upgrades have been attained. Rejoice Diamondbacks fans, this team just got a whole lot better.