Day one of the Diamondbacks' draft went about as well as you could expect. Selecting Dansby Swanson first overall was perhaps an easy choice in a weak draft, and he'll probably slot somewhere in the D-backs' top three prospects once he signs. Left-hander Alex Young is a polished starter with clean mechanics who should move quickly through the minors although he lacks a particularly high upside. Both players should sign below slot, freeing up cash that could be spent on day two selections that might have high bonus demands, namely those from the high school ranks. Mix in a few inexpensive college picks and it was easy to see Arizona selecting a blend of potential stars and org-fillers, giving them a chance to add impact to the system.
But that's not at all how it worked out. In my review of day one, I projected the team taking a handful of high-upside high school kids and using both the money saved in rounds one and two, plus whatever they could save on some college guys, to get them signed. Instead, Arizona drafted an entire pool of college players, two of which were junior college selections. Five of those eight selections were right-handed pitchers, three of which are relievers all the way. Let's take a look at those picks and where these players ranked on the Baseball America 500 list, along with their top five picks of Day Three: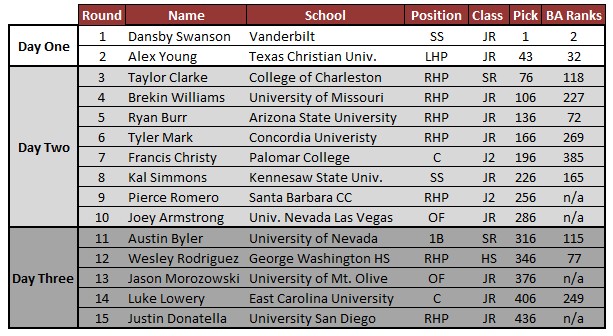 Focusing on Day Two, the team clearly had a plan, although it couldn't have been any more different than the one that I had suggested. Instead of going with some upside high school talent, they went with a boatload of college players. While that's a little odd, it does fit the team's model of winning in the near future rather than investing in prospects that will take longer to mature, even if those players have a chance to become higher-impact guys down the road. This is a troubling trend for the organization when coupled with the trade of Justin Williams and Andrew Velazquez for Jeremy Hellickson, one in which GM Dave Stewart scoffed at the notion of hanging on to players in the low minors, citing how far away from the majors they were. Well, all big leaguers were far away from the majors at one point in their career, but, you know, whatevs.
Of the college guys they popped, none have particularly high ceilings. The stars from the college ranks were largely gone by pick 76, and the selection of three relievers doesn't do anything to instill a sense of confidence in the strategy. Most guys drafted as starters have three pitches, but two stand out, and if the third doesn't come around, the team usually moves him to the bullpen. In that instance, you have two options: either the guy figures out the third pitch and you've got yourself a starter, or he doesn't and you've got yourself a reliever. Those are a nice set of options. Drafting guys that are presently relievers, however, leaves less leeway for the organization should the player struggle. There's simply nowhere to go. Just like teams choose to draft up-the-middle players on the position side with the thought that they can slide down the defensive spectrum if necessary, drafting starters helps limit the risk of a total loss. Instead, the D-backs took three of them in a row with their fourth, fifth and sixth selections. And sure, you can argue that a guy like Ryan Burr was a value based on many evaluations, but that doesn't explain the picks on either side of him. Let me be clear, I'm not a fan of burning picks on relievers when there are prep guys on the board who have a chance to be major difference makers, even if they're going to be expensive. You can get relievers practically anywhere.
Since the draft is such a game of economics, that's a huge thing to consider. If the D-backs were running tight on the budget, drafting some guys with 8th-12th round pedigrees early on might have saved them money to spend later. But they were already under budget with their first two selections, took a college senior with their third (he has no signing leverage), then reached in the fourth, sixth, seventh, ninth and tenth rounds. They had money to spend and didn't even attempt to nab a signability risk and see if they could pry a high schooler, one who'd had slipped, away from his college commitment, despite the fact that several were still on the board. Guys like Jacob Nix (JUCO), Jalen Miller, Dakota Chalmers, Drew Finley and many others were options in the third round, but Arizona passed. In the fourth, they passed on Demi Orimoloye, Dylan Thompson and others. Sure, those guys may end up being tough signs, but their upside is undeniable. In the draft, you have to take some risks to come up big. Instead, the D-backs didn't use their financial leverage and played it incredibly safe. For an organization that doesn't have a ton of impact in the minors, this felt like a missed opportunity.
As Day Three kicked off, there was one last chance to take a swing at some upside. Being under budget, the Diamondbacks could roll the dice in the early rounds of the third day, and luckily they did. Each player drafted on Day Three can sign for up to $100,000. If a player signs for any amount over that, the overage is charged to the team's draft allotment pool from rounds 1-10. The D-backs had money left over from that allotment and took two highly-rated players in Austin Byler and Wesley Rodriguez, two of the best players still on the board. Byler shouldn't be overly expensive being a college senior (he's talented, though), but Rodriguez will take a financial commitment to bring aboard. That was surely a welcomed sign, but they ran out of gas soon thereafter. Or, I should say, the draft ran out of gas since there just wasn't much left on the board by the time round 13 rolled around. The window had pretty much closed.
This was a big departure from last year when the team drafted prep players with their first five selections. And it's not like I was the only person who took notice of the big changes and the missed opportunities. Some other reactions from around the twittersphere yesterday:
Not sure — seems like far from full use of the financial leverage they had with that aggregate pool allotment. https://t.co/SAWxTwUkiE

— Nick J. Faleris (@NickJFaleris) June 10, 2015
RHP Wesley Rodriguez in the 12th round was Dbacks' first — and still only — high school selection through 19 rounds.

— Nick Piecoro (@nickpiecoro) June 10, 2015
DIAMONDBACKS TOOK A PREP PLAYER it only took 3 days

— jeff ellis (@jeffMLBdraft) June 10, 2015
'Preciate it, Jeff https://t.co/ZiuIWq5teb

— Jeff Wiser (@OutfieldGrass24) June 9, 2015
I think it's important to clarify one thing here. This isn't to say that the players the Diamondbacks drafted won't turn into useful major league players. It's preposterously early to think we can make much in the way of bold predictions in that category. What we can question, however, is the process, and that's where things fall apart. As mentioned Tuesday, the D-backs have a pretty thin wave of talent in the low minors, the guys who will be big leaguers in four to six years, the guys who will take over for today's players when they become too expensive or begin to wear down. The Diamondbacks did almost nothing to add to this wave, at least not in any kind of serious way. That feels like a major shortcoming despite who the past regime picked in 2014.
This was essentially the "Dansby Swanson and Everybody Else" draft. There's really no one to dream on besides him, and even Swanson's upside is pretty limited for a number one pick. I won't fault Arizona for that given the limited options in this draft. But outside of him, there just no one to get all that worked up about. Some back-end starter types, a couple relievers and a lot of org filler. That's partly a function of 40 rounds of drafting, but the D-backs did very little to change it. Should they fail to sign Wesley Rodriguez, this looks considerably worse. There will probably be an unforeseen guy or two who reach the majors, just based on the odds, but the process here is curious at best and it's yet another cause for concern from this Diamondbacks front office.