When this season began, the Arizona Diamondbacks were an afterthought for most of baseball. Several major publications picked them to be the worst team in their division despite a very obvious purple sinkhole in Denver. On The Pool Shot, we made some predictions and I went with something like 72 wins while Ryan went with 78. He looks smarter than me right now, and in real life, too. The team hasn't been that bad despite some pretty poor pitching at times and the combination of Yasmany Tomas at third and Mark Trumbo in right there for a while. But they haven't been that good either, even considering what Chase Anderson has done and that Paul Goldschmidt and A.J. Pollock are both in the top ten in terms of National League WAR for position players. Mostly, the team has just been okay.
That's not a disappointment by any means, but it's not overly encouraging either. 2017 is still the target season, the one in which this team should be in full swing. The Diamondbacks are still building for that period on the win-curve, which is what they should be doing. Hopefully they can find some balance and not lose sight of the long-term health of the franchise along the way, but that's another issue. For now, it's about positioning themselves for that one window, and they have another chance to improve their odds looming in the not so distant future – the non-waiver trade deadline.
Every year, towards the end of July, teams go bonkers trying to put the finishing touches on their contender or get whatever they can for their irrelevant scraps. The Diamondbacks are faced with an interesting dilemma this year in that they're close enough in the Wild Card standings to consider standing pat, but they're likely to be far enough out, and with 2017 still the main goal, that they could – likely will – opt to become sellers. It's not crazy to think that they could put together a streak or two before the end of July and become legitimate NL Wild Card threats, but my money's on them staying a touch under .500 and deciding to pack it in. So, let's work with that assumption for now.
If the team wants to sell, whom might they be trying to deal from the 25-man roster or its nearest vicinity? Take a look below and try to identify the guys who might be sold.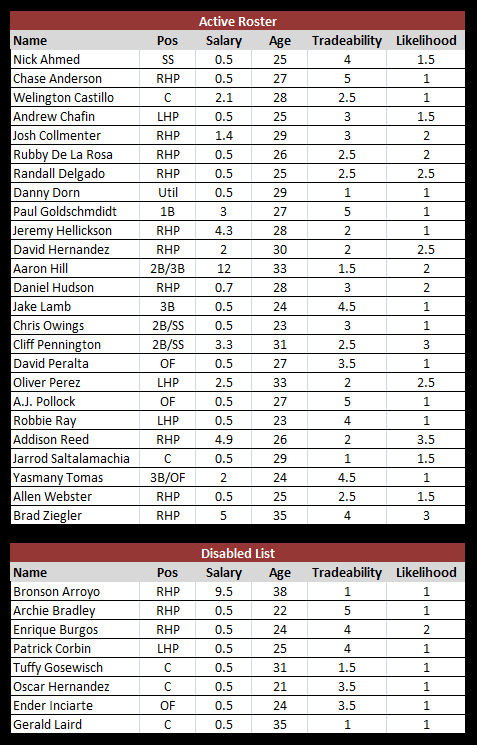 Ok, so who's for sale? Sure, every team in baseball would love to trade for Paul Goldschmidt, Archie Bradley, probably even Yasmany Tomas, but the organization has no motivation to move those guys, and several others. Their value is super high, but there's just no likelihood of them getting traded in the first place. It's just not happening. And if we look through the rotation, outfield and most of the infield, there just isn't much likelihood that anyone is getting dealt, aside from maybe Cliff Pennington or Aaron Hill. Heavy emphasis on maybe.
That leaves us with just one real place to look: the bullpen. Arizona has a ton of young flamethrowers in the upper minors who are in need of a major league opportunity, either right now or in the very near future. They have some starters who are bullpen candidates, too, which is all just to say that there isn't a shortage of arms and some could become expendable. Behold the candidates:
Chafin, Collmenter and Delgado probably aren't leaving. They're all cheap, they all offer some security in that they can make a start if needed, and they wouldn't fetch much in return. You're not going to get a useful major league piece for a marginally useful major league piece, not even in terms of prospects obtained. The value just isn't there.
David Hernandez and Daniel Hudson have track records of success and injury. Hernandez is a one-inning guy all the way, and with the returned velocity, he should still be a useful reliever so long as he can hit the target. If he does that, there's a chance he gets moved, but probably for nothing more than a C-level prospect. The motivation might be to save a little cash and give someone else a chance. He'll be a free agent at season's end, and if the team doesn't plan to retain him, they could let him go early, get a flier back in return and save a couple hundred grand. But that's not all that useful when it comes to building a winner in 2017.
Hudson, on the other hand, is under team control for 2016, yet his role in that capacity remains unclear. If he's a reliever, the team might find that useful. If he's a starter, that could be even better, but there are a lot of candidates for starting spots, it would appear, heading into next season. The lack of clarity on Arizona's end might give another team enough motivation to trade for him and just stick him in the rotation and live with the results, hoping to buy low and score big. He'd probably command a B-level prospect in return since he's got another year of control, but even B-level prospects aren't exactly what Arizona needs. They need impact potential, not fillers. Can they get that for Hudson and are they even comfortable losing him? I doubt it, on both accounts.
Oliver Perez was once a guy that could have been dealt at the deadline, but he's pitched like a very bad pitcher. He's got an ERA of 5.00, a FIP of 4.05. Those are both bad. The strikeouts are there, but so are the walks, like usual, and with the elevated dinger rate, that's a risky proposition. He's affordable now and a free agent in 2016. Although he's shown reverse platoon splits in the past, he's been way better against lefties this season, so someone might want him in that capacity. But a LOOGY on an expiring contract won't bring back anything of high value to Arizona, so traded or not, Perez just isn't a big factor since he's pitched so poorly.
Addison Reed is twitter's favorite Proven Closer ™, and maybe someone thinks they can buy low on him. I don't know, he started the year at less than 100%, had some issues, is trying to correct them and the results remain hit or miss. He's been way better by FIP in June, but that's only over 4.2 innings-pitched and a handful of appearances. There's still half the month left. If you're a contender looking for a hard thrower out of your bullpen with no long-term commitment, Reed could be a guy you'd target. You have the options of going to arbitration with him over the winter, non-tendering him or trying to find another trade partner. He's still kind of young, but you're paying through the nose this winter if you try to keep him thanks to the way saves extort arbitration prices. And maybe the D-backs could get a B-level kid for Reed, but that's probably even pushing it. For sure they won't get a top-50 prospect back; the days of those kinds of deadline deals are long gone. But, you'd be getting something and a bit of salary relief, which maybe you need and maybe you don't. I'd guess the owner wouldn't mind saving a couple mil.
Our final candidate, Brad Ziegler, is not just interesting for how he throws the baseball, but he's an interesting trade candidate, too. He's affordable now, under team control with an option for 2016, and he's the best of the Diamondbacks bunch. He's a double-play machine and he'll pitch in whatever role you want to put him in. If you're looking to pillage the Arizona bullpen, this is your guy. But, the D-backs may want him, too, because even though they're a below-.500 team this year, they could be an above-.500 team next year, and Ziegler is extremely durable and useful. If Arizona were to hang on to him, they could consider extending him a year to keep him for 2017, too. Yeah he's old, but the skills he utilizes aren't going away; his deception and funk are useful as long as he's capable of throwing. So if you're the Diamondbacks, this is the guy that you're going to demand something of high value in exchange for. You're not giving Brad Ziegler away since he's affordable, team-controlled, effective, has rare skills and you could conceivably keep him. If someone wants him, they'd better want him bad.
We started with a bunch of guys that can be traded. We whittled it down to very few guys who are actually tradeable in reality, and of those guys, the team wants to keep a bunch of them, so we have even fewer options. There's no real reason to trade from the rotation, they can't trade from the outfield, and the infield options presented don't have much value. A name that's missing from all of this might be Peter O'Brien, who could be packaged with a reliever, the only group left, to sweeten the return from another organization, provided that organization values paying more to obtains first base/designated hitter types. Addison Reed might be the most likely candidate to go and Brad Ziegler would fetch the best return. But all of that remains up in the air for now. Just be forewarned, if they decide to deal lesser players, they won't be getting anything back in terms of impact talent, something they need to continue acquiring to make a strong run in 2017 a reality.