Welington Castillo. Man. Who saw this coming? The guy who was supposed to help solidify a beyond-shaky catching situation has, unexpectedly, turned into an offensive juggernaut for the Diamondbacks. To get the full effect of how blown away we should be about his performance, I guess you have to understand two things. The first of those things is just how bad catchers had been for the D-backs at the plate prior to Castillo's acquisition in early June. They were basically last in offensive production. I could go back and look, but you don't need me to do that to comprehend that the situation was a disaster. After the team lost Tuffy Gosewisch for the season, they had  poor defensive catcher Jordan Pacheco, poorer defensive catcher Jarrod Saltalmacchia and unknown, injured and underprepared Oscar Hernandez in line as internal candidates to fill the void. The need to trade for anyone passable was obvious. But, as you've observed, Welington "Beef Mode" Castillo has been more than passable.
The second item worth digging into pertains to Castillo's track record. Coming up as a Cub, he was essentially a not-so-great defender who could hit a little. He wasn't a standout hitter, but he'd go through spurts where he could turn it on. In fact, he's done this kind of thing before. Look at his wOBA numbers across each season. The red line is his season average while the green dots and connecting line mark his production as the seasons moved along. Over the last three years, notice that he's generally started years above average, dipped in the middle, then ended above average.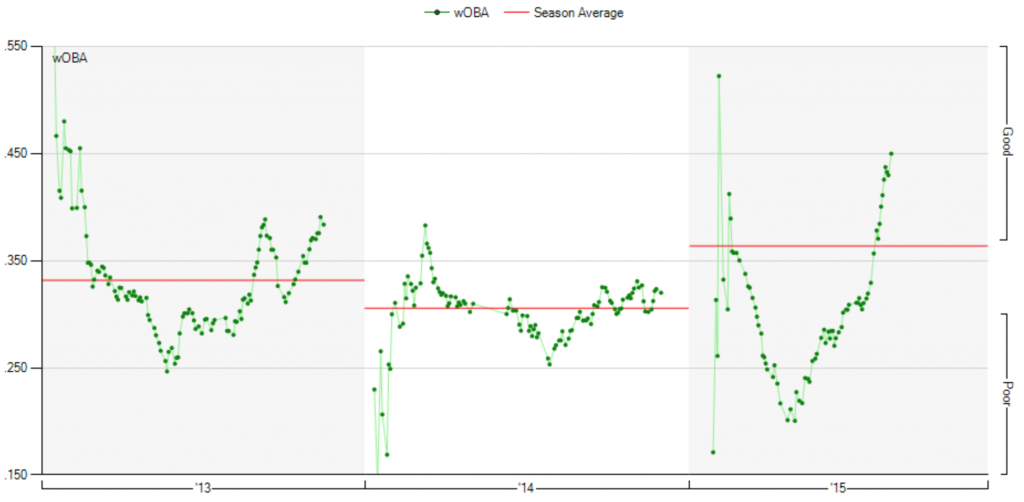 By the end of 2014, Castillo was basically a fringy player who was either a third-tier starter behind the plate or a top-tier backup. As you can see above, he's been hot or cold, spending large chunks of '13, '14 and '15 in the poor range while also going strong production streaks from time to time. For a team like the Diamondbacks that was basically devoid of options, Castillo made a ton of sense. He's under control for 2016 and the team had an opportunity to trade a non-tender candidate for a guy they could plug in for a year and a half while they sought out the true catcher of the future.
But this, I mean, this is clearly different. He's not just playing well, he's playing great. And he's doing at the game's most demanding defensive position. This is Miguel Montero-esque without the price tag and it's being performed by a guy three years younger.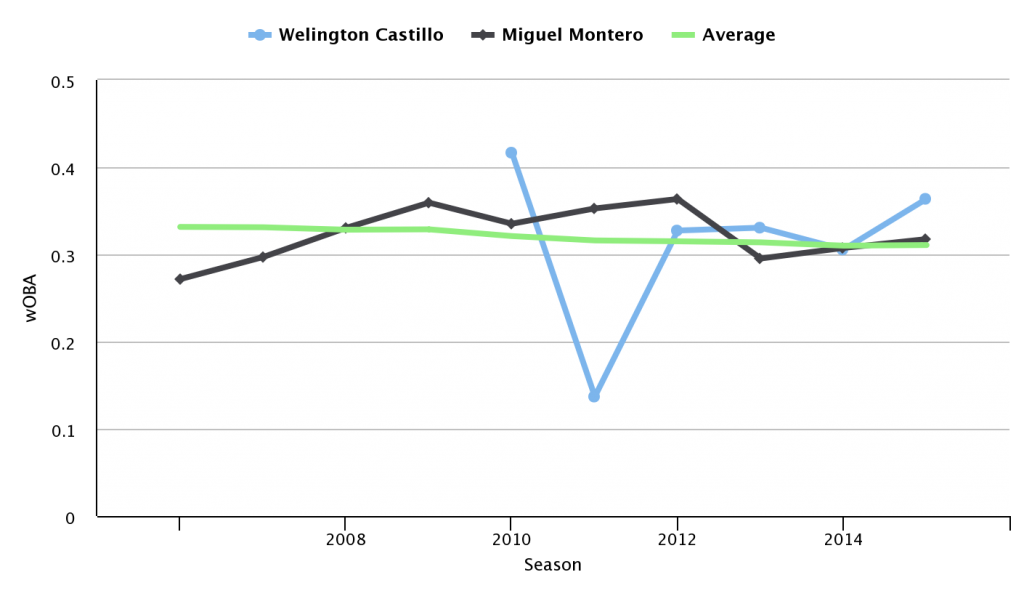 But, if you're even faintly of the critical mindset, you've probably wondered this exact question: why the hell did the Mariners, with their terrible catching situation, trade Castillo, along with two other players, to the Diamondbacks for Mark Trumbo (yeah, that Mark Trumbo) after acquiring him from the Cubs earlier in the year? Let's not lose sight of the fact that this is Castillo's third team this year for a reason. He was the odd man out in Chicago after Miguel Montero was traded for and he (somehow) didn't do enough to steer Seattle away from Mike Zunino. If we're reading the situation correctly, the answer has to be that this level of production was absolutely not anticipated.
Which should lead us to another, and perhaps even more important question: is this kind of offense even remotely sustainable from Castillo? Honestly, I'd resisted the urge to write about Castillo's hot start since I just didn't believe it would last. Instead, he's grown hotter. At this point, it's getting hard to think that he's lucking his way into this. Luck is undoubtedly playing a role, but not the entire role. This isn't one week or even one month of success. Something's going on here.
Rather than turn to the data, I instead went to the video to look for mechanical adjustments. Maybe Castillo is doing something different at the plate and it's leading to his success. After some review, it does appear that he's made some changes. First, let's start with his stance.
Back in 2014 with the Cubs, it looks like Castillo was in a bit more of a crouch and held his hands just a bit lower. There was also some movement with the front foot where he would sort of "pump" it for timing as the pitcher began his delivery. In a D-backs uniform, he's more upright, holds his hands higher and the foot movement is gone.
Continuing to look at his base, let's take a peek at his front leg as he loads for the swing.
If you look closely at the lead leg, you can see that he's decreased the leg kick, and in video mode, has eliminated the associated stride. By doing this, he's shortened his swing pattern and allowed himself to swing from a more solid foundation without the problems of throwing off his timing. He simply picks the foot up now and puts it right back down before the swing.
If you're concerned that this technique might take away some of his power, don't be. He's got plenty of of it and it comes from his hips.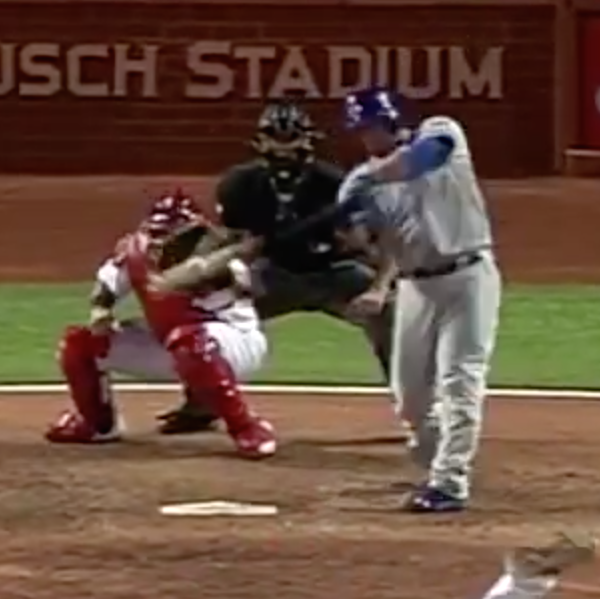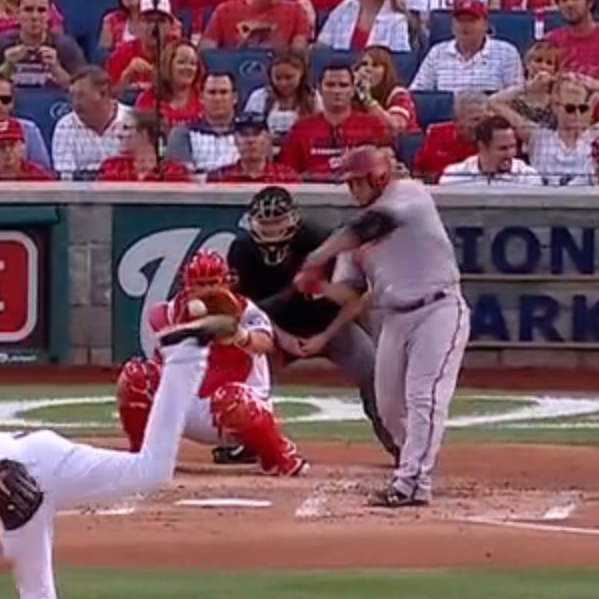 The front leg is still straight and the back knee turns in. These pitches are in different locations, so it's tough to read his upper half, but notice that his belt buckle is starting to pull through the swing in both images as his hip rotation unleashes his strength. At the end, we get his trademark high finish as he's fully exploded on the ball.
The result of both swings were home runs. Both homers were hit 1-strike counts. Castillo's balance is better in the Diamondbacks image, which may in part be due to the pitch's location, but that may also be deliberate. Either way, he's made some adjustments in his stance and with his leg kick. He hasn't stopped using his hips and lower half to pull himself through the baseball. He has plenty of power, he didn't need the leg kick or the crouch to find it, apparently. Now, he's more balanced and swinging from a more solid foundation. The results speak for themselves.
The best part of this is that he hasn't had to make any tradeoffs in this transaction. He's still not striking out much, he's not pulling the ball any more frequently. He's not swinging and missing any more than he did in the past. Welington Castillo is still making a ton of contact, he's just in a better position to do damage with that contact. Whether that adjustment was made in late 2014 with the Cubs, earlier this season with the Mariners or once he joined the Diamondbacks is unknown, but it's Arizona who's reaping the benefits.
So while I'd caution us not to believe that Castillo will be launching a couple of fly balls into the seats each and every week, there is some reason to believe that he's an improved hitter. His hard-hit rate is at a career high by a wide margin and it may very well be these swing adjustments that are generating it. Prior to joining the Diamondbacks, he was a guy who was capable of hitting the ball hard, but it was inconsistent. Now he's doing so with much more frequency. If he can maintain anything close to this level of production in 2016, things just got a lot better for the Diamondbacks. You don't win every trade, but at this point, it appears that Arizona has an easy lead in this transaction heading into the offseason while Welington Castillo is making himself a lot of money heading into his last arbitration year. Maybe it's just me, but I'd much rather give that money to Castillo than Mark Trumbo.