Okay, the title is a little ominous, but hear me out. Jeremy Hellickson is entering his third year of arbitration this winter. He's making $4.28 million this year, a figure that was decided upon after he missed a good chunk of 2014 with injury and had uninspiring results. Hellickson has stayed healthy in 2015 and has improved his stock on the mound, if only by a little, mostly through sheer reliability. If I had to make a guestimate on his salary for next year, should he be tendered a contract, he should receive something in the neighborhood of $6.5 – $7 million for 2016. That's not a ton of money, but it's not nothing either and it certainly will give the Diamondbacks something to think about as they head into the offseason.
Now, you may be thinking, why the hell would they keep Hellickson? And if that is what you're thinking, well, I guess my answer is that this is the front office that gave up assets for him in the first place, so they may be reluctant to part ways. This is also an organization that has overvalued the "filler" type in the past and Hellickson certainly fits that mold. He's been worth nearly one win this season, but it's taken nearly 130 innings to get there. He's basically a tick above replacement level and capable of making his starts when healthy. How he performs in those starts, well, that's kind of the issue.
I'm a fan of Bill James' Game Score, not because it's the best analytical tool out there  – it's not –  but because it's a quick and easy shorthand that works in a pinch. If we look at Hellickson's game scores this season, you should identify the problem pretty quickly.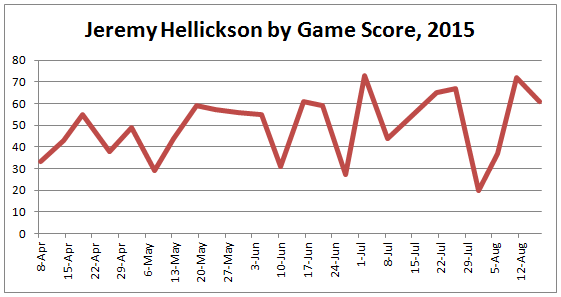 Without a doubt, consistency has been an issue for Hellickson. Game in and game out, you really don't know what you're going to get. There's a trend line of better results as the season has progressed, but there are still a lot of ups and downs. When an average performance is about a 50 on the scale, we see that he has 10 starts that scored below that mark. He has 13 starts above that mark, but only four of them are above 65, an area where the starts to appear to become pretty good. For example here's how a couple of his game scores translated (game score in parenthesis).
Bad – May 8th (29): 4.2 IP, 8 H, 5 ER, 2 BB, 3 K, 2 HR
Okay – May 2nd (49): 5.1 IP, 6 H, 3 ER, 1 BB, 6 K, 1 HR
Good – August 11th (72): 8 IP, 7 H, 0 ER, 0 BB, 6 K, 0 HR
Hopefully by seeing his line, it puts game score in better context for you. And if there are ten starts that are below the 50-mark, well, that's just far too many clunkers.
But it's not like Jeremy Hellickson was brought in to save the rotation. He's so Trevor Cahill-esque that it's not even funny –  the numbers suggest that he isn't the pitcher he was acquired to be and only the D-backs viewed things differently (raise your hand if you've heard that before). Let's compare him to the 30th-ranked pitcher by fWAR, just to get a feel for what another pitcher with nearly the same number of innings pitched looks like by this measure. That pitcher is someone Hellickson may be familiar with, Jake Odorizzi (oh, you can put your hand down if it's still up).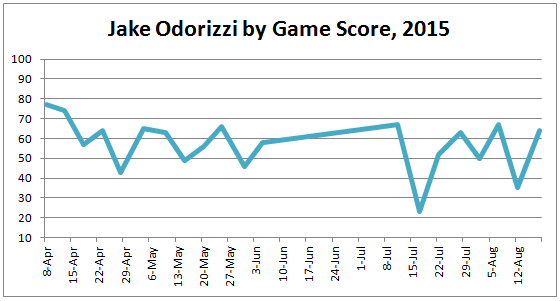 Odorizzi has been worth about 2.5-wins over the same span as Hellickson has been worth just less than one. He's a good pitcher but not a great one, although he's still growing into his game. We were never expecting Hellickson to be a dominant pitcher, although the Diamondbacks' brass may have been expecting him to fall into the "good" category. Odorizzi isn't great either, usually, but at least he could be classified as "productive" whereas Hellickson is "reliable" in that he takes the ball every fifth day, results be damned.
And all of this is just to say something you already know: Jeremy Hellickson isn't very good. But, he is under team control and what the club decides to do with him is still a mystery. There were reports that some teams were looking at him during deadline talks, so there is at least some interest, but the team will not get back the type of talent they gave up to acquire him. They'll have to sell short and take the loss in value for one year of added rotation stability in the acquisition. Considering the names that were going to be in the rotation when we first took a look back last November, adding Hellickson has helped create some consistency, but hasn't offered anything else.
The Diamondbacks are shifting gears now, or at least, they should be. A year ago, a placeholder may have seemed like a good idea. Fast forward a year and now a placeholder just won't do. We've seen what a very good offensive and very good defensive club does with a very bad pitching staff: lose more than half of their games. And with some money to spend this winter and a diamond that'll be full of holdovers heading into 2016, there's just one place to allocate whatever money the team wishes to spend: the pitching staff.
For now, we'll leave the bullpen out of things. Here are the relevant pitchers who are under team control next year:
Zack Godley
Jeremy Hellickson
If you want to build a competitive rotation out of those pieces, be my guest. There are a bunch of guesses and unknowns. The known quantities are pretty bad aside from Patrick Corbin, who's enjoying a successful return. Otherwise, you're rolling the dice and the tool grades don't do much to inspire a ton of confidence.
So, there has to be an addition or two (here's an idea!), and that means that a guy or two in the current rotation will be heading elsewhere. And a guy that's on the chopping block? Yup, you guessed it, Jeremy Hellickson. Can the team get more consistency from the 4th or 5th spot in the rotation than Hellickson offers? Maybe they can by sliding other pitchers down because, just maybe, Jeremy Hellickson is basically as good as the Rubby De La Rosas, Josh Collmenters and Chase Andersons of the world. Is there really that much of a difference?
The answer is yes, yes there is. About $6.5 million worth of difference. Jeremy Hellickson is likely to be worth 1-1.5 wins next year. The cost of a win on the free agent market is somewhere around $6.5 million. He could provide anywhere between $6-10 million worth of value next year, making him likely be to be worth as much as his salary. But the other options are cheaper, much cheaper, and if the team wants to really upgrade the rotation – the place they have to upgrade – the money saved by trading Hellickson could prove very useful. Non-tendering him would be a mistake, but taking even a low return on him makes sense.
It's too bad a rental of a below average pitcher cost the team the talent it did in the first place, but holding onto Hellickson might just exacerbate the damage. He's unlikely to turn a corner and become a significantly better pitcher, so it's probably best to save the back end spots for guys with growth potential while saving the cash. I didn't like the Hellickson trade when it happened, but he's done what he was brought in to do: make his starts. Unfortunately, the Diamondbacks are heading in a direction that doesn't mesh with what Jeremy Hellickson offers considering the price tag.