When Yasmany Tomas was signed last winter, I certainly did my best to describe the asset the Diamondbacks had just purchased. But that was a difficult task. Tomas hailed from Cuba and there wasn't a lot to go on. We had a few scouting reports from international sources, but little video, and even the reports were based on limited viewings. So, he was largely unknown until we were able to get a long, extended viewing of him in Spring Training. Since then, we've been able to formulate a pretty solid understanding of who the slugging outfielder is.
For example, take a look at the Brooks Baseball page for Yasmany Tomas and a couple of things immediately stand out. From his "Hitter At-A-Glance" profile:
Against Fastballs, he has had an exceptionally aggressive approach at the plate with an above average likelihood to swing and miss.
Against Breaking Pitches, he has had an exceptionally aggressive approach at the plate with an above average likelihood to swing and miss.
Against Offspeed Pitches, he has had an exceptionally aggressive approach at the plate with a league average likelihood to swing and miss.
He's, apparently, super aggressive at the plate with a strong tendency to whiff. This much has become self-evident. The Diamondbacks need to find a way to utilize him in 2016, however, as his salary starts to grow – a trend we'll continue to explore. $2 million not an overpay for a fourth outfielder with some power, but that's not why Yasmany Tomas was brought to Arizona. His contract is enormously back-loaded and unless the D-backs start to improve him, they're going to get stuck with a very expensive, very flawed player.
Development is still in the cards; he's just 24. But that development needs to come in a specific way. Can Yasmany Tomas make quality contact? Yes he can. But the frequency of that contact has the potential to improve a great deal. Although he's above average in exit velocity already, there's a lot of room for growth. And if you've watched much of Tomas this season, you know that his biggest issue has been his plate discipline, and partially, his strike zone judgement.
The year's not over, but to date, Tomas has registered 398 plate appearances. 291 of those appearances have come against right-handers. Here's where they've thrown him pitches: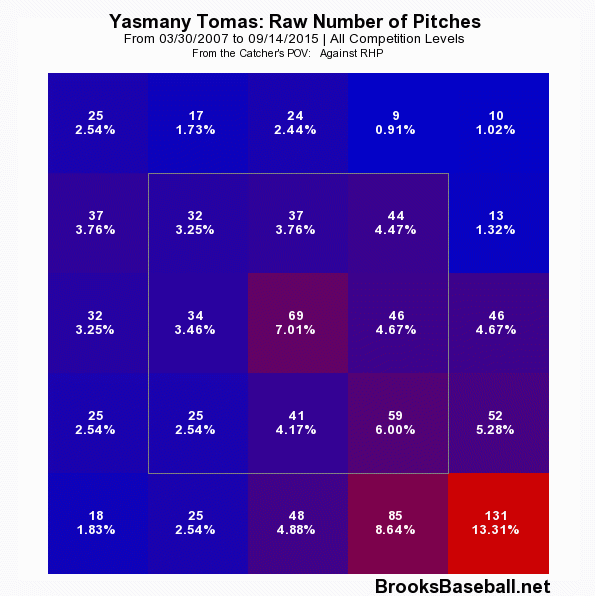 Righties have had a clear plan of attack against Tomas in 2015: keep it down and away. With plus raw power, we can understand why. But while right-handers have been working Tomas in a very specific way, he's been working in a very different one.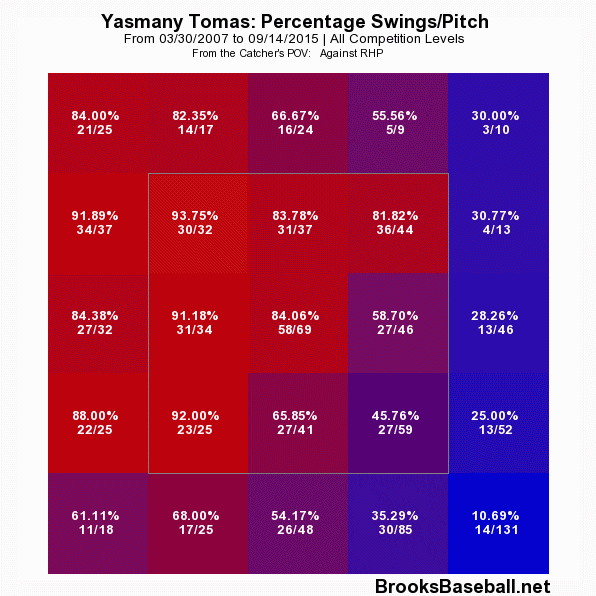 Tomas has looked entirely middle-in, and often times up. You can see where he wants the ball. Unfortunately, that's not where he's getting pitched. That results in a very clear disconnect. On one hand, it's good to know that Tomas isn't chasing all of the chunk he's being thrown low and away. But on the other, he's not adjusting to what he's being thrown. All of this has resulted in a wRC+ of 90 against righties over the course of the season.
The remaining 107 plate appearances have come against left-handed pitchers. They've done some different things against Tomas: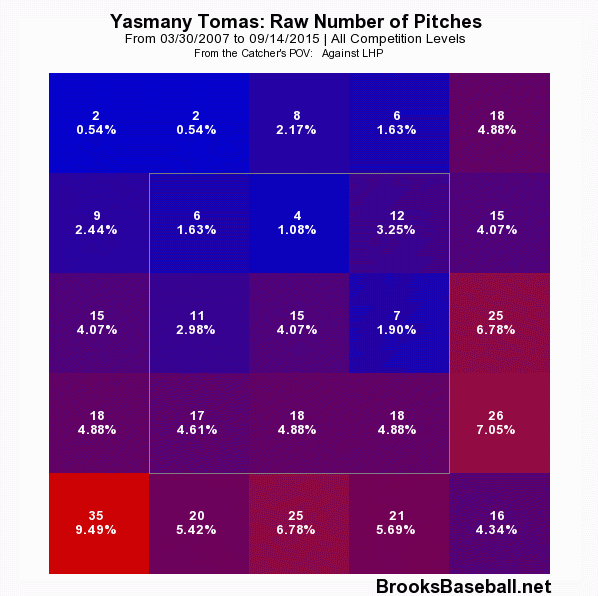 Lefties have tried to keep the ball down, but they've spread out the distribution of pitches in and out. Still, the idea has been to keep the ball low in the zone or just below it. And Tomas has responded by doing this: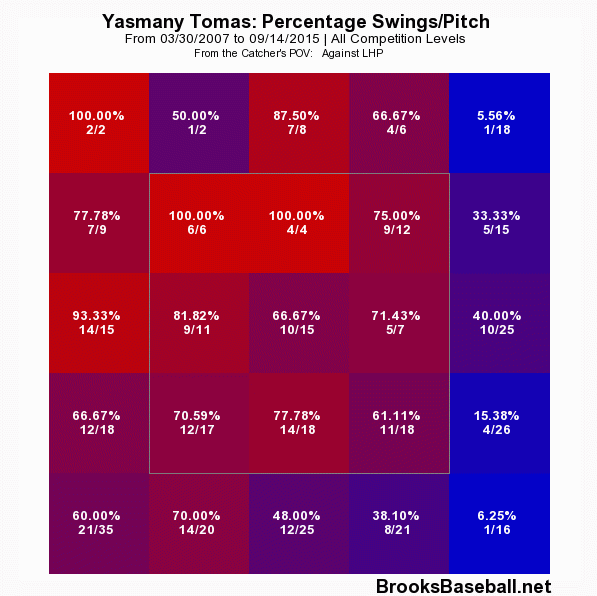 Wow, this looks similar to the swing chart against right-handers, although lefty pitchers have been working him in a different manner. Tomas is still looking middle-in even though pitchers are trying to work him away or way inside. Again, we have a bit of disconnect: Tomas has "his zone" where he wants pitches, yet that's not where he's getting them. I can't fault him for hunting pitches where he can do major damage, but can he survive with this big of a discrepancy?
As it turns out, maybe he can. While you'd like to see him hit pitches anywhere in the zone, it's not uncommon for a hitter to isolate "his" spot in the strike zone and do damage there. Take Paul Goldschmidt, for example. Pitchers avoid pitches middle-in to him, yet he's swinging there every time he gets a chance.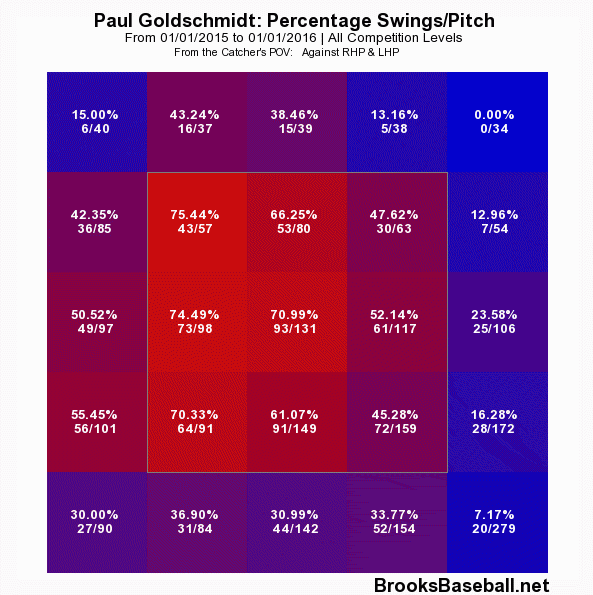 Unlike Tomas, however, we've Goldschmidt drive the ball consistently when pitches are low and away. Tomas has had his moments, hitting a few that were up and away over the fence, but he may need to master the art of spraying the ball within the strike zone, not waiting for something in the danger zone, to take his game to the next level.
And that next level is key. As noted above, Tomas made $2 million this year and will make $4 million in 2016. The salaries raises to $6 million in 2017, $10 million in 2018, $15.5 million in 2019 and $17 million in 2020. Tomas has the option to opt-out of his contract at the end of 2018, but let's just assume for a minute that he's going to stick around for the entire length of the deal. If that is the case, he'll be extremely well-compensated for the final two years of the deal and he'll have to be a much better hitter to warrant the salaries. This is not going to cut it.
His plate discipline will have to lead that charge, and in large part, that will be determined by his management of the strike zone. He's swung way too often this year, as has been pointed out before, but even within the strike zone, he could stand to do a better job of "hitting it where it's pitched" rather than hunting pitches in one part of the zone and trying to destroy them. He's more than welcome to continue hitting pitches in those zones, but he'll have to learn to make some of the other zones work for him, too.