The Rule 5 draft: the sexiest of all offseason events. Forget chasing down the biggest big free agents, and the coming litany of minor league deals with non-roster invitations to spring training. The trade market will be interesting, I'll grant you. But what of Alex Glenn, world? What of the possibility that a franchise-altering catcher could change hands again, the way then-new GM Dave Stewart stole a supposedly unprepared Oscar Hernandez away from the Tampa Bay Rays without so much as a "yoink"?
The Contention Window is officially opened, and the front office's Old World sensibilities suggest that the world is flat, and more than that, we know that the waters of the ocean fall off the side of the map as soon as we close the book on 2017. Maybe, then, we don't care so much about Glenn or Todd Glaesmann, since more impressive talents like Justin Williams, Andrew Velazquez and Touki Toussaint appear not to be game changers within The Window. The Rule 5 draft, however, may still form part of the view from The Window.
In the wake of the Miguel Montero trade, the D-backs front office expressed some confidence that they would be able to find a solution at the position to pair with Tuffy Gosewisch while Peter O'Brien prepared to come charging over the hill. Although the team was looking at options like then-free-agent David Ross, part of the confidence, it seemed, came from having the #1 overall pick in the Rule 5 draft, and their pick of the catcher litter. Eventually they passed over options that may have been a little more prepared to handle backup catcher duties like the Mariners' Steven Baron and the Astros' Roberto Pena, in favor of a pick with a little more upside, Oscar Hernandez.
My point: to some extent, the Rule 5 draft and what was available there may have affected the offseason in bigger ways. And this isn't just a matter of which 4 players out of a group of 8 should get added to the 40 man and protected; it's a question of how many spots will be open in the first place. Aaron Hill may be played out of the picture in spring training the way Cody Ross was last year, but this year could see a player or three designated for assignment before November 20 (a la Tony Sipp, 2013) before the non-tender deadline on December 2.
The Spots Definitely Available
David Hernandez and Jarrod Saltalamacchia have already filed for free agency, and are no longer in our math. As for the players who remain on the 40 man right now, I think it's highly unlikely that you'll disagree that all of the following players will be kept on the 40 man (doing so would mean losing them, unless they passed through waivers and did not elect free agency):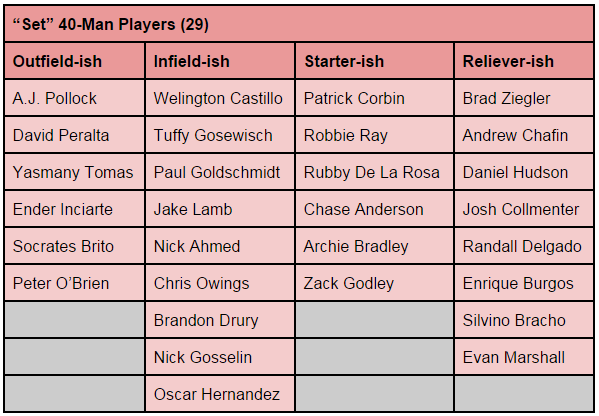 A few more guys who may be at least a little controversial:

And finally: guys who are candidates to be removed either because they're candidates to be non-tendered, or because of iffy performance in the last year:

That adds up to 40 players, and you may be asking yourself: how did the 40-man stay at 40 men after David Hernandez and Jarrod Saltalamacchia filed for free agency? Tuffy Gosewisch and Evan Marshall were activated from the 60-day DL yesterday. Huzzah!
Unprotected Players
The rules are "simple": five years after a player is signed (if 18 or younger when signed) or four years after a player is signed (if 19 or older when signed), he is eligible to be selected in the Rule 5 draft (the June draft is the Rule 4 draft; the Rule 3 draft is the one that requires door skirts in cold weather). It's a little weird to have that one threshold, since the industry gets international amateurs signed up at age 16; Oscar Hernandez became eligible at the same time a college player would have wound up his junior year. Thanks to Hernandez, everyone with even a passing interest in the Diamondbacks this last year has a pretty good feel for the requirement that Rule 5 draftees (for whom the selecting team pays a parent club $50,000) spend the entire following season on the Active Roster (with some injury exceptions — had the D-backs fallen short of 90 activated days with Hernandez, he'd need to finish out his time next year).
Every team has some newly-eligible players every season, and the D-backs have a finite number that, frankly, was too hard to count. I didn't know all of these guys, but one of the cool things about staying with Jeff in Scottsdale is that he can't politely deflect or ignore my questions (thanks, Jeff!). The most notable cases:

The top two guys to worry about are Gabby Guerrero and Jake Barrett, and not necessarily in that order. We'll need to make 40-man spots for them to keep them. After that, it seems, there isn't much to actually worry about, either because the player isn't great enough to worry about losing, or because there's little risk a team will think it can keep the player on the 25 man roster all year.
The team played this 40 man game beautifully last year; after losing lefty Patrick Schuster as the first overall Rule 5 pick in 2013 (he was eventually traded and returned), the team bypassed Zach Borenstein in favor of adding lefty Will Locante. Perhaps as a result, the D-backs had no player drafted last December. Nonetheless, this year, the team may not be able to come up with 5 spots for additions in November like they did in adding Locante, Brandon Drury, A.J. Schugel, Enrique Burgos, and also Kevin Munson — who had been selected in the Rule 5 draft the year before.
You know Guerrero and Barrett, who were both recently featured in Jeff's top 11-20 prospects. But there are a few other guys who might be tempting to other teams. Evan Marzilli can catch and throw and is more than dead weight at the plate, which could make him one of those most classic of Rule 5 selections, the fifth outfielder type. Gabriel Arias was very old when he more or less failed Triple-A and was returned to Double-A this year, but then, the same could have been said of Chase Anderson after the 2013 season. Next year will be John Omahen's age 27 season, but he was near-dominant in High-A (3.35 ERA) and Double-A (2.78 ERA) this season, and as one of the team's rash of indy ball signings in 2013, maybe he doesn't get his age count against him the same way as other guys do. Kaleb Fleck's star has fallen after he was shut down in the Arizona Fall League in 2014, but could be an interesting flyer for a team that doesn't expect to carry a Rule 5 player next season, but that is interested in paying a little bit of money just to see whether he's back to who he was in 2014. Matt Koch might be about as interesting to teams right now as Munson was two years ago, but Jeff made a pretty compelling case that Miller Diaz, the other arm returned by the Mets in the Addison Reed, is just way too far away from the majors to be selected.
Part of this, then, is about how much you're trying to block other teams, how much you value each of these guys, and whether your top priority is keeping everyone or keeping the guys you most want. There's at least an argument to make for protecting all 12 of the guys in the table above, but that just won't happen. Borenstein is unlikely to be protected because he's just not that attractive in addition to not being ready, and Todd Glaesmann probably falls in the same spot. J.R. Bradley, Miller Diaz, and Double-A shortstop Sean Jamieson probably aren't either 1) a helpful major leaguer in April, or 2) in possession of a high enough upside for a team to take it on the chin all year to keep them. Omahen might just be too much of a leap for any team.
We should expect, though, that if there are spots available for that purpose, the D-backs will protect Guerrero, Barrett and Koch. If there are more spots to burn, it looks like Marzilli, Fleck and Arias might be the next guys out of the gate.
Small Changes
Assuming the team will do something to free up slots for Guerrero and Barrett, we may be looking at a DFA-in-advance-of-non-tender for Matt Reynolds. Will Locante could be the next option, unless the D-backs are motivated to move Jeremy Hellickson and they swing a deal before November 20. The guy next-least secure is probably Keith Hessler, but the chances that the D-backs divest themselves of all three of their non-Chafin lefty relievers is pretty much nil. To keep Koch, we're probably looking at losing A.J. Schugel in the Rule 5 draft, parting ways with Jamie Romak despite his Triple-A damage and the chance that one or more infielders could be traded, or cutting Aaron Hill now instead of merely considering that in March.
This is definitely an uncomfortable crunch. The bad news: there's a pretty good chance the D-backs will see one or two of their players selected in December. The good news: that's not likely to matter all that much. Right now, the D-backs 40 man is positively stacked with pitchers, and in terms of avoiding weakness, the team will be protecting every position player worth protecting. The downside is not too high. One thing we probably can conclude, though: no repeat of last year, when the Rule 5 draft became part of the team's overall strategy for the season. That's true for a very simple reason: whether they protect Koch or not, the D-backs will be riding heavy on the 40 man this year, and they won't have any spots free to make a selection of their own.