The #DbacksEvolution is here. We've seen it. I'm not talking about the uniforms – the team itself has undergone a pretty major renovation. While rosters change at a snail's pace for the most part, when you stop and look back, you might ask your questions such as "why did Alfredo Marte get 44 games in 2014?" How easily we forget, right? Some of that memory lapse may be by design. Did you really care to remember Marte or fellow outfielder Roger Kieschnick? I'm guessing you didn't.
I don't bring this up to re-hash former role players, I do so to make a point: the Diamondbacks' roster has vastly improved from top-to-bottom in just a few short years. It was by both by design and by necessity, but it's readily apparent. There's no Cody Ross here. There's no Trevor Cahill. Those days are behind the franchise. Replacement guys will always be around because injuries will always be around, but the team does simply have more quality depth than it has in the past, plus a few new key players that help bring them to the competitive environment that they now find themselves squarely in the middle of.
I think it's worth really examining this comparison. Let's have a look at the position players in 2014, when the team won just 64 games, and the position player crop now as laid out in the ZiPS/Steamer projections via FanGraphs: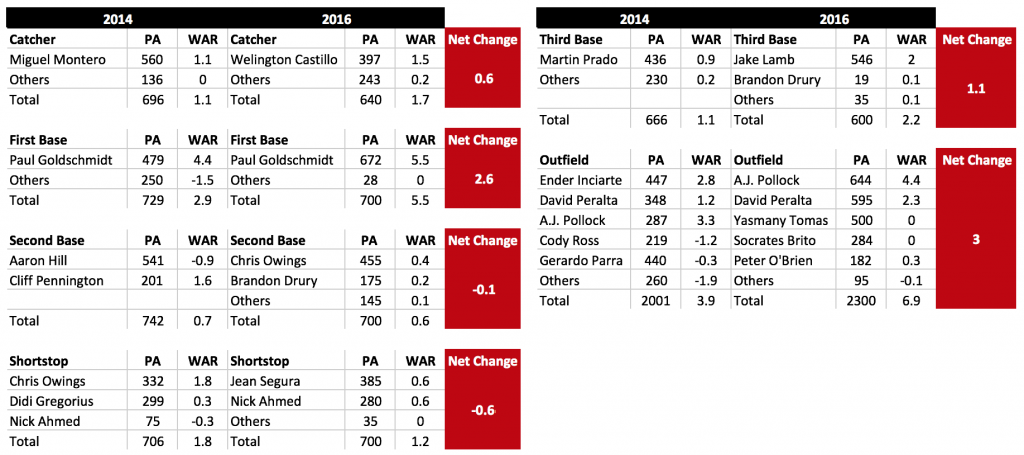 Right off the bat, we see positive changes at catcher, which is possibly a little misleading. I'd venture to guess that Miguel Montero added as much or more in pitch framing value to make up for Welington Castillo's offense . Who backs Castillo up won't matter a ton since Castillo will start as much as possible. There is a need for a bona fide backup, however, and you can read more about that battle here.
First base is interesting here. Paul Goldschmidt missed significant time with a broken hand and Mark Trumbo filled in for 43 games. But, his value here also reflects his 41 games in the outfield, too. He wasn't this bad at first, but he played first most often, so this is where his cumulative value goes. No matter, Paul Goldschmidt will play more and likely play better than in 2014. This an upgraded situation as long as Goldy stays healthy.
Most of Cliff Pennington's 2014 value came from his defense, not his bat. The team will be better offensively here, but it's still unknown just what the middle infield combination will be for the bulk of the season. We could see more Jean Segura than what's projected – or – we could see more Brandon Drury. We just don't know yet. The math has this as a break-even position, but there's a lot reason to think they'll outpace this number. I'm taking the "over" here.
Shortstop is the same story. Is it Nick Ahmed? Is it Segura? Does someone get hurt and Owings ends up there again? This is really anyone's guess, but given what I've seen, I'm guessing Ahmed keeps the job. If that's the case, Segura will still get reps there, but it'll be up to Ahmed's bat to determine his value. I'm optimistic there's some growth in store for him – he's matured slowly at every level in the minors before hitting his stride – and if that's the case, this position is mostly a wash as compared to 2014.
Even without Jake Lamb taking a step forward – he's looked mostly very good this spring  – the situation has been upgraded from an older, more expensive, less effective Martin Prado. Should Lamb take that step forward, the team could be in for a larger raise. Brandon Drury provides quality depth, too, so this is a clear position of strength as compared to 2014.
In the outfield, there's been major turnover. Gone is Ender Inciarte, but joining him in the departure category is Cody Ross, Gerardo Parra, Alfredo Marte, Roger Kieschnick and others. A.J. Pollock should play much closer to a full season, David Peralta has fully emerged, one of (or maybe both of) Yasmany Tomas or Socrates Brito should be able to provide some positive value, while even Evan Marzilli and Peter O'Brien will provide upgrades over some of the guys who got playing time two full seasons ago. This unit is much better than it was in 2014, even if Inciarte is gone.
And on the pitching side:

The rotation has been the focus and it would appear that it's paid off. Zack Greinke can be far better than his projection and looked dominant on Saturday. Shelby Miller will be better than his projection for a variety of reasons and was excellent on Sunday after a tough first inning. Patrick Corbin is as steady as they come and could throw more than 160 innings if he pitches efficiently. I'm not optimistic about Rubby De La Rosa making a big leap forward, but his projection looks about right. Robbie Ray can be better than his and was last year in a big way. This group, as a unit, should outpace the mark projected because, well, the projections are simply flawed in some aspects.
In the bullpen, the projections show a dropoff, albeit a pretty minor one. Here, again, there's a reason to think the projections aren't capturing the whole picture. Brad Ziegler, Josh Collmenter, Tyler Clippard all make their living controlling batted balls. The projections can account for that, but they but far more weight on things like strikeouts and that's just not a big part of the way these guys make their living. If a guys like Enrique Burgos or Daniel Gibson continue to pitch well and end up on the roster by midseason, the group can be even more dynamic. There are pieces to like here that do indeed offer some upside beyond what's shown above.
---
Put all of this together and there are a couple of takeaways. First, the team is simply better than they were in 2014. That much is blatantly obvious. The projections have them around 11-wins better based on this simple math, which is an incomplete picture of the situation. Still, this is where the 78-ish win totals come from when some systems are forecasting 2016 win totals.
The second thing, and we've said this so many times, is that the team is full of young guys with room to grow and/or unique players who just don't fit the projections systems all that well. There's a lot being left on the table by PECOTA, ZiPS, Steamer and the like. This is simply part of what you get with projections: some unknowns. It feels like a lot of those unknowns have a higher-than-normal likelihood of breaking Arizona's way.
Lastly, the team is free of large, burdensome contracts. This post was about performance, but Cody Ross, Aaron Hill, Trevor Cahill, Bronson Arroyo, Martin Prado and, to a much lesser extent, Miguel Montero are all gone. Most of those contracts would have expired by now, but one can't help but notice the new direction of the club. Getting there has been expensive, in either money or prospects, but they've seemingly completed the makeover. Paying for middle-of-the-road veterans didn't work and it was a lot of work to undo.
We don't know how the middle infield is going to work. We don't know who's in the Opening Day outfield. Robbie Ray looks like the best option for the fifth starter spot, but Chip Hale is yet to make a commitment. All of that said, this team is in a vastly different position than it was just two years ago. It was complicated to get here. It was expensive to get here. But here we are and now we get to enjoy the ride.
@outfieldgrass24

RT @JesseNFriedman: Robbie Ray is the only guy I know who can have this pitching line: 3 IP, 1 H, 0 R, 0 ER, 1 BB, 6 K. And also have *58* pitches. #Dbacks

,

3 hours ago

The box score doesn't accurately reflect Kevin Ginkel's night. I think he pitched much better than it'll show. #Dbacks

,

Jul 25

With that kind of changeup, Paddack can get away with some middle-middleish fastballs. Doesn't hurt that he's pumpin' gas...

,

Jul 25

Bumgarner sitting 89 here in the first for #Dbacks

,

Jul 25