When the Diamondback acquired Jean Segura from the Brewers, I guarantee no one was worried about how adding Segura to the infield mix was going to affect Phil Gosselin's playing time. Since coming over from Atlanta in the Touki Toussaint sale, Gosselin has been mostly an afterthought. There's a reason for this – he's entering his age-27 season and has just 291 major league plate appearances to his credit. But given just how tremendously paltry the Diamondbacks just might be up the middle this season (at the plate), there's no real reason not to consider Gosselin.
There is a real duplication of efforts between Segura and Chris Owings since both can play either middle infield position without hitting a ton or getting on base much. Owings might be over his injury and he might not be. He's still using the two-handed follow-through, so read into that what you will. Nick Ahmed, despite the lack of offense, should be the team's starting shortstop, so there are really four candidates to get the bulk of the playing time at second: Segura, Owings, Gosselin and Brandon Drury. Yesterday I discussed why I don't think Drury ultimate breaks camp with the team, leaving it a three-man race in all likelihood.
If that's the case, it makes some sense to compare the players. Keep in mind the following information, however:

So with a little bit of context laid out, let's compare some key statistical categories:
On-Base Percentage (OBP)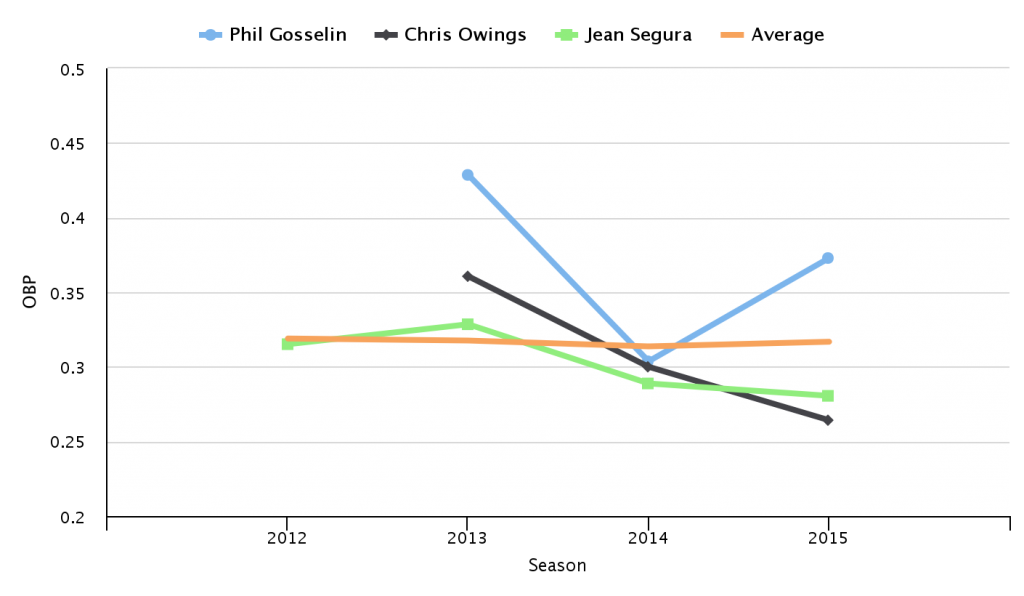 Walk-to-Strikeout Ratio (BB/K)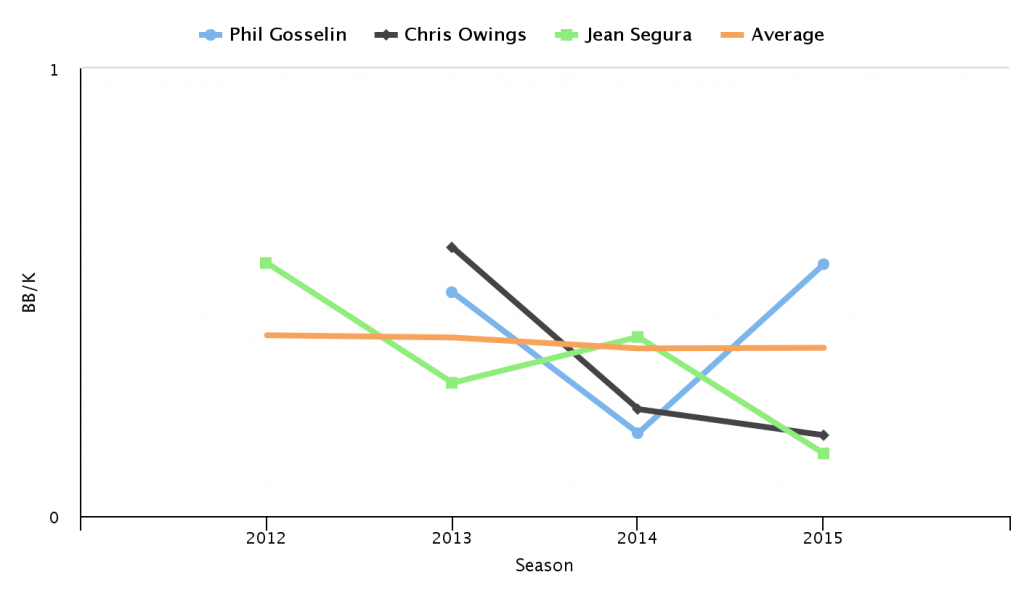 Isolated Slugging (ISO)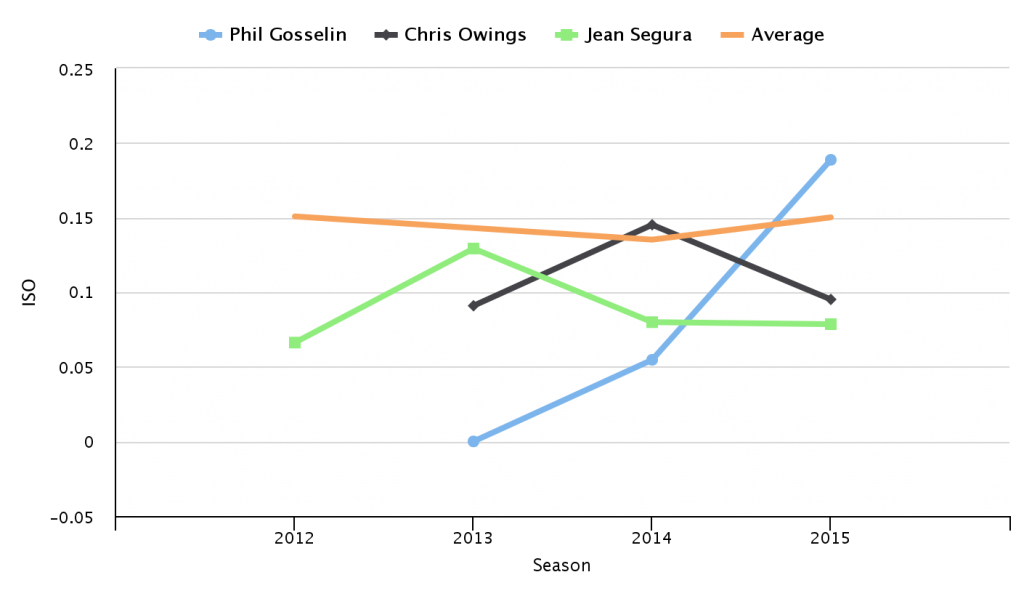 Weighted On-Base Average (wOBA)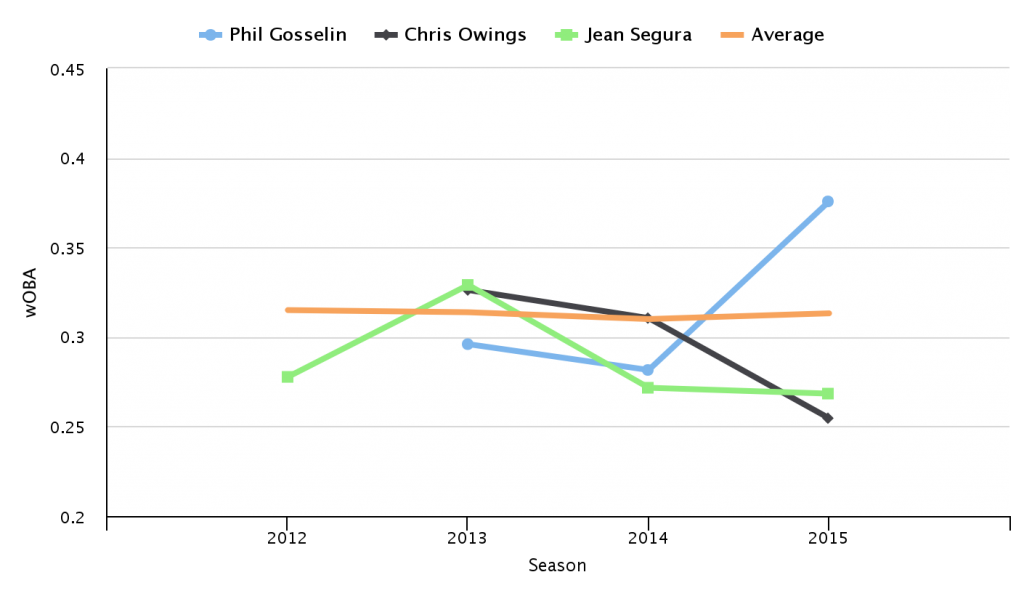 It's worth noting a few things from the information presented:
Phil Gosselin holds his own against the competition, or in a couple cases, exceeds it altogether
Phil Gosselin is a year older than Segura and two and a half years older than Owings
Phil Gosselin has only 25% as many MLB plate appearances to his name as Owings and only 12% as many as Segura
Phil Gosselin was worth three times more fWAR than Segura in 2015 (despite only 30% of the playing time) and was worth nearly two and half more fWAR than Owings in 2015 (despite only 28% of the playing time)
You can do what you want with all of the above information. How you want to weight it is up to you. Yeah, he's older. No, he doesn't have the pedigree. Yes, he's been better than the others at times. Yes, those times have been recently. No, there hasn't been a large sample to study. I really could go on.
Unless Brandon Drury stands head and shoulders above everyone else this spring or there's a rash of injuries or some guys, not including him, get together and decide it's a good idea to eat at Chipotle, my bet is that this ends up a three-man race with Drury arriving at a time in the not-so-distant future. Because the other options really aren't very good and/or Chris Owings may not turn the proverbial corner with his rebuilt swing, Phil Gosselin is in the mix. Considering he's made big league starts at shortstop, third base and in left field, there's might just be enough upside to put him on the roster. He hits as well as everyone else at least, and can fill in all over the place. Don't be shocked if Gosselin takes a bench role for this team, even if it comes at the expense of Drury and Owings.