Earlier this spring, Ryan wrote a really fantastic piece about Patrick Corbin and his slider. By association, the piece was also about Patrick Corbin's changeup. As Corbin put it to MLB.com's Steve Gilbert, the changeup is a point of emphasis this seasons
"My changeup is probably something I'm trying to get to where I can throw it as much as my slider and rely on that pitch when I'm in jams or trying to get ahead," Corbin said. "It's another pitch I want to show lefties and righties to keep them off my slider and fastball a little bit."
Corbin has long relied on a fastball/slider combo that's made him one of the most effective left-handed starters in baseball. But one couldn't help but wonder if the number of sliders he'd thrown through 2013 led to the injury he sustained in the spring of 2014 and ultimately led to Tommy John surgery to repair his elbow. As Corbin returned to the mound last season, his slider usage was under our microscope. Rather than backing away from the pitch, he relied on it about 30% of the time, just like normal.
Enter 2016 and Corbin was using the slider less and the changeup more this spring (at least in the games that were tracked). In fact, he threw the slider less than the changeup as it apparently wasn't just lip service that Corbin wanted to work in the cambio more frequently. Through two good starts in the regular season, sure enough, Patrick Corbin has used his changeup more than ever before.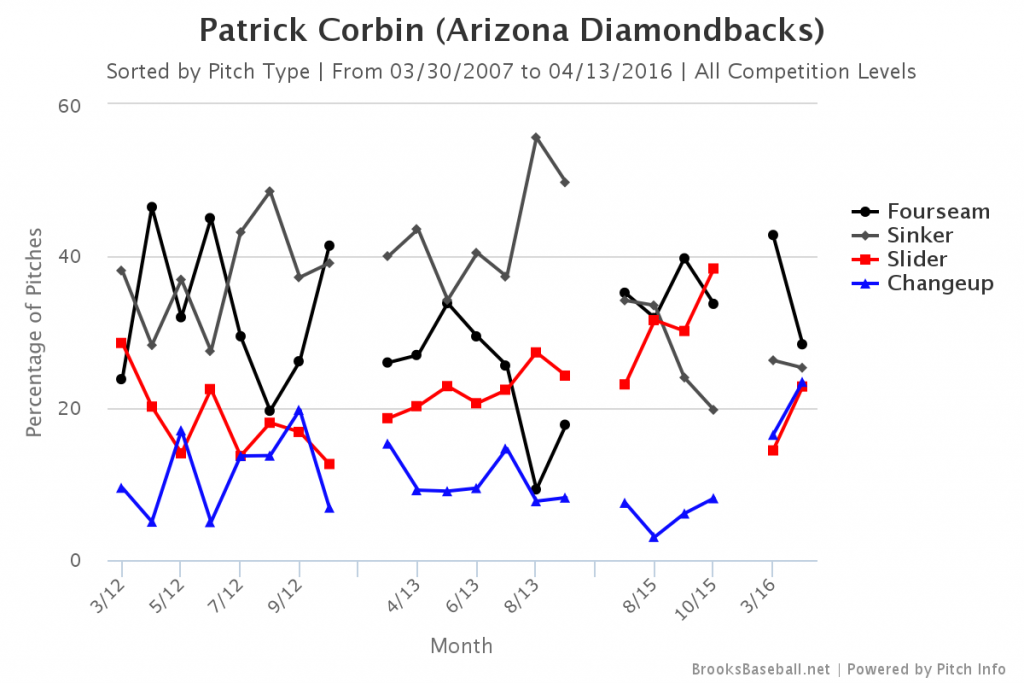 You'll notice that very last data point where all of the trend lines nearly merge. That showcases the fact that Corbin has mixed his four pitches nearly equally. The changeup, however, is the biggest addition. He's thrown it nearly 23.5% in his two regular season outings, far more than he ever has before. That usage has come almost exclusively against right-handed hitters as you'd expect. Here's what's happened to his changeups in 2016:
Swung At: 54%
Whiffed: 11%
Groundballs in Play: 58%
Line Drives in Play: 8%
Fly Balls in Play: 33%
The pitch doesn't feature much "drop" as compared to some changeups, but it does have considerable fade, roughly the same movement as the pitch featured last season. It is getting swung at and missed more, however, and the ground balls are up while the line drives are down. We're dealing with an absolutely tiny sample here, but the early returns are encouraging. He's using the changeup just how you'd draw it up: against righties to get whiffs and ground balls.
We'll have to continue monitoring the situation. It is just April 15th, after all. But you can't help but feel like Corbin has a new weapon, one that should take some pressure off of his surgically-repaired elbow and give him another tool to work with as he keeps hitters off balance. As the rest of the rotation struggles to find footing, Corbin has provided a stabilizing force, thanks in part to his newly-utilized changeup.