When the D-backs last wore one of the new teal uniforms/won a game, they did so in dramatic fashion on Tuesday, felling the Dodgers 4 to 2 on the back of home runs from Nick Ahmed and Paul Goldschmidt, a Socrates Brito triple, and the finest pitching performance this club has had to date this year: a sturdy 6-inning, 1-ER start from Patrick Corbin. It was also the first time we saw the back end of the bullpen deployed the way it was written up in the spring: Tyler Clippard handled the seventh, Daniel Hudson pitched the eighth and Brad Ziegler locked down the save.
Not just any save. For Ziegler, it was his 29th in his last 29 chances, making him the D-backs record holder for consecutive saves. This is a man for whom "consecutive" records is not new: he started his career with 39 scoreless innings, blowing the previous record (for "beginning a career") of 25 innings. That latter record had survived for over one hundred years before Ziegler destroyed it in 2008. The D-backs consecutive saves one was a little more recent than that, but still pretty cool.
Back to Tuesday. When Clippard entered the game for the 7th, he faced A.J. Ellis, pinch hitter Charlie Culberson, and part time leadoff man Enrique Hernandez, dispatching them in order. When Hudson picked up in the 8th, all he got was meat and potatoes: Yasiel Puig, Adrian Gonzalez and Justin Turner, 2 through 4, also facing #5 and #6 men Howie Kendrick and Chase Utley because of a Puig HBP and an A-Gone single. That left the desperate bottom third of the lineup for Ziegler, who gave up a double to #7 man Corey Seager before doing Ziegler things, recording ground outs on Joc Pederson and Yasmani Grandal, who were subbed into the #8 and #9 spots. Poor Enrique Hernandez had the ignominy of ending a game on a Ziegler strikeout… looking.
Also on Tuesday, Russell A. Carleton of Baseball Prospectus explored the Braves' plan for using presumptive closer Arodys Vizcaino as a bullpen "ace." It's a very simple plan: after your team has finished their pitching half of the seventh inning, if things are looking like a save situation or similar is brewing, take a look at who's due up in the 8th, and decide whether your best pitcher should pitch the 8th or the 9th. As Carleton recounts, an optimal bullpen usage doesn't do too much to improve a team's chances of winning a meaningful number of extra games — but after working through the numbers, he did find an advantage in aiming one's best reliever at the other team's best hitters. It's not too complicated: when you're on offense, you'd prefer to get your entire day's worth of hits in a single inning, if you could choose. When you're on defense, you want to flatten things out as much as you can — and not having your not-quite-as-good reliever face the best hitters is not a good way to do that.
Among the advantages of using a closer in the ninth is the idea that you don't have to waste him if the situation changes. Score a few more runs with no outs before you take the field one last time? Maybe you can skip him that day, and be a little better off tomorrow. Crumbling setup man in the 8th? You have the option of trying to use your closer for more than three outs, and if the game is already lost, maybe you can skip your closer that day, and be a little better off tomorrow. Two relievers will pitch. Why not stay frosty with the guy you value most?
Since Ziegler is so good with runners on base (especially when multiple force outs are then possible), the note about knowing to use him for more than three outs looks especially relevant. But at 36 years old and little more than a year removed from microfracture surgery — a procedure that doesn't actually "fix" the knee — the D-backs may be as committed to keeping Ziegler to just one inning as they were last year, when he recorded more than three outs just ten times in 66 appearances. If that's the case, Ziegler isn't a special case — he's a candidate to be treated the way that the Braves are treating Vizcaino.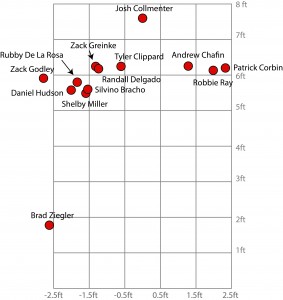 For a team that's had pitchers work out in just about every way other than what they're supposed to, Ziegler is a special case by being a known quantity. In 301.1 innings for the D-backs, he has a 2.45 ERA (after his 231.1 innings with the Athletics, with whom he had a nearly identical 2.49 ERA). He has been an absolute monster, absolutely dominant in his own way — and in a way that seems less susceptible to losing a tick or two off a fastball, considering his 2015 season was the best one he's had since 2008, when he had that incredible scoreless streak. Time and time again, projections predict him to be mediocre, but that has a lot to do with the uniqueness of his skills. The only things that have worked in Arizona for pitchers: be one of the best pitchers in baseball, be left-handed, or get all the ground balls. If you told me Ziegler was the inspiration for the D-backs' ground ball movement over the last calendar year, I would believe you. And maybe the D-backs should focus on making more Zieglers of their own. He's just. So. Weird.
Daniel Hudson is a fine pitcher, but every pitcher may have a little more trouble against the majors' best hitters, and Tuesday notwithstanding, he doesn't have Ziegler's flair for cleaning up his own messes. Tyler "Bizarro Ziegler" Clippard has his own weird brand of pitching that has been weirdly sustainable, and yet he won't necessarily get the fullest vote of confidence until he's succeeded with the D-backs at Chase Field and in the NL West. After all Clippard may not be one of the best in baseball, isn't technically left-handed, and the polar opposite of a ground ball pitcher. The D-backs have guys who are good, but only one guy who seems like a great bet to be excellent.
So is it time for the D-backs to consider using Ziegler in a "relief ace" type role, counting on him to face their opposition's toughest hitters? If the Braves of all teams are buying in, the D-backs certainly could — and this model doesn't require obsessive attention to detail, just looking at the other team's lineup with a half-inning of warning. In the exact same lineup-viewing process, Chip Hale could also take righty/lefty considerations into account with his righty-heavy bullpen, aiming Ziegler at RHH a little more often, and Clippard and Andrew Chafin a lot less (can't Chafin do some closing, anyway?).
Nothing revolutionary here: it's about using the best reliever at a time that is more likely to be important, in a very manageable way. Brad Ziegler has been so much better than his peers for so many years running. It's about time we treated him that way.