It's that time, sports fans: Opening Day for the Diamondbacks and 19 other teams. If you follow the D-backs, you've survived a slow death to the season in 2013, a 2014 that was derailed before it got going, and a 2015 season that included some long-lasting experiments that were at least as frustrating to watch as they were smart to implement. Today is Day One of the Contention Window, and the "pray for rain" pitching staff has been replaced while the rainmaker offense is still almost completely intact.
So today, you get none of our normal drill-down fare. Today is a day to enjoy the limitless big picture. We enjoyed looking at the season from 30,000 feet in the most recent episode of The Pool Shot, and we think you would, too.
Now, on to… Bold Predictions!
Let's start with MLB standings, which we currently plan to deny doing by the time September rolls around: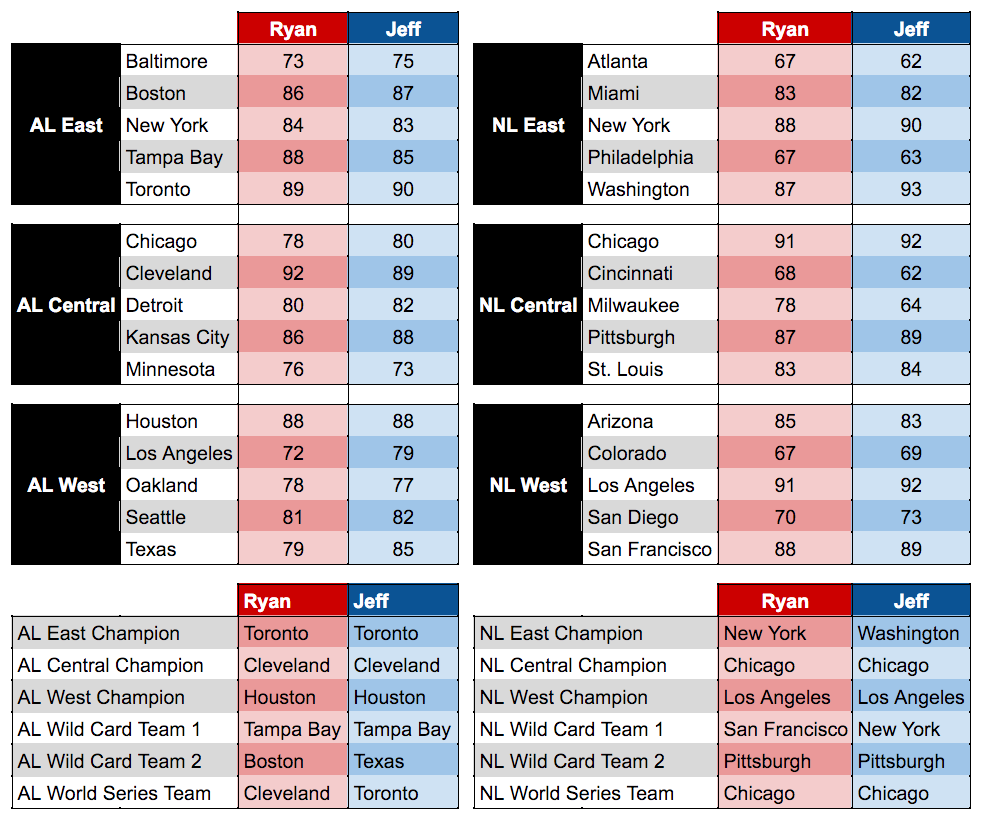 While Jeff's picks look really good, Ryan's picks look really bad, except when the two overlap (note to the reader: be careful who you assign to write paragraphs). There's not a bunch to say here, but it's worth discussing what the injury to A.J. Pollock did to our thoughts on the Diamondbacks. Jeff initially had Arizona winning 87 games and missing the last wild card spot by one win. Ryan initially had Arizona winning 88 games and snagging the last wild card spot by one win. You'll see the new totals above — Jeff discounting the team four wins with Ryan taking away three. For the record, neither author wants the Dodgers to win the division, they just think that's most likely.
Bold Prediction: Patrick Corbin will finish with 15+ wins and a sub-3.10 ERA
In the strikingly normal 2013 season in which Paul Goldschmidt broke out as an MVP candidate, the D-backs had themselves a breakout that seemed nearly as extreme: their other All Star, Corbin. The lefty beat the odds for a team that has seen most right-handed pitchers disappoint for the last several years, and after two incredible months to start the year, Corbin settled in as a near-ace for the team. In his first 172.1 innings, Corbin had an excellent 2.45 ERA, getting drubbed in Philadelphia against the shadow of Roy Halladay, staying in after the team had used nearly everyone else in an 18-inning marathon the night before that afternoon game. This year, Corbin may be throwing his excellent slider a bit less. He should still beat up on the lefty-heavy Rockies, though, including in his first start, and he's likely to get lifted before running into trouble in late innings.  –Ryan
Bold Prediction: Zack Greinke and Paul Goldschmidt will both beat their PECOTA projections by 2-wins
Zack Greinke was worth 7.6 WARP last season. He's projected for 3.2 WARP in 2016. Paul Goldschmidt was worth 9.2 WARP last season. He's projected for 6.0 WARP in 2016. These are big gaps. These players are actually good. Greinke's projection is ridiculous. Goldy's is closer to the truth, but he's younger and in his prime. Greinke's projected 1.17 WHIP would be his highest in three years. Same for his 3.17 ERA (okay, that's a crazy fact).  Goldy's projected .288/.386/.525 triple-slash line would be his lowest level of production in three years. I don't buy it.  –Jeff
Bold Prediction: Jake Lamb will break out with a .285 average, 85+ RBI, 23+ home runs, and 4.5+ WAR
It's time, folks. It's Lamb's time. On defense, he's been excellent if not quite elite, and that should continue. Playing about 80% of starts and adding some timely pinch hit appearances, Lamb will end up a key cog in the Big Sedona Red Machine, adding some long run-scoring singles and finally turning his excellent hard-hit rate into constant threats to hit the ball out of the park. David Peralta is an excellent player, but if you're looking for a position player to help make up for A.J. Pollock's production, look no farther than Lamb, who was worth 2.3 wins even as he was slowed by a stress reaction in his foot last year.  –Ryan
Bold Prediction: the D-backs will have more than two All-Stars in San Diego this July
Goldschmidt and Greinke are stone-cold locks to be All-Stars so long as they're moderately healthy. A.J. Pollock looked to be a third shoe-in, but, well, that's obviously not happening now (*wipes away tears*). But I really believe this team is good enough to produce a third All-Star even with Pollock sidelined. Shelby Miller, Patrick Corbin, David Peralta and Jake Lamb are all capable of All-Star production. You might even be able to argue that Welington Castillo, should he hit even remotely like he did this spring, could sneak in there because most people don't know about pitch framing and his nickname is Beef and if he doesn't we'll all go to San Diego and drink epic IPA's and boycott the All-Star game and picket with signs that say "Where's the Beef?" Who's with me?  –Jeff
Bold Prediction: Silvino Bracho will end the year with 12+ saves
Bracho almost didn't make the 25-man roster out of the spring, with a groin injury that lingered for a couple of weeks. But the projections aren't wrong: Bracho is an absolute monster, and his blend of strikeouts and extreme fly ball percentage should continue to play in the majors. Bracho has had unusual success against lefties in the minors, and while he won't be used as a second bullpen lefty, manager Chip Hale will soon not worry about lining him up against right-handed hitters. The early speculation will be about whether Daniel Hudson should close, but after a time not aiming Bracho against RHH, Hale will use Bracho in more and more important situations. By July, Bracho will be the principal setup man, and by August, the team will end up deciding that Brad Ziegler is more valuable as a fireman than as a closer.  –Ryan
De La Rosa is getting a final, presumably long look as a starter, but there was nothing this spring that suggested that he's figured out lefties or has learned to control the zone enough to truly be effective. He's flirted with moving to the third-base side of the rubber to get a more direct angle in on lefties and even played around with a cutter, but he just doesn't throw enough quality strikes to merit long-term loyalty. Wagner, meanwhile, is a quality ground ball pitcher who should locate enough heavy sinkers down in the zone to get by with average-ish stuff. De La Rosa can light up the gun and throw a quality breaking ball, but Wagner's combination of location and batted balls will prove more effective, and ultimately, more valuable.  –Jeff