In the eighth inning of a 4-2 loss to the Cubs on Saturday, something special happened. Rubby De La Rosa pitched as a reliever. Now, we've had some zany ideas around here in the past, like experimenting with a team full of Gerardo Parra's, utilizing a starter by committee approach or using Archie Bradley as a bullpen ace. I feel like, however, advocating for De La Rosa to move to the bullpen is rational by comparison and, after a year-plus of campaigning, the dream was realized. Hat tip to Justin Emerson for clueing me in and giving me time to mentally prepare before De La Rosa took the mound:
@OutfieldGrass24 Hi. Ruby is warming in the bullpen. Our campaign is working

— Justin Emerson (@J15Emerson) April 10, 2016
I was admittedly giddy and De La Rosa didn't disappoint.The right-hander hasn't pitched primarily in relief since 2013, but he took to the mound and got right to work. It was how he went to work that made the biggest impression. Let's have a look at how he attacked the three hitters he faced (and retired) in the eighth, then discuss.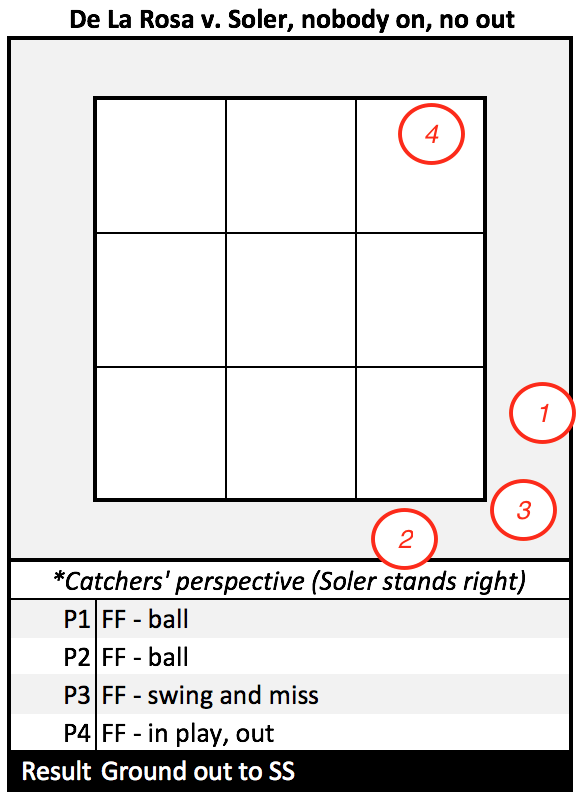 The plan of attack against Jorge Soler was to keep the ball down and away. De La Rosa missed low with his first two pitches and you couldn't help but think "here we go again." Soler helped him out by swing and missing on pitch number three, a 96mph fastball with some serious wiggle. The fourth pitch was the first that Soler had seen elevated and he couldn't let it pass. He hit it weakly to Nick Ahmed who scooped it and made the routine out at first base.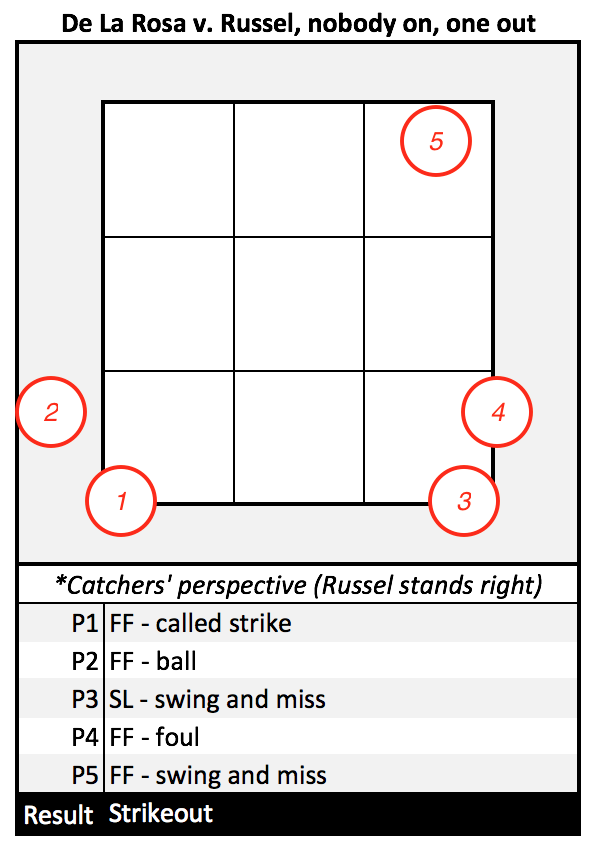 Addison Russel stepped into the box next. De La Rosa fired in pitch one for a strike down and in to the righty. He went right back in there with the second pitch, missing wide. The third pitch was De La Rosa's first slider, one that featured tight two-plane break and Russel swung right over the top of it. The fourth pitch was a close fastball away that Russel spoiled foul. The put-away pitch was another fastball, this one 97mph, that Rubby elevated and Russel couldn't catch up to.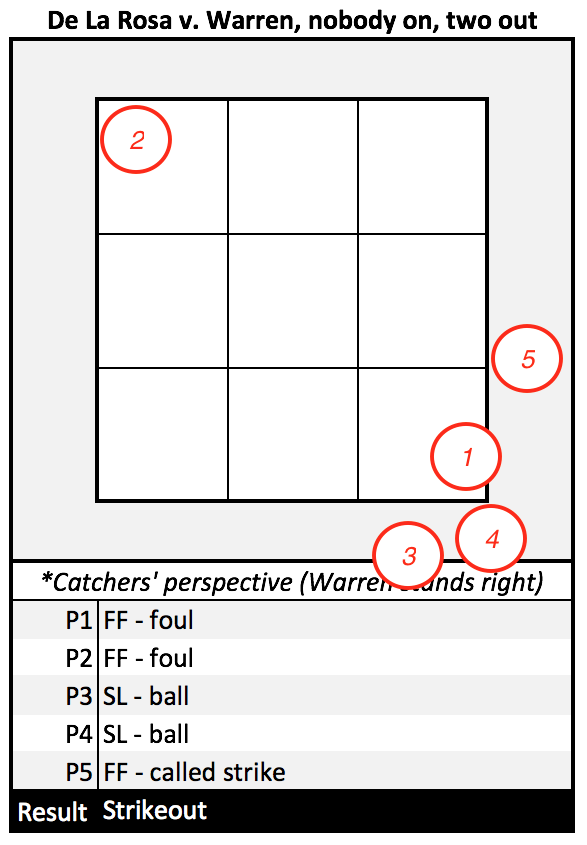 With a two-run lead, Joe Maddon elected to keep his relief pitcher in the game to face De La Rosa. Adam Warren fouled off the first pitch low and away, then fought one off up and in. Up 0-2, De La Rosa threw two sliders below the zone hoping to get Warren to chase, although he held off. Rubby then used his arm-side run to notch strike three on the fifth pitch — one that was wide of the zone but close enough to get the call — for the strikeout.
After re-watching his performance a few times, something becomes clear. De La Rosa took to the mound and fired. He threw mostly fastballs and he possesses one that's perfect against right-handed hitters. There was very little tinkering, little attempt to "fool" the hitter — he just reared back and threw heat. His fastball had 4.5″ of horizontal run and it really, really moves. Combining that kind of velocity with that kind of movement makes his fastball tremendously difficult to square up. No one did Saturday night.
Throughout his at-bats, he threw the fastball deliberately to both sides of the plate, generally keeping the pitch down in the zone. Welington Castillo routinely setup down and while De La Rosa didn't exactly nail the target, he kept the ball mostly out of reach. When elevated, the fastball surprised hitters who either hit them weakly or missed altogether. The sliders he produced showed sharp break. The one to Russel was a beauty while the two to Warren were buried on purpose. They were purpose pitches and he kept them where they couldn't get punished.
Word came down quickly after the game that De La Rosa will remain in the rotation. It was his side day on Saturday and rather than throwing in the 'pen or doing his work in the afternoon, they opted to use those bullets in a game. That's fine. But I can't imaging they would have exposed him had they not had some other prerogative in mind. One of those could be seeing how he looked in a one-inning stint for future use. The other could have been more strategic: telling De La Rosa to just go out and throw. Don't think, don't mix a bunch of pitches. Just throw the gas and a breaking ball once in a while if you need it. That's it.
Confidence matters for pitchers. A strong outing over one inning on Saturday might not make for a strong outing tonight (he faces his lefty-stacking foes, the Dodgers, on Wednesday), but it has to feel good for him to rack up some outs. After tinkering with new pitches (a splitter) and where he stands on the mound (third base side of the rubber) this spring, it's clear that Rubby De La Rosa was searching for the right combination. He wants to succeed, but the recipe has elluded him. Perhaps keeping it simple, trusting his stuff (which is really good) and building on a good outing is just what the doctor ordered. Then again, he still doesn't seem to have an answer for lefties.
Either way, the dream came true. Rubby pitched as a reliever and it was sort of marvelous. If he continues to struggle as a starter, we can be something like 10% more confident now that he's got value as a reliever. The team will continue to try to make the starter thing stick, but they just saw what we just saw and, well, you could do worse than Rubby De La Rosa as a relief pitcher.