33.1 innings into his career and the 2016 season, Jake Barrett sports a 2.97 ERA. The D-backs have had fourteen pitchers throw as many as 20 innings this season, and Barrett's ERA stands out — only one of the other thirteen pitchers has bested that 2.97 ERA, and he's currently wearing a Red Sox uniform. Barrett, then, stands alone. And on a team stocked to the gills with pitchers who have fallen short of conservative projections of performance this season, Barrett also sticks out: Steamer projected a 3.81 ERA for Barrett, while ZiPS projected a 4.15 ERA, and PECOTA's 50th percentile marks include a 4.50 ERA — even PECOTA's 90th percentile marks had Barrett at an ERA of just 3.21.
So is Barrett really this good? The short answer is "probably not," because in the vast majority of cases, preseason projections are better at forecasting a player's second half than the same player's first half. The not-so-short answer… is also probably not. But the longer answer is "well, maybe," and as the team hemorrhages Sedona Red fluid all over the National League standings, that might count as some kind of moral victory.
Getting Under Control…
Barrett has never been a control pitcher; rising to the Triple-A level for the first time in 2014, he caused himself more than a few problems by walking 12.6% of the batters he faced (a 4.66 BB/9, all things considered). Few pitchers can survive a walk rate that high at any level, but when coupled with an underwhelming 19.3% K% (a 7.14 K/9), Barrett's stock really began to fall. His status on the minor league ladder did, as well. Barrett was returned to Double-A for the first half of the 2015 season, where things took a turn for the better (9.00 K/9, 3.30 BB/9) — but when he returned to Triple-A, Barrett's command betrayed him again (4.70 BB/9), even if his strikeout rate improved (8.22 K/9) on that of his previous Reno stint.
Barrett impressed the coaching staff in spring training enough to get a ride on the D-backs pitching carousel this April, and while he did have some pauses in which he had to give other pitchers a turn, to date he's done enough to survive being voted off the island. In hindsight, Barrett's 8.91 K/9 and 3.24 BB/9 this season offer what we probably should have considered a best-case scenario. The walk rate is low enough to not take him down, although it's far from an asset — and the strikeout rate truly is.
But let's not get ahead of ourselves. The short answer is "probably not" because to date, Barrett hasn't actually helped the D-backs win games as much as his 2.97 ERA might imply. As discussed on Tuesday, the single best metric for relievers is probably RE24 — a measurement of whether he's prevented more runs than the average pitcher in the real situations in which he's been placed. Barrett's RE24 is an unimpressive -0.23. But that's not a replacement level stat — that's comparing Barrett to the average pitcher. And in Arizona, a reliever who is ever-so-slightly worse than average still has heaps of usefulness. For what it's worth, Barrett also does look fairly lucky from the outside looking in; he's left 83.8% of his own baserunners on base, a rate that few pitchers have ever sustained. We'd need to see more before deeming him responsible for his low BABIP (.236), as well.
…And Then, Not…
As several people have noted, Barrett has been much better when entering the game with his own "clean" inning, as opposed to cleaning up after others. That's the exact scenario in which a reliever might have an underwhelming RE24 but a sharp-looking ERA — it'd be unfair to count inherited runners against a pitcher as if he had put them on base in the first place, but it's probably also not fair to fail to account for them completely. Barrett's high left on base percentage is partly a function of being brought in mid-inning more often than not; pitch with fewer outs remaining in the inning, and baserunners you do put on are less likely to score.
It's not about stuff. Per PITCHf/x, Barrett has averaged 95.8 mph on his fastball with no runners on base. Problems with runners on might make you think that he's struggled pitching out of the stretch, but that's where this gets a little interesting: with runners on, he's still managed to average 95.6 mph on the fastball. The same goes for Barrett's slider, his secondary pitch: 87.6 mph with no one on base, and 87.1 mph with ducks on the pond.
Batters have hit .235 against Barrett this season with the bases empty, and .237 with men on base — the odds of getting two numbers as similar as those are really, really low given the small size of our sample. Batters have actually done less damage in terms of total bases, too — hitters have a .471 SLG with the bases empty, .328 SLG with runners on. But there is a fairly serious problem, and it's that for Barrett, baserunners have seemed to multiply.
Hitters have a very low .268 OBP against Barrett with the bases empty — and there's your "he does well with his own clean inning." They have a OBP nearly 100 basis points higher with runners on, however — and that .366 OBP is your "has not done well with inherited runners." He's walked 3 of 71 batters faced with the bases empty, and 9 of 71 batters with runners on, a fairly big change. And it doesn't even end there, as all three of Barrett's HBP have come with runners on.
I have a theory, if it's worth having one when we're really only talking about a few outings. Barrett has pitched in the strike zone just 41.8% of the time. That's not quite as low as it sounds — league average is just 43.8%, according to FanGraphs — but it's still pretty low. Barrett survives and even excels like that because he gets hitters to swing anyway (37.3% O-Swing%; league average is just 30.1%). But that dries up with runners on base, as hitters either become more selective, or Barrett's control abandons him (cite: the HBP). That seems like something that could stick to Barrett, but it doesn't seem like something that has to stick to Barrett.
…And Then, a Change for the Better
Barrett's results speak for themselves, to a large extent. This spring, though, in looking at the likely platoon splits of the D-backs' right-handed relievers, I put Barrett most of the way toward "aim at righties," if not as far on that side of the continuum as Daniel Hudson or Brad Ziegler. That, despite a pretty gnarly reverse split for Barrett in the minors last year; righties had a .877 OPS against him, but he held lefties to a .609 OPS. I did that because I was basing the analysis on Barrett's stuff. But here's the fun thing, and the reason I think things are really looking up for Barrett, who might match what his performance looks like going forward: Barrett's stuff has changed.
Compare the movement on Barrett's pitches from his 2013 stint in the AFL to his spring training pitches, and his pitches since the beginning of May (click to embiggen).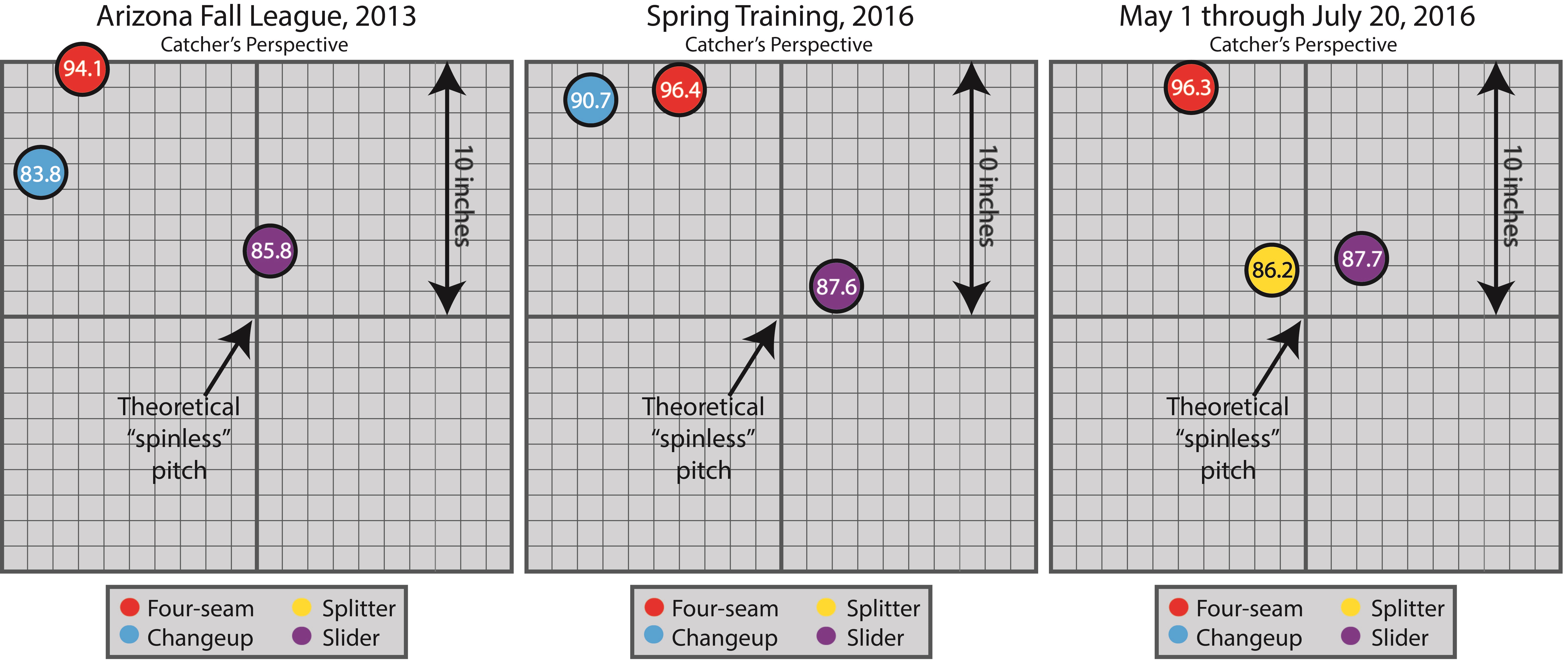 There it is! I actually left out two changeups tracked by Pitch Info at Brooks Baseball in the last image, but you get the point. Barrett's not throwing a ton of splitters — we're talking 7.4% of pitches since the beginning of May — but they've performed well. Despite throwing about half of them out of the strike zone, the splitter's swing rate (48%) is competitive with Barrett's slider (55%), as is the split's whiff rate (24% of swings; slider is 31% of swings). But only one of the 29 splitters Barrett has thrown has been put in play, a small sample rate that puts all of his pitches to mortal shame. I should probably mention that that one ball in play was actually a live drive home run, but either because the pitch wasn't in "the book" on Barrett or because it just looks too damn much like his slider, no one has hit it.
What's more, Barrett has more or less retained the good tilt (read: lack of tilt) on his fourseam, and from what we've seen, vertical movement is less prone to platoon splits, and maybe a good fit for Chase Field and the NL West, on top of that. Barrett's fastball may always be a little platoon-prone, but that's okay; most pitchers' fastballs are, and that's not all about lefties doing damage, but also about righties having a hard time. From what we know about movement, velocity and platoon splits, though, the split is dramatically more likely to be a useful tool for Barrett against lefties than that incredibly platoon-prone change he was running with at the beginning of the season. Really, this is a direction we'd like to see more pitchers take. Barrett has backed off on the split a bit since he broke it out in May, and missing the strike zone with it might have a lot to do with that. Here's hoping we see more of it, though. If Barrett can keep the good parts of what he's done this year, add to them and subtract something troublesome (the change), he may yet be a force to be reckoned with.