I like to cook a little bit, and over time, I've gotten better at it. But I remember those early days, when I'd get wild hair to cook something and half-way through, I'd taste the batter or the sauce and determine it was too sweet, too salty, or didn't have enough spice. Next thing I know, I'm pouring in the "missing ingredient" only to taste the food again and decide I'd gone overboard. This basically put me in full-scale panic, trying not to waste my efforts and working every which way to get things back into balance. It usually didn't work and I was left to eat whatever I'd made, and slowly, I learned why balance in cooking is so vital.
I say all of that because the Arizona Diamondbacks have essentially had to cook without the proper ingredients this season, and like my early days in the kitchen, the balance has pretty much gone to hell. They've been forced to eat it anyways, palatable or not. Swapping out A.J. Pollock for Socrates Brito/Michael Bourn/Chris Owings is a rough trade to make. Exchanging David Peralta for Brandon Drury or Yasmany Tomas isn't quite as bad, but it's not far off. Trading Ender Inciarte for Drury or Tomas is like swapping chocolate for vanilla. Tuffy Gosewisch is going to start getting Chris Herrmann's at-bats now, too, and that's not going to taste good. Put it all together and it's clear the D-backs aren't using the original recipe.
One area where this is having a tremendous effect is in the strikeout department. They're collectively fifth in the majors with a K rate of 23%. That's right, they're striking out in nearly one out of every four plate appearances. The only teams with higher strikeout rates are the Brewers, Padres, Rays and Astros. Houston is actually good, but the others aren't. And this has been a growing trend for the D-backs over the last few years, perhaps exacerbated this season by trades and injuries. In 2013, they were 25th in strikeout rate at just 18%. In 2014, they were 22nd at 19.1%. Last year, 14th at 20.9%, then the big jump in 2016. While strikeouts are up in baseball, that's not the biggest issue at play here as the team has climbed the MLB strikeout leaderboard each of the last four seasons without necessarily getting better at scoring runs.
Strikeouts don't just magically appear, of course. There's a culprit. Or maybe culprits. The team does chase pitches out of the zone more often than average and swings at pitches in the zone less frequently than average. That's not a good combo. While they offer at more pitches out of the zone than average, they're the 4th-worst at making contact on those pitches. They're just average at making contact in the strike zone, which can't help pull them from the depths of their poor plate discipline. Chasing a lot and missing a lot is simply doing them in.
Looking closely, this appears to be much more of a personnel issue than a regression-of-skills issue. Observe: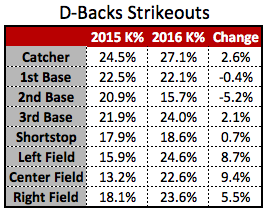 The two positions with the smallest change from 2015 to 2016 are first base and shortstop. Paul Goldschmidt and Nick Ahmed have been stalwarts for the last two years at their respective spots. In center field, there's been a huge change in strikeout rate and a more-huge change in the rotation of players used to cover the spot. Brito was in over his head and racking up the strikeouts before Chris Owings gave way to Michael Bourn, a guy who's striking out nearly 25% of the time. A.J. Pollock stuck out 13.2% of the time last year. Whether at the top or the bottom of the order, center field has seen a cavernous drop off in production for the D-backs, and the strikeouts are a large part of that.
Left field hasn't been much better, although the circumstances are different. Ender Inciarte was traded this winter and his replacement has been some combination of Brandon Drury, Peter O'Brien and Yasmany Tomas. We saw what O'Brien could do (or couldn't do), Drury is playing out of position but needs to play and Tomas has been in right field thanks to David Peralta's injury. The contact-oriented Inciarte is missing from the 2016 recipe in both outfield corners and more swings-and-misses have been inserted in his place.
I think we can all live with Jake Lamb's strikeouts considering his power surge, and while 27.1% is awfully high, D-backs catchers have hit the ball well this season when they've made contact. Jean Segura at second base has been the team's only major upgrade in terms of strikeout avoidance. Another contact-oriented hitter who's exceeded expectations, Segura is doing his part to put the ball in play while many of his teammates are swinging and missing more than ever.
Just as Ryan discussed yesterday about the value of generating strikeouts on the mound, D-backs hitters can do just as well by avoiding them. A topic of conversation this year, Chase Field seems to be most-suitable for guys that can put the ball in play regularly given the dimensions and climate of the park. A special bonus goes to guys that hit the ball hard, but that's the case just about everywhere. Instead of putting the ball in play regularly, Arizona is doing so at an historically low rate. Worse, you can't time who's going to be up at the plate when you have runners on base, and if it happens to be one of the many guys striking out at big time levels, you're more likely than ever before to leave empty-handed. With runners in scoring position, pitchers are fishing for strikeouts and, at first glance, it would appear they're getting them. Two-strike approaches have been an issue, one worth exploring on its own.
Some things can't be fixed just by getting the Diamondbacks healthy. I've argued they're still short on talent and I believe that. Owings and Peralta are nearly back from injury, Pollock may return to action in August or September, Zack Greinke will be back at some point and just maybe we see Rubby De La Rosa and Shelby Miller again. There's a scenario here where they reach "full strength" in September, which will at least be fun to watch. And if they get there, some of these strikeout issues may just go away. Inserting Pollock and Peralta would be a boost, and even if Inciarte isn't about to come back to the desert, playing Drury over Tomas is a win in the strikeout department. While offense has hardly been the issue, it could improve dramatically just by avoiding so many strikeouts.