Jake Lamb has had an interesting breakout season in 2016. There have been some obvious highs and some unsightly lows. That's how it goes for most guys, but with Lamb finally earning some time in the spotlight, we've had plenty of time to notice the trends one way or the other. There's no denying he's been good and his approach is perfectly tailored to Chase Field. He hits the ball hard and the park takes care of the rest. The defense has looked bad at times, but we know he can make all of the plays. In the end, it's been a bit of a mixed bag, and with the season nearly complete, we can notice a few interesting things.
Jake Against Lefties
Early on, it looked like Lamb was going to sit against lefties, and we all groaned in unison. There's a great way to make a player a platoon guy: don't let him face same-handed pitching. Some players have proven an inability to hit same-handed pitching, and that's one thing, but for Lamb, he was never really given a chance to improve against fellow lefties before the decision was seemingly made to keep him out of the lineup with southpaws on the mound. The trend continued through the first two months of the season before Lamb started chasing an All-Star nod and Chip Hale began using him more frequently. We can't the results were always good, but hey, at least he was getting his hacks. In August, he didn't face hardly any lefties at all, but then September came around and, well, look for yourself.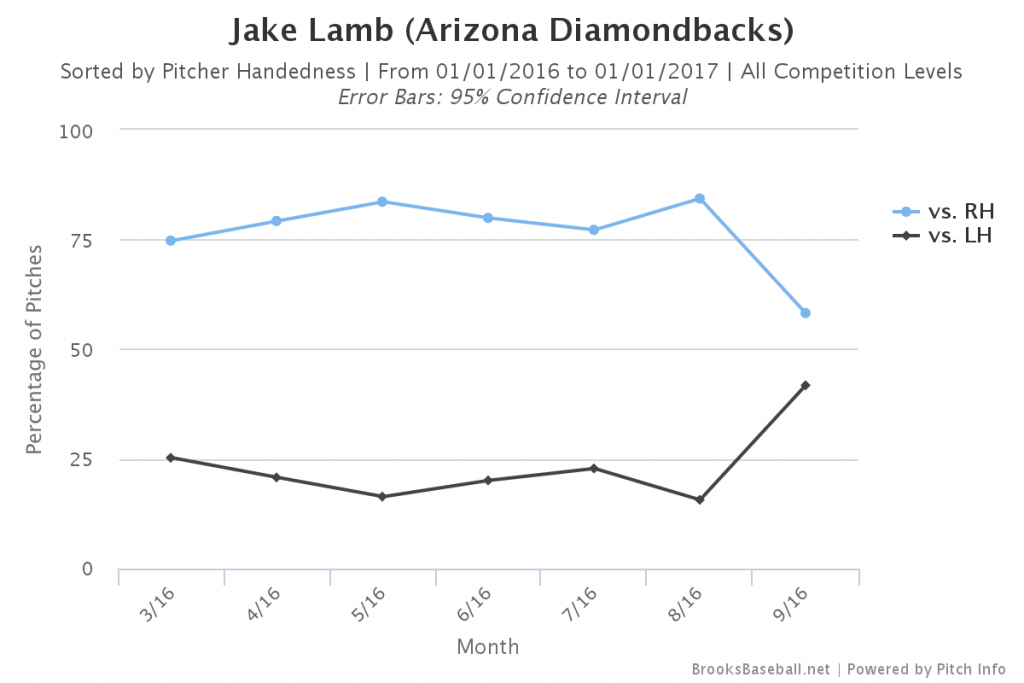 Lamb has been given his chances this month against lefties and what do you know? He's red-hot again. Better yet, he's done okay against lefties in his 11 plate appearances in September, surely a small number, but a good sign nonetheless. He doubled twice and walked three times, good for a .454 OBP. He did strike out four times and make two out on batted balls, but that comes with the territory to some degree. He should get plenty more opportunities against fellow lefties to close out the season, so we'll have to wait to see if the trend continues.
More and More Fastballs
Jake Lamb has been a good fastball hitter this season. He likes to punish baseballs and if you can catch up, there's no better pitch to hit than a good old fashioned heater. There's also some evidence that his type of swing is a good match against sinking fastballs, something he's proven this season. So it would make sense that pitchers would throw him fewer fastballs as the season's worn on. But…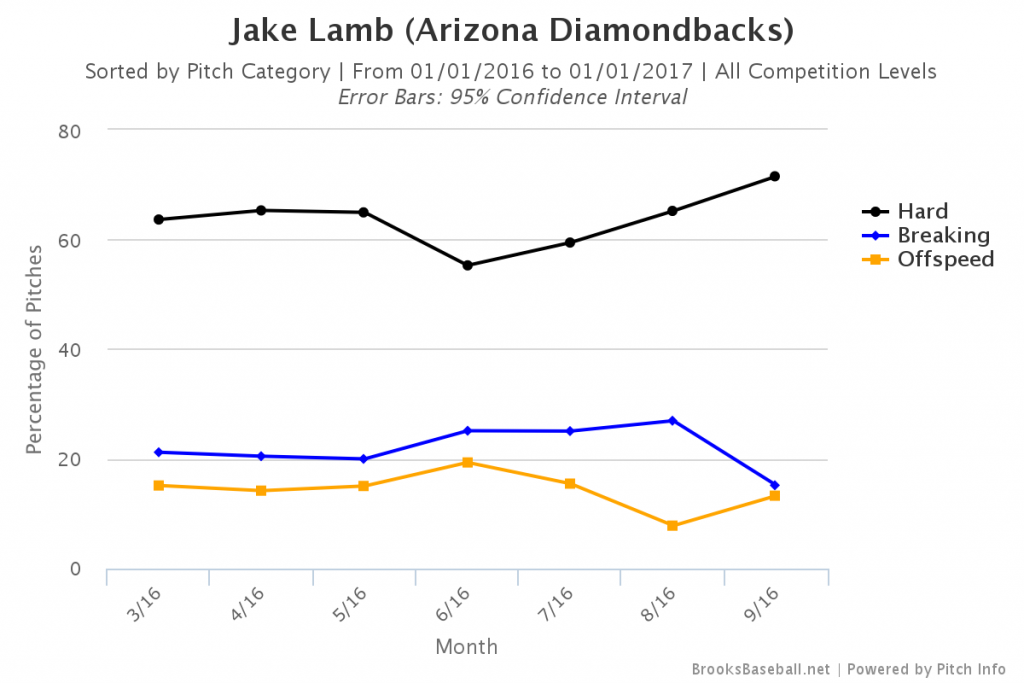 I don't know why pitchers have thrown him more and more fastballs, but they have. At this point, he's getting over 70% fastballs and not missing many of them. It doesn't make a lot of sense to me, but the madness continues and the D-backs aren't complaining.
The Triples
Lamb is not the most fleet of foot. That's pretty obvious. He's stolen just 10 bases in 279 career games and been thrown out four times. He doesn't generate many infield hits as he's just not the guy to be legging out balls hit into the hole. And, despite only hitting one triple since the middle of July, Lamb is still tied for the MLB lead in three-baggers with nine. With a left-handed swing geared to pull, Lamb has hit eight of his nine triples to the right of center.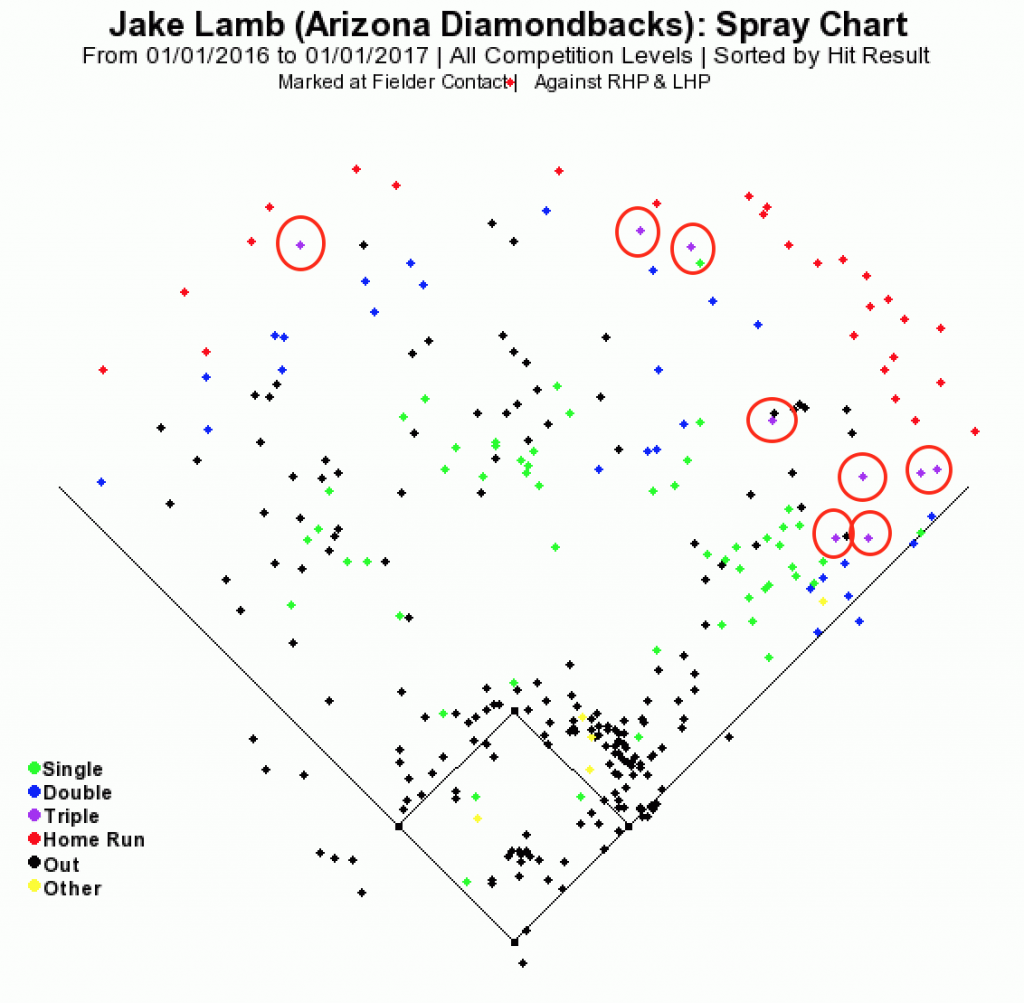 While he lacks the foot speed to be a real burner, he has a propensity to pull the ball and hit it hard. Playing 81 games per year at Chase Field, he'll still get his share going forward, though we'd never pick him to lead the league.
Against the Shift
As a pull-conscious lefty, it's no surprise that Jake Lamb has seen his share of shifts. In fact, he's seen a shift in 194 plate appearances where the ball's been put in play and only been played without a shift in 116 plate appearances with the ball put in play. This places him among league leaders in this department, but the funny thing is, the shifts haven't exactly worked.

While Lamb has had more plate appearances against a shift, his totals are surely impressive. He's clearly outpaced extra-base hits against the shift as opposed to their absence. They've taken away a few hits, noticed by the slightly lower batting average, but the extra doubles and triples clearly make up for that. Loading up the right side of the infield will steal some singles, but Lamb's up-the-middle approach will result in hard hit balls to the outfield where they're neutralized. Better yet, we might be able to infer that he's been deliberately trying to defeat the shifters, and if that's the case, it's worked. Confirming that would take a much more nuanced study, but you can see the makings of it here.
All of The Errors
From a tools perspective, Jake Lamb has everything you look for in a third baseman. He's quick enough on his feet, he's got the lower half flexibility you like to see, and he's plenty of arm to get the ball across the diamond. There's no reason to think he can't play the position, even if it's just a ceiling as an "average" defender there. But the errors have been an issue this year, and historically so.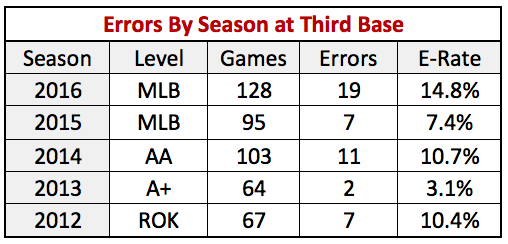 At each level where he's played 50 or more games in a season, Lamb has never made errors at a rate like this. This season, he's made errors on an average of every 14.8 games. We know that some of those errors have come in bunches, but the rate at which he's made them this year is perhaps an anomaly.  It's not something we'd expect to keep up going forward, which is music to our ears. It's not as if the degree of difficulty has increased by some wild amount in 2016 and he's made the plays before, so our best expectations would be to assume that they'll drop back to more normal levels, relative to Lamb himself, next season. He's noted the root of the problem and has worked to fix it. He's only made two errors since the beginning of August, so perhaps it's already working itself out.
August Was Deplorable
The month of August was a massive black hole for Lamb. It's sunk his value this season in a major way as he hit just .182 that month with his lowest rate of extra-base hits. Take a look for yourself.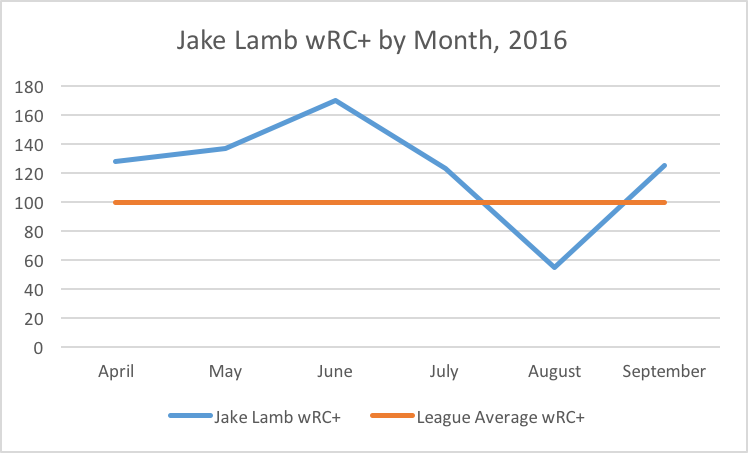 Lamb has been well above league average all season, August withstanding. So we have to wonder what was up in August, and the most noteworthy thing might just be the hand injury he suffered towards the end of July agains the Blue Jays. He tried to play through it but finally started to rest and recover right before we flipped our calendars to the eighth month of the year. His rate of pulled balls dropped in August, but it's remained there in September and the results have come back. He still hit plenty of baseballs hard according exit velocity in August, but he hit fewer line drives. So we're left with two plausible explanations: the lingering effects of the bruised hand and/or normal variance. It's probably a combination of both, but we can't deny that August was nothing short of a catastrophe for Lamb at the plate. At least he's rebounded to some degree.
Baseball is Weird
The more time one spends digging through statistics and following a select group of the players, the more one notices the ebbs and flows that come with any season. The game is full of anomalies, and for as much progress as the statistics community has made in predicting player performance, strange, unpredictable things will always be a part of the game. For Jake Lamb, that's been a trend this season. For all the ups, there have been downs and it's easy to believe his game has lost a little shine. We'd do well, however, to stay the course and assume that he'll continue to be a valuable player worth far more than his salary for years to come. Even if he's not the superstar that many saw in June, he's an asset for the Diamondbacks and not a finished product. The best Jake Lamb may still be out there.