Better Late Than Never: Brandon Drury is the Best Hitter in Baseball Right Now
It's been a season full of growing pains in Arizona, a trend that applies almost universally. Perhaps only Jean Segura has been immune from performance issues in his reemergence. Paul Goldschmidt is hitting for less power. A.J. Pollock and David Peralta couldn't stay on the field. Zack Greinke hasn't lived up to expectations. Patrick Corbin is pitching well — in the bullpen. Robbie Ray is notching the strikeouts but perhaps not dominating the way you'd expect based on some of his stats. Rubby De La Rosa was shut down for the rest of the season after missing the bulk of it. The bullpen is a mess. Jake Lamb's had a weird season. Yasmany Tomas can't field to save his life, making his plethora of homers less impactful. It really has been a brutal season, and while we wait to learn the fate of the front office, De Jon Watson was let go last week. Things remain in a state of turmoil while the team finishes up a lackluster season.
Perhaps no player, however, has encompassed the team's struggles quite like Brandon Drury has. Brought up as a third baseman where scouts projected him as an average fielder, he started making the transition to second base last season with Lamb seizing the reigns at the hot corner. Scouts were less optimistic about Drury's ability at second, but that started to change as he had more time at the position. In my looks at him at the keystone, he was smooth and was comfortable working around the base. He was a bit stiff for a second baseman and lacked plus range, but all in all, he appeared to be a player that could at least get the job done there. Then, Peralta was hurt, on top of Pollock's injury, and Drury was forced to play the outfield. If you're counting at home, that's four defensive positions in two years (third, second, left and right field), a transition that can't be easy for a player. We know that Drury just wants to be in the lineup, but all of the transitioning can't have been easy for him even if he won't complain about it.
It's hard to say if all of this uncertainty on the diamond has effected him at the plate. There's a line of thinking that surmises that if a player can't find comfort in the field, he'll bring that unsettled state to the batter's box. There's another thought process saying that once you're facing the pitcher, everything else goes out the window. I guess it probably depends on the player as we've heard from guys on each side of the debate. We've heard very little from Drury on the topic, but regardless of his positioning, he's been below average and below expectations at the dish in 2016. Well, at least up until about a month ago. Because in the last 30 days, Drury has been punishing opposing pitchers and since September, he has the highest wRC+ of any player in the majors with at least 60 plate appearances. People are taking notice, as he was named NL Co-Player of the Week today.
In that span, Drury has somewhat salvaged his season, at least as a collective metric like WAR suggests. It wasn't long ago that Drury had cost the Diamondbacks more than a win this season. With a full win's worth of production since September began, he's now almost back to even. Make no mistake, getting to replacement level is not a major victory and his current pace will never hold up, but he's clicking now, and to that, I'd say it's better late than never. Let's take a look at his offense this season by month and you'll understand exactly what we're dealing with here.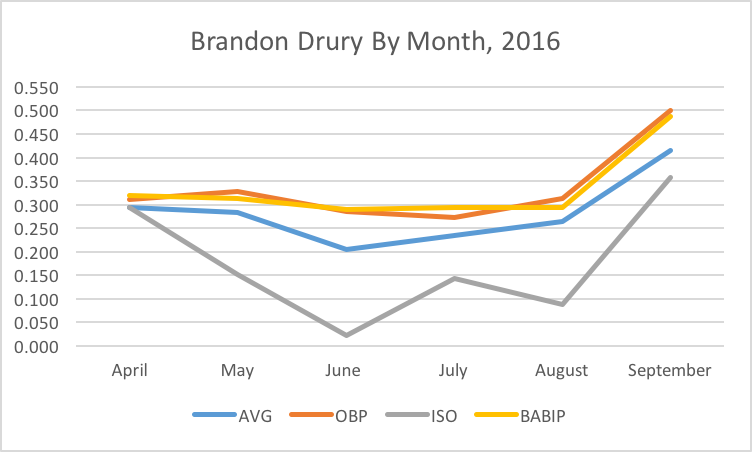 Batting average is a bad statistic to measure how good a baseball player is and we know that. That should tell us that his .205 average in June was not a great indicator of who he is, and we shouldn't buy into his .455 average in September either. With more and more baseballs leaving the yard these days, power has become even more premium and that's where we see the biggest changes in Drury's game. His isolated slugging (ISO) has been all over the place this year, telling us that he's perhaps had some trouble hitting balls hard consistently. The data bears that out to some degree.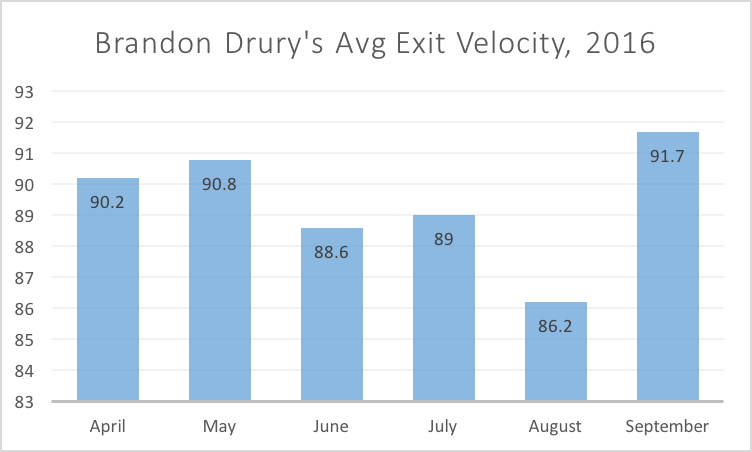 Drury has hit the ball harder this month than ever before. While the increase over his early season numbers is seemingly small, even small improvements can help balls get over the heads of infielders or make it over the fence rather than being caught on the warning track. It all adds up, and more exit velocity is a good thing. Check out how his launch angle has changed this year.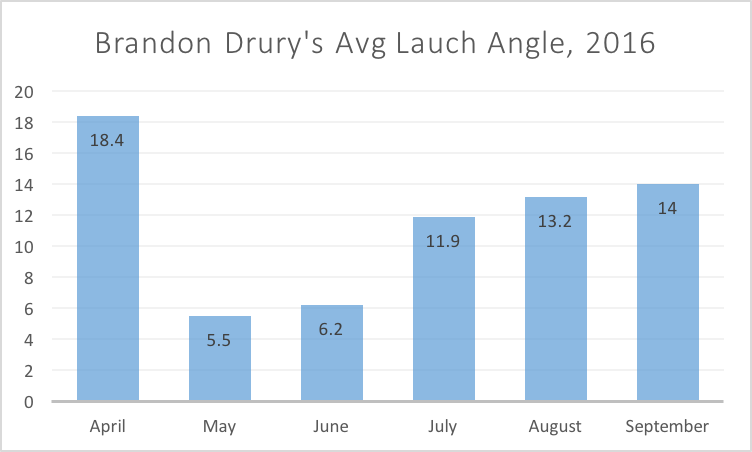 After launching some balls in April, Drury began hitting the ball on the ground much more in May and June as his launch angle lowered tremendously. Since then, it's been creeping back up. He's always going to hit more fly balls than grounders, and with average power in a hitter's park, that's a good thing. As the these two things come together, here's how it's effected his overall offense (although walks and strikeouts are a part of that as well).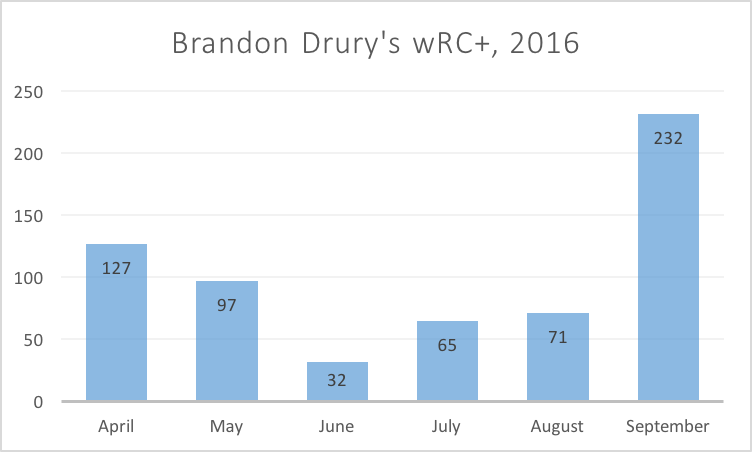 We see some really interesting correlations here. In April, the exit velocity and launch angle combined to make a good hitter. He still hit it hard in May, but the drop in launch angle meant more grounders and that took it's toll. Everything fell apart in June and it's been a slow climb to a monster September.
But while this tells most of the story, it doesn't tell the whole story. Statcast has a blind spot. It has a difficulty registering extremely weak hit balls, be them bunts, dribblers or balls popped right up. Those don't get counted in this data (and are registered as "null"), but we know those are incredibly unproductive batted balls. Let's check out how many of those Brandon Drury has notched by month.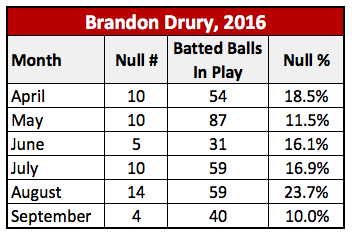 Drury has also cut back his number of extremely weak hit balls this month, something that's also helping his cause. When we put it all together, we see some real growth. Pitchers aren't attacking him much differently — they're still throwing plenty of breaking balls to the righty. The only obvious place to look for a change is with Drury himself. And to that end, compare his stance in April and his stance this month (he homered on both pitches and the camera is the same).
April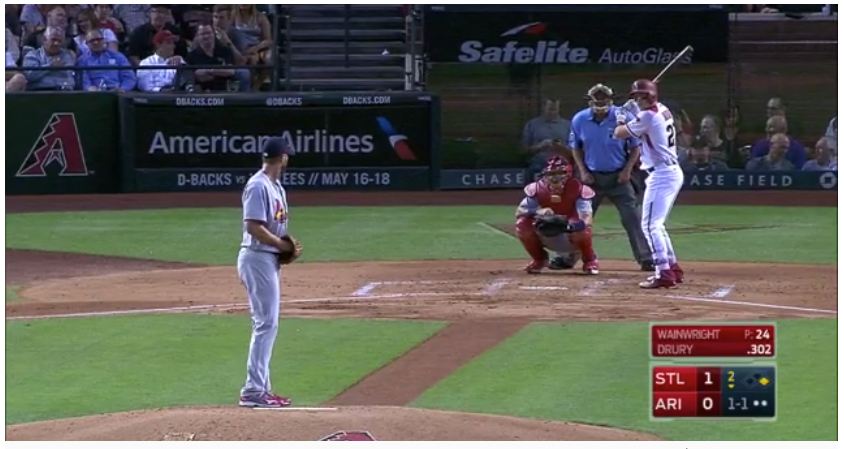 September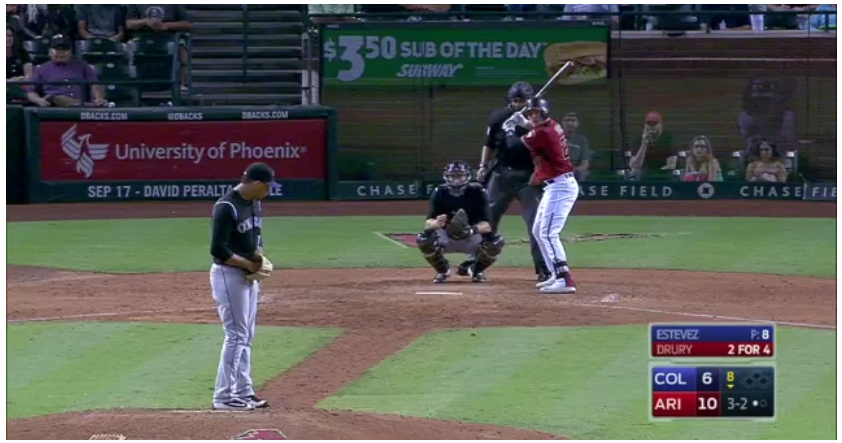 Drury shows virtually the same set up from the waist-up. He hasn't changed his hand positioning, but look at his feet. He's now slightly more crouched and has opened his stance, allowing him to get a better look at the pitcher. Sure enough, he's been pulling the ball more since August and has notched a season high in September on balls in play to the left side. We can't necessarily credit all of his production to this small adjustment, but it should go on the record as Drury has continued to work to become a better hitter.
Chalk it all up and there are some things we can take away from this hot stretch by Brandon Drury. He's hitting the ball harder, he's hitting it in the air more and he's altered his stance to allow for him to pick up the pitcher better, opening his hips in the process and allowing him to pull the ball more. As I noted last week, the D-backs haven't pulled the ball much this year, to their detriment, but Drury seems to be bucking that trend. It's still unclear how he fits into the team's plans in 2017 and it's clear that he shouldn't be in the outfield, but this uptick from the young gun is surely a welcomed sign. How much we can expect it to carry forward is questionable at best, but it's a positive sign nonetheless.