You surely know The Saga of Daniel Hudson by now. He's been through more than his fair share of ups and downs — going from excellent young starter to double-Tommy John-recipient to nearly-washed-out big leaguer to very effective relief pitcher. The journey of his baseball life has weighed heavy on Hudson over the years, a fact revealed in his demeanor on the mound as well as in the pages of Jeff Passan's "The Arm." But the warrior he is, Hudson never quit and it doesn't look like he has any plans to do so in the future. He does, however, find himself in a new position. After recording the last three outs of the Diamondbacks' regular season finale win, notching Hudson's fifth save and dropping the D-backs to 7th in next June's draft in the process, Hudson had some emotional words after a difficult season. From Nick Piecoro's work over at AZCentral:
"I hope it's not the last time I talk to you guys, but it's been fun," Hudson said before being overcome by emotions. He tried to continue a few moments but again started to cry.

"These guys have been so good to me," he said. "I went through some really, really tough times there for about 2 1/2 years. I owe this organization everything. It's really sad to think about. They've been really good to me."

"Not a lot of guys that play in the major leagues to get to this point where you're able to take offers and choose where you want to play," Hudson said. "I've made no secret that I want to stay here. We've just got to get through the playoffs and then we'll start talking and go from there. Hopefully I'll be back next season."
Reading the quotes from Hudson's interview, it's hard not get emotional just thinking about what he's been through. His struggles have been well-known, but his persistence and perseverance should get just as much recognition. And through it all, Hudson would clearly like to remain in Sedona Red going forward as he hits free agency this winter. He recognizes the opportunity in front of him, one that lets him choose his next team and pursue the most money possible. Hudson notably left money on the table when the D-backs offered him an extension early in his career and he turned it down. Now, Hudson's time has come to cash in, yet he's tipped his hand pretty well. His words were clearly influenced by the post-game juices a bit, but if the Diamondbacks want him, they can keep him. Should they want him, though?
Let's start the discussion by acknowledging that the Diamondbacks' bullpen, as constructed at the end of the season, was really, really bad. After trading Brad Ziegler and Tyler Clippard, Hudson himself was quite possibly the best of the bunch, with Jake Barrett being mostly good, Enrique Burgos being up and down, and Patrick Corbin, who the team has said will move back to the rotation next year, working out pretty well in a relief role. Lefty Steve Hathaway pitched a bit better than his ERA would indicate, Randall Delgado was okay because Randall Delgado is just okay, while the pair of Dominic Leone and Silvino Bracho could never get 2016 under control, though both have had some success in the past and are relatively young guys.
If you're doing the math, the team has two guys who absolutely belong in a big league bullpen, Hudson and Barrett, with three more that you can probably justify but don't want to lean on too heavily in key situations with Delgado, Hathaway, and Burgos. Zack Godley's best role might be that of a swingman, locking up a spot, but he could also be a starter as we explored earlier this week. The team's not going to thrust Braden Shipley into that role and they'll keep giving Archie Bradley the opportunity to start. Rubby De La Rosa is probably a reliever now, but counting on his recovery seems irresponsible at this juncture. There are other fringy rotation arms like Matt Koch and Tyler Wagner to consider for the bullpen, too. And while these are a lot of names, which of these names are actually good major league pitchers? You can see that there isn't a lack of candidates to consider, but there is a lack of quality big league results. This bullpen, if constructed from internal candidates anyway you want to configure it, would be pretty bad, especially without an expanded roster, like we saw in September, to protect guys from being overexposed.
Clearly, quality is the biggest need. Daniel Hudson is arguably the highest-quality relief arm the team has at the moment. So, lock him up, right? It might not be quite that simple. Remember Hudson's horrendous spell of results in the middle of the season? They're likely the only reason we're having this discussion in the first place as Hudson would have been traded in July if he hadn't racked up an unsightly ERA of 19.29 that month, destroying his trade value in the process. You've probably seen his splits by month, which reveal the difficulties he had in June and July, but if we look at by week, the magnitude of the struggles become even more visible and troublesome.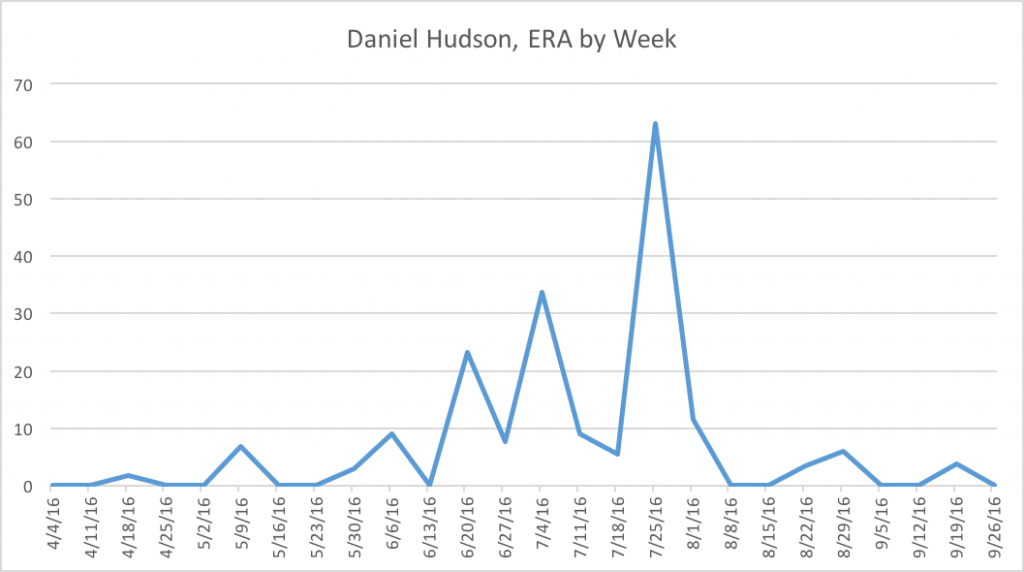 We don't like ERA around here, but it at least tells us something was going on. Hudson's pitch mix remained mostly steady throughout the season, but he did start to use his slider a bit more down the stretch. There was some bad luck, but there was also some bad pitching. Take a look at Hudson's heat map for April and May, when he was quite good.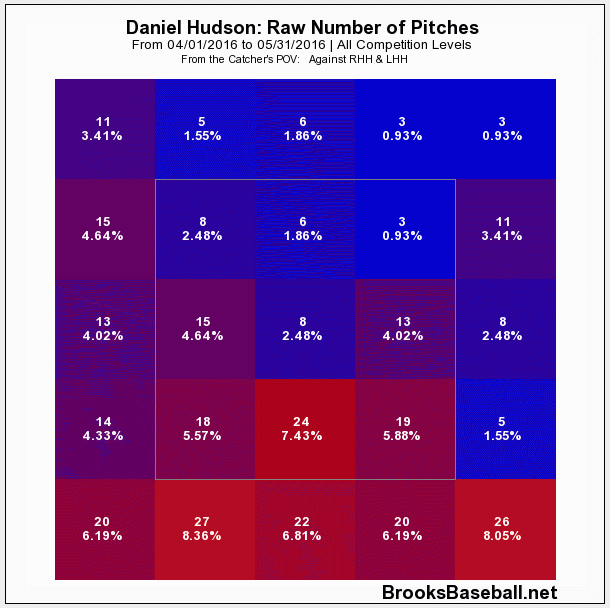 And here's the same heat map, but this time for June and July when Hudson was quite bad.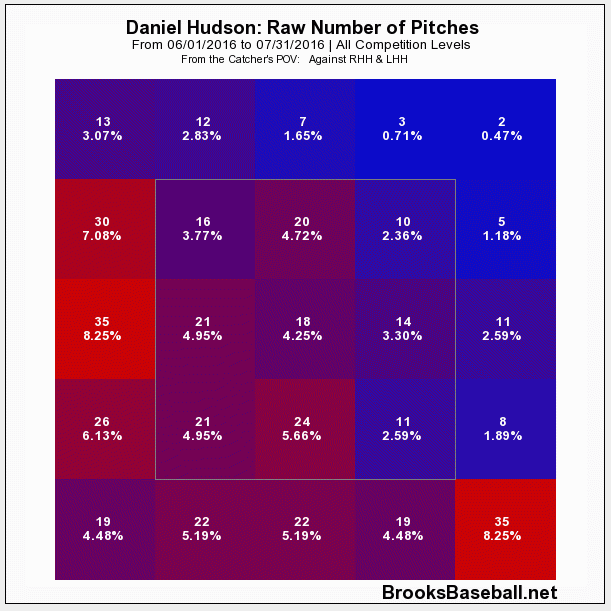 Hudson went from pounding the bottom of the zone to elevating and pitching off the plate to his arm-side. That all speaks to some mechanical issues, ones that bothered Hudson all season long.
Take a look at this shot from mid July, when Hudson was at the peak of his volatility.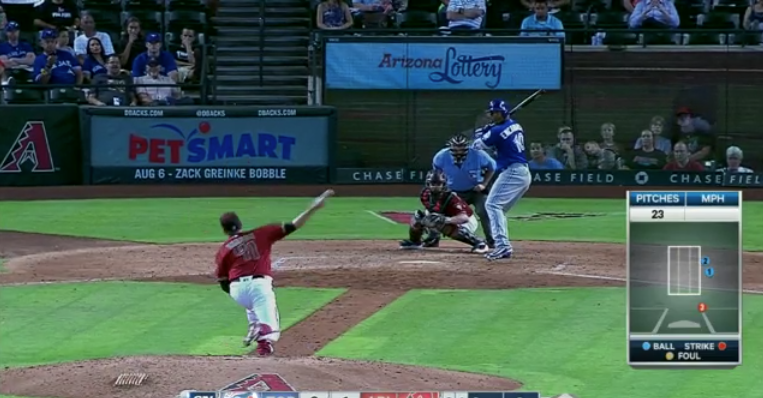 I want to draw your attention to two things. First, notice Hudson's back foot — it's off the mound right as the ball is leaving his hand. Also, his arm angle is slightly elevated as you can see a minor bend at the elbow. Now, contrast what you see above with the photo below from late September when Hudson was good.
Here, we can see that Hudson's foot is still on the ground just after the ball's left his hand, speaking to his ability to keep his front side closed just a little bit longer. This would, in theory, prevent the ball from riding up and away, although he missed his spot pretty badly on this particular pitch, one of the few mistakes he made in September. That bend in the elbow is also less noticeable, and that speaks to a bigger trend.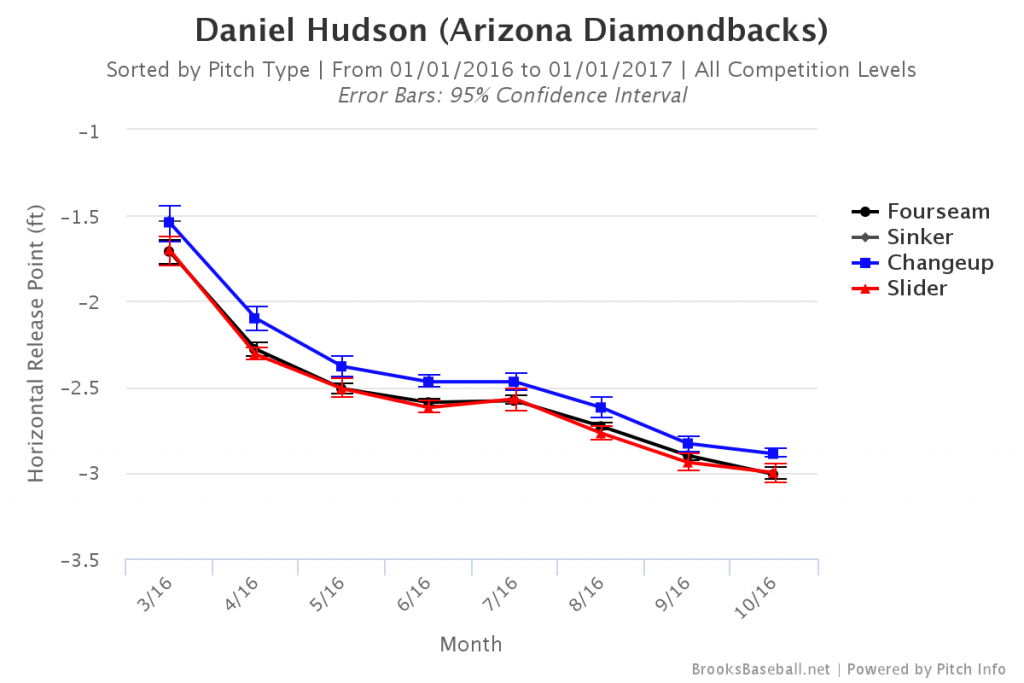 A the season wore on, Hudson's release point moved farther away from his body as he slowly extended horizontally over the course of the season. By getting more horizontal in his delivery, he was presumably putting more torque on his elbow and taking some off the shoulder, something that should give us a tiny bit of pause. We don't know if the change was deliberate or if he simply tired some down the stretch, though neither would surprise me. The results came around regardless of the intent.
And if we bring this back to how it relates to the Diamondbacks deciding whether or not to re-sign Hudson, we can take stock of a few things. First, Hudson had an inconsistent season where some clear mechanical issues threw him off his game. He did seem to iron those issues out to a degree and finish the season strong, but the horizontal lengthening of his release point might be a concerning trend given his previous health. Hudson's a fighter through and through — if he weren't he wouldn't be here. But despite having power stuff, he's far from a model of consistency and may continue to be prone to some ups and downs.
The last point above is true of most relievers, so it's not like Hudson should be vastly penalized for his ebbs and flows, but he should't be paid as if he's Zach Britton, either. There's a role for him in Arizona next season, a high-leverage one, should he return. But Hudson isn't without his risks and they have to be weighed appropriately when considering whether or not the team should bring him back. There's a scenario that makes sense for both sides, likely, and we'll be exploring this and so much more when we get to the Inside the 'Zona Offseason Plan later this winter. Until then, let's just hope that Huddy enjoys his winter a little bit before the bidding starts.