How Much Money Do the D-backs Have To Spend This Winter?
This season, the Diamondbacks were on pace to spend nearly $100 million in payroll. That's a pretty staggering number on its own, given that each win cost the team a pretty penny. For clarity, the $100 million figure is a little inflated. It was only $98.1 million, but the team shed some salary by trading Brad Ziegler and Tyler Clippard before the trade deadline, saving them something like $4 million in 2016. Add in some salaries from calling minor leaguers up and that eats into the money saved to some degree. So maybe the team spent just roughly $96 million. That still seems like a lot, even though they ranked in the bottom third of the league in the payroll department.
Heading into next season, there's clearly a couple of roads the organization can go down. The bulk of that probably depends on what ownership wants to pursue and what the GM candidates they interview think is best for the franchise. They'll hire someone who helps them clarify what the vision should be and how that meshes with what the decision-makers want that vision to be. We can't say exactly what either of those things are at the moment, but that's all to say that we can't exactly pinpoint what the direction will be this winter. It's a fluid situation, and a case can be made for re-tooling slightly and hoping to contend in 2017 just as well as a case can be made for blowing the whole thing up. No matter what direction the team goes, payroll will play a major role. Either they'll be seeking to shed as much of it as possible, or managing it tightly as they try to get creative and built a more competitive team.
Effecting all of that will be the role arbitration plays in the process. The team has nine arbitration-eligible players heading into the winter, all of whom can be extended a contract or non-tendered, making them free agents. Welington Castillo, Shelby Miller, Jean Segura, Patrick Corbin, Randall Delgado, Chris Owings, Chris Herrmann, Rubby De La Rosa, and Tuffy Gosewisch all fall into this category based on service time as they've surpassed the thresholds that exhaust their team control at the league minimum. So, their 2017 salaries will be decided by a third parter arbiter this winter if they don't come to terms with the team before a hearing (which is unlikely, they'll probably be re-signed before it gets there).
The good news is, we don't have to guess at the salaries. MLB Trade Rumors has projected salaries for all seven of the D-backs in question (including all other MLB arbitration-eligibles) through the work of Matt Swartz. These projections have been very good in the past, so there's no reason to go away from them now. Instead, we should view the projected salaries as "the most likely outcome" as we've seen players and teams routinely come together at or near the projected figures in the past. Those figures for Diamondbacks players are as follows:
Welington Castillo, C: $5.9M
Shelby Miller, RHP: $4.9M
Patrick Corbin, LHP: $4.2M
Jean Segura, SS: $7.3M
Randall Delgado, RHP: $1.9M
Chris Owings, 2B/SS: $2.1M
Chris Hermmann, C/OF: $1.0M
Rubby De La Rosa, RHP: $3.0M
Tuffy Gosewisch, C: $0.6M
Segura's obviously set for a nice raise after he made $2.6 million last season. Having one of the most productive seasons in the National League will do that for you. The rest of the players are getting more prototypical salaries with standard-ish increases from 2016. In arbitration, virtually everyone gets a raise each year. Case in point: Shelby Miller is expected to receive about $600,00 more next year even after the miserable season he just wrapped up. Arbitration pays players for service time in addition to performance.
This isn't the time or place to debate the merits of how much money is projected. That'll come later. What's worth pointing out right now, however, is that heading into 2017, the D-backs are going to be right back in the thick of a payroll problem. Take a look at how things shake out on paper heading into next year, via Cots Contracts and the MLB Trade Rumors figures.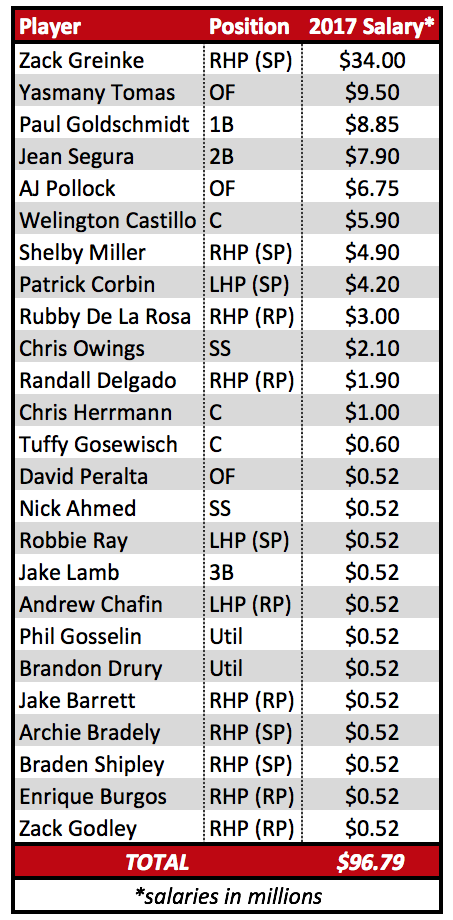 I should say that some of the money owed to Zack Greinke is deferred, so he won't be paid $34 million next year. That number should be closer to $21 million, which could save the team some $13 million and give them flexibility as it would move their committed salary, should they retain all of their arbitration-eligible players, closer to $83 million. Then again, we don't exactly know how the team is accounting for the deferred money they owe Greinke, so the let's just call the situation "muddled" and maybe they have some money to work with, maybe not.
Then again, they also have some needs. The team has to address their bullpen and they've got a cloudy outlook at the corner outfield spots. David Peralta's wrist, even if "healed," can pose problems and it's yet to be seen if Mitch Haniger can hold down full time duty. If so, that puts Brandon Drury and Yasmany Tomas on the bubble. If not, the team will keep running out at least one extremely poor-fielding outfielder every day. And, let's not forget, the starting rotation is probably an arm short of actually being okay, so there's that, too. Like we said, the team has needs.
Should they wish to keep competing, their going to need some financial resources. Whether that's a boost from their TV revenue or by trading Zack Greinke or through some other means, it's going to have to happen if they want to put a winner on the field. If they decide to blow it all up, well, this all becomes moot. But it should be noted that things are already pretty tight and upgrades are desired to make use of 2017 and 2018 if that's a priority. As the team continues courting GM candidates, the payroll situation looms large. No matter which way they decide to go, it'll be an area of focus going forward.