The game of Diamondbacks musical chairs continues. I sometimes wonder what song they're playing when the music is on. Is it light pop music? Maybe White Snake? Perhaps it's some modern house music to confuse the middle-aged participants? Either way, the music stopped briefly yesterday and several people were left without a chair, notably coaches Mark Grace and Matt Williams (will we get two new characters in the Legends Race?), and Assistant GM Brian Minniti, who moves to the Phillies organization in a special assistant role. Pitching coach Mike Butcher and first base coach Dave McKay did find seats (as their contracts were guaranteed through the 2017 season) and will return next season. Mike Hazen filled Minniti's shoes by hiring Jared Porter away from the Cubs to serve as Senior Vice President and Assistant General Manager, while the well-respected Mike Bell was promoted to Vice President of Player Development and former big leaguer Josh Barfield joins the organization as Assistant Director of Pro Scouting. Bullpen Coach Gavin Alston will be replaced, OG D-back Glenn Sherlock will no longer be the bench coach (though he may stay in the org), but Dave Magadan is likely to remain the hitting coach on new manager Torey Lovullo's staff. Tack these moves on to what we discussed Monday and, well, saying "there's been some turnover" is a wild understatement.
Whew. That was a lot. As if you didn't have enough to process, right? Those changes aren't why I brought you here today (but they are important to document somewhere, at least for future reference), so let's pause, take a deep breath, and continue below with a fresh introduction.
40-Man Problems
The Diamondbacks, like every other team in baseball, are facing a very typical roster crunch. They currently have (by my count) 39 players on their 40-man roster. In case you're unfamiliar, here's why that's important: players on the 40-man roster are "protected" from being claimed by other teams and can be added to the 25-man roster easily if and when needed. For a player to be on the active, 25-man roster, he must also to be on the 40-man roster. So think of it like this — you get your 25 guys who take to the dugout every day, and you get 15 more to stash in the minors that can be called up on a whim and are safe from other teams in the offseason. If you've got players on the 40-man roster who hit the 60-day DL, then you can replace them on 40-man without penalty. For example, if a pitcher goes on the 60-day DL with an elbow problem, the team can pick a player outside of the 40-man roster to join it while not exposing the injured pitcher to being claimed by another team.
All of that is to say, space on the roster is at a premium. Here are the players on the 40-man roster currently, based upon the team's website.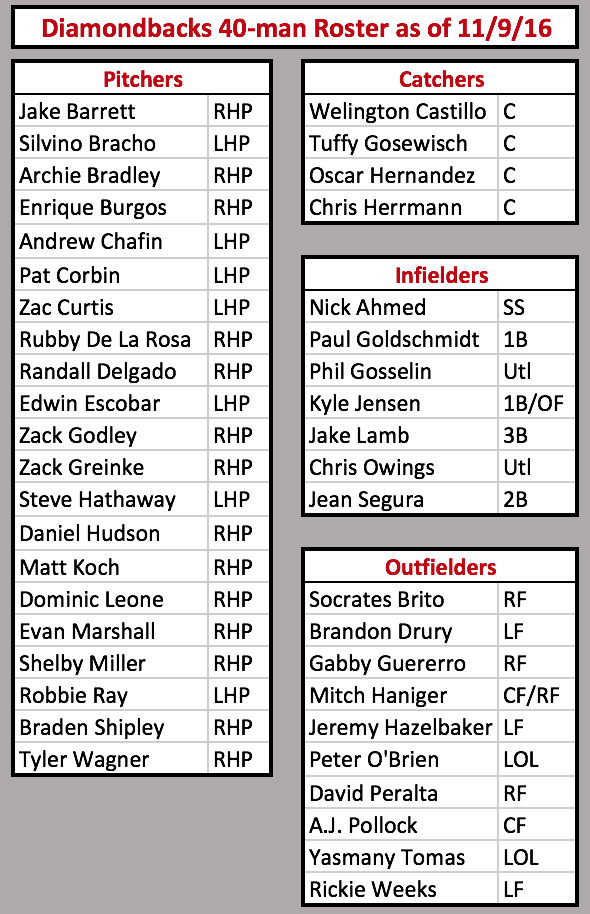 That's a whole bunch of dudes, but there's something I should point out. The team's website still lists Daniel Hudson and Rickie Weeks, Jr. on the 40-man roster, but both have officially filed for free agency. With their inclusion, the team has 41 players listed on the 40-man, so as I had assumed before, they shouldn't count towards the 40-player limit. That would reduce the current 40-man capacity to 39. So there's no problem there as the team actually has one spot open.
The Rule 5 Draft
Except, looming in December is baseball's annual Rule 5 draft, which allows teams to "draft" players not on a team's 40-man roster that meet the following criteria:
Players who were drafted or signed at or before age 18 and have played five professional seasons
Players who were drafted or signed at age 19 or later and have played four professional seasons
This means that the D-backs must add players to the 40-man roster that meet the criteria above and the team wishes to "protect" from the Rule 5 draft. If unprotected players are drafted by another team in the Rule 5 draft, the drafting team must compensate the Diamondbacks to the tune of $50,000 and keep that player on their active 25-man roster all season long (with some DL stipulations built in). The team can send the player back to the Diamondbacks if they change their mind at any point and the D-backs have to give back $25,000 of the $50,000 they received initially. If a player is drafted off the D-backs' roster, he must automatically be added to the acquiring team's 40-man roster. If the acquiring team tries to return the player to Arizona and the Diamondbacks refuse to accept the player back, the acquiring team can waive the player, making him available to any team. If he passes through waivers, he can be retained by the acquiring team and sent to the minors without having to be on the 40-man roster.
Possible Roster Additions and Who's on the Bubble
Those are some complicated rules, I know, but they have real consequences. The Diamondbacks have several players they probably wish to protect, and they may wish to draft a player of their own. They also probably need to complete a major league signing or two. That all adds up to the team needing to make some room on their 40-man roster, requiring them to DFA or outright a couple of players. Here are a few players the team may wish to add to their 40-man who could be claimed by another team, keeping the above stipulations in mind:
Because acquiring teams are forced to keep the drafted player on their 25-man roster all season long, the most desirable players are guys who have a chance to contribute in some small way, but won't clog the big league roster. That makes guys like relievers, fourth outfielders, and backup catchers, who are in the upper minors, particularly vulnerable. The guys above could fit that mold for a team without hopes of contending in 2017. Sherfy and Gibson could be MLB contributors next season, Bray is uber-athletic and plays great defense, but the bat is a ways off. Freeman doesn't hit for power, but catching is always a point of emphasis while Marzilli fits the mold of Bray, but was recovering from injury in 2016 and while the bat is light, he gets on base. The team may not elect to protect all of them as it's a roll of the dice whether other teams would value these players highly enough to pick them in the Rule 5 draft, but a case could be made for each of them.
So let's assume that the team needs protect three of the players above. They will need to clear off two spots before the Rule 5 draft to make room for them. Fringy relievers are likely the first to voted off the island, so Silvino Bracho, Dominic Leone, and Zac Curtis could be on the bubble. Position players who don't offer defensive value and are fringy bats are also options to be booted, making Kyle Jensen and Peter O'Brien possible subtractions. Maybe the team wants to protect Freeman and decides they don't want to have five catchers on the 40-man, so they could remove Tuffy Gosewisch and bet on Chris Herrmann staying healthy all year. The team could look to trade any of these players before removing them, but the returns would be light in each case. The idea, however, would be get something in return while making space, which is surely better than getting nothing at all. Teams know what the Diamondbacks (and every other team) are up against, however, so they may be reluctant to make a deal and just choose to wait for the D-backs (and every other team) to make their moves first and just claim DFA'd and outrighted players once they've been removed. It's all one big game of chicken, essentially.
With big league signings on the horizon in one way or another, let's assume that the team will sign two MLB players, most likely relievers. That's two more slots that will need to be opened up, dependent on when the team makes those signings. They can wait until after the Rule 5 draft to make those moves, which makes sense given the general timing of free agent signings while giving the team a chance to formulate its plans and see how the Rule 5 draft shakes out. But that's still two more players that will have to be removed, so players that survive the first cut may not survive the second.
In the End
Like every other team in baseball right now, the Diamondbacks are facing some tough decisions regarding their roster. Some players will have to go. Some players will have to be added. While Mike Hazen and Company are at the GM meetings and getting a feel for who's available, they'll surely be formulating a plan to reshape this roster. It's light on big league talent and there are several older and/or fringy types who probably don't belong while there is some younger talent that the team needs to keep. There's a lot of forecasting to be done, which is obviously an inexact science. Look for the team to start making roster moves in the coming weeks as the Rule 5 draft approaches and explores trades. It's still unclear which route Hazen will take with regards to the upcoming season, but there's plenty of work to be done.