Trades are funny. I mean, there's such a wide range of responses no matter the deal. Trade Ian Kennedy for Matt Stites? Great move, save money. Bad move, Ian Kennedy eats innings. Trade Adam Eaton and Tyler Skaggs for Mark Trumbo? Bad move, Eaton and Skaggs are budding young players. Great move, DINGERZ. Trade Dansby Swanson, Ender Inciarte and Aaron Blair for Shelby Miller? Good move, we need proven pitching. Bad move, obviously. Trade Jean Segura, Mitch Haniger, and Zac Curtis for Taijuan Walker and Ketel Marte? You get the idea, and while essentially every analyst you can find likes the deal for the Diamondbacks (and the Mariners), there are still some detractors. Thing is, the success of the trade hinges on a couple of small things that will make or break the deal for the D-backs.
When the trade broke, I assessed the value of the deal and came to the basic conclusion that the methodology was sound. Ryan took a look at Walker himself and found that his repertoire may prove particularly fruitful in Arizona. But what you've likely read all over this here internet is how Taijuan Walker is a young pitcher with big upside, but previously unrealized potential. Let's just observe, for a moment, the very mediocre results to date for Mr. Walker:

There's not a lot here that will blow you away. There are some decent ERA and FIP numbers at young ages in small samples, but they're most home run-related (he limited the long ball). Similarly, there are some inflated ERAs and FIPs in larger samples that are, again, home run-related (too many homers yielded). The results here are far from inspiring, but again, you've heard plenty about Taijuan Walker's upside. That's due in large part to the pitches that Ryan described yesterday, but you've maybe heard about Walker's turnaround last September, too. Let's talk about that.
On September 3rd, Walker got crushed by the Angels. It was his worst start of the season, notching only two outs while surrendering six runs (five earned) and three homers. He didn't make it out of the first inning and it was back to the drawing board for Walker, who worked with former D-backs-turned-Mariners pitching coach Mel Stottlemyer to make some adjustments. You can read more about that process from the ever-splendid Nick Piecoro here, but let's take our own look and see what we can discern.
First, observe the two video clips below. The top clip is from May 29th against the Minnesota Twins. The second is from September 9th against the Texas Rangers. See if you notice any changes to Walker's delivery.
On this quick glance, it appears that Walker was flying open too early in his delivery and the adjustments were made, in part, to help him stay closed longer. It might be easier to see in the still frames below.
From May: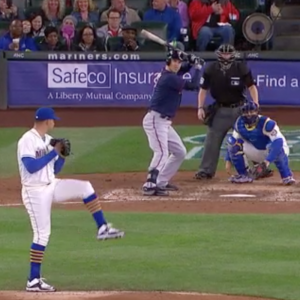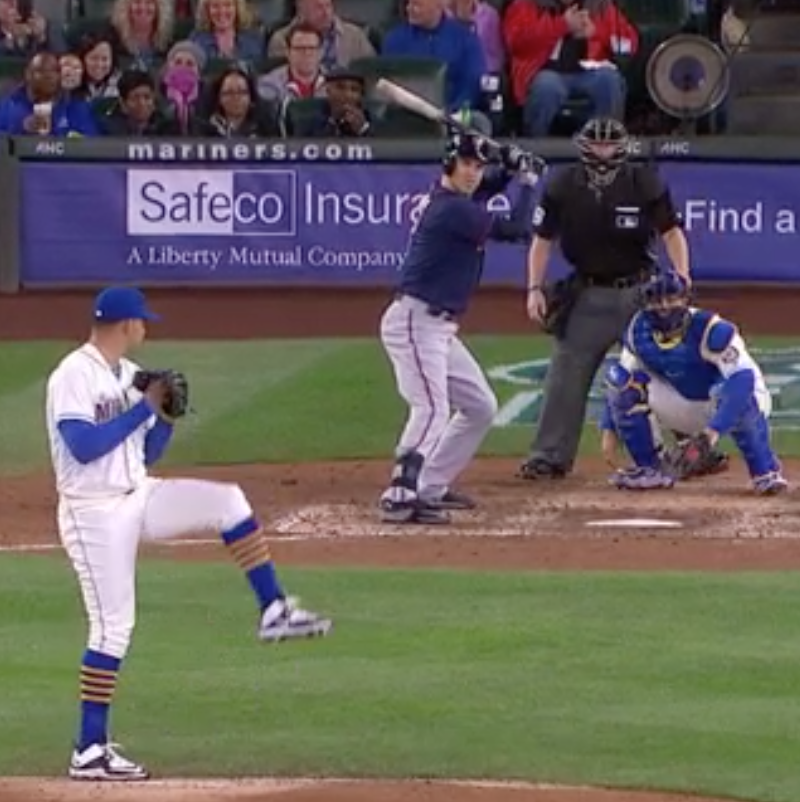 From September: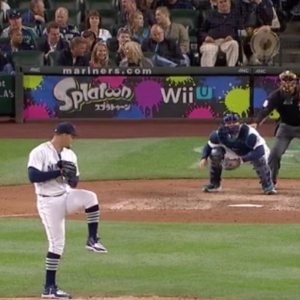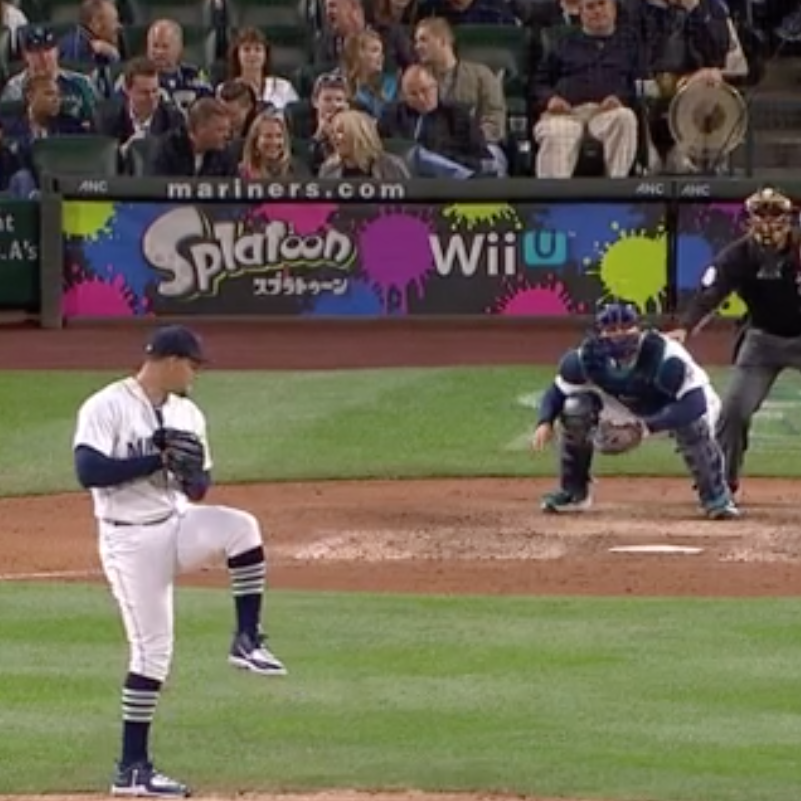 Both images are at peak leg-lift from the young right-hander. In the top image from May, Walker's shoulder's are square with third base and lined up directly with the catcher. His hips are facing third as well, as you can use his belt buckle as an indicator of his alignment. In the bottom image from his second start in September, Walker shows more of a coil — his shoulders have rotated past third base and his hips have rotated further, as well, while the front leg is coming back over the rubber. Compare his head's position in both images. In May, he's facing the catcher at peak leg lift. In September, he's somewhere up the third base line from home plate. There's a saying in sports: where the head goes, the body will follow. Add up all of the changes and you can see that Walker is trying to stay back in his delivery, keeping his front shoulder tucked in and pointed to the right of home plate while coiling his lower half, too. This all keeps him from opening his front side too early, something that often leads to balls being left up in the zone.
And, if you recall, many of Walker's ERA-related problems have been home run-driven. This mechanical changes seems to fly directly in the face of that troublesome trend. In his last five starts, Walker did cut his home run rate by about 35%, which is to say that while he gave up some bombs, he managed to give up fewer of them. During that same stretch, he notched a ground ball rate at or above 50% four times. In his other 20 starts last season, he did it just three times total, and all of those starts were in April. Walker appears to have been able to keep the ball down after his adjustments, as indicated by his zone profile.
Walker Zone Profile Pre-Adjustment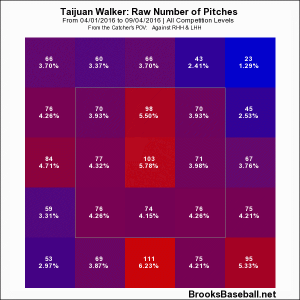 Walker Zone Profile Post-Adjustment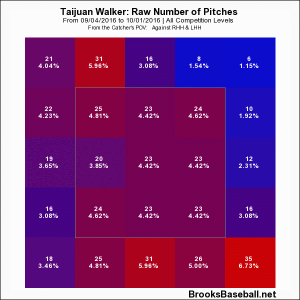 We're not talking about a massive change here, but he avoided several of the balls at the top of the zone, the kind that often turn into homers. He also avoided the heart of the plate, the true danger zone. It's a small sample but the results are encouraging. So, while on the surface you may think the D-backs traded for a struggling pitcher, they may have actually traded for one that's just turned a corner. His mechanics will be something to focus on come spring, but given his most recent success, you'd fully expect them to carry over to 2017.
I know everyone hates projections, but here's a fun fact: Steamer forecasts 2.2 fWAR for Jean Segura in 2017 and 2.2 fWAR for Taijuan Walker in 2017. Maybe Segura's swing adjustments will lead him to continued success in Seattle, but maybe Walker's mechanical adjustments will lead to continued success in Arizona. It's easy to point at 2016 and say the D-backs gave up too much production, but that's over-simplifying things. A change of scenery may be good for Walker just as it was for Segura, as Walker had fallen out of favor in Seattle to some degree. He gets to hit the reset button and bring his improved mechanics with him, though Chase Field won't do him any favors. Still, there's the raw stuff to succeed, some refined mechanics to help, and four more years of team control for the D-backs to enjoy. He's a young pitcher and not a finished product, so there's reason to remain hopeful. When you hear about upside, this is what the organization is talking about. The best Taijuan Walker is still out there and while he didn't unveil it in Seattle, he may be about to do so in Arizona. For that, we should remain optimistic.