With the Diamondbacks winning seven in a row, including five on the road, the team is finally drawing some serious national attention. Paul Goldschmidt is off to the best start of his career. Zack Greinke is back on track. Robbie Ray has finally harnessed a breaking ball and he's seen his stock rise. Jake Lamb leads the majors in runs batted in (Goldy is second). A.J. Pollock should be back soon. Fernando Rodney has now gone 17 straight appearances without allowing an earned run. There's simply no shortage of storylines this season, especially now that Arizona finds themselves as buyers approaching the trade deadline. Expect them to inquire on a number of assets in the coming weeks.
One guy who's not earned much publicity, however, is David Peralta. Despite being a large part of the team's success, Peralta has flown under the radar. He's batted primarily in the number two spot in the lineup, helping set the table for Goldschmidt, Lamb and Chris Owings. After battling injuries last season and struggling to get going, it's safe to say that The Freight Train is back on track.
In his new role, batting near the top of the lineup, Peralta has altered his approach some. He batted cleanup primarily last season and was often in a position to drive in runs. With that in mind, Peralta often expanded the zone and chased pitches off the plate. This season he's chasing less in an effort to get on base ahead of the third, fourth and fifth hitters in the lineup. He's 13th in the majors in runs scored as a result. While Peralta has never been one to walk much, it's the drop in his strikeout rate that's been most impressive through the first stages of 2017.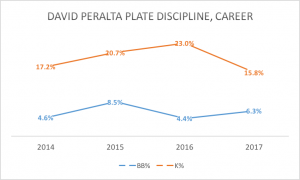 The drop in strikeouts highlights Peralta's efforts to go from slugger to guy-who-gets-on-base. Like years past, much of his OBP is derived from batted balls. Peralta's OBP has always been closely tied to his batting average, but he continues to hit balls hard and the results remain favorable. His 35.7% hard-hit rate places him in the top third of baseball. His .363 BABIP looks a bit high but he's run healthy BABIPs before and his foot speed helps him beat out the occasional infield grounder. His current clip may not hold, but Peralta should continue to produce.
Continuing the trend, The Freight Train has altered his approach on batted balls with the move to the two-hole. Rather than focus on pulling the ball for power, Peralta has used the center of the field and gone the opposite way more often, hitting behind the leadoff man and/or avoiding teams' attempts to shift him.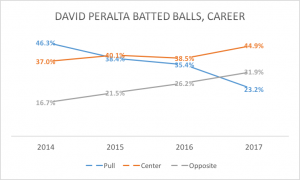 That drop in pulled balls has led to a reduced output of power, but in his current role, that's just fine. Peralta's hit just six homers but is on pace for a career high in doubles. He's giving up some of those home run swings in an effort to make more contact, which he's done. His 71.9% contact rate is the highest of his career (though it's not far off his career average). He's swinging and missing less than ever before and through it all, Peralta's doing his job. It's a different job than he's been asked to perform in the past, but he's adapted well and the D-backs are better for it.