In a world where breaking news is all the rage, we're inundated with information about the unlikeliest of events. For us baseball folk, that's learning who Dinelson Lamet is, that Zack Cozart could overtake Mike Trout for the lead in fWAR among position players, and that Adam Frazier is kind of relevant. As a community, we've succumbed to hot-new-thing syndrome. With baseball, it's easy to go there and forget about the usual suspects. There's no more usual suspect in Arizona than Paul Goldschmidt as he continues to get lost in the larger baseball conversation.
Many of us have the pleasure of watching Goldy go about his business day after day. When he launches a homer, it usually elicits the casual #GoldschmidtHappens on twitter and everyone goes back about their business. Truth be told, Goldschmidt has been good again this year, but maybe we've all missed that he's on pace to have perhaps his best season as Diamondback ever. Through one-third of the season, he's racked up 2.7 fWAR, putting him on pace to eclipse his monumental 2015 season when he was nearly the NL MVP, only to miss out to a budding Bryce Harper. Goldschmidt is on pace to make another run at the award as he's simply outdone himself thus far in 2017.
So what accounts for the increase in production? It's not like Goldy is some failed-prospect-turned-late-blooming-star here. He's been an established force who hasn't seemed to change his game much since he put himself on the map in his breakout 2013 campaign. But he has changed his game despite what we may perceive. Goldschmidt has plus-plus power, a plus hit tool at the plate and a discerning eye for the strike zone, helping him maximize his tools. With his physical gifts well known, it's hard to fathom how he could improve, but improve he as.
And when you boil it down, it comes to this: Paul Goldschmidt is being more aggressive.
If you've been watching Diamondbacks games this summer, you've probably noticed that Goldy is swinging at more first pitches. Gone are the days that pitchers can lay one in there and get ahead with ease. Rather than being ambushed, Paul Goldschmidt is ambushing first pitches of his own. In 2015, Goldschmidt swung at 24% of the first pitches he saw. In 2016, that number dropped to 22%. This season, he's swung at over 30% of the first pitches he's seen. And why not? He sees plenty of hittable pitches to start an at-bat.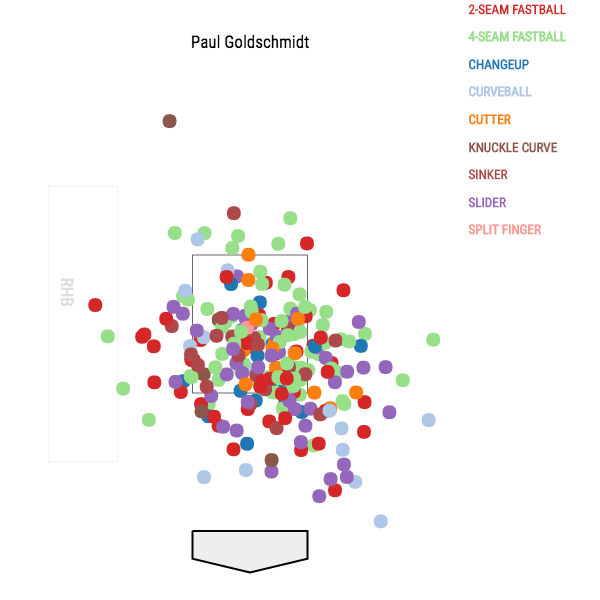 He doesn't have a ton to show for those swings (just five hits and a reached on error in 77 swings), but it underlies a trend that Goldy has shown all season long. He's swinging more this season than he has in recent years overall. With a masterful eye and a keen ability to get on base, Goldy is actively trying to do more damage. Take a look below at the overall increase in his persistence to swing the bat.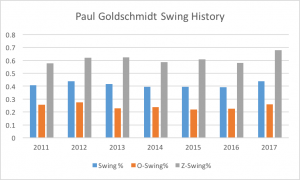 The only year in which Goldschmidt swung more overall than he is currently was his strong 2013 campaign. Since then, he's seen fewer and fewer pitches in the strike zone, so it would only make sense that he would swing less often. But this season, he's set a career mark for swinging at pitches in the zone (67.9%, 7% above his career average) and for swinging at pitches out of the zone (25.8%, 2% above his career average). The large increase in swings at pitches in the zone denotes the pronounced increase in his aggressiveness with the slight change in out-of-zone swings likely serving as collateral damage.
With launch angle and exit velocities entering the mainstream for hitters and teams, many players are swinging more. Along with that has come the rise of strikeouts across the game, a trend that's been obvious even to the casual observer. But for all of the extra swings, Paul Goldschmidt is striking out less than ever before while maintaining a walk rate above his career average. For many players, it's a tradeoff to swing more and swing harder in an effort to hit for more power. Goldy's been able to avoid this pitfall, however, as he's even hitting for more power than we've ever seen (.263 ISO) from America's First Baseman. While sluggers across the game are trading power for contact, Goldschmidt is swinging more and sacrificing nothing in the process.
We could chalk some of this up to luck, but we'd be foolish to do so. Goldschmidt's current BABIP (.338) is the lowest mark he's posted since his rookie season. If that weren't enough, he's also making more hard contact than ever before, and frankly, it's not even close.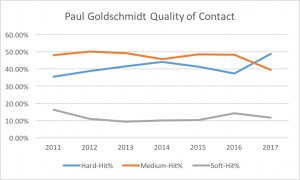 It looks like what we've seen from Paul Goldschmidt isn't luck, it's for real. He's swinging more, hitting the ball harder than ever, still walking and making plenty of contact. I can't stress enough how rare this feat is in today's game. So many players are sacrificing one thing for another in an effort to be more productive. Meanwhile, Goldy hasn't sacrificed anything at all. He's on pace to have the best season of his career in 2017, and while he can't do this forever, he's doing it now. As he turns 30 this September, it looks like he's not about to slow down anytime soon.