Left-hander Anthony Banda entered this season as the Diamondbacks' top prospect. The "top prospect" tag came with a bit of a caveat given that the D-backs' minor league system overall was extremely thin entering 2017. Most systems boasted at least one, if not several, prospects that are capable of being big league building blocks. You know the types — future top of the rotation arms, difference-making bats, potential five-tool talents. Banda has never been regarded as one of these types of prospects as he's projected as a mid-rotation starter at best with most evaluators predicting him to become more of a number four-type starter. Make no mistake: that's a solid asset for the future, but perhaps an underwhelming one to headline a system.
Banda pitched relatively well in Reno considering the jump to AAA and all of the pitfalls that come with pitching in the PCL. His home run rate spiked and he walked a few more hitters, thanks in part to facing more advanced competition with more refined approaches. That's to be expected to a degree. The jump to the majors has shown about what you'd expect. Banda had some tough luck in his first start against a potent Nationals lineup, surrendering a home run and watching seven batted balls fall in for hits over 5.2 innings. His second start came in San Francisco where he fared better over six full. Only three batted balls went for hits, but he did allow four walks. Long story short, it's been a mixed bag thus far.
But we can dig a little deeper, so let's do it. Banda's fastball is a four-seamer that's averaged 94.4mph and has topped out at 96.6mph. He can run it up there when he needs to and has used the heater over 64% of the time (62.3% v. LHB, 66% v. RHB). He's used his curveball 16.6% of the time (32.5% v. LHB, 4.1% v. RHB) and his changeup nearly 19% of the time (5.2% v. LHB, 29.9% v. RHB). The lefty-righty split is par for the course: more breaking balls against same-handed batters and more changeups against opposite-handed batters.

Considering Banda has faced just 47 batters, we can't draw too many conclusions from what's transpired to date. It takes far longer for a pitcher's stats to stabilize than a hitter's. Still, we can take a quick look at some plate discipline numbers and compare Banda's rates to big league average.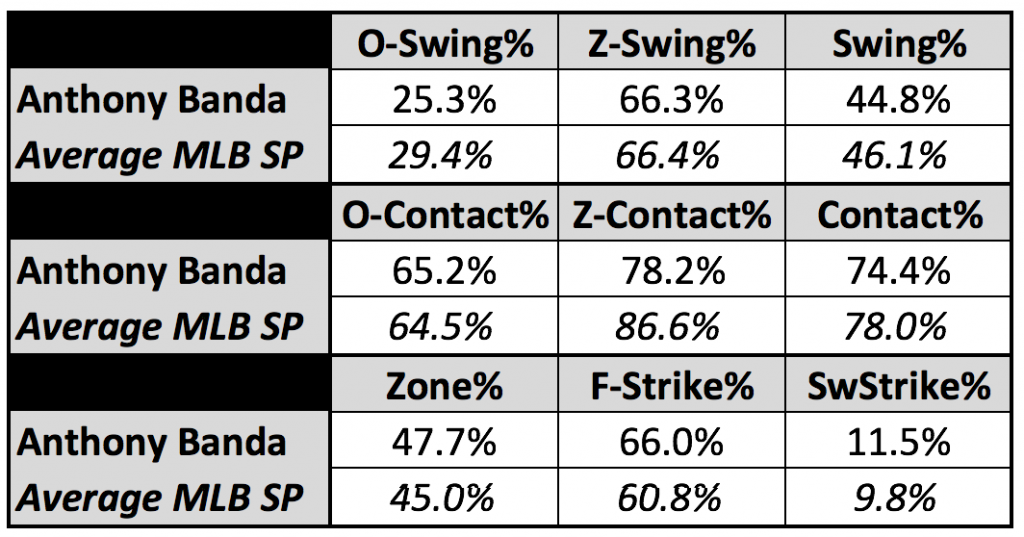 Early on, Banda has thrown plenty of strikes and has gotten more swinging strikes than the average starting pitcher. Batters have made less contact against the young lefty than average and are swinging a bit less than average. The strike-throwing is encouraging, as is the swing-and-miss. Some of the swing and contact rates are likely due in part to unfamiliarity. As hitters see him more, those rates may change. It's far too early to draw any hard conclusions here, but if anything, there's at least no reason to fret about Banda's debut starts.
We'd do far better scouting Banda's raw stuff in such a small sample. Eno Sarris compiled average velocities and movement for left-handed pitchers back in 2016. The average numbers below are from the 2015 season, but they're close enough to current for the sake of this quick analysis. Below you'll note Banda's horizontal movement (X-Mov), vertical movement (Z-Mov) and velocity (Velo) for each pitch he throws compared to that average.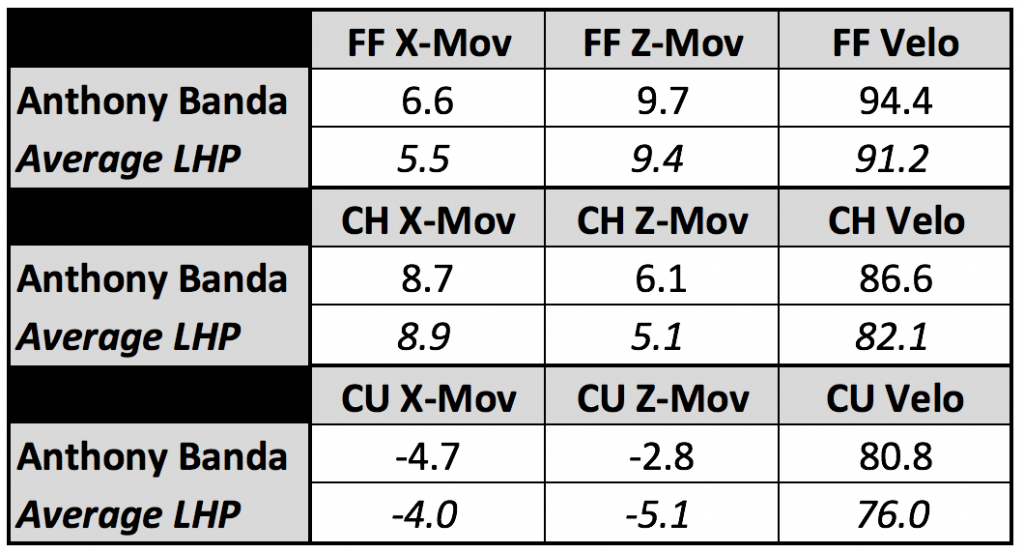 Anthony Banda clearly throws harder than your average left-handed pitcher. His four-seamer has a bit more run than average and very average vertical movement. The changeup has average fade and a bit less "sink" than average. His curveball has a bit more break but far less depth than average. Some of the movement issues are likely due to him throwing harder than most. He's not your low-velo, high-movement junk-balling lefty. There are plenty of those in the average sample. Still, aside from velocity, Banda's stuff looks mostly average. He's making a velocity-for-movement tradeoff and that's probably just fine.
So far, Banda has looked as advertised. A decent rotation option can be hard to find, though that's exactly what the D-backs have in the lefty at present. His command will ultimately decide whether his stuff plays up or down from average. Command is usually the last thing to come for pitchers, and at this early, early stage, there's still plenty to be decided. We'll have to watch closely as the season continues, and sample size grows, to know just what the Diamondbacks have in Anthony Banda and if he can break the back-of-the-rotation forecast.