When the season began, the Diamondbacks had an 8.2% chance of making the playoffs. After one month of play, that number was up to 36.5%. Come the first of June, they were expected to make the playoffs with a 67.6% chance of seeing the postseason, and entering today's game that number has climbed all the way to 87.1%. That number isn't 100%, but it's awfully good. Only the Dodgers, Nationals and Cubs have better odds on the senior circuit. If you're in the National League, that's a good group to be associated with.
But as good as things look, the Diamondbacks aren't out the woods yet. In the last few days, the middle infield has turned into quagmire. Nick Ahmed was already on the shelf, then Chris Owings broke a finger, landing him on the 60-day DL. Ketel Marte has performed reasonably well since coming up from Reno, but his mother died tragically and he's now on the bereavement list attending to his family. Having lost my own mother at the same age Ketel has lost his, my heart goes out to him and his family. It won't be easy to pick up where he left off. These things hurt. It's not easy to get back to normal.
The Diamondbacks were short on replacement options. Internal candidates are in short supply as Ildemaro Vargas hurt his hand on the 23rd of June and hasn't played since. Jack Reinheimer is on the 40-man roster and could fill the void temporarily, but he's projected to hit in the majors about as well as Nick Ahmed does without the stellar defense. In a pinch, that might work, but there was literally nothing else behind Reinheimer. Domingo Leyba re-injured his shoulder and underwent surgery, ending his season. There were no other options on the 40-man roster.
This, of course, prompted the trade for Adam Rosales. The D-backs gave up young righty Luis Madero in exchange for the infielder, a fair price for a career journeyman. Madero was 89-92 in a start of his I saw in mid-July for Hillsboro, throwing a just-okay breaking ball and mixing in some changeups that weren't effective. His upside isn't particularly high and I'm not certain he would have cracked this winter's Top 30 list. Rosales, on the other hand, is projected to hit 15-20% better than Reinheimer and has plenty of big league experience. Best of all, he hits lefties relatively well, helping shore up the team's shortcomings against lefty hurlers. With Ahmed and Owings out for an extended period of time, Rosales can hold down the position in Marte's absence and provide help off the bench when Marte makes it back.
Rosales wasn't the only deadline addition. As predicted, the D-backs made a move to add depth to the bullpen, only it wasn't one of the targets forecasted. Instead, Old Friend David Hernandez will be back in Sedona Red. He's been incredible for the Angels this season, pitching 36.1 innings without allowing a home run. His 2.23 ERA is actually higher than his 1.86 FIP. More advanced metrics support his work as his DRA sits at 3.42 and his cFIP stands at 89. All in all, he looks like a very solid back end option — not a closer — but a guy who can help stretch out the bullpen just the way the Diamondbacks need. It's not like he won't allow a home run all season, but even with a bit of regression, Hernandez looks like a clear upgrade. The roster expands in September and some youngsters like Jimmie Sherfy and Jared Miller may get a look with the best seven or eight guys making the postseason roster. Should be fun.
The middle infield isn't the only concern at the moment. August's schedule is brutal, and while the playoff projections noted above account for strength of schedule, the team's mettle is going to be tested. Take a look below at who the D-backs play this month, along with each team's winning percentage.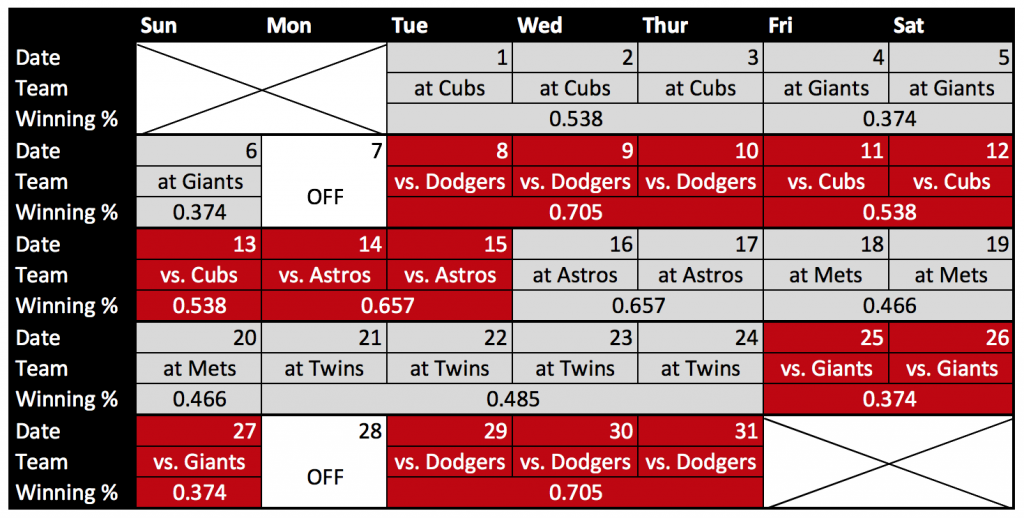 Six against the Cubs, six against the Dodgers, four against the Astros. Even four against the Twins on the road is no easy task. The Mets and Giants aren't exactly tall orders, but six of those nine are on the road, too. And, if you were following yesterday's deadline action, you'll note that the heavy hitters in this group all got better:
Quintana, Darvish and Liriano are all having slightly down years, but they're proven arms. Wilson, Watson and Cingrani are all very capable relievers. Avila is in the midst of career renaissance. The D-backs got better at the deadline, too, but when you consider the attrition they've recently suffered, even adding J.D. Martinez to the mix makes the Arizona's haul look a bit less impressive (though impressive nonetheless — well done, Mr. Hazen).
The Diamondbacks aren't out of the woods just yet. They've suffered some setbacks in the middle infield, and while David Hernandez is what the doctor ordered in the bullpen, their schedule in August is going to be some kind of meat grinder. Their odds look good, but the team is going to be tested. Their stiffest competition has gotten even stiffer. Four months in, the team is right where they need to be, but there are a big two months remaining. This stretch is going to be critical.