Almost all of the top prospect lists are out now. They are what they are — an encapsulation of where things stand right now and certainly open to interpretation. Depending on which list you look at, the D-backs have as many as two prospects ranked inside the game's top 100. Jon Duplantier is on every list since he owned hitters last year while not facing much of a challenge. Pavin Smith sneaks onto some lists and was just on the outside looking in on others. Both are quality players, and if I'd been ranking prospects this year (I took a break from my usual routine) I'd have them in that order — 1 and 2 — in my rankings. I wrote about each for Baseball Prospectus earlier this week and you can find the link to that work here. Both have their issues. Duplantier needs to show more than just one season with a healthy report card and Smith needs to show that the power that escaped him in Hillsboro isn't permanent. Only time can answer those questions.
The fact that the D-backs only have two prospects worthy of top 100 consideration isn't a good thing, but it did get me thinking: how often has this been the case? Only Anthony Banda made the lists last year and since the team has traded guys like Dansby Swanson and Touki Toussaint in recent years, this kind of thing has some precedent. When you don't have much money to spend, you find other ways, I guess. Turning to Baseball America, I decided to look back through the all-time top 100 and look for the Diamondbacks that have made the list over the years. What's below is some kind of D-backs prospect retrospective, starting in 1997, with some limited commentary on each player and list. This isn't meant to be holistic or even necessarily insightful, but rather a fun look back through the years. So let's have at it.
---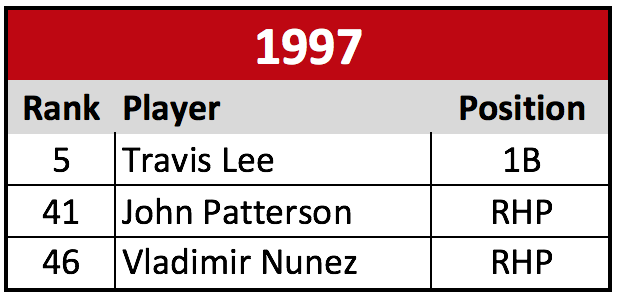 Right off the bat, the D-backs had one of the best prospects in baseball in first baseman Travis Lee (7.2 career bWAR, 338 games w/ AZ) who was drafted second overall in 1996 by Minnesota but later declared a free agent after the Twins failed to offer him a contract in the 15 days preceding the draft (my how things have changed). The newly-minted Diamondbacks scooped him up and he was considered one of the games best young stars. Righty John Patterson (5.1 career bWAR, 23 games, 13 starts w/ AZ) followed a similar trajectory as he was drafted fifth overall by Montreal but wasn't signed. He was declared a free agent and signed with Arizona. Right-hander Vladimir Nunez (-0.4 career bWAR, 31 games in relief w/ AZ) was signed after defecting from Cuba. All three of these players would have a minimal impact at the big league level with the Diamondbacks and wound up being traded shortly after making the big league debuts in the desert. Lee would be part of the package that brought back Curt Schilling while Patterson ultimately brought back Randy Choate.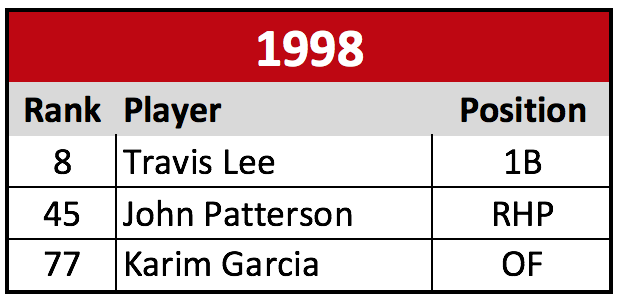 Outfielder Karim Garcia (-3.2 career bWAR, 113 games w/ AZ)  joined Lee and Patterson this time around. He was claimed by Arizona in the 1997 expansion draft from the Dodgers and did not perform well in his lone season for the D-backs. He would be traded a year later for some guy named Luis Gonzalez. Lee and Patterson held somewhat steady on the '98 list.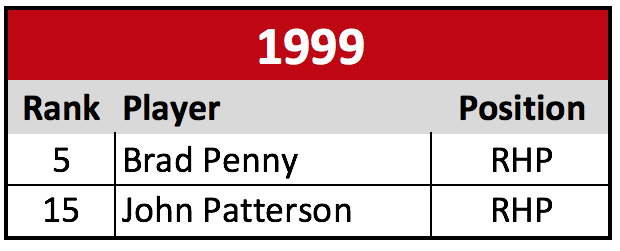 Right-handed pitcher Brad Penny (19.2 career bWAR, no games w/ AZ), whom the D-backs drafted back in '96, had a monster minor league campaign in 1998 and jumped to fifth on the BA top 100 list after never making it before. He hailed from Broken Arrow HS in Oklahoma, a school the D-backs would revisit in the future. Penny would be shipped off with Vladimir Nunez and (later) Abraham Nunez to the Marlins for Matt Mantei. John Patterson climbed up the top 100 significantly following a successful minor league season.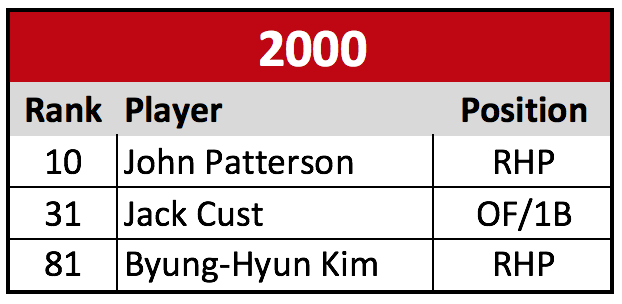 The 2000 list showed a pair of new faces. While John Patterson climbed higher, he was joined by heavy-hitting Jack Cust (9.3 career bWAR, 3 games w/ AZ) who was drafted by Arizona in the first round of the 1997 draft. He'd be packaged with J.D. Closser in 2002 for Mike Myers. Meanwhile, Byung-Hyun Kim (10.3 career bWAR, 243 games, 8 starts w/ AZ) was signed out of South Korea in 1999 and jumped into the fray, only to become one of the franchises best relief pitchers of all time. He would be traded in 2003 to the Red Sox, after being converted to the rotation, for Shea Hillenbrand.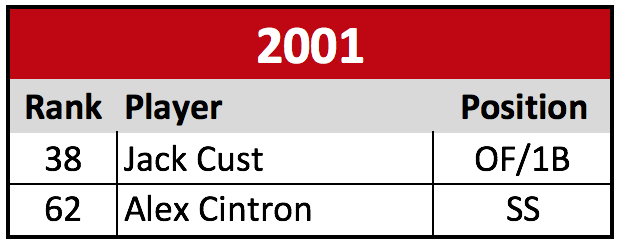 Shortstop Alex Cintron (-2.2 career bWAR, 781 games w/ AZ) joined Jack Cust on the list in 2001. Drafted in the 37th round of the 1997 draft out of Puerto Rico, Cintron climbed his way to recognition. Outside of 2003, when he hit .317/.359/.489, he was not very good and would be traded to the White Sox in 2006 for Jeff Bajenaru (who is now a coach in the Diamondbacks' farm system).

The team had no top 100 prospects in 2002. Luckily this is the only instance in franchise history.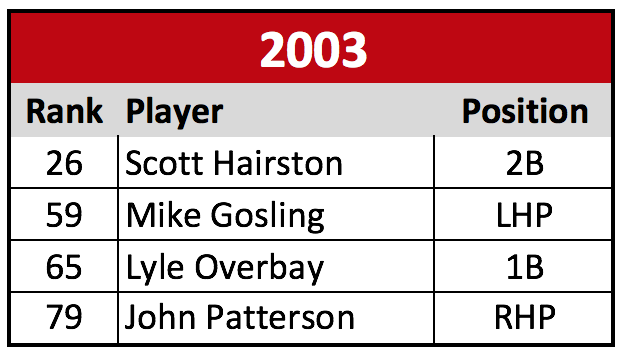 Wow, okay, some fresh blood. Scott Hairston (6.2 career bWAR, 201 games w/ AZ) was drafted in 1999 by the White Sox but didn't sign and was popped in the third round of the 2001 draft by Arizona. Mike Gosling (0.1 career bWAR, 19 games, 9 starts w/ AZ) was drafted in the second round of the same draft and Lyle Overbay (16.9 career bWAR, 98 games w/ AZ), drafted in 1999, finally started to emerge as a Guy. Of course, here's the obligatory John Patterson mention. This was a decent prospect class for Arizona, though Overbay would do his damage elsewhere. He was shipped (with several other players) to the Brewers for Richie Sexson. Hairston would eventually head to the Padres for Leo Rosales while Gosling would be claimed off waivers in 2006 by the Reds.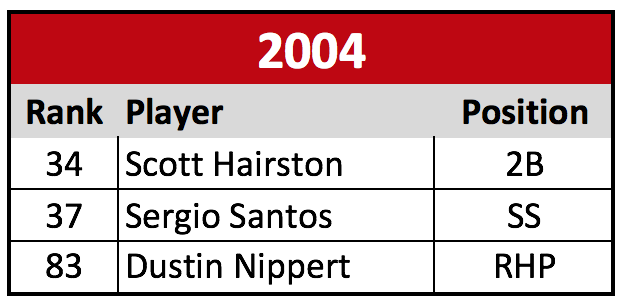 Shortstop Sergio Santos (2.2 career bWAR, no games w/ AZ) joined the list in 2004 after being drafted in the first round of the 2002 draft by Arizona. Of particular note, he would ultimately be converted to a pitcher and went on to have some success elsewhere. He was traded with Troy Glaus to the Blue Jays for Orlando Hudson and Miguel Bautista in 2005. Righty Dustin Nippert (0.5 career bWAR, 41 games, 5 starts w/ AZ) joined the fray in '04 after being drafted in 2002 and had a journeyman's career. He would be traded in 2008 for Jose Marte who never reached the majors. No more John Patterson!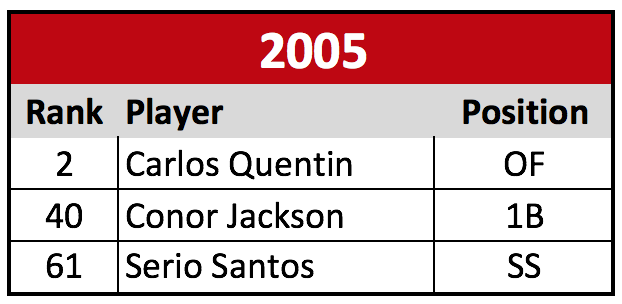 The D-backs claimed one of the league's better prospects in 2005 in Carlos Quentin (10.4 bWAR, 138 game w/ AZ). The hulking outfielder was the team's first round pick in the 2003 draft, but his time in Arizona would be short-lived as he was shipped to the White Sox for slugger Chris Carter. Conor Jackson (2.3 career bWAR, 526 games w/ AZ) was also a first round pick in 2003 and would become a lineup stalwart for the D-backs, though he wasn't necessarily very productive. He would be flipped in 2010 for Sam Demel. Santos fell a bit on this list, never to return to the top 100.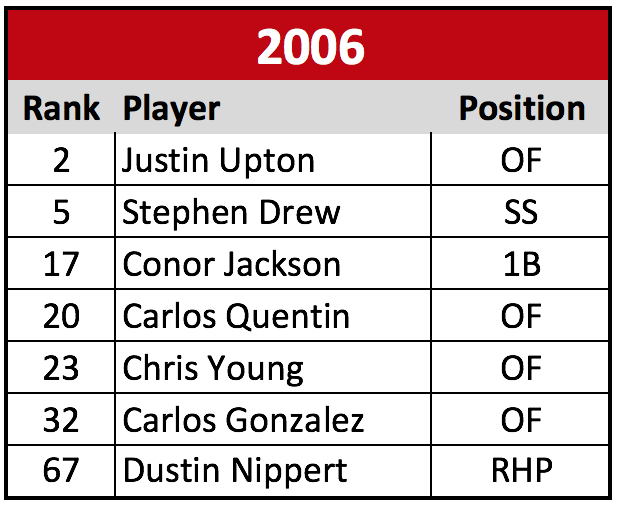 Probably the best prospect class in franchise history, the D-backs really started making waves on the minor league front in 2006. Justin Upton (32.4 career bWAR, 731 games w/ AZ) checked in at #2 behind Delmon Young while Stephen Drew (17.2 career bWAR, 773 games w/ AZ) checked in at #5. Both would be strong franchise players for the D-backs during their tenure. Jackson and Quentin were in the top 20 and Chris Young (17.0 career bWAR, 885 games w/ AZ) didn't miss by much after being acquired from the White Sox for Javier Vazquez. Rockies all-star Carlos Gonzalez (24.0 career bWAR, zero games w/ AZ) made the list, too, after signing out of Venezuela in 2002 with the D-backs. Arizona boasted five prospects in the top 25 with several of these players making an impact at the major league level. Upton brought back several players from Atlanta in 2013 (Randall Delgado, Brandon Drury and others), Young was part of a three-team deal that brought back Heath Bell, and Gonzalez helped acquire Dan Haren.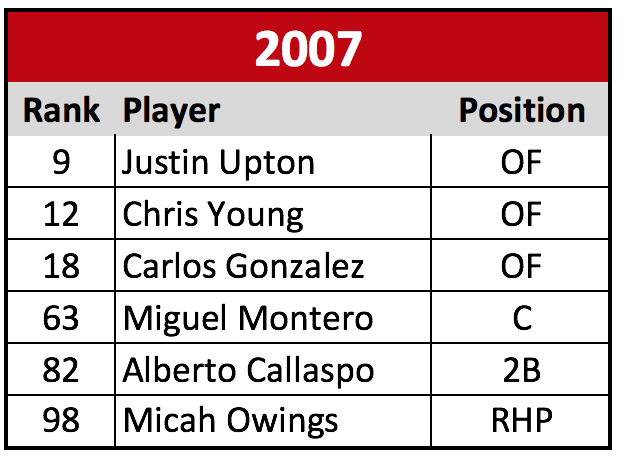 There are a lot of carryovers here with Upton, Young and Gonzalez all ranking inside the top 20. Miguel Montero (13.5 career bWAR, 906 games w/ AZ) joined the list at #63 and would become a core player in the years to come for the franchise. Alberto Callaspo (8.9 career bWAR, 79 career games w/ AZ) and Micah Owings (4.0 career bWAR, 51 games, 45 starts w/ AZ) joined the list in yet another strong prospect class. Callaspo would eventually be traded for Billy Buckner and Micah Owings, being a notable #pitcherthatrakes, was part of a three-team deal at the deadline to acquire Adam Dunn.
---
We'll jump into the latest Diamondbacks prospect decade in the second installment of this feature, so keep an eye out for that if you enjoy a nostalgic look at past and future D-backs.