Last week we began a fun exercise, looking deeply at the highest ranked Diamondbacks prospects of all time. We'll keep it rolling today as we discuss prospect classes from 2008 through present with the use of Baseball America's all-time top 100 prospect lists. Let's just dive right in, shall we?
---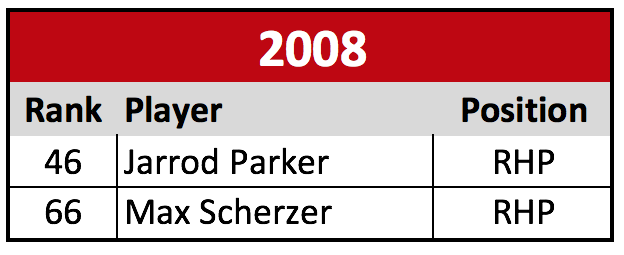 With the graduation of guys like Justin Upton, Stephen Drew, Chris Young and others, the Diamondbacks were left with just two prospects in the top 100 in a pair of pitchers. Jarrod Parker (6.1 career bWAR, 1 game started w/ AZ) went 9th overall in the 2007 draft and immediately popped up. He, of course, had continual elbow trouble and went through multiple Tommy John surgeries before retiring. He was moved to Oakland with a few other D-backs for Trevor Cahill and Craig Breslow, but didn't pan out for Oakland, either. Some guy named Max Scherzer (45.6 career bWAR, 46 games, 37 starts w/ AZ) appeared for the first time. He made 30 starts in 2009 for the D-backs and pitched to a 4.97 ERA before the team flipped him to Detroit in a three-way trade with the Yankees that netted Arizona Edwin Jackson and Ian Kennedy. Of course, it was 2010 when Scherzer suddenly became a strikeout machine and started racking up the accolades. He remains one of the very best pitchers in the game today.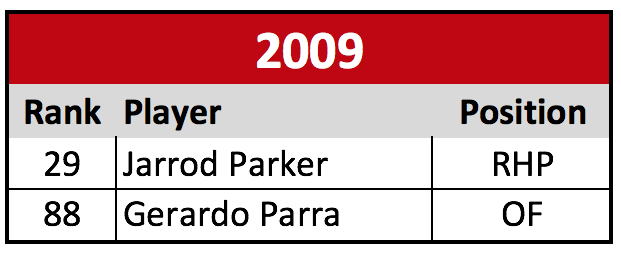 Parker climbed the list in 2009 while Scherzer graduated, but Gerardo Parra (10.6 bWAR, 937 games w/ AZ) joined the fray. Parra would go on to be a regular contributor for the Diamond backs from 2009 through 2014 and earned his stripes as an excellent defender with some up and down offensive performances. Parra helped spark the debate about outfield defense in Arizona as he was a gold glove defender that made us seriously question how much offense is needed to warrant everyday reps in the outfield, particularly left field where power is the traditional calling card. Parra was moved to Milwaukee in 2014 for Anthony Banda and Mitch Haniger, two guys who would go on to play important roles for the organization.

Parker was the lone top 100 guy in 2010 as he continued to look like one of the best young pitching prospects in baseball. We've already covered how that turned out. #TINSTAAP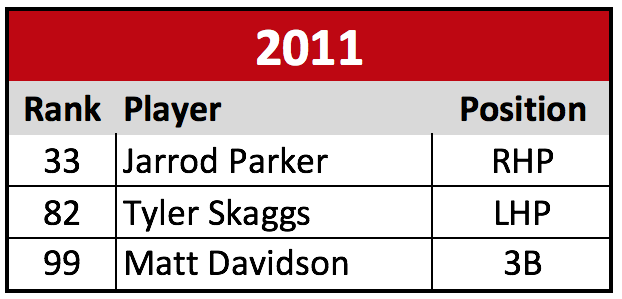 Parker continued to establish himself, but he was joined in 2011 by another hurler in Tyler Skaggs (0.8 career bWAR, 13 games started w/ AZ). Skaggs was drafted 40th overall by the Angels in 2009 but traded to the D-backs in 2010 for Dan Haren. The Diamondbacks also got Patrick Corbin in the deal. Skaggs would experience his own elbow trouble and later find himself traded back to the Angels in a three way deal that involved moving Adam Eaton and acquiring Mark Trumbo. Third baseman Matt Davidson (-0.7 career bWAR, 31 games w/ AZ) snuck onto the list as a controversial prospect with some power, contact issues and divisive defensive chops at third. He's gotten a few chances but has never produced in the majors. The former first-rounder was traded for Addison Reed in 2013.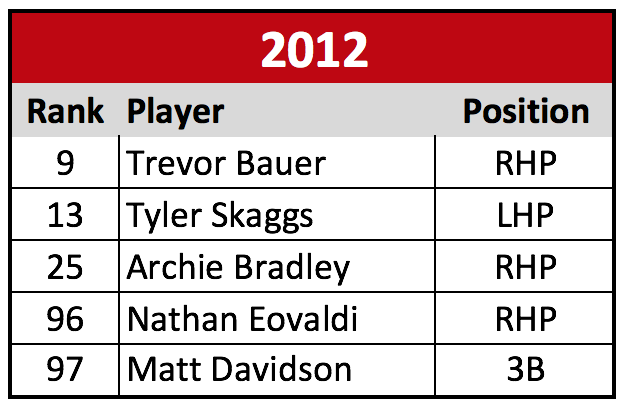 The Diamondbacks came strong in 2012, placing five players in the top 100. Skaggs rose in a major way, but he was topped by 2011 first round pick Trevor Bauer (8.5 career bWAR, 4 games started w/ AZ). Bauer's relationship with the team quickly soured as his inquisitive and often frustrating nature didn't mesh with the organization. He was shipped off in a huge three-team deal with Bryan Shaw and Matt Albers for Didi Gregorius, Tony Sipp and Lars Anderson. Archie Bradley (3.7 career bWAR, 97 games, 34 starts w/ AZ) was drafted just four picks after Bauer and has since cemented his status as the team's best reliever. Nathan Eovaldi (7.2 career bWAR, no games w/ AZ), originally drafted by the Dodgers, joined Davidson near the back of the list. Injuries and inconsistencies have hampered his career, though he's been productive at times.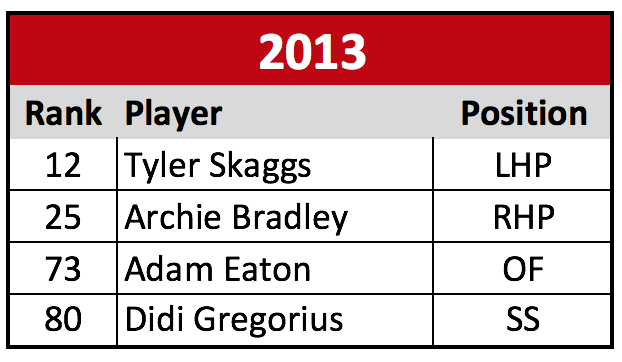 Skaggs and Bradley remained two of the best pitching prospects in the game in 2013, but they were joined by a few new faces. Adam Eaton (16.5 career bWAR, 88 games w/ AZ) was a solid-looking center field prospect with a rare combination of defense, speed and on-base abilities, but the D-backs had a less-heralded prospect by the name of A.J. Pollock in the wings, too. Eaton would join Skaggs in the deal for Trumbo in 2013, clearing up the center field logjam. Didi Gregorius (11.9 career bWAR, 183 games w/ AZ) was acquired in the trade mentioned above from Cincinnati and earned some big league time with the D-backs as an all-glove shortstop. The Diamondbacks would ultimately choose Chris Owings over him, only to see Gregorius' offense take shape in the Bronx after he was traded to the Yankees in a three-team deal (with the Tigers) that netted Arizona Robbie Ray and Domingo Leyba. While it's been tough to watch Gregorius blossom, the trade has worked out well for both sides.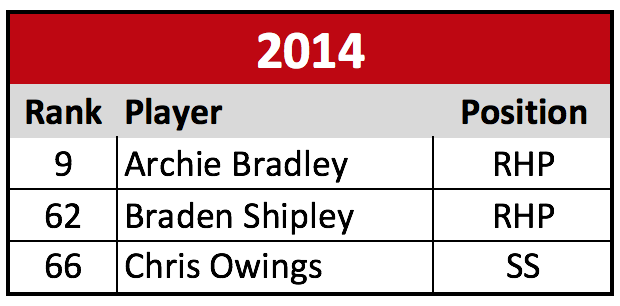 Archie Bradley climbed the list in 2014 and 2013 first round choice Braden Shipley (-0.3 career bWAR, 23 games, 14 starts w/ AZ) joined him at #62 overall. Shipley was drafted as a raw pitcher with big upside, but his strikeout rates fell as he climbed the minor league ladder and he's struggled in a couple of short MLB stings. Chris Owings (3.6 career bWAR, 474 games w/ AZ) finally started getting some recognition as a guy who produced well in the high minors and has become a mainstay for the Diamondbacks when he's been healthy.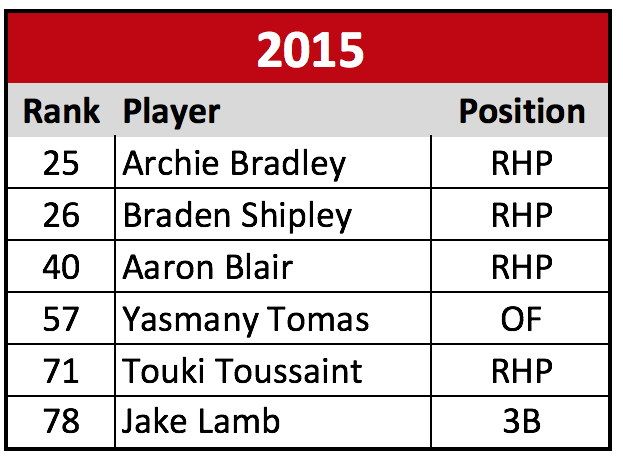 Whoo boy! Take a look at this! Bradley and Shipley are represented again, but Aaron Blair (-2.0 career bWAR, no games w/ AZ) made the list inside the top 50. Blair was considered a strike-throwing workhorse but was traded with Dansby Swanson for Shelby Miller in what's become a murky trade. His time in the majors with the Braves has been relatively ugly to date. Yasmany Tomas (-2.2 career bWAR, 305 games w/ AZ) was signed out of Cuba and joined the list and we all know how that's panned out. Touki Toussaint (RIP, no MLB stats) was the team's 2014 first round pick but would be sold off with Bronson Arroyo to the Braves for, essentially, salary relief (and Phil Gosselin). He continues to be an exciting young pitching prospect with some question marks. The Rake Man Jake Lamb (5.8 career bWAR, 444 career games w/ AZ) was 5th round pick back in 2009 and finally got some national love after spraying line drives all over minor league ballparks. Some of those liners have become homers in Arizona, and while he still struggles to hit lefties, Lamb is an all-star and mainstay in the Arizona lineup.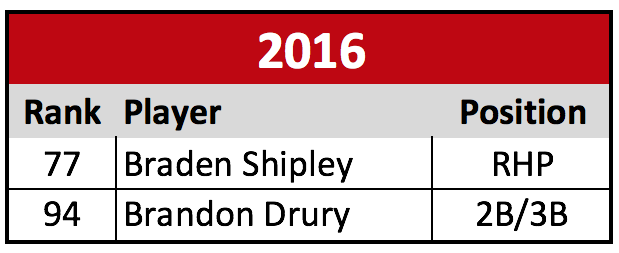 Shipley's stock began to really fall in 2016 as his minor league performances started to slip, thanks in large part to iffy command. Brandon Drury (1.4 career bWAR, 289 game w/ AZ), who was acquired in the Justin Upton deal, finally made the list as a infielder with some questionable defensive chops but enough bat to illicit excitement. He has found some kind of home at second base, though he's still probably best-suited for third base.

Acquired in the Gerardo Parra deal, Anthony Banda (0.0 career bWAR, 8 games, 4 starts w/ AZ) showed up in spring training of 2016 throwing harder than ever and finally started to get recognized in 2017 on a national level. He got a cup of coffee in 2017 and showed some mixed results. He enters spring training this season as a guy to keep an eye on and would potentially be the first man up if an injury arises in the rotation. He may also ultimately wind up as a hard-throwing left-handed reliever down the line. Either way, he looks the part of a big league contributor.

And here we are today. Jon Duplantier (no MLB stats) was the lone D-backs prospect to make this year's top 100. He was healthy for all of 2017 and dominated hitters at Kane County and Visalia. With some shoulder injuries on his resume, the 2017 Futures Games representative needs to prove he can stay healthy before he climbs higher. But with his athleticism, intelligence and raw stuff, he looks the part of a potential #2 or #3 starter for Arizona as early as 2019. Expect the organization to take it slow with him considering his shoulder issues in the past. With that said, he's the kind of guy that could force his way up the ladder if it all breaks right.
---
That's it! That brings us up to speed and it's fun to look back with the benefit of hindsight. The D-backs have traded high profile guys like Upton, Bauer and Swanson in the past with mixed results. They've also traded away guys like Max Scherzer but traded for guys like Luis Gonzalez. Just like very organization, there's some good, some bad, and plenty in the middle. The Diamondbacks have had players listed on the top 100 65 times over 22 lists. That equates to about 3% of the total prospect pool and meshes with what we'd expect with 30 teams in the league. What they've done with that talent has clearly varied. Of course, Paul Goldschmidt never made a list and neither did A.J. Pollock or Brandon Webb. This highlights the limited scope of these lists in the first place as there will always be outliers. Nevertheless, it's a new day and the D-backs will look to add to the organization again in a few months when 2018 draft takes place.