It seems like only yesterday that the Diamondbacks seemed to lack quality starting pitchers. Now, they seem to have too many. Zack Greinke and Robbie Ray are one of the best tandems in baseball right now. Taijuan Walker is back and pitching effectively. Even Patrick Corbin has turned in three good starts in a row. Losing Shelby Miller hurt, but Zack Godley has performed well. No one, however, has been more surprising than Randall Delgado.
When Walker went down with a blister, it was Delgado that filled his shoes. He started a bullpen game in late May against the White Sox and lasted four innings, striking out three and a walking one. He allowed a solo homer but kept the team in the game before the they figured out Jose Quintana en route to a 8-6 victory. It was the first of four consecutive starts for Delgado, all of which were solid to fantastic.

For a guy just filling in, Delgado did more than just hold his own. He didn't go deep into games, but considering he was just getting stretched out, the limited length was understandable. He did strike out plenty of batters, kept the walks in check and surrendered just a pair of homers. For a guy moving to the rotation temporarily and filling in for an injured starter, he pitched admirably.
It's not like Delgado hasn't started games before. He spent a year in the Braves' rotation before coming over with Brandon Drury in the Justin Upton swap, pitching reasonably well for a 22-year old in the majors. He didn't fair so well in his first season in the desert, though, making 19 starts and pitching to the tune of a 4.26 ERA and 4.99 FIP. He gave up 24 home runs over just 116.1 innings thanks to desert air and some poorly-located pitches. A season later, he found himself in the bullpen and, aside form a few uninspiring spot starts, that's where he's been.
Fast-forward a few years and Delgado has cemented himself as a functional reliever. He was relatively good in 2014, just okay in 2015, then solid again in 2016. He's never looked like much more than a bullpen filler and that's mostly what he had been. This season, however, he has been excellent in the bullpen and turned those performances into another crack at the starting rotation. After the four starts listed above, Delgado made two relief appearances, throwing five innings and allowing one earned while striking out five. He jumped back into Torrey Lovullo's rotation on Sunday against the Phillies in an effort to give the starters an extra day of rest. Once again, Delgado shined by going five innings, allowing no runs and striking out four with just one walk.
2017 has been a bit of a resurgence for Delgado as he's heading for arbitration one last time this winter, then set to hit free agency before the 2019 season. It's worth examining Delgado's turnaround seeing how rare it is for a guy who's failed as a starter to find his stride after three-plus years in the bullpen. As it turns out, Delgado's made some serious improvements, ones that are helping him succeed.
Part of what's kept Delgado from sticking as a starter is has been lack of control. He's walked more than his share of batters over the years. While he's always maintained a decent strikeout rate, the walks were often too much to overcome.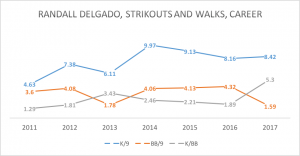 Delgado's gotten the walks under control this season, finally, and the results are paying off. From 2013 through 2016, about 60% of his pitches went for strikes. This season, that number is up over 64%, and while that may not sound like a large jump, extra strikes can tremendously change the complexion of at-bats. Part of that jump is that Delgado is throwing a few more pitches over the plate, but a lot of it can be attributed to batters chasing more of his pitches out of the zone. But why are they chasing?
The easiest explanation for the rise in batters chasing Delgado's pitches out of the zone would be an improvement of his raw stuff. A quick peek there reveals that little has changed. He's not finding much more velocity, he hasn't learned a new pitch, and he's not seeing more movement on his offerings. He is mixing in his sinker more often and throwing fewer four-seamers. He's also thrown a few more changeups and few fewer sliders. But there isn't some massive spike that would suggest that his raw stuff is leading the charge. That stuff has always been fairly good, but it doesn't appear to have taken a big step forward, per se.
Instead, there's another interesting trend that's developed, as witnessed below: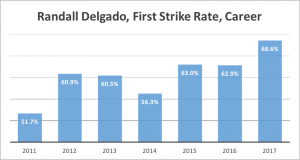 Randall Delgado has never been so effective at getting ahead of hitters. His career first strike rate hovers just under 61%, but this season he's gotten ahead nicely at a rate of almost 69%. Those extra strikes are valuable. You don't have to have to be a stat geek to know that getting ahead of hitters puts them in a precarious position. It puts the pitcher in the driver's seat, and by getting ahead of hitters more often, Delgado has forced more swings at pitches out of the zone. He's also generating more whiffs than he did a season ago and staying ahead of hitters certainly isn't hurting his cause.
Randall Delgado is putting more pressure on batters than ever before. He's always had the stuff to succeed, if not dominate. His emergence has provided Torrey Lovullo with an embarassment of riches. The Diamondbacks already lead the majors in fWAR for starting pitchers and Delgado has joined the group. He'll likely move back into a relief role, but he gives the team the option to provide extra rest for the formal rotation and can fill in if/when someone gets injured. Rotation depth is always important, as we talked about entering the season, and it's something the Dodgers have used successfully in recent years. The D-backs might not have Los Angeles' depth, but they are starting to look like a club with enough starting pitchers to survive the normal wear and tear on a staff, which bodes extremely well for them as July approaches. Randall Delgado is just the latest to join the fray.