Addison Reed had an excellent season last year — even better than it appeared, maybe. His 3.79 ERA was nothing to be ashamed about, but his 3.17 FIP suggests he was better than that. As an extreme fly ball pitcher, Reed's story will always be about his home run to fly ball ratio, which, until this season, had been lower than league average. But was that luck?
Over his career (including 7.1 innings in 2011), Reed sports a HR/FB ratio of 9.7%. That's better but not much better than the league average rate. Here's how Reed's HR/FB has stacked up:

The "total" line is a bit misleading — it includes Reed's tiny 2011 sample. But the point is that in Reed's last two seasons, he was better than league average in avoiding home runs on his fly balls. So much so, in fact, that despite giving up 6 HR already this season (matching his totals from 2012 and 2013), his overall rate is under league average.
Like BABIP, HR/FB doesn't appear to be a skill for a pitcher unless it is. There are outlier cases. Sometimes it can be avoiding the barrel of the bat more than the average pitcher, which is a skill Bronson Arroyo appears to have. Sometimes it's an extreme ground ball pitcher who makes a batter miss high with a swing more than average, like Brad Ziegler. And there is at least one example of an extreme fly ball pitcher who has managed to keep his HR/FB under league average: Matt Cain.
From his first year in the league (2005) through the 2012 season, Cain posted HR/FB rates no higher than 8.4%, managing an amazing 3.7% rate in 2011. This apparent skill might be attributed to his extreme fly ball tendencies — if a batter is consistently getting under the ball while aiming for line drives, it stands to reason that hitters were also getting too far under the ball more frequently for Cain than for other pitchers (in other words, more pop flies, even if most went to outfielders).
Minimizing the benefit of this HR/FB rate for Cain is the high rate of fly balls themselves; even in a good year with a lowish HR/FB (8.4%), Cain's HR/9 rate was 0.86, good but not necessarily great. The same phenomenon has been at work for Reed: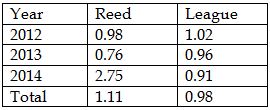 It says a lot about how small our samples are that Reed's rate could balloon so much with just a quarter-season's performance. Still, although it might have looked in 2013 like Reed had a Cain-like skill of depressing HR/FB enough to keep his overall HR rate low… Addison Reed is not Matt Cain. Not even Matt Cain is Matt Cain anymore.
If Reed's HR/FB is not reliably or substantially under league average, then we're just back to fly balls. And Addison Reed gives up a lot of fly balls; his 45.4% FB% was 17th-highest among 125 relievers last year with 50+ IP (others ahead of him on that list: Oliver Perez, David Hernandez, Josh Collmenter).
Are fly ball-prone relievers good candidates for a closing job? There may be a lurking variable here in that a high FB% tends to mean one isn't as good of a pitcher. But of the 35 pitchers with at least 10 saves last season, just Ernesto Frieri and Huston Street had a higher GB% than Reed (given an even distribution, we'd expect about 5 pitchers to have a higher FB%, not 2). Frieri had a HR/9 of 1.44 — not good. Street had a HR/9 of 1.91 — horrendous.
High FB% generally means more home runs. Is it possible that Reed just had a lucky season last year? If so, is a somewhat HR-heavy batted ball profile a good fit for the closer role?
Let's say you had two really good relief pitchers. They both had the same FIP, their projections looked identical, etc. Except that Pitcher A was likely to give up more hits than Pitcher B, and Pitcher B was likely to have a higher proportion of the hits he gave up be home runs. Out of context and with no reference to the leverage of the situations in which they're used, they're equal. But who's your closer, Pitcher A or Pitcher B? After running some numbers, it looks to me like Pitcher A is the slightly better choice, but the difference is negligible.
But if Addison Reed's HR/FB was misleading last season, the answer to that question isn't especially relevant. An increase in HR/FB wouldn't mean he'd give up less hits overall; he'd give up more hits overall, and the hits would be the especially damaging kind. Reed was a decent pitcher last year, better, it would seem, than his ERA. But if you normalize his HR/FB ratio for that season, you get his xFIP of 3.77. That's not terrible. But it's not that good, either.
The question of whether Reed should close, then, becomes a question of comparing him to the alternatives (although there is also the financial question, which was part of the reason my favored closer was J.J. Putz, as Jeff also explained).
Josh Collmenter
It may be that Collmenter is too valuable a long reliever to put in short relief, although I don't think he's necessarily long for the rotation. The only reason to install Collmenter over Reed is financial, probably — the D-backs signed Collmenter to a breathtakingly club-friendly deal, while Reed will see his salaries rise through arbitration. I include him in this list in part because Collmenter's batted ball profile is amazingly similar to Reed's:

I've included Brad Ziegler and Putz primarily for comparison's sake. The similarities between Collmenter and Reed from last season's statistics are remarkable, though, and with respect to whether Collmenter would be a better option than Reed in the closer's role — I think both arguments could be made, which says something.
Brad Ziegler
Then there's Ziegler, who, as is clear from the above table, is an extreme ground ball pitcher. It's also the case that FIP (and therefore xFIP) will always be unfair to Ziegler, because of his success with double plays; yes, Ziegler puts runners on more often than the best relievers in baseball, but he also does a much better than average job of cleaning up his own messes. ERA can be misleadingly low for relievers who are often installed mid-inning, especially if they're often installed with runners on base, as is Ziegler. Ultimately, he's probably a better option than Reed at closer. But Ziegler may be worth an extra half win in value just from being deployed in DP opportunities at a reasonable rate every season, and that may be worth more than moving Reed.
J.J. Putz
Being on the DL doesn't help with one's candidacy. But in addition to being the better financial option, Putz is also a very good reliever in his own right. There's also the fact that he's closed more:
If there's an x-factor that makes some guys perform better when the chips are down, I have no evidence about it either way.  I'm slightly more inclined to think that there are some guys who perform worse in save situations (paging Octavio Dotel) — that just makes more sense to me.  But it's not like Putz caves under pressure.  In terms of closing experience, the only reason to prefer Reed over Putz is if you prefer recent closing experience.  We already established that their 2014 abilities might be on similar levels, though, so maybe overall experience matters more… and Putz has 189 career saves to Reed's 69.
Maybe the best reason to not use Putz as the closer when he's healthy is that he won't always be healthy. If it's "Putz when he's able" and "Reed when he's not," the closer role will change hands fairly frequently. I don't know that that matters, but I can't say that it doesn't.
Randall Delgado or Trevor Cahill
Since moving out of the rotation, Delgado's stuff has played up at least a little bit; not having to throw the sinker at all seems to have helped. In a small sample of just 13.2 innings, Delgado's batting average against has been excellent (.173, down from .444 in his short 2014 stint as a starter). He's walked more than his fair share of hitters (7), but he's also struck out quite a few (19). Sounds like a reasonable option to me if he's not needed as a long reliever. And, hey, it might help Towers save face on the Justin Upton trade, for which the D-backs' returns seem to be diminishing.
The story for Trevor Cahill is similar. Since getting dumped from the rotation and installed in the bullpen, Cahill has a very decent 2.45 ERA in 14.2 innings. His batting average against has also dropped (.192, instead of .333 as a starter). He hasn't had as much of an issue with the walks (5), but he's had almost as much success in strikeouts (19). The performances of Delgado and Cahill in the bullpen are very small samples, but this is something to keep an eye on moving forward.
Jake Barrett or Matt Stites
Premature? Well, yes. Barrett split last season between High A Visalia (1.98 ERA, 1.10 WHIP) and AA Mobile (0.36 ERA, 0.85 WHIP) and looked great. His ZiPS projection for Major League Equivalent stats before the season started, though, called for a roughly average performance: 4.02 ERA and FIP. That's good enough to contribute at the major league level, but not in the closer's role, even in a pinch. And Barrett's performance so far this season at Mobile leaves something to be desired (3.00 ERA and 1.33 WHIP in just 12 innings).
Matt Stites's story is not much different, although he was recently promoted to Reno. The preseason ZiPS projection for Major League Equivalent stats was a 4.31 ERA and 4.25 FIP — below average for a major league reliever. He's had 5 ER in 16 total innings so far in the minors this season, which is good (2.81 ERA). But it's a little too early to increase expectations beyond those ZiPS projections.
. . .
For more on how the major-league pitchers are doing versus their projections, check out Jeff's post from yesterday.
Gun to my head, I'd try Trevor Cahill in the closer's role right now to see if it worked. If it turned out that he thrived on the pressure and the ball continued to move all over the place, we might have the second coming of Derek Lowe (well, of his closer days in Boston). But there's no alternative to Addison Reed who's clearly a better option, it seems.