The Diamondbacks are in disarray. The starting pitching is a mess, and the bullpen is shaky. The team's win-loss record reflects these issues. Meanwhile, the team's payroll is the highest it has been in years. The horrid record and high payroll were not supposed to coincide. This situation begs for the D-backs to trade expensive, veteran players for young talent. They're not going to compete in the present, so they might as well build for the future.
There are trade rumors abound. Many different trades have been advocated for on this very site. One thing that has not been advocated for is a Miguel Montero trade. I think there's one primary reason for this: there is no organizational depth at catcher. I certainly don't dispute this notion. Instead, I don't think it matters because this team won't contend in the near future. Your opinion on trading Montero might come down to whether you think the Diamondbacks can be good in the next few years.
Montero is having a good season; he was an All-Star, and he is one of only seven catchers in the majors who has been an above-average hitter. His contract situation is stable. He is due $12M next year and $14M in 2016 and 2017. It's possible the Diamondbacks are contenders by 2017, but it's also possible that they are not. The problem is that Montero is 31 years old, which means his skills are beginning to decline. There is this idea that catchers age faster than position players, but it's been proven to be false.
Jeff Zimmerman's graph shows that a catcher's offensive ability declines in a similar fashion to a position player's offensive ability. Maybe catchers don't decline faster than position players, but they still significantly decline, beginning at 30-years old.
I'm advocating selling high on an asset. Right now, Montero is projected to finish the season as a three-win player. At his peak in 2012, he was worth almost five wins. Even if you consider his 2013 season an aberration, these two data points from 2012 and 2014 fall exactly on the aging curve. He's lost about 20 runs (every 10 runs is worth one win) between his age-29 season to his age-31 season. Next year, the drop off is supposed to be steep. Right now, his $10M salary for 3 wins is a pretty good deal.  Montero will probably continue to decline at an average rate, which will make his contract less team-friendly.
Since we're on the topic of Miguel Montero, I wanted to mention an interesting development. Both his BB% and K% have fallen significantly since 2012. If you regularly watch Diamondbacks broadcasts, you may remember comments made about Montero's swing. They usually say that he's a good low-ball hitter and that he swings at high pitches too often. I pulled up the heat chart to confirm.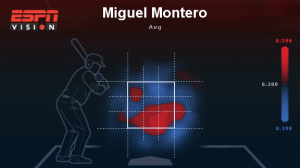 Sure enough, his heat zone is down in the zone. Now here's some good news: Montero has been swinging at the 'right' pitches more often in 2014. Look at these two charts of his swing percentage to see the evidence. The top chart shows his swing percentage earlier in his career (2011-2012), while the bottom chart shows the current season.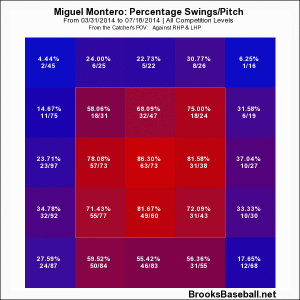 You can see that this year he is swinging at fewer pitches up in the zone, and conversely, more pitches in the bottom of the zone. Since Montero is swinging at better pitches, we'd expect his K% to decrease and his offensive numbers to increase. That hasn't happened.
The issue is that he's been hitting too many groundballs on pitches down in the zone. Compare 2011-2012 (top) to 2014 (bottom):
I am not exactly sure why he's hitting more groundballs, but I would guess it is related to his age. The older he becomes, the less bat speed he possesses. And while he's combating that decreased bat speed with a better eye, the decreasing abilities eventually will catch up to him.
I suggest trading this asset while it still has value.