If you stopped by yesterday, you surely noticed a discussion regarding the Diamondbacks' position players and their struggles to produce positive value. If you missed it, you should catch up, because this post is purely a follow-up on that same premise: visualizing just how mightily the Diamondbacks' pitchers struggled in 2014. And perhaps this is fitting, with it being New Year's Eve and all, since this is the time to make a resolution or two (or five). If there's one thing we've heard time and again, it's that Arizona hopes to be better on the mound in the new year, and oh man, is an improvement ever needed.
As was noted yesterday, the D-backs lost a ton of days to the DL in 2014 (third-most in the majors). Patrick Corbin was the most notable injury, and although Bronson Arroyo isn't good, he might be better than some of the alternatives that saw time on the mound last year. Both ended up having Tommy John surgery with Corbin slated to come back in June and Arroyo likely to come back in late summer, maybe late-July or early-August. David Hernandez had TJ, too, after he was looking sharp in the spring and was primed for a big return. Instead, he'll be out until at least late-May. Daniel Hudson made a triumphant return, but he would have been useful to have had available sooner than the end of the season, as turned out to be the case. Injuries definitely took their toll, that's for sure.
And just as was the case with position players, the pitchers also faced some bad luck. We know that pitchers don't necessarily have a lot of control over whether balls in play go for hits or outs, but there's surely some blame to be laid at the feet of the man throwing the ball. How much is incredibly difficult to be determined. That said, a few D-backs hurlers had insanely unlucky BABIPs, notably Evan Marshall (.351), Trevor Cahill (.350) and Brandon McCarthy (.345). We know there's a penalty for pitching in Chase Field, but those numbers are too far out of the realm of normalcy to be considered anything but unlucky. Coupled with the injuries, this just didn't help.
But like I concluded when looking at position players, the Diamondbacks' pitching staff just wasn't that talented. Even with Corbin in the rotation for a full season, the team would have still finished in the bottom third of the league. Archie Bradley had a down year while Aaron Blair and Braden Shipley caught up, but the arms that promise to excite are still a little ways off. Top to bottom, the rotational depth just wasn't that good. In the bullpen, things were a little better although Addison Reed and his fly balls don't really match up well with pitching in Chase (#DINGERZ). A bullpen that's decent is only as helpful as the leads they're handed, however, and the starting rotation just didn't do enough to transition good situations to the bullpen for safekeeping.
Speaking of the rotation, let's just put that into perspective. Here's how the starters fared as compared to the rest of the league based on fielding independent pitching components (SO's, BB's+HBP's, HRs).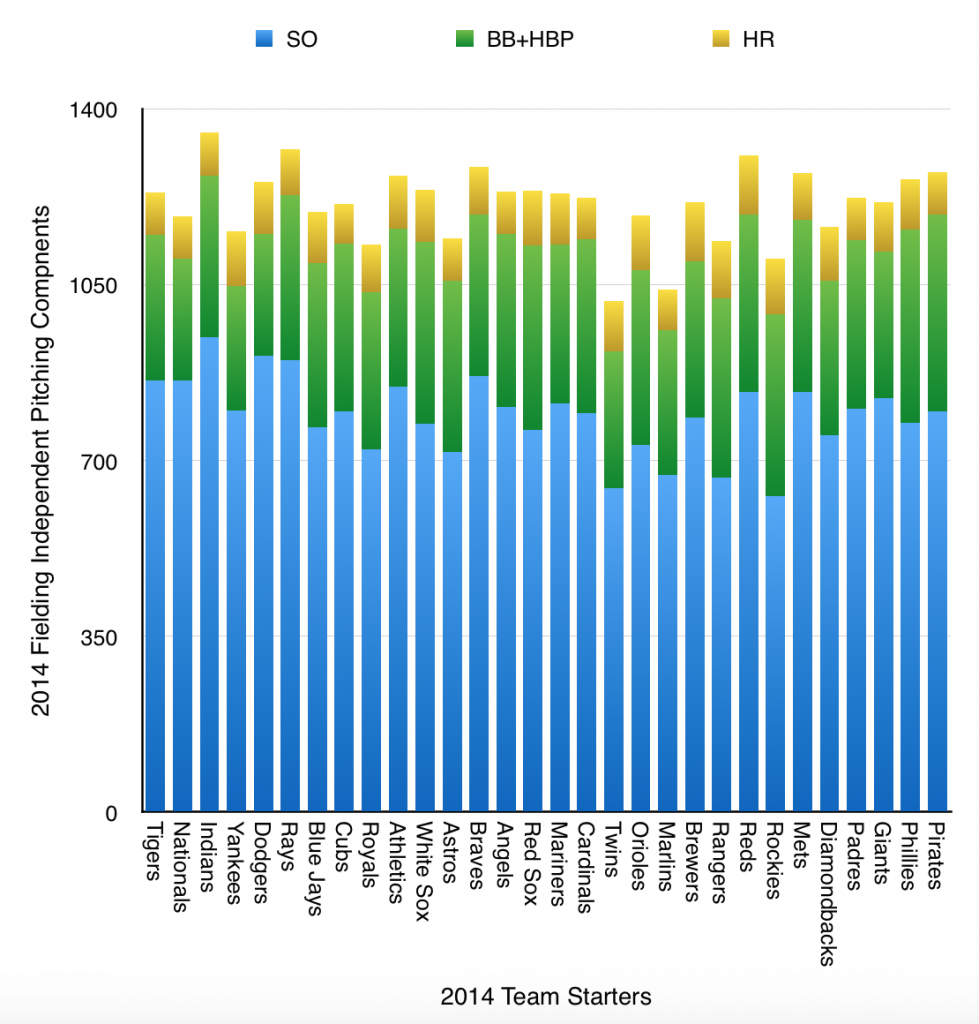 *sorted by fWAR
Let's see, the Diamondbacks finished 25th in strikeouts and 23rd in home runs. We know homers will be a problem in Chase Field, so strikeouts are all the more important. The team finished 8th in free passes (BBs + HBPs), but that wasn't enough to overcome their lack of strikeouts and propensity for the long ball. If we're looking to assign blame see where these results came from, look no further.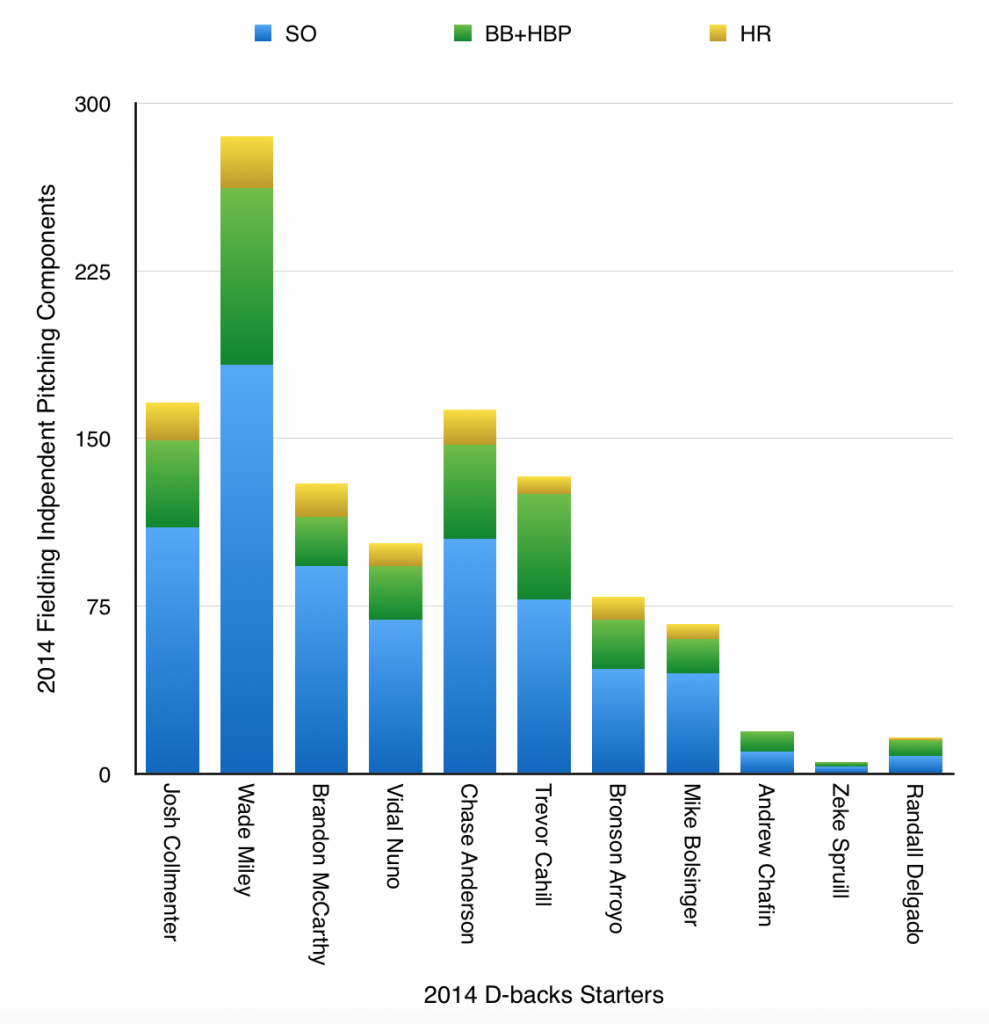 *sorted by fWAR
Josh Collmenter was the best starter on the team, at least according to fWAR, and while his peripherals weren't exactly overwhelming, he was at least durable. He suppressed opposing hitters' batting average on balls in play, so that worked in his favor. The recently-traded Wade Miley was second and he struck out more batters than Collmenter, but he also gave up more free passes and and yielded more home runs, so there's that. No one else is really worth talking about and I think we'll just not discuss it given the mediocrity, if you can even call it that, of the bulk of D-backs starters. For context, take a look at the starters of the Cleveland Indians and feel free to draw your own comparisons between a decent rotation and that of the Diamondbacks.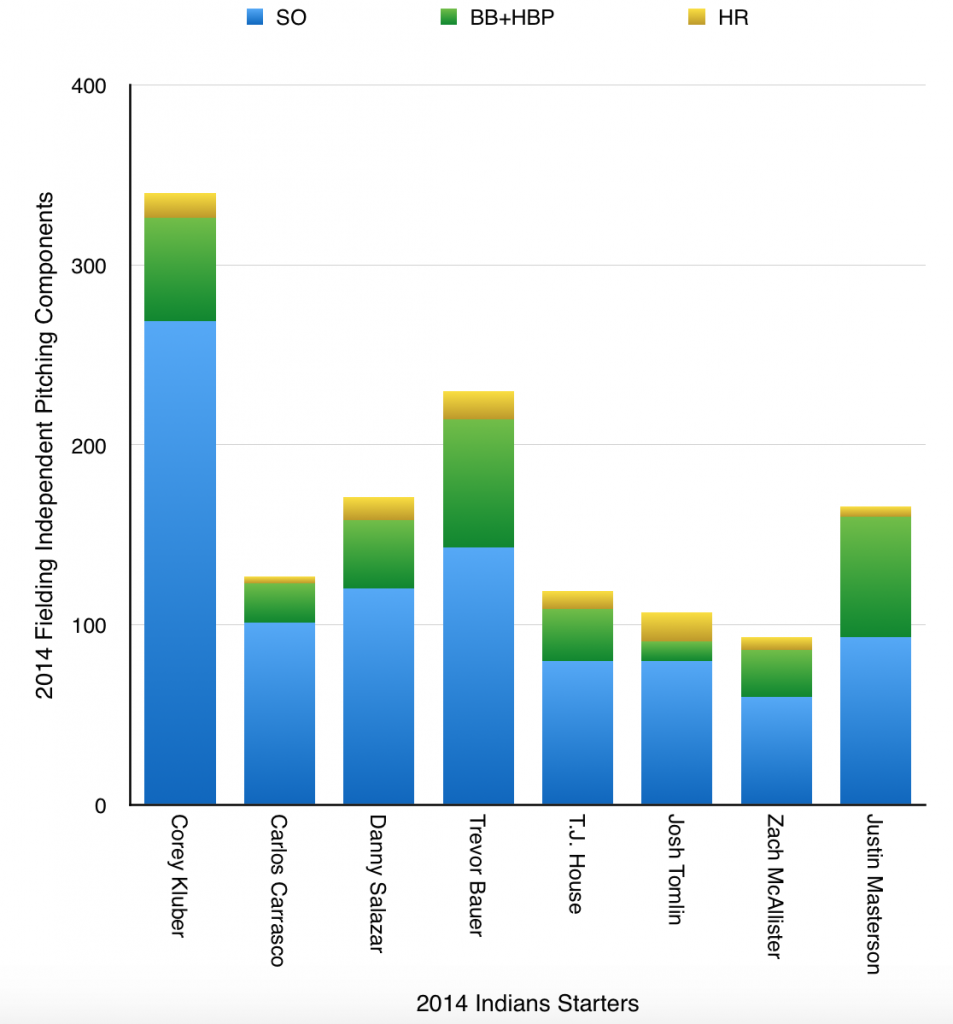 *sorted by fWAR
The rotation isn't the only group of pitchers, and as I alluded to, the Diamondbacks' bullpen was comparatively better than the rotation. Although they ranked near the middle of the pack according to fWAR, they were near the top of the league in strikeouts, but near the bottom in both free passes (walks and hit-by-pitches) and home runs. Chase Field reared its ugly head again in 2014 with the long balls, which really pummeled Addison Reed and Matt Stites.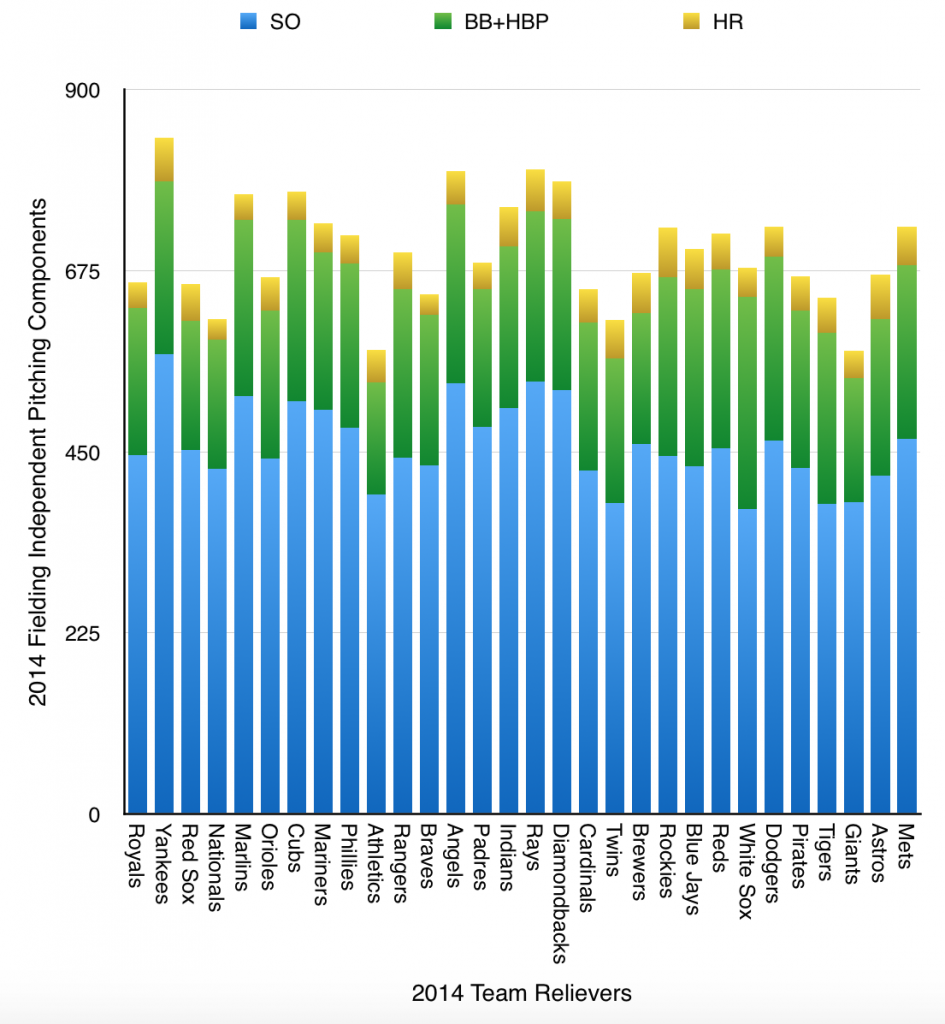 *sorted by fWAR
So hey, at least they weren't as bad as the rotation. But that's really the extent of the good news as even the the team's best reliever, Brad Ziegler, had a down year. By fWAR, Evan Marshall was the most valuable, and that's probably not a good thing in the grand scheme of things. Oliver Perez and Randall Delgado were okay and basically the same pitcher, although Perez racked up similar totals to Delgado in fewer innings, which is beneficial. Outside of that, it was a bunch of essentially replacement-level performances, which isn't necessarily unforeseen considering the context of a major league bullpen. If anything, it's simply notable that the team routinely ran one of their worst relievers out there for the ninth inning to protect leads because #SAEVZ. Closers are dumb, Reed needs to figure out how to give up fewer long balls, and that's all I want to say about that.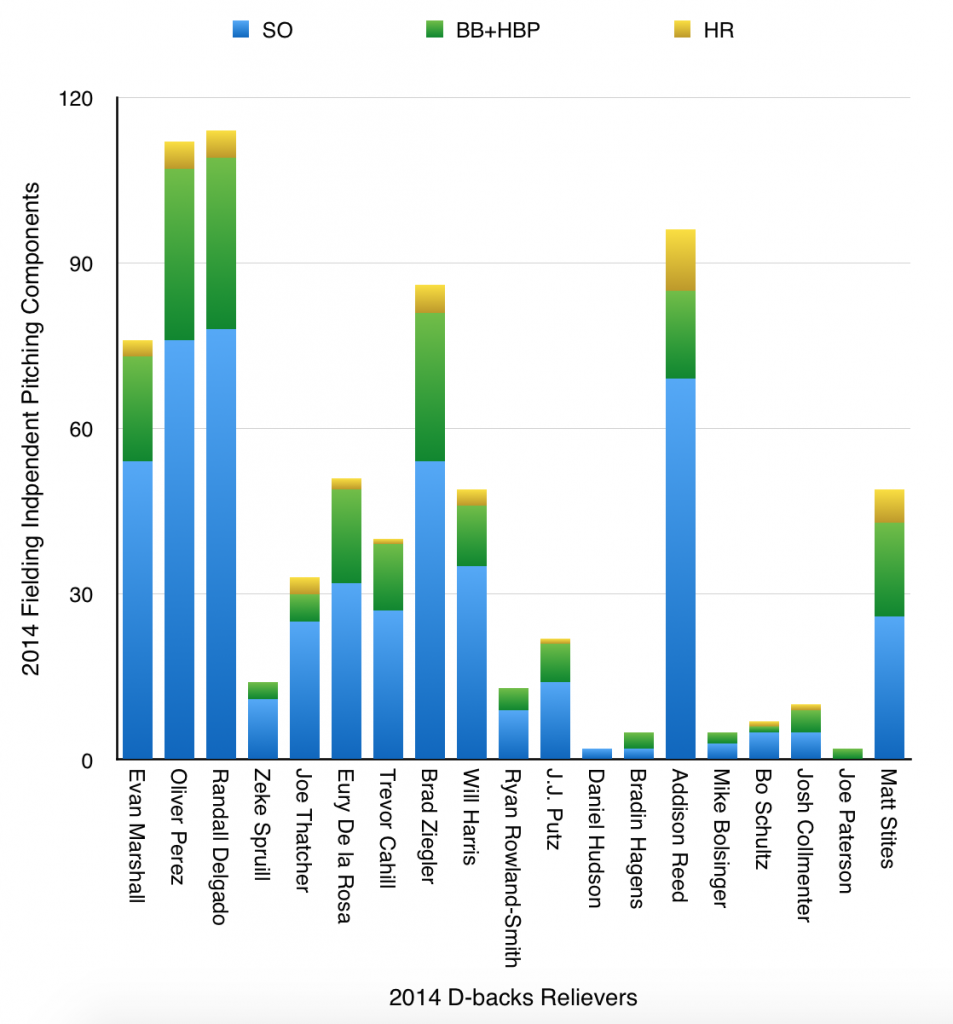 *sorted by fWAR
Put it all together, both the rotation's output and the bullpen's damage, and you get a team that was worse than average in the pitching department. And when paired with the struggles of the position players, well, it's no wonder the team has the first pick in next June's draft. Yes, this is due in part to injuries, Corbin would have helped, and sure, some guys were unlucky, but this group of pitchers was collectively less talented than needed to achieve better results. Again, by and large, the issue was effectiveness, not injuries and/or bad luck (thank you, Mr. Towers).
It's no wonder the team has a new management structure. The former one had built a team that was designed to generate certain effects and they accomplished that, at least to a degree. But there's more to winning baseball games than power and closers with quality depth being a necessary ingredient, one that's clearly missing. Once Arizona suffered an injury or two, they were in big trouble while some contending teams were able to power past those injuries and still remain relevant. Talent wins in baseball, and the teams with the most talent tend to threaten to win it all.
The Diamondbacks need a big talent injection, both from position players and pitchers, if they want to get into that contending category. This offseason is a start, as is getting healthy, but it's going to take some time. Hopefully this post, coupled with yesterday's, makes this case perfectly clear.
*all data via FanGraphs