The Diamondbacks were bad last year. You know this. We've written about this not-so-secret phenomenon a number of times this winter and probably with varying degrees of success. Sometimes the point gets across, sometimes it doesn't. This is a hard thing to gauge, but occasionally, I can get a feel for the pulse of D-backs fans and their feelings on the team, either via comments on this site, on twitter or when talking to real live people. I like the last of those options most, but regardless of the medium for communication, there's one thing that seems to come up again and again: many fans think that the team wasn't that bad. I have bad news: it was probably worse than we realized.
Now, that stems from several things. I feel like it's a cheap out sometimes, but the D-backs did lose a lot of games played on the position player side of things to the disabled list. As a team, Arizona had the 11th most trips to the DL in baseball, which I guess is a little more than average, but had the third-most days lost to DL in the game. That's a lot, especially when about 175-ish of those games were on behalf of Paul Goldschmidt, A.J. Pollock and Chris Owings. So yeah, that surely didn't help. A supporting cast that was just 'okay' wasn't helpful either and it's not exactly surprising that the D-backs, with their already thin-on-positional-talent roster, didn't pick up the slack when good players went down.
But that's not the only reason the team was bad. They also just weren't that good. Every team has to deal with injuries and that's part of why building a talented, deep roster is so important. No team escapes the injury monster entirely, but the most talented rosters usually shine in the end. Bad luck can and does happen as both Miguel Montero and Aaron Hill had poor seasons aided by lackluster BABIPs, and due to other injuries, these two vets, despite having down years, had the most plate appearances for Arizona in 2014, respectively. That's a bad combination when half of the objective in every game is to score runs. Put injury troubles, some bad luck and a shallow roster together and you get the 2014 Diamondbacks and their 64 wins (and the first pick in the 2015 draft).
So for the sake of taking one last look at the 2014 squad of position players, right as we're about to embark on 2015 in earnest. Maybe this will let us just burry the hatchet on 2014. With any luck, this will put both the dismal production of last year's team and the haunting thoughts that went with it finally in the rear view mirror. Here's the team's positional contributions as compared to the rest of baseball.
*sorted by fWAR
Look to the right end of the spectrum and you'll find the Diamondbacks, 25th in team fWAR for position players. For clarity, I didn't exclude pitchers here, so you'll notice that NL teams are skewed somewhat negatively, but you get the idea. Arizona was negative in terms of offensive production (25th), average defensively (14th) and pretty decent on the bases (8th). Unfortunately, offense is what you're really going for here, with defense the second-most valuable trait and base running a distant third in terms of importance. The team was worst in the area that matters most, average in the next most important category and above average in an area that doesn't really matter all that much, at least compared to the other two categories. So, yeah, not very good.
How did they get there? I'm glad you asked as below is a similar chart broken down by each position player. This times pitchers were excluded as they just don't really matter in terms of offense.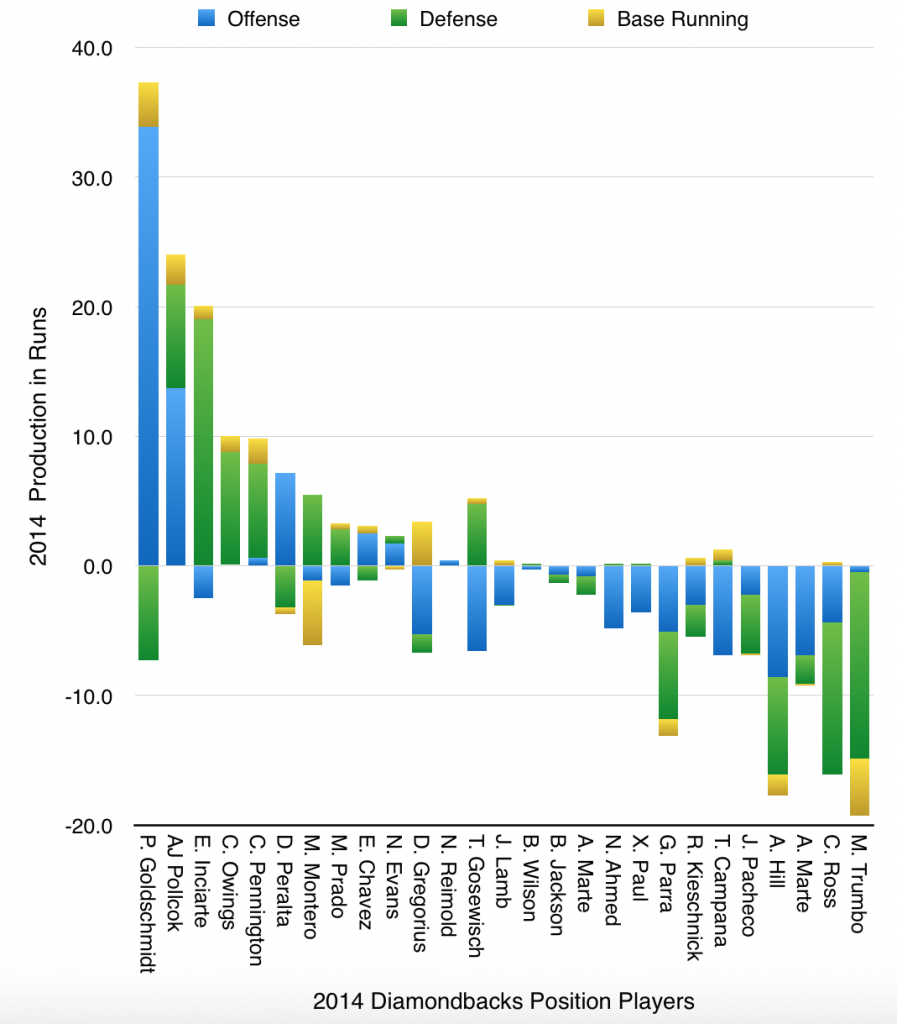 *sorted by fWAR
The D-backs really only received positive, meaningful contributions offensively from three players: Goldschmidt, Pollock and David Peralta. There were some good defensive performances, thanks to Pollock, Ender Inciarte, Owings, Cliff Pennington and Montero. Even a few guys put together value on the bases, but again, that's not all that important in the grand scheme of things, plus the team's leader in that category, Didi Gregorius, isn't even on the team anymore. Several players were just bad at everything, mainly replacement guys with the exception of Gerardo Parra, Hill and Mark Trumbo.
I guess the main point of this whole exercise was just to state the obvious, which several of you didn't need me to state at all. But I'm occasionally reminded of how fans can see the team through Sedona Red-colored glasses and discuss players as if they were better than they really were. It's important to put the whole topic into an easily-digestible perspective sometimes and hopefully the visuals above can do that effectively. Despite injuries, the D-backs weren't deeply talented and it showed, both on the field and in the graphics above.
Another takeaway might be to illustrate the areas that need strengthening, and that's something we've covered extensively. Production in the corner outfield spots is still a question mark and so, maybe, is second base depending on how much you think Aaron Hill will bounce back as a 33-year old. Catching is another hole and Oscar Hernandez, the D-backs' Rule 5 pick, isn't going to fill it (as most people expect that he'll end up getting returned to the Rays). Will the team address those spots, either through acquisitions or through useful platoons? That much we're still waiting on and may not have an idea of until a later date.
Tomorrow we'll look at pitching, and don't get your hopes up there, but the positional part of the equation was poor last year. We can blame injuries, we can blame luck, but the overriding issue was a roster thin on talent. Some of that talent with continue to mature as it gets more exposure to major league pitching (Inciarte, Peralta, Owings and Jake Lamb, hopefully). Inserting Yasmany Tomas is sure to have interesting results, too, but he'll have his growing pains. In the end, this team just needs to get better, piece by piece, before we can expect it to contend. And if you take one thing away from our year-long analysis of the 2014 Arizona Diamondbacks, please let that be the message, because a better roster of position players will make for a better D-backs squad, something we're all hoping for in 2015.
*all data via FanGraphs, offense determined by wRAA, defense by DEF, base running by BsR