Jake,
This has been a long time coming. In this season in which people say what they really feel, it's time to admit the sentiment that's bubbling to the surface.* You put the "hot" in "hot corner," Jake.
Even one year ago, you were a test case for players who might or might not make it. I wasn't dreaming on you then, but all you've done as a professional is hit. Last summer, Jeff Wiser made a case for why we should take notice and give you your due. I've been paying attention, and now, Jake, you really got a hold on me.
Do you mind if I call you Jake? Old media guides and some websites like FanGraphs insist on calling you "Jacob," but that just feels too informal for me. On your Twitter account, you say "Jake," and that's good enough for me. I'll do my best to get everyone else on board.
I believe in you, Jake. How do other people not see it? You obliterated Rookie ball in your debut 2012 season, with a .539 slugging mark that looked more like a Tuffy Gosewisch OPS. You had an unbelievable 2013 season at High-A, with a higher slugging percentage and a face-melting OBP of .424, creating runs at a rate 56% higher than your peers. And although you've only had 1,167 plate appearances in the minors, that wasn't even your best season.
You outdid yourself with Double-A Mobile, creating runs at a rate 62% higher than league average. The jump barely dented your outrageous OBP, and you managed to keep your slugging percentage over .550. When you hit the ball in play, it went for a hit 38.9% of the time. How is that even possible? Few players manage to get so far away from their league's average, and no one has done that in the majors. Paul Goldschmidt got hits on 36.8% of balls in play last year, and that would have made him second in MLB. And although Goldy managed a BABIP similar to yours in High-A, his .331 BABIP in Double-A can't hold a romantic candle to your .389 BABIP there.
The fans of the Reno Aces did not get to share you for long, but trust me, when you were there, you made an impression. Like when you hit your home run there; you turned on that down-and-in breaking ball like a soccer mom doing a beginners yoga pose.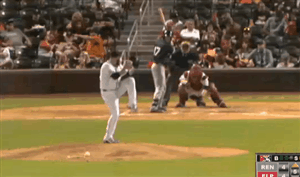 Jake, things didn't go as well in your short time in the Show. As a third baseman (you're not a pinch hitter!), you had a triple slash line of .238/.271/.385. That's not great, but it's not like any player's first 133 PA are that meaningful. Heck, Ender Inciarte just showed us that; in his first 133 PA, Inciarte went .227/.256/.250, but after that point, he hit .298/.341/.404. I know, crazy, right? But Ender had that first stretch holding down his overall stats for the rest of the season. It's great that you start 2015 with a blank slate.
One of the things I like most about you is your generosity of spirit. You keep everyone in the field, Jake, and that says a lot about you as a player and as a person. Sure, you tend to pull the ball a little bit in the infield, but I promise not to get too jealous about this fleeting preoccupation with second basemen. And it's the outfield that probably matters most; center fielders fielded the most of your batted balls (85) , but despite most players' propensity to pull balls, right fielders fielded just ten more (72) than left fielders (62). You spread around the love, Jake. Just look at this 2014 minor league spray chart!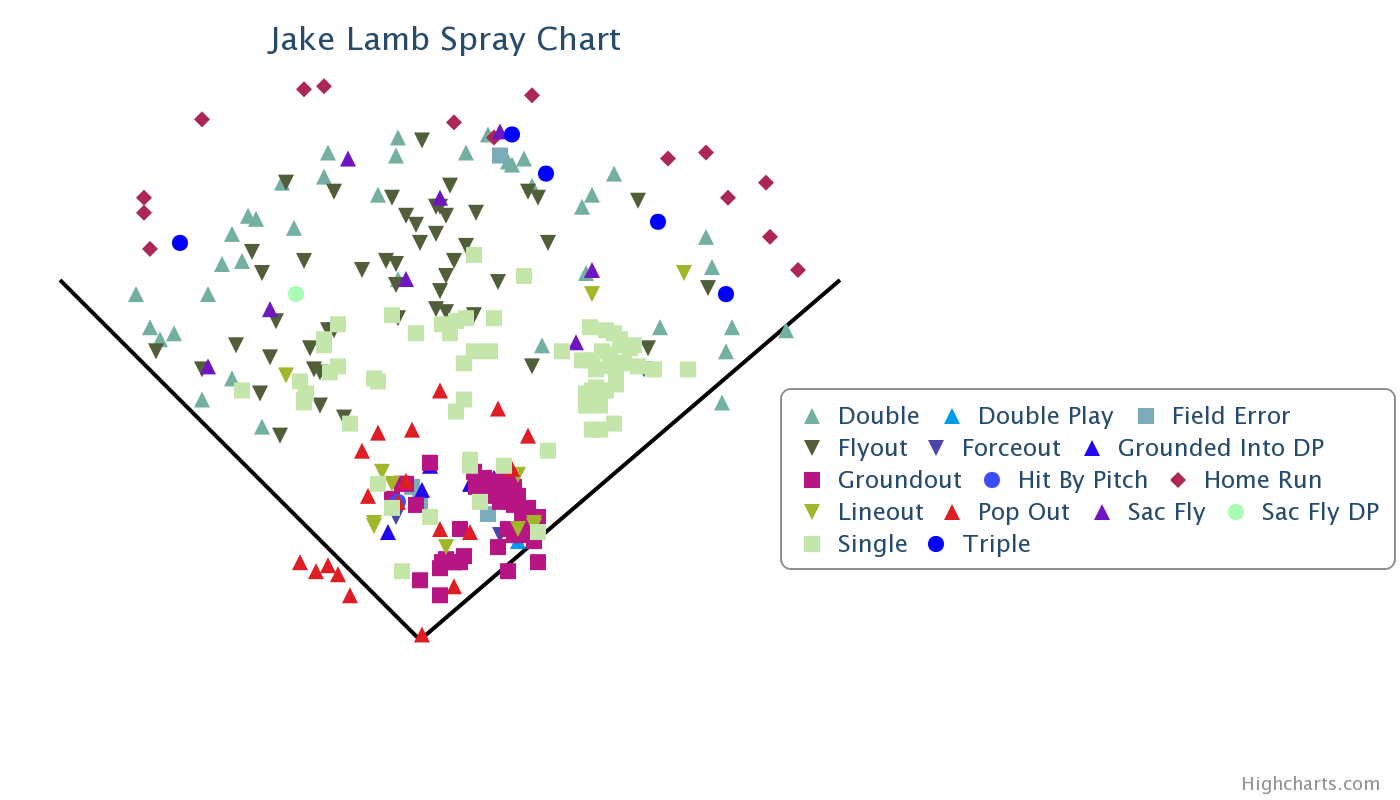 I also can't get over just how receptive and reliable you are. Baseball America named you the "Best Defensive 3B" in the D0uble-A Southern League last year, and two years ago, they thought you had the "Best Infield Arm" in the D-backs system. Sure, you've had 33 errors, but that's in 225 games, and in the majors, you had just one error in 34 games (throwing — Martin Prado had 12 in 99 games). In Tango's Fans Scouting Report, you were thought of as slightly below average in throwing accuracy, but above average or plus in all six other categories. Plays classified by Inside Edge as "likely" (60-90%) turned into outs by you 8 of 9 times, and you made 63 of 65 "routine" plays (90-100%). You may not have the golden throat of this fake Jake Lamb, but c'mon. There's smooth, and then there's smooth: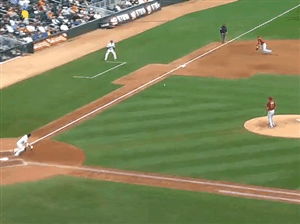 Jake, another thing that makes me swoon is your resilience. On your first steal attempt in the majors, you got caught trying to run on the Twins. But your other MLB steal attempt came just two days later against the same team, and you stole that base. Rising to challenges is nothing new for you. Against southpaws, you do better, hitting .365/.427/.586 in the minors last year. Against pitchers ranked on an MLB.com top 20 prospect list? You killed that competition, going .321/.411/.581. You ranked 103rd in at bats in the Southern League last year, but 4th in RBI. What can't you do, Jake? What can't you do?
***
I know the odds are stacked against you, just like they're stacked against any baseball player. I can't help but talk about you with everyone, and I even reached out to the creators of the two best projection systems out there, ZiPS and Steamer. ZiPS sees you as a .244/.302/.412 hitter next year, a little below average at the plate (93 OPS+), but with a little pop. Minor league journeyman Boi Rodriguez is your top comparable per ZiPS, with a string of other underwhelming comps behind you: Marty Castillo, Dave Baker, Mike Pagliarulo, Floyd Rayford, Chris Brown, Wade Rowdon, Roy Howell, Delwyn Young, Mike Blowers, and Joel Guzman. About half of this crop were never worth more than zero wins above replacement per bWAR, with a couple in the 4-5 career win range, and two men (Howell, 10.9; Pagliarulo, 10.6) worth more than ten. Players who only post 1-1.5 win seasons don't always last that long, especially at third base. I believe in you, Jake, but to be a good player, you'll have to be better than all of these comps.
ZiPS takes your BABIPs into account, projecting a .316 mark. Steamer does, too, when it projects you at .250/.311/.404, and a bit closer to league average as a hitter (96 wRC+). On the back of your minor league BABIPs, Steamer projects you to have a .313 BABIP next year, which would still be a healthy 13 points above the likely league average. I wonder, though, whether the shortness of your minor league track record maybe just isn't long enough for there to be a high confidence level in projections. Maybe there's still a wider-than-normal range of possibilities.
You do have doubters. ESPN's Keith Law thinks your approach is more advanced than Brandon Drury's, but that Drury is the "better long-term prospect." Kiley McDaniel of FanGraphs ranks you as a slightly below average future value player, with power but "too much swing-and-miss" to your game. I consider myself a pacifist, but if you find either of those guys for me, I can make sure that their nurples become purple.
***
Jake, the best outcome for your career isn't necessarily the most likely outcome for your career, but if you're motivated to dream like I am, you offer plenty to dream on.
Ok, I'm going to make a comparison to help make my point — please stick with me. Call this guy Player X:

Now Jake, here are your stats from the same leagues, and like Player X all within a single two-year period:

There are definitely some meaningful differences. Player X's slugging percentages were bigger in each year, including the minors years. In the High-A season, Player X had a slightly better BABIP and AVG in addition to the SLG advantage. But you, Jake, also outplayed that High-A season in terms of walk percentage — you killed Player X on that — and you had an advantage in terms of strikeouts, too. In the end, you and Player X had a very similar season at the plate in terms of total production with "weighted On Base Average" marks within two points. That stat takes everything into account.
Player X had the advantage in the Double-A season, truth be told. You did your finest work, and although your walk rate dropped, your strikeout rate did, too. You still stung the ball, but for that season, Player X does have an advantage in terms of both OBP and SLG. It's a meaningful difference — that's the 36 points of wOBA — but the gap is not quite that huge if you include your little stint with Reno (Player X didn't play in Triple-A).
So yes, overall Player X has an advantage. And he did do better in his first MLB cameo than you did. Your profile is pretty similar — you guys have both struck out a lot at the beginnings of your career, but had your hits fall in more than normal. Player X looks a little better, definitely. But Player X is Paul Goldschmidt. And Goldy doesn't play third base.
***
Jake, I refuse to believe that your minor league success has been one big fluke, but unfortunately, none of the three ways we can use to kind of cross-check high BABIPs are available to us with minor league stats. But is it speed? Let's see. Is it that when you hit the ball, you destroy it? We'll let Hard Hit Average and the like tell us that in 2015. It's not line drives — that's really hard to get above or below the 20%-23% range. But I'll be tracking, game to game, to see whether you hit more of the "fliner" variety of fly balls, which would help explain your batting averages. I'll be watching.
I don't know, Jake, if you're the second coming of Paul Goldschmidt, of Ichiro Suzuki, or of Boi Rodriguez. But I do know that I'll be rooting for you, Jake, and watching every little step you take along the way.
*This is, of course, all in good fun. But here's my main disclaimer: this is the least objective baseball piece I've ever written. So there!