In 2013, the Diamondbacks were among baseball's worst base running teams. Ranking 26th in the league, the team frittered away more than a win on the bases per FanGraphs' Base Running statistic (-10.5 BsR); the Baseball Prospectus stat Base Running Runs was even less friendly with its measurement of the D-backs, ranking them 28th at -9.7 BRR. But things turned around in 2014, with "above average" making for a solid improvement; the team ranked 7th in BsR (2.2) and tied for 13th in BRR (1.8).
This improvement came despite the loss of Adam Eaton, whose BsR of 3.4 in 66 games was double that of any other D-back (Tony Campana's 1.6 BsR in 29 games being perhaps more impressive). But just nine players had positive BsR marks in 2013, and that included Wade Miley. Unless you count Eaton, only three of the team's sometime-starters had positive BsR: A.J. Pollock (1.5), Didi Gregorius (0.4), and Paul Goldschmidt (0.4). With the exception of giving Cliff Pennington a ton of credit as a base runner, BRR told a similar tale.
That all changed substantially in 2014. The position players with at least 50 PA: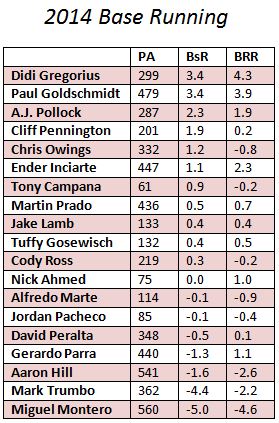 We are in all cases dealing with small samples; think of these base running statistics like you would defense, assuming that with the exception of outliers, it would probably take a few seasons' worth of stats to feel comfortable making pronunciations about talent level. Still, it certainly looks like a few young D-backs made some strides, including Gregorius, Goldy and Pollock. Gregorius is gone, but so is Miguel Montero — and a handful of young players who may have a more prominent role in 2015 show at least signs of being at least helpful in that regard.
Even with the likely playing time of Aaron Hill and Mark Trumbo, things are looking pretty rosy for the D-backs in 2015. Base running is a very small part of the overall baseball picture, but it's still important — just as Kolten Wong about the 2013 World Series or Dave Roberts about 2004. Still, given that we're talking about very modest differences in these players' value, I'm going to adopt a notes format.
Ender Inciarte: Leadoff Hitter? Baseball Prospectus also keeps sortable BRR stats for minor leaguers — and the indications there are encouraging. Ender Inciarte's marks in a nearly-full season in the bigs, but add his 2.2 BRR mark at Triple-A Reno, and he'd have a 4.5 BRR total — the best on the team. And that's not even his best season, per BRR. After he was returned to the D-backs from the Phillies, Inciarte tore the infield dirt to pieces with Double-A Mobile: 8.4 BRR. That is bordering on a full win, just from stolen base prudence and success and the speed and smarts to take extra bases while the ball is in play.
If you're a believer in the idea that a player's first six weeks in the big leagues are less of an indication of his likely talent than the next 13 or 14, there is reason to think that Inciarte can actually be pretty good with the stick. Using a "Lamb" as a metric to draw the line at 133 PA, Inciarte's horrific initial part of the season (.227/.256/.250) looks a lot different than his last three months or so (.298/.341/.404).
The main part of a leadoff hitter's skill set should always be on base percentage, the middle number in those triple slash lines. And while expecting him to have a .341 OBP is probably unrealistic (ZiPS projects a .316 OBP), he doesn't have a ton of competition there. There are only two current D-backs projected by ZiPS to have a higher OBP: Goldy (.378) and Pollock (.335). To be fair, Pollock would be a fine choice at leadoff for both OBP and speed reasons, and there is a scrum of OBPs projected by ZiPS that are very similar to the Inciarte projection. But if Pollock is needed elsewhere in the lineup — say, second, to take better advantage of his fairly significant power — Inciarte's speed and very even platoon splits make him a better bet than most other candidates.
Goldy No Slouch as a Runner, Despite Slouching as a Runner: Paul Goldschmidt added real value on the basepaths in his first full season in 2012, posting a 3.2 BsR. In his MVP-caliber 2013, he was nothing all that special despite obliterating his previous PA total by 123 (710 PA!!). But that 0.4 BsR mark still ranked him 3rd among 25 qualified first basemen, highlighting the fact that any kind of positive base running presence at first is a luxury few can afford.
Goldy's broken hand prevented him from qualifying for the batting title last year, but despite that, he still ranked second among all first basemen in BsR with 3.4, behind only Joe Mauer. Prorate that to 700 PA, and somehow, Goldy suddenly looks like a 5.0 BsR base runner. As in, he would have ranked 18th in the sport among all qualified hitters. As in, just 1.4 BsR behind Billy Hamilton.
That probably wouldn't have happened, but we are well beyond saying Goldy is a good runner "for a first baseman." Most of that value comes from running the bases, rather than stealing; BsR is a combination of weighted stolen bases and UBR, and as a base stealer he's been roughly average. Making smart decisions when the ball is in play is how Goldy sets himself apart: his UBR of 3.1 last year would have made him tied for 24th in the majors last year, even failing to account for the fact that he missed two months. He's just a damned good base runner, and deserves the benefit of the doubt for any decision he makes out there, win or lose.
Now Catching: Someone Other than Montero. The differences in the value of players' differing base running skills is so small that it can be hard to make distinctions. But Montero definitely has at least one important base running distinction: being the worst on the team for several years running. Taking him out of the mix and replacing him with an average runner would have vaulted the D-backs up from 7th in BsR to 5th, rising from a 2.2 total to a 7.2 total. Not bad.
The problem: most catchers are poor base runners. And that's where it gets interesting that right now, the player likely to get the most playing time behind the dish this year is Tuffy Gosewisch. With very limited 2014 playing time, I hesitate to draw any meaning at all from his base running stats last year — and yet, the fact that he was rated positively by both metrics says something.
The only takeaway here, I think, is that Gosewisch is definitely not Montero as a base runner. The BP minor league BRR totals do make Gosewisch's 2014 look like a minor mirage; he was consistently below average in all of his nine minor league seasons (save one with a 0.0 BRR). But with just one "okay, that's pretty bad" mark (in 2011, -6.1 BRR), he certainly looks like a pretty good bet to be three or four runs better than Montero as a player. Not too shabby.
Other Notes:
-I wanted Jake Lamb's nice-looking 0.4 BRR in 133 PA to be meaningful more than anyone, but: his case is a lot like that of Gosewisch, with a bit of luck in a small sample obscuring that he's been a slightly-below-average-but-not-a-problem runner in the minors.
-Mark Trumbo's 2014 base running was the worst of his career by a fair margin, and would have ranked him 6th among 10 DHs if he had qualified. But hold the phone — although this is not the first time that Trumbo was coming back from a stress fracture in a foot, it was the first time that he did so without the benefit of an offseason.
-Aaron Hill's 2014 marks make it look like he's really slowed down, but don't go overboard: he hasn't been helpful as a base runner since 2006, and a dip from exactly average to a couple of runs below average is not a sign of a coming apocalypse.
-Inciarte's 2.2 BRR ranked him third for Triple-A Reno last season, even though he played just 26 games there. Not a ton of speed in that crew, although Aaron Cunningham could make a decent impact that way if he has a Roger Kieschnick-style cameo this season.
-Second baseman Michael Freeman led Triple-A Reno in BRR last season. He also led Double-A Mobile in BRR last season. His combined BRR for 2014 was a sexy 7.3.
-Among pitchers, Bronson Arroyo took the crown as the best base runner last year. In 2013, Wade Miley was the only D-backs pitcher to post a positive BsR — but he trailed all other D-backs pitchers in BsR by a very wide margin (-1.1, far behind Brandon McCarthy's -0.8). I've heard that gluten can cause clogging, but seriously, that's ridiculous.