On Tuesday I took a stab at discussing Ender Inciarte within the context of his defensive value. Because his defensive value makes up the bulk of his overall value as a player (since he doesn't hit a lot), he needs to maintain a high defensive level in order to continue to be a truly valuable asset. That, of course, places a lot of stress on his defense. It can't slip or his overall value does. But Inciarte is not the only D-backs player who has just one true carrying tool, because diversely talented baseball players are hard to find.
And if we're going to talk about tools, it's probably best to give some kind of preface. Jason Parks of Baseball Prospectus did a great job with this in the past and Kiley McDaniel of FanGraphs has taken the most recent, thorough pass through this topic. I'd encourage you to read the works of either of these two, but I'll break down the scouting grades in a very simple, adapted way below
80 – elite; the absolute best of the best
70 – plus-plus; extremely good very rare
60 – plus; solidly above average
50 – average; the average ability of a major league regular
40 – below average; a full notch below average
30 – poor; well-below average
20 – terrible; almost irrelevant because major leaguers are simply better than this

*half-grades are widely used (ex. 55, 45, etc)
And the conglomerate of grades, when applied to the hit tool, power, throwing arm, speed and fielding, results in a final evaluation, which I'll refer to as a player's "role."
8 – first ballot hall-of-famer, generational talent
7 – perennial All-Star, one of the best in the league at his position
6 – peak of an All-Star, usually just below that level, but above average
5 – average major league starter
4 – fringy, probably a platoon player or defensive substitute
3 – bench guy, should never start
2 – emergency call-up
So after talking about Inciarte the other day, I kind of got to thinking about other players who rely on one tool to carry their value. The Diamondbacks have a few of them for two reasons, or maybe a few more, but let's stick with two for now: Kevin Towers did not seem particularly determined to acquire well-rounded, diverse players, and, well-rounded, diverse players are hard to find and are usually expensive. It's true, the most diverse, talented players overall usually command the highest salaries. The Diamondbacks don't often have the financial resources available to compete on those kinds of guys, and therefore, can't obtain them on the free agent market. In fact, if we look at the grades of D-backs position players, something stands out. Take a peek: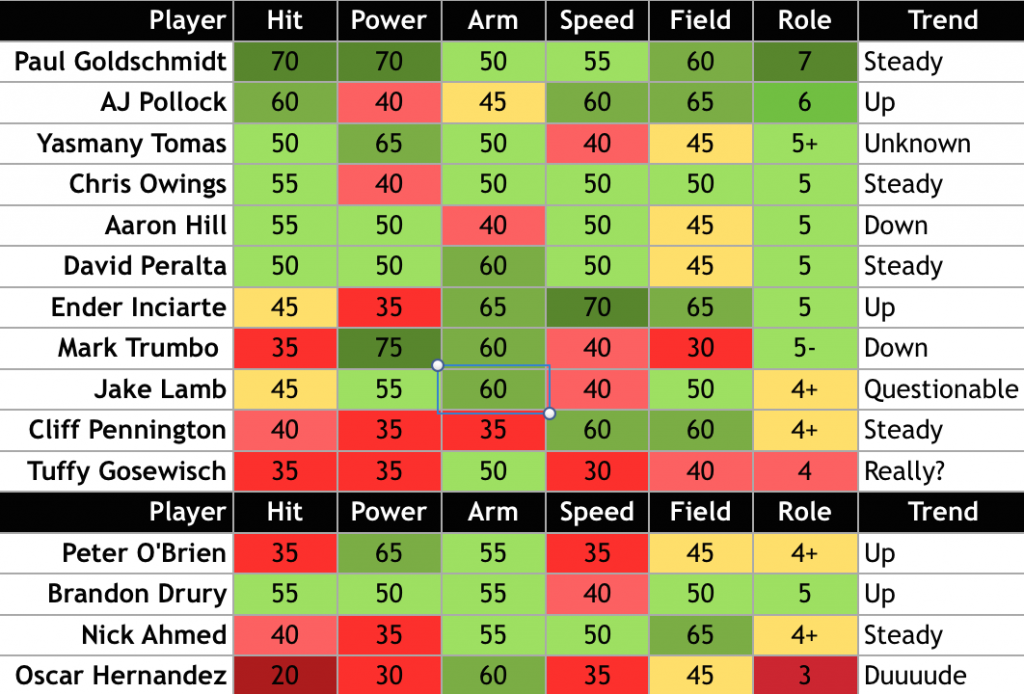 Similar to the chart used in Tuesday's work, you'll notice a color-coding system to denote the value of each tool. Dark green is the best, dark red the worst and the other colors represent varying degrees of talent. Which players have the most dark green and are the most diverse? Paul Goldschmidt and A.J. Pollock, homegrown talents who didn't require a large, up-front investments. In close proximity is Chris Owings, another player developed from within. Not only are these players well-rounded, they're also incredibly cheap. Thanks to service time requirements, these guys don't cost the team much in terms of salary commitments and provides them the chance to spend big money on other investments, like Yasmany Tomas, who's also near the top in terms of his role.
But the focus here is on guys who have one tool that carries them. Because similar to what we discussed with Inciarte on Tuesday, if that tool goes or drops in value, the player's value can drop rapidly. We saw this recently with our favorite Inside the 'Zona topic, Mark Trumbo. The power dried up, probably due in large part to injury, but it crushed his value. Instead of launching DINGERZ and tallying a couple of wins, he did all of the usual things (strike out, not walk, not get on base and play poor defense) but there wasn't any power to save him. He went from an average to slightly above average regular to a guy worth nearly a negative win-and-a-half. When the carrying tool went, so did the value.
But Trumbo's not alone here. The Diamondbacks' biggest investment (ever) might be a similar case since Yasmany Tomas doesn't appear to be a guy who'll play good defense at third (at least based on past scouting reports), will strike out plenty and won't walk a lot while being a below average runner. The power is his calling card and if that doesn't play out, which is not beyond our imagination given the issues he could have with making consistent contact, his overall value could be below expectations. He could also hit a ton of bombs, we just don't know yet. But the concern remains and should he have any issues, we could be forced to re-evaluate how we see Tomas.
Two younger players fit the same narrative in Jake Lamb and Peter O'Brien. Both have contact concerns and while Lamb should play decent enough defense, the value of the players are tied somewhat to their power output. Jake Lamb isn't going to make a big league career from his defense at third base, he has to hit. Even if Peter O'Brien does enough to make him a plausible big league option behind the plate, his bat is what'll get him in the every day lineup. You get the idea. If these two aren't putting up appealing isolated power numbers, they're no more than second-division starters at best.
I don't have a solution for this, other than to continue to develop well-rounded talent. Drafting well and signing players smartly are really the only solutions. Brandon Drury may fit into the more well-rounded category, but there's almost no one close to the majors outside of him that fits the model at this point in time. In order to avoid busts, having more traits to bet on seems like the proper route. But finding and developing said players is a tall order and everyone in baseball is trying to do the same thing. There's a lot of bust potential for the Diamondbacks and they need a lot of things to click in order to produce offensively. The talent is there, most notably in the form of power, but how it manifests itself is up in the air.
*Note: grades are my own estimations based on the criteria shared by Jason Parks, Kiley McDaniel and others. Feel free to quibble, I'd actually be interested to see where some may disagree.
@outfieldgrass24

RT @OutfieldGrass24: Who's that under the radar player who you are banking on to break out this baseball season? Someone who's not regularly in the headlines?

,

5 hours ago

Just say "plague" already https://t.co/qkcwY2Omub

,

4 hours ago

RT @wickterrell: You can certainly argue that he already has broken out, but I'm expecting massive things from Ramon Laureano this y… https://t.co/ejJPu9AEnd

,

4 hours ago

Who's that under the radar player who you are banking on to break out this baseball season? Someone who's not regularly in the headlines?

,

5 hours ago

Come for the Dbacks prospects, stay for the Dbacks prospects https://t.co/RbyP9er1Jc

,

5 hours ago