Roundup: Inside the 'Zona Meetup on Sunday, March 15
Let's lead right off with the important stuff: Jeff and I will be at Zipps Sports Grill next Sunday at noon, the idea being that we will be thirsty before heading over to Scottsdale Stadium for the 3:05 game against the Giants. Jeff picked the meetup locale, so I can neither confirm nor deny that it was chosen because of the ZiPS projection system.
I don't think there's anything better than real baseball conversations; that's what it's all about, and it's why we do The Pool Shot, and really it's why we write, too. Can't wait. So please come down and say hi, either at Zips or at the game that day; we would both really love to meet anyone who follows the D-backs. And, hey, if you have the appetite or the patience to read or listen to any of our stuff, well then we really would like to meet you.
So, this coming Sunday, 12 to 2:30 or so, Zipps at the Hayden location, 8380 E. Via de Ventura in Scottsdale. And let us know if you're at that Giants game. We will probably rely on Twitter (@thepoolshot, @OutfieldGrass24, @InsidetheZona) to coordinate.
On a related note: pretty great to see some D-backs baseball yesterday, as the Salt River Fields game was televised. Not really in my wheelhouse to distill what I saw, but I don't mind saying: Yoan Lopez had stuff that really moved, including a bowling ball changeup. He and Peter O'Brien both seemed like they were aiming, though, and when strikes look lucky and like lucky guesses, I'm not sure how many calls you're going to get on the margins of the zone. The combination really highlighted that, I thought.
The day still belonged to Daniel Hudson, as Nick Piecoro wrote. If you don't remember what Hudson's return was like last September, or if you just want to relive it, head on back to this piece — I just couldn't really keep myself from gushing, and there are GIFs of most of the pitches that Huddy threw that night. All three batters flinched on his changeup, which was incredibly impressive — especially since only one of them was vaguely inside. Fingers crossed.
If baseball is fun, spring training is especially fun. I think Josh Collmenter and his traveling hands would agree: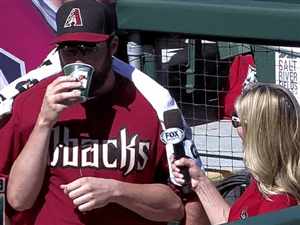 Another note: I kinda went the hot take route toward the end of what I thought was a really fun episode of The Pool Shot over the weekend. But I wrote about that opinion in this same space a couple of weeks ago, if you want more on my reasoning. Also, it was tons of fun having great Twitter questions for this — Jeff and I talk a lot on the D-backs, and so catalysts for new conversations are very useful. Any time you think of one, just go ahead and tweet @thepoolshot — even if we don't respond right away, it won't get lost even if it's early in the week.
On to the links: