Yesterday, the D-backs tendered contracts to all of their arbitration-eligible players (well, the ones that hadn't already been released or designated for assignment). Among them: David Hernandez, who seems likely to be deserving of his projected $2.125M salary in his final arbitration year. We thought it was likely he'd be tendered, although there were justifications both ways. Still, now that he's officially in the fold, we have additional clarity on the makeup of the 2015 bullpen. And let's just say, the club won't be scratching for external candidates this winter.
The main reasons why we included a tender to Hernandez in our Offseason Plan were flexibility (signing a good reliever to a one-year deal is pretty tough) and the fact that he has been really good. Despite his lost 2014 and a prolonged stretch of mediocrity in 2013, he has showed enough (including at the end of 2013) to warrant a $2M gamble. There were reasons to not tender him a contract, to be sure; the payroll crunch matters even for a salary this small, and this team knows better than most that things can go awry in Tommy John recovery. But the main consideration in favor of a non-tender was that the house was already going to be full.
Let's put aside the fact that the team has some promising relief "prospects" who some think are ready to contribute at the major league level right now: Jake Barrett, Kaleb Fleck and Jimmie Sherfy. Instead, let's look only at the relievers already on the 40-man roster (some of whom are still "prospects"). If we leave out Trevor Cahill, Andrew Chafin and Zeke Spruill, all of whom could theoretically be thrust into a relief role this season, we still get quite a few. Thirteen, actually. For seven spots.
Not Quite Yet Division (2/13): Enrique Burgos, Will Locante. Burgos was one of three D-backs relievers to pitch in the AFL this season, and in a Zach Buchanan piece, we learned that Burgos (as well as Fleck and Barrett) might be ready. Burgos had an average fastball velocity of 97.99 mph in the AFL, topping out at 98.56 mph — that's remarkable velocity, and remarkable consistency. Many teams could find a spot for Burgos right now, which is precisely why he was moved to the 40-man to protect him from the Rule 5 Draft. As a practical matter, that probably puts him ahead of Fleck, Barrett and Sherfy in the pecking order; but he's only about as ready as those other three fellows, it seems to me. Embarrassing. Will Locante was also moved to the 40-man to protect him from the Rule 5, but we can more easily write him off, I believe; some of the most popular picks in the Rule 5 tend to be fifth outfielder types (or guys who can hang with those duties) and bullpen lefties, as the D-backs were reminded when farmhand Patrick Schuster was selected first overall last year.
Nothing Left to Prove Division (1/13): Kevin Munson. Munson was the second reliever selected from the D-backs in last year's Rule 5 Draft, a pretty good sign as to the D-backs' depth given that only nine players — seven pitchers — were selected. The Phillies snatched up Munson, a lucky stroke for the D-backs as he was returned before the end of spring training. As a former catcher who only converted to the mound during his college career, there's an explanation there if you think of Munson as a late bloomer. Before his selection last year, he never really dominated; he pitched to a 6.28 ERA in 53 Double-A innings in 2012, fared reasonably well (3.41 ERA) in 31.2 innings there in 2013, but struggled in 23 Triple-A innings to end the season (5.09 ERA). All Munson did last season, though, was dominate Triple-A: 2.60 ERA, a good-not-great walk rate (3.18 BB/9) and an outstanding strikeout rate (11.84 K/9). Strikeouts have been Munson's calling card throughout his tenure in the minors (11.34 K/9), but until last year, that always came with a moderately alarming walk rate (it's still 4.43 BB/9 overall). If he's turned a corner in terms of control, Munson could be a force, a better version of Matt Stites. Unfortunately, Munson's minor league track record suggests that when he gets called up to the bigs, he might require a lengthy transitional period. That would have been just fine for the 2014 D-backs, but it could mean that Munson only gets a shot next year in the event of a bullpen apocalypse or the D-backs falling well out of the playoff race again.
Question Mark Division (2/13): Matt Stites, Eury de la Rosa. In the information-gathering phase of the 2014 season, there probably wasn't room on the roster to try out both Stites and Munson, and Stites's fame from the Ian Kennedy trade could have put him a cut above. But to be fair, at the point in the season that Stites was called up, his Triple-A stats (2.25 ERA, 3.38 BB/9, 8.44 K/9) were better than Munson's. Stites has a minor league track record to droll over, with superior control (1.54 BB/9) and superior results (1.76 ERA). Still, his strikeout rate sunk to below 9 per 9 once he reached Double-A, and they only sunk further in his 33-inning tryout at the major league level (7.09 K/9). There's room for most major league bullpens for a guy like Stites to try to take a step forward, but if this is who he is, with eroded control (4.36 BB/9 in the bigs) and no swing-and-miss stuff, he's far from a top option for the D-backs. As for Eury de la Rosa, his 2013 was awful in the minors and majors, but his performance before that was excellent — and his 2014 statistics, both at Reno and in the majors, are also excellent. The turnaround was so complete that he thoroughly changed my mind. The day after I wrote this in late September, de la Rosa had a blowup on the mound, but it's still relevant. He may always struggle a bit with control, but unless there's a lefty strikeout machine to block him, he could be a key cog in someone's bullpen.
No Excuse to Leave Them Out Division (3/13): Matt Reynolds, Daniel Hudson. Reynolds is that strikeout machine that could legitimately block Eury de la Rosa out of the bullpen. It's been a long time since we've seen him in uniform, and it'll be about 21 months come Opening Day, but the story is not so sordid: the D-backs tried to rehab a UCL injury before he finally went under the knife in September 2013. Reports were good in this most recent September, and if his surgery had been a month earlier, we might have seen him throw a little bit before the end of this season. In other words, he should be very ready in spring training, and if he looks anything like his 2013 self, wild horses couldn't keep him from the 2015 bullpen. Reynolds did not have a ton of success with Colorado, but burned things to the ground with the D-backs in 2013 with a 1.98 ERA, a helpful strikeout rate (7.57 K/9), excellent control (1.65 BB/9), and a groundball/flyball ratio to beat the band (2.55). Like so many other candidates for next year's 'pen, he might not hit the ground running in 2015. But it seems like he's too good to not make room for him, especially with no lefty specialist in the fold who is clearly better. Daniel Hudson, in many ways Reynolds' mate in rehab and in contract status, is worthy of his own investigation. But as we've said in this space before, we endorse the idea that Huddy can and should start the season in the major league bullpen, avoiding consecutive throw days and eventually transitioning to the rotation, perhaps as late as August. Starting Huddy in a rotation at the outset of 2015 seems overly and unnecessarily aggressive, but that (and injury, of course) is the only scenario in which he's not in the major league bullpen to start the year.
Late to the Party Division (2/13): Brad Ziegler, David Hernandez. As noted above, Hernandez might not be ready in April of 2015, but there are reasons for optimism about his likely performance, and with 2015 his final year of club control, the D-backs' decision to tender him a contract is tantamount to a guarantee that he'll be ceded a place in the bullpen once he's ready. Worst case scenario, the D-backs stretch out his rehab to make a more informed decision on who to demote; but barring some kind of significant rehab setback, it seems likely that Hernandez will be in uniform for the D-backs by mid-May. Ziegler could be in a similar situation, coming off knee surgery that was a little more extensive than planned. He's expected to be ready to go by late March, and the nature of his surgery probably won't warrant further delays. Microfracture is used to coax some stem cells out of the bone as a kind of fake cartilage where there is none left in the joint, and it's considered by no one to be a complete solution; basically, his knee is not going to work as well as it once did. That means that even if he's not feeling like his old self, there will be little reason to keep him out of the mix, because there will be little reason to think he'll start to feel better. There's almost definitely a big adjustment for Ziegler in the works, and while that might keep him out of the bullpen on Opening Day, my guess is that he'll be in uniform by April 15th.
Sure Thing Division (4/13): Addison Reed, Oliver Perez, Randall Delgado, Evan Marshall. Reed will be in the bullpen even if he hits more batters than gloves in spring training. Oliver Perez is likewise a sure thing, with a small but significant possibility that he'll be traded (10% chance?). With Josh Collmenter pretty much guaranteed a rotation slot, Delgado remains the top candidate for a long man or mopup role — and other than maybe Zeke Spruill, there are no other candidates. Delgado fared reasonably well in relief last season (4.40 ERA), especially when you consider that he tended to come in against lineups that had had their way with one of the D-backs' starting pitchers; and considering how durable he was, there's no reason to count him out. Evan Marshall might be the weak link in this quartet, but his 2014 was so good (2.74 ERA, 3.10 BB/9, 9.85 K/9) that I think he's a sure thing even if he doesn't look so hot in spring training.
I went bottom-up instead of top-down for this list to make a point. The D-backs bullpen is stacked with options. You could count Hernandez and Ziegler out from the Opening Day bullpen and still have difficult decisions to make: if Reed, Perez, Delgado and Marshall are guaranteed spots, that leaves only three berths for five of the guys above: Munson, Stites, de la Rosa, Reynolds, and Hudson. Barrett, Fleck, Burgos, and Sherfy wait in the wings. This is a traffic jam of epic proportions, isn't it?
We can expect Reynolds and especially Hudson in the Opening Day crew, I think, leaving the last spot for a spring training competition between Munson, Stites, and de la Rosa. My money is on Stites, although Munson looks like the best option of the three. Here's how the Opening Day bullpen would look in terms of current Steamer projections for 2015 (only using rate stats):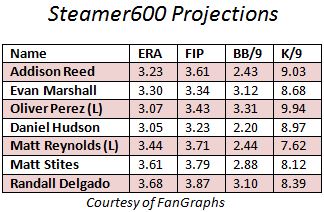 League average for relievers last season was a 3.58 ERA and 3.60 FIP. That makes this bullpen look pretty excellent; Reynolds, Stites and Delgado look roughly average, and the other four pitchers look like they could be outstanding. If we average all seven of those ERAs up as if each pitcher had an equal number of innings, their 3.34 ERA would have been essentially tied with the Red Sox last year for the 12th-best bullpen in baseball. That's… better than the 2014 D-backs bullpen, which ranked 23rd with a 3.92 ERA.
The best part? That set of seven pitchers doesn't even include all of the D-backs' best guys. Here's everyone else that was discussed above, including Ziegler: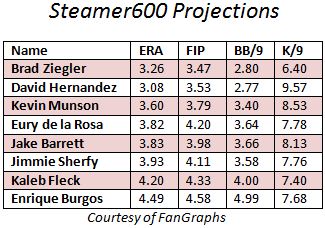 Average up the non-Burgos seven of these guys, and you get a 3.67 ERA.* Um. That's pretty damned close to league average, and it's a fair margin better than last year's bullpen. The D-backs are so stacked in relievers that they have the equivalent of an above-average bullpen and an average bullpen. That's just ridiculous; so ridiculous, in fact, that we may see the D-backs deal from this depth.
What's even better is that with the exception of old guys Ziegler and Perez, all of these pitchers have room to grow, or to get better. By midseason, projections for Barrett, Sherfy, Fleck and Burgos could all be quite a bit better. There's a good chance that if the entire D-backs bullpen disappeared in July, it could be replaced with an entirely new crew, which would also be above average.
Of course, we're not expecting Ziegler and Hernandez to hang out with the second-stringers for long. Let's basically combine the top guys for what might be the bullpen in mid May: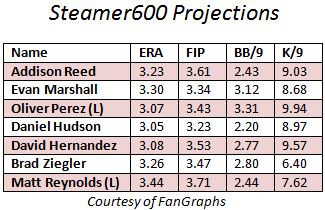 The depth here could push Delgado out of the fold, with no real long guy; that's a stretch since he's out of options, but the same is true for everyone else in this group other than Evan Marshall. Regardless, whether it's Delgado or Reynolds here doesn't make much of a difference (although it would if it was Marshall demoted).
These seven average out at a 3.20 ERA. They'd rank ninth in the majors if you dropped them into last season, an enormous step up from the D-backs' actual rank (23rd). The gap between a 3.20 ERA and a 3.92 ERA is so big that if we assumed the bullpen pitched exactly 3 innings in every start, we'd expect runs allowed to drop a quarter of a run in every game. That's an upgrade, my friends. And regardless of whether there are a number of injuries or a number of trades or both, the bullpen will be a serious asset for the D-backs in 2015 — and for several years after that.