As Ryan stated in yesterday's Round Up, we were literally camped out at Salt River Field for a few days last week and over the weekend. That opportunity allowed us to access to things in a whole new way. There's simply nothing like taking in batting practice from 10 feet away or standing even with the third base bag while players field grounders as they fight for the starting position. Sitting right behind the plate reveals the nastiest of breaks on a curve ball and put into perspective what 96mph not only looks like, but what it feels like. These aren't the first baseball games I've scouted and if you've been here long, you know I've reported on a lot of first-hand minor league accounts, but after a long winter, one can lose touch with the physicality of baseball. While from a macro level the game can look fluid and beautiful, up close and personal it can come across as quick and brutal. Today we'll focus on the latter.
Trevor Cahill, a New Arm Angle and Throwing Strikes with the Sinker
We've been talking about Cahill a lot here recently (such as here and here). I understand that he may not be the focal point of every fan's attention on the Diamondbacks, but he's a key piece to the team' financial and roster situations. He's the second-highest played D-back and needs a home, yet the rotation and bullpen might already be full. If he were able to be a productive pitcher, then he'd be the perfect guy for Arizona, who shouldn't have postseason aspirations, to deal, saving money and opening up a spot for a younger player in the process. But being productive has been the hard part of the most recent version of Trevor Cahill, mostly because he's had a hard time throwing strikes. A recent adjustment to his mechanics was engineered to help alleviate the situation. Is it working? Kind of.
See the video below to get a feel for Cahill's new delivery, then I'll share my thoughts.
Now compare that with what we saw from Cahill last season.
If you're not clear exactly what has changed, Trevor explains it to you in this interview with Dan Plesac. Essentailly he's delivering the ball with a more over-the-top delivery rather than from a three-quarters (or maybe even slightly lower) slot like he did last year. The idea here is that he'll have an easier time staying on top of his pitches and they will run less horizontally but drop the same, or slightly more, vertically. Since Cahill missed off the plate so often, this may give him a chance to throw more strikes more consistently.
And in my four-inning look at him, it was a mixed bag of both his arm angle and his results. He breezed through the first inning with no trouble at all and was clearly delivering the ball from a higher release point. He lost his release point in the second and started to struggle with his command before finding it again and remaining effective through the latter part of the second inning and the part of the third. As he tired, Cahill struggled to stay on top of the ball and his arm angle started to drop at times, especially when throwing his slider. He seemed to really labor when pitching out of the stretch, something he's had to do far too often.
When it's all said and done, I'm encouraged by the development and a change was definitely needed. His pitches still had a ton of movement and he kept his velocity serviceable, generally hanging around 90-91 mph (I saw a high of 93 and a low of 88). His curveball remained a pitch he could throw for strikes and he flashed a couple of good changeups as well. It's no surprise that as he went a long that the form started to give way, but that's what the spring is for. At this point, I think cautious optimism is healthy when it comes to Trevor Cahill. Anything more is to presumptive and anything less doesn't give the guy enough credit for how good his stuff really is.
Mark Trumbo has struck out a lot in the past, and to strike out, you have to first accumulate two strikes. But with two strikes, you're still alive and that means that you still have a chance. I saw Trumbo work himself into this situation three times over the weekend, and you'll be shocked to know that he ended up registering a hit each time. One of those was a double off the wall in right field on a hung breaking pitch from Jorge de la Rosa, the kind of a pitch a major league hitter should rip, but he put a good swing on the ball nonetheless. And the fact of the matter is, with two strikes, Trumbo has so much raw that he can dial it back significantly and still hit the ball hard. In fact, with two strikes, he appeared to cut down his swing somewhat and look to go up the middle or the other way, just like it's drawn up. Whether it's a matter of better execution, luck or a change in approach, I can't specifically say. What I will say is that he looked comfortable even against respectable pitchers and even when down in the count. We'll have to wait a little longer to know exactly what that's worth, but it is encouraging.
I've said it and so has everyone else, starting before Tomas was even signed: he's not a major league caliber third baseman. The team can write his name down and add the number five next to it, but that doesn't justify playing him there. Perhaps it's no coincidence that he's been seeing a little more time in the outfield, something I didn't get a chance to see. What I did see was a player who was heavy on his feet, sluggish laterally, lazy in his footwork and lackadaisical with his glove. I will credit him with soft hands and a reasonably quick release to go along with enough arm strength for the position, yet he struggled with accuracy, something that was tied directly to his feet. He was often off-balance due to a narrow base and did not appear as flexible or agile as Lamb.
Speaking of Jake, he looked excellent. The "best shape of my life" jokes are all the rage in Spring Training, but he might just have a legit case here.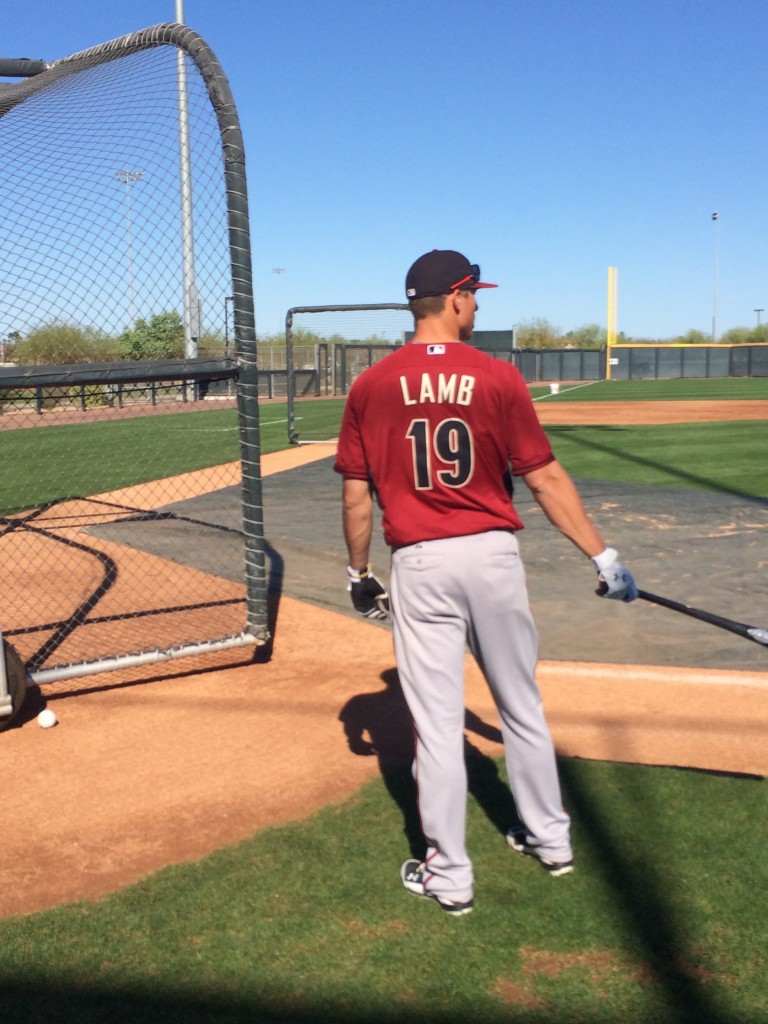 Dude is cut, plain and simple. He moved well laterally and was noticeable quicker with his first step compared to Tomas. The beauty of fielding practice and getting to stand 15-feet away is that you can compare the two as they alternate reps, something that you just can't do from television during a game(s). When lined up next to one another, the difference was stark. Tomas looked uncomfortable, out of sink, sluggish and he struggled with his throws. When a ball got under his glove to his backhand, either due to inexperience, inflexibility or some combination of the two,  he was visibly frustrated. Meanwhile, Lamb ate everything up, was light on his feet, quick to the ball, accurate and firm with his throws. He was confident and never missed a beat. He looked to be in prime shape physically and dialed in mentally as he drew consistent praise from the coaching staff. He's clearly the best option at third base and a run saved is a run earned, just like pennies. Why do they even still make those? Anyways, here's some footage of each player in the cage since, you know, they'll have to hit, too.
A simple stroke from Tomas produces plenty of power, but he did struggle at times later in the session to make consistent quality contact. While the swing is short and he generates a lot of power from his midsection, he may still have a hard time hitting for average and avoiding strikeouts, at least as he adapts to the majors.
Lamb bats from the left side, something this team needs. He takes a small stride and holds his hands high, but they're on a relatively direct path to the baseball. The swing is still a bit long and some strikeouts are going to happen, but the bat speed seems to have picked up from when I saw him in the majors to end the season. He's fresh now and added some strength in the offseason.
Yoan Lopez Lands on His Feet
In his debut on March 8th, Yoan Lopez got lit up. He faced twelve batters, received only five outs and surrendered six hits, including a homer. The four earned runs were a rude entry to major league baseball for the newly-acquired 22-year old Cuban. In his second appearance, one I was fortunate enough to watch, he looked much better. It's a little tough to see, but squint if you want to and take a look at his mechanics.
Even though the press box at Goodyear is not the ideal place to record from, Lopez's deliver is clean, fluid and easy. He's smooth; there's no jerks, stops or starts. While all pitchers are prone to getting hurt, the form he shows exudes confidence in him being able to stay healthy. Better yet, he had four pitches working for him over his two innings and he could throw all of them for strikes. While two balls were hit hard off of him, one foul and one caught in deep center, most batters were behind in the count early and Lopez put them away in simple fashion. He established his fastball early in counts and even dropped in a pair of first pitch strikes with his curve.
The long, lean, wiry Cuban showed excellent composure and no hangover from the beating he'd taken a few days prior. When his command did start to escape him, which came early in his second inning of work, he quickly rediscovered it and put away the final two batters of the inning without incident. He threw 34 total pitches to seven batters, including 25 strikes against just nine balls. 19 of those pitches were fastballs and the remaining 15 were a combination of curves, sliders and changeups, the pitch he fanned the final batter he faced with (it was nasty).
Brandon Drury Making an Impression
The buzz around camp was the production from Brandon Drury. He'd been doing damage at the plate, and given his swing, it's not hard to see where the pop comes from. He has a noticeable load and does take a bit of a stride when he swings. Those things could cause problems against major league pitching, but they're not necessarily a death sentence and they are a big part of his power. See for yourself.
Of course, the biggest thing for the D-backs is figuring out where to play him. We got a good amount of time to watch him at second base during infield drills and I have to say, I was shocked that it was the same kid who'd I'd seen at second in the AFL last October. He was far more comfortable, showed soft, quick hands and seemed comfortable around the bag. That said, I still think he's a below average defender there due to some range issues, but I don't think he'll be so bad there that he's not functional. If it gets his bat in the lineup quicker, then it'll be a worthwhile switch, provided there's room at second in the first place. He did get exposed a few times against quality pitching and he needs the better part of a season in the minors, but he could pull a Jake Lamb and come up in September, perhaps sooner.
Peter O'Brien: Still Not a Catcher
The Diamondbacks have a DH problem: O'Brien is best as a DH, Trumbo could DH for many teams and just maybe so could Tomas. Oh, and there's no DH in the National League, which doesn't help at all with the current crop of big power, big strikeouts, no defense players the Diamondbacks have. They've tried to alleviate that problem by putting O'Brien behind the dish (well below average), Trumbo in right (do we even have to go there?) and Tomas at third (see above). You get where this is going, it's going to be ugly for a pitching staff that's already destined to struggle.
At least O'Brien might be able to hit a little even it's just for power. Ask Ryan, he saw an absolute tape-measure shot off his bat that ricocheted off one of the light poles in left field during back field BP. His swing is relatively clean with a couple of little issues, but nothing glaring. Still, he doesn't make enough contact and will be a high-K, low-OBP type.
But the real issues is behind the plate where he's still slow to second base. His pop times were in the might 2.2's where 2.0 represents the low end of he "average" spectrum. His throws were routinely off base, as well. He overthrew the pitcher on pitches back to the mound between pitches on a number of occasions and after recording a pair of strikeouts, airmailed the ball into left field when trying to start the ball around the horn. No one tried to run on him in the time I saw him catch, to my utter disbelief as he was stolen on at will in the AFL during my observation. I will say, however, that in roughly 18 inning of catching that I saw from him over my three days, only one ball in the dirt ever made it past him. He still stabbed a bit with his glove and there's been no mention of the staff working to improve his pitch framing, so while it's plausible that he can catch, at this point it still appears that he shouldn't.
If you've made this far, thank you! I'll have more video for you on Thursday, this time from the minor league camp where I spent some time scouting a number of top D-backs prospects.