Roundup: New D-backs Meritocracy; Season Predictions; Inside the 'Zona Twitter
The Opening Day 25-man is now set, and it's how it was set that should catch your eye. Yasmany Tomas struggled, and was sent to Triple-A Reno for work. Jake Lamb and Nick Ahmed looked great, and earned starting roles to begin the season. Archie Bradley looked somewhere between "dominant" and "ready," pushing Trevor Cahill halfway across the country. Pitchers like Chase Anderson and Andrew Chafin played their way into roster spots while others played themselves out. Relegating Aaron Hill to a "bench plus" role may say the most of all.
All together, however, it says: meritocracy. It would have been so easy for the team to let its contract with Tomas determine his status, easy to keep Ahmed in a limited role or in the minors given others' observations on his offensive limitations. It's not that every decision seems "right," exactly — it's that the team seems completely determined not to let past mistakes haunt its present, and not to let anything get in the way of its preferred two- or three-year plan. Maybe this is what a honeymoon period looks like for any new front office, but I think there's something more to it than that.
The difference is Tony La Russa. Can you even fathom him being removed? He is as secure as can be. I'm fascinated to see what will happen to the recent generations of GM-turned-CEOs like Kenny Williams, Theo Epstein, and Andrew Friedman, knowing that almost every person to have left a GM position has left it unwillingly. Will these new team president types survive a change in GM, or are they thought of in the same light as a GM? Even if they couldn't survive a GM purge, however, it seems like La Russa's situation is unique. In a site editorial addressing his hiring, we noted at the time that his hiring "may not have been intentioned as a long term solution." Like Epstein and Friedman, La Russa had a mandate for change when hired. Unlike others in similar positions throughout the game, there is, politically speaking, no way La Russa could get fired before he actually wants to leave.
Recent decisions signal that the organization shouldn't want him to leave, anyway. And I wonder if the reason for that partly is that he is so secure. A GM has to have his own fate in his hands, and I think we've all had times when we've wondered if a GM made a decision just to save face, to limit damage, to avoid clear implications that he (and I guess I still have to say he) has done something wrong. Non-prospects are often included in salary dumps not just to facilitate the move (players can't be traded for nothing), but maybe also to obscure what's going on. La Russa just doesn't have to do that.
What it reminds me of is a federal, Article III judge, appointed for life. La Russa doesn't have to run for re-election. He doesn't need to pander to the party that appointed him. I'm sure his legacy matters to him, but that's not inconsistent with what seems to be the only other thing driving him: what's right.
There may be times when I or we think that something is not being properly weighted by the organization, times when it seems like team statements don't match team actions, times when we disagree on what appears to be the organization's evaluation of a player. There may even be times when we disagree with priorities, although now that the organization has chosen its hopefully-two-but-realistically-three year plan, that's less likely to come up. What I won't do again is question the team's motives.
That's a pretty good feeling.
We talked Ahmed/Owings/Hill and Cahill/Bradley on Episode 21 of The Pool Shot, before rounding things out with some cool 2015 rotation ideas from the public spreadsheet on Friday (thanks for those!).

Opening Day is tonight, which is a particularly good time for two things. First, and after "careful" thought that didn't go beyond an hour or two, I'll do that writer thing and guess standings for the end of the season (and promptly forget I did it):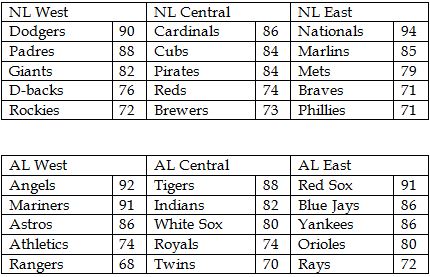 Marlins eke out second WC after a stagnating Padres team reloads in June; Blue Jays win three-way tiebreaker with Astros and Yankees to the chagrin of no one in parts of this country and fewer people in Canada. Nats and Tigers win pennants, Nats in 5. Turning point in the World Series will in hindsight seem to be a play early in Game 2 in which Ryan Zimmerman guns someone down at the plate.
Since we're doing this whole thing: AL: BOS, DET, SEA, LAA and CLE NL: WAS, PIT, LAD, STL and SD

— Jeff Wiser (@OutfieldGrass24) April 5, 2015
So, basically, I just stole Jeff's standings, more or less. Except that maybe I resent the Indians more than I thought? Oh well. Something to talk to my therapist about.
Speaking of talking to my therapist: I have changed my Twitter handle to @ryanpmorrison in a change that was long overdue. I'll be treating my account exactly the same, but that's going to free up the @InsidetheZona handle for some cool things this season. Right now, the account is (I'd humbly suggest) a worthwhile follow for the automatic updates from the site. We're going to flex the new account's muscles tonight, as well, with übermensch and master of all ways of contending Jeff Wiser (@OutfieldGrass24) taking the account over to take D-backs Twitter by storm during tonight's Collmenter-Bumgarner Opening Day matchup. If you don't follow along and play around with us during the game, I honestly just don't understand you at all (or, I hope you get better soon).
The links:
Nick Piecoro talked to La Russa about the team's unexpectedly youth-oriented roster decisions, and as La Russa explained, it was about getting as many of the players with good springs on the field as possible. You'll have to read the piece for the full weight of things, but we should all be on board. Broadly speaking, I think we understood that the team might feel that keeping Cahill, Hill and Cody Ross in place for at least a time was a reasonable route for the team to take, basically giving those players a chance to make themselves valuable enough for decent trades. The release of Ross, in particular, is a pretty clear sign that the team isn't going to let itself get bogged down and prevented from implementing its medium-term plans. He will definitely get signed by another team, and probably won't have to settle for a minor-league deal. In the end, we may be watching him on television in mid-October.
Zach Buchanan did a pretty cool thing, polling 23 D-backs players on how D-backs players would do this season. Some nice notes in there, and if Zach lets me know who threw Jake Lamb a vote for "best hitter," I'll have an anonymous gift basket to send to someone. Buchanan also talked to Stewart about sending Tomas to Reno and the Ross release, learning which player played his way into Ross's spot (The Truth May Shock You, said something on the internet).
At FanGraphs, Eno Sarris asked the question: which Trevor Cahill did the Braves get? In what may have been a particularly dark time for the site (or, baseball writing in general?), we posted three consecutive pieces about what happened to Cahill and whether it was something under his control. Go read that piece — which really breaks things down — and you'll get yourself a nice little ItZ surprise out of the deal.
At Snake Pit, Jim McLennan did a post-mortem following the Cahill trade. Good stuff here, and it definitely feels nice to turn the page. And on that note, McLennan also wrote about his 2015 hopes and expectations now that the season is upon us.
In the post-Analytics conference roundup, I mentioned Dan Meyer's great presentation about the the concentration of scouts versus prospects in the United States. This also came up briefly during the last episode of The Pool Shot, with respect to Nick Ahmed and his comments that prospects from the Northeast may develop more slowly. Really great stuff here in Meyer's follow up at Beyond the Box Score, especially with the D-backs in the catbird seat for this June's draft.
Also well worth a look is Michael Bradburn's saber-oriented preview of the 2015 season. I loved Bryan Grosnick's "opener" idea at first sight, and if you're anything like me, you're already getting questions from friends and family about pace of play. Can't wait to see if we get anything from the new StatCast system, and as Jeff recently addressed, the role of shifts may figure large in the D-backs' 2015 season.
In another Beyond the Box Score piece, Scott Lindholm presented a case for why it may be time for the National League to adopt the DH. Great exploration by Lindholm and he takes us with him, but with all due respect, D-backs fans already have a particularly compelling reason to fantasize about having a DH slot, Jeff's suggestion that the player in question could pitch notwithstanding. I'm still partial to a hybrid rule that would link the DH to the specific starting pitcher.