Bradley's Fastball-Reliant Approach Strangely Good, Not Good Enough
Two-pitch pitchers are usually siphoned out of the starting pitcher pipeline and shunted to the bullpen. Archie Bradley has been a two-pitch pitcher this year, but is still a starter — in part because this whole two-pitch business is new. Bradley has had a changeup that graded well in the minors, and yet he's thrown just 16 of them this year; he also used a slider/cutter at the tail end of 2014, a pitch that may have influenced his pitching this year despite the fact that he's kept it in his pocket.
Bradley has thrown his curveball 23.3% of the time in 2015, a percentage about as high as makes sense; Bradley's curve is very good, but it's pretty obvious what it is coming out of his hand. That means that with the exception of those 16 changeups, every time a hitter has seen Bradley throw "not curveball," it's been a fastball. Bradley threw the four-seam 75%, 71% and 76% of the time in his first three starts; he's still there with it, standing at 73.8% for the season. I can't find any starter who has thrown close to that high a percentage of four-seam fastballs this season; as reliant as Rubby De La Rosa has been on fastballs in the past, he's right around 60% this season, and that's combining four-seams and sinkers. It's really hard to get by without a third pitch, especially when a second pitch is a changeup or curve that can barely be thrown over 20% of the time for plate discipline reasons, or a slider that can barely be thrown over 20% of the time for elbow integrity reasons.
Bradley the Possible Unicorn: Sick Movement
If you're anything like me, you like baseball unicorns, guys who succeed in unusual ways. At the beginning of the season, it definitely looked like Bradley might be a unicorn: despite an alarmingly high walk rate in his four April starts (4.95 BB/9), Bradley's ERA was a sparkling 1.80 ERA when Carlos Gonzalez put him on the DL. Just for some context — of the 110 starting pitchers currently qualified for the ERA title, only one (Aaron Sanchez) has a BB/9 higher than that 4.95 mark. It's really hard to succeed with a BB/9 above the low 3s, and it makes a big difference if a high-walk pitcher also has a high strikeout rate.
But Bradley didn't have a high strikeout rate; he had a middle of the road 6.30 K/9. The success came partly from luck, as his peripherals didn't support his high left-on-base percentage of 81%. And then there was the matter of opponents' BABIP: a mystifying .177. At the point that Bradley went on the DL, that was the issue. If Bradley was a unicorn, it would be about being an abnormally good contact manager, of having that BABIP-depressing skill that very few (but some) pitchers have.
Things have gotten out of hand in his three starts back, which included his rain-shortened return in Philadelphia. Maybe it's rust, and if so, that rain might have really set Bradley back. But in his 10.2 IP since his return, he's issued 8 walks (6.75 BB/9). His strikeout rate moved up a tick, but especially given that we're talking just 10.2 innings, that improvement was small enough to be a rounding error. And most importantly, it hasn't looked like he's been a good contact manager. In May, Bradley's BABIP against has been .415.
Changeups are about whiffs — when you get completely fooled by a change, you're out in front, and you hit only air. Sliders can dart completely out of the zone, even if their movement becomes predictable. But fastballs? Usually fastball success is about location, about the cat and mouse game that has a pitcher aiming for the black and the hitter betting on what the call will be if it's not in a hittable spot. That's probably not what was going on here, because that should affect strikeouts and to some extent walks — not hits, at least not really. You can force hitters to swing at crappier pitches by commanding the count, and we'll get back to that in a minute. But to be a true "contact manager" with a fastball, it really has to be largely about movement. You may not be able to make the hitter miss the ball when throwing the fastball, but you can make the hitter miss the barrel.
Part of why it looked like Bradley's insane April BABIP wasn't completely a mirage is that he actually does have some unusual movement on his fastball: equally insane arm-side run. The arm-side run is partly what makes Bradley's fastball appear to explode upward a bit when watching on television, since many cameras show the mound a bit to the left of the plate. I have no idea why Bradley hasn't been throwing that slider/cutter that was met with some positive reports in the Arizona Fall League nine short months ago. And yet — it looks a bit like he replaced it with something similar.
Bradley has thrown 401 pitches classified by the PITCHf/x algorithm as fastballs, and in terms of arm-side run, they've ranged from -1.4 inches to -10.5 inches. If you have a bat, feel free to break it out right now, find the sweet spot, and then count 9 inches off of the sweet spot. I saw Richie Sexson do it once, but it's really hard to hit a home run with the handle of the bat or off the nub on the end. Hard hit balls are largely about getting that ball on the bat close to that sweet spot (really a point and not an area, since it's a node and we're talking about vibration).
So okay, you're up at the plate against Bradley, and as the ball comes out of his hand, it's clear to you that it's not a curveball. It's a four-seam fastball. But now: where do you swing? It seems to me that this huge range of horizontal movement was a big part of how it was predictable and successful simultaneously. Sometimes it was like a reverse cutter, other times it simply had a bit of arm-side run. Either way, hitters were tasked with making a significant adjustment at the last minute, and in April, they weren't doing that. Here's a scatter plot of Bradley's fastballs this year. When looking at it, keep in mind that it's very difficult to have a "hard hit" ball if contact is made more than an inch away from the sweet spot point (so, two inches, one in each direction).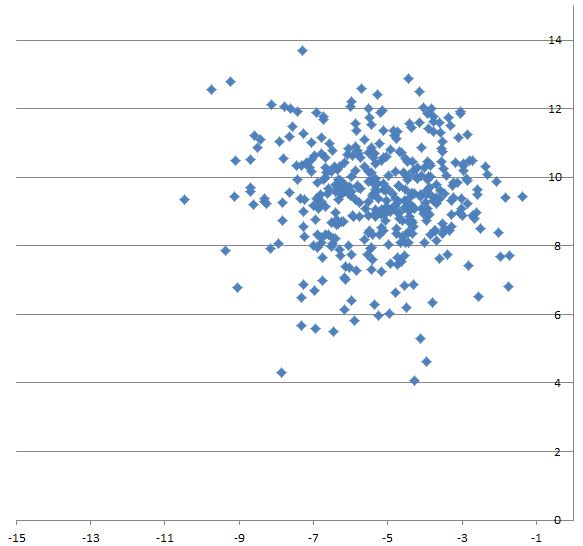 Yeah, not so fun, right? Not a power knuckleball or anything like that, but still: good luck, hitters. From this, there is and was at least some support for that proposition that Bradley might be a contact manager through his four-seam, unlikely as we might have thought that to be.
Hey Wait I Think That Horn Might Have Been Glued On (And Don't You Know How Tasteless That Is Since Some Glue Is Made Partly From Horses)
It's really crazy that in his 20+ innings before hitting the DL, Bradley had allowed just 9 hits — and in his 10+ innings since his return, he's allowed 19, including 9 in a single start. Did something change, and if so, to what extent does that undermine Bradley's unicorn candidacy?
Bradley's line drive rate was ridiculously low in April: 11.8%. Line drives become hits about 70% of the time, meaning that when the normal batter has a line drive rate in the 20%-22% range, about half of the average hitter's hits come from line drive. Reduce that line drive percentage almost in half, and you're taking away nearly one quarter of your opponent's likely hits. That's huge. Bradley's line drive rate has actually still been pretty good in May, per ESPN Stats & Info: 18.6%. If that's sustainable, that's still enough to give Bradley borderline unicorn status. But it's probably not enough to make up for the high walk rate and not-particularly-high strikeout rate.
I said we'd get back to the out-of-zone stuff in a minute, because that's where the answers are right now. As Nick Piecoro reported, that's what pitching coach Mike Harkey is thinking: Bradley's April success was due in part to getting swings out of the zone, and when the book was out and hitters planned to profit by waiting for better pitches, they did.
In our look at Bradley's curveball last month, we found that he only liked throwing it down and to his arm side — he never really threw it anywhere else, and the strategy didn't change based on batter handedness. Lefties were asked to hit balls low and away; righties saw pitches low and in. The same thing has been true for Bradley's fastball. April on the left, May on the right, from ESPN Stats & Info: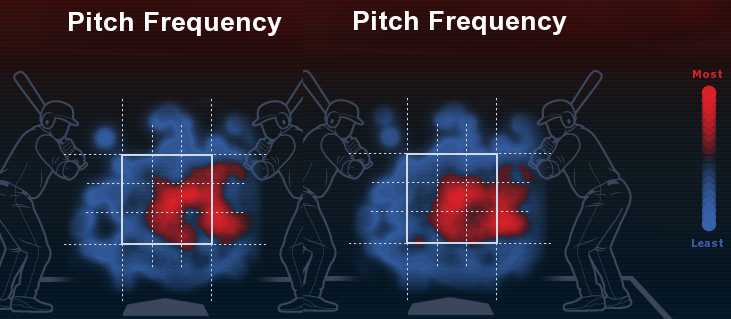 So think about this. Bradley is aiming at one section of the plate. Allow me to badly illustrate with MS Paint: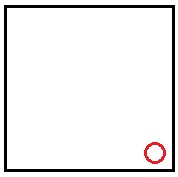 So what happens when Bradley misses enough to have that called a ball, if the batter doesn't swing? When Bradley is behind in the count, he needs to throw a strike. Chances are he wasn't going to be throwing a curveball anyway, but if he needs a strike, it's almost definitely going to be the four-seam. But he's really only comfortable throwing in that one spot. That's Bradley Land. So he's not going to stray too far away from his comfort zone. So in what direction can he move his aim?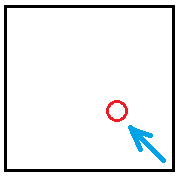 Yuh. No need for seasoning; that kind of meatball is tasty enough just the way it is. It's possible that Bradley's particular brand of success in April was especially susceptible to a hitter approach that meant waiting him out; when it's all about fastball command and the guy is issuing walks in the first place, why would you swing at difficult pitches in an iffy part of the zone? Especially when the movement on those four-seams could take it off of the plate completely. But it's also possible that on top of that, Bradley is really exposed to this kind of change in hitter approach because of this reliance on one part of the zone. If you have Bradley 3-1, you know he's throwing a fastball and you know basically where it is… movement is only going to get Bradley so far.
Harkey and (also from Piecoro) Tuffy Gosewisch may couch this rash of Bradley failure in fastball command, but I'm not so sure that hitting his spot more frequently is going to make a big difference. Bradley was almost "wild" by design in April, his all-over-the-place fastball movement making it hard for hitters to figure out whether they should swing. So he hits that spot exactly more often — won't hitters just start swinging at it more often again? And if it's not tailing off of the zone, wouldn't they have more success hitting it than they did in April? I just don't see it.
Command absolutely is key. But while "it's not broke" was a reason to not tinker with a clearly unusual approach to pitching in April, it's sure as hell not a bar to making changes now. Maybe it's time to bring back some glove-side run with that cutter/slider that worked in the fall. But I'd suggest that Bradley and Harkey start with mixing up location a bit more. I get it: he doesn't want to aim for the glove side, because with that arm side run (which may not be completely predictable on Bradley's part), the ball could tail right back over the middle of the plate, like so: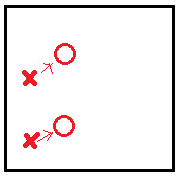 But here are some other things they could try with that kind of movement: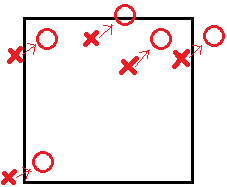 Just some thoughts…
It's disappointing to see Bradley struggle like this for a few different reasons. You want to see him succeed after finally getting his shot, and if he develops as a front of the rotation guy, the D-backs might then have a front of the rotation guy. But it's also really fun to see a new unicorn, and considering the evidence that he might be was pretty thin in the first place, the fact that it hasn't worked in just about as many starts in May pretty much saws off that horn.
Maybe things will change for Bradley. On the most recent D-backs Podcast, Keith Law suggested that Bradley may not yet be all the way back from elbow/flexor issues last year; that definitely fits with the continued drop in velocity. Maybe Bradley will actually start to throw more changeups, even if he doesn't bring back the cutter/slider. But one thing is for sure: what he's doing right now isn't working, and some kind of change is absolutely necessary. Patrick Corbin appears to be knocking on the door a bit later than expected, but chances are pretty good that someone will be pushing hard for a rotation spot within a couple of weeks, whether it's Corbin or Robbie Ray. If Bradley still needs fixing at that point, he's the surest bet to yield a rotation spot.