D-backs Have a Ground Ball Plan, Accumulating Next Generation of Ground Ball Pitchers
Whenever decisions don't seem to make sense, it may always be because of missing information. Over the last year, there have been very many decisions by the D-backs front office that have been hard to understand. A staggering number of them suddenly make sense, though, with a single bit of information: this team has prioritized ground balls. With their recent trades, the evidence has mounted. But ground balls are the key that unlock many of this year's decisions:
There are more, I'm sure. And you can see the appeal in accumulating ground ball pitchers; other than the most outstanding pitchers to put on a D-backs uniform, others of the franchise's most successful arms have all been ground ball types: Brandon Webb, Byung-Hyun Kim, Brad Ziegler. I wrote a piece a couple of months ago suggesting the team try to build its own Ziegler-esque pitchers, just the way Ziegler came to be Ziegler. Turns out I was way behind this team. They were already working on it.
"Extra arms" that the team has received in trade since Zack Godley's MLB debut are eye opening: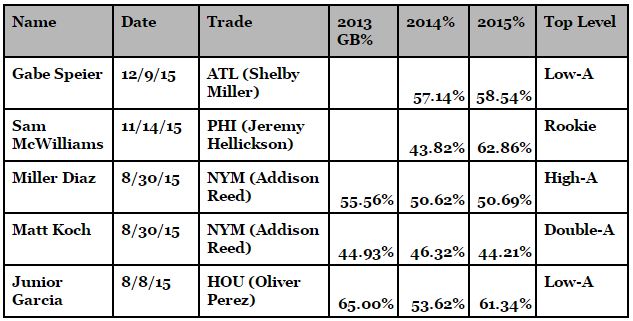 Koch's ground ball percentage is about average, at least judging by major league standards, but I'm not sure we should view him in the same category; he was probably more than a "throw in" arm in the Addison Reed trade. Junior Garcia, Sam McWilliams, Gabe Speier, and maybe even Miller Diaz, though — those guys were probably just a matter of balancing some scales or justifying a salary dump. In those settings, the D-backs don't want just anyone. They want your low-minors ground ball guy. Speier's GB% is crazy. The over 60% rates of McWilliams and Garcia are just downright nasty. Almost Ziegler-esque.
This has probably been going on longer than just a few months; after all, Godley himself was a throw-in to balance scales it what was an obvious salary dump. In exchange for Miguel Montero, the D-backs also got Jeferson Mejia from the Cubs; and although Mejia's ground ball percentage in 2015 was not very impressive (48.61% GB%), when the D-backs traded for him, they were looking at a pitcher who had recorded a 56.07% GB% in 2014 — just a hair higher than Godley's 55.8% GB% that season.
The D-backs have signed several dozen minor league pitchers in the last year. Some did not have any data at mlbfarm.com, but I made a spreadsheet out of the last few years' GB% of the rest (well, of every minor league pitcher acquired). Quite a few of them don't have very high GB%; it's not like it can be the only thing they've been looking at. But in some cases, it still looks like it's there. Kyle Drabek, signed to a minors deal last month? Okay, so the team likes former top prospects (and signed Adam Loewen the previous month), but Drabek has posted some very high ground ball rates in the recent past, especially given that he's started. Brett Shankin looks like he's a supergroundballer. Hector Martinez didn't pitch in 2015, but was at 59.3% in 2014. Parker Frazier, Ethan Elias, Oscar Abreu, Jhoan Duran, Julio DePaula… it's a lot of fringy ground ball stuff used to supplement the minor league system.
Maybe getting a lot of ground ball pitchers in the minors does other things like help infielders develop their defense more quickly — but with Runzler in the recent backdrop, it seems more likely that these are bets that some of these guys can become helpful MLB relievers within the Contention Window. Godley shot through the minors like a rocket despite being a 25-year-old Single-A pitcher. There's a non-zero chance that some of these guys follow a similar path, and that seems to be the plan. In October, Jeff dug into the number of college relievers that the D-backs have drafted in the last few years, noting that the team has made pitchers' aging curves an enemy — especially since the organization has tended to move relievers through the system so slowly. Maybe we'll see that change.
The D-backs went hard after college players in the June draft — extremely hard. We have a ready explanation for that in the Contention Window. But it's still pretty strange for 90% of your draft picks to be college players — that makes it seem like a plan from which the D-backs only deviated for special circumstances, like with Wesley Rodriguez. Can ground balls explain that, too? Few of these pitchers posted a meaningful number of innings in 2015. Alex Young has only 18 tracked balls — but 9 of them were grounders. Taylor Clarke, the team's third-rounder, also leaned toward ground balls in a larger-but-still-small sample of 43 batted balls (53.49% GB%). And plenty others — especially those signed soon after the draft — look like they're being run through a single model. Justin Donatella (59.46% GB%), Cameron Smith, (57.36%), Cameron Gann (54.67%), and Austin Mason (53.25%) were some of the few I saw — and while those rates aren't off the charts, they're still very Trevor Cahill-esque. Remember Pierce Romero, in particular. It's just 43 batted balls like Clarke, but Romero's ground ball percentage was a ridiculous 83.72% — a pretty overwhelming sign that he'd lean heavily toward ground balls even in a full season.
This whole ground balls thing is the key with which I will try to understand anything strange the D-backs decide to do, at least in the spring and during this coming season. I think it's pretty clear they're trying to make it work. Whether it will work is a different story — the results were pretty bad with Josh Collmenter and Chase Anderson, and it didn't exactly make Jeremy Hellickson better, either. Still, they may have a lot more success with the ground ball strategy in the future — especially if they continue to acquire players for that purpose rather than changing the pitchers they already have.