Andrew Chafin's Effectiveness May Have Staying Power
The D-backs are pitching differently this year. The trend showed up early: the staff was re-designed to become much more ground ball oriented, it seemed. Several pitchers are throwing more sinkers than they have in the past, and the grounders have continued. But more than anything else, as Jeff examined yesterday, the team is pitching down in the zone like it's their only job. Only, as Jeff also outlined, that part of it isn't working out very well for the staff in general.
It may be that the D-backs are yielding more hits because they are predictable in peppering the bottom of the zone, or it may be because in making changes to the approaches of their pitchers, they've taken them away from their strengths. It could be some other reason. But at the least, even if they're getting hit harder and more often, they aren't necessarily giving up more long balls. From ESPN Stats & Info, the fly ball percentage of D-backs opponents on pitches in the zone: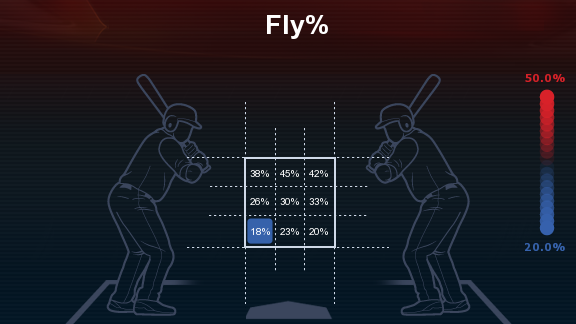 The D-backs rank 24th in home runs per 9 innings, not exactly great, but better than we might think given that they pitch at Chase Field, with hot, dry air and dry baseballs presumably making it tougher to keep the ball in the park. D-backs opponents have slugged .435 on pitches in the top third of the zone, .559 in the middle third, and just .406 in the bottom third. It's not quite as cheerful as that, as slugging for down-middle is .496, but it's not exactly depressing, either.
Threading the needle is maybe not so easy for the average MLB pitcher, a subset of a subset of a subset of the more talented players in the world. And so there may be a fine line between consistently hitting the very bottom of the zone and missing into the middle third (.559 slugging, remember) a little too often.
That's how Andrew Chafin has stood out this year, as Jeff indicated yesterday; he's pitching down, but it's actually working. Chafin has allowed just one home run so far this year. And the location of his pitches has pretty much matched the team totals that Jeff found: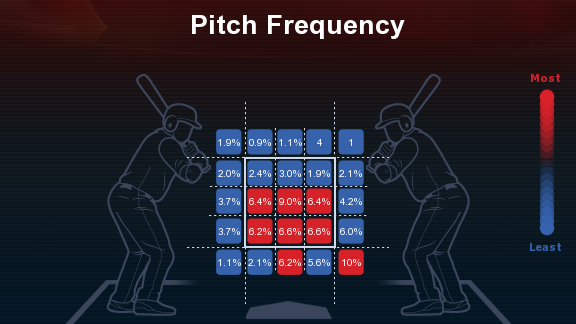 With a ground ball percentage now up to 56.8%, Chafin has yielded correspondingly fewer fly balls: just 22.7% of batted balls. That gives him the 16th-highest ground ball rate among 135 qualified relievers this year, and the 16th-lowest fly ball rate. A common phenomenon among relievers with high ground ball percentages is that when they do give up fly balls, they're frequently punished; and yet other than Brad Hand, who hasn't given up a home run on a fly ball this year, Chafin has the lowest HR/FB rate among the 20 relievers with the lowest fly ball rates, a ridiculous 3.3% HR/FB — good for 20th-lowest among those 135 qualified relievers (12 of whom are at 0% HR/FB).
With 9.0% of Chafin's pitches coming in middle-middle, it's especially fair to wonder if this is sustainable. It probably isn't — of 145 "qualified" relievers from 2013 through yesterday, only Wade Davis has maintained a HR/FB rate lower than the 3.3% Chafin sports now. It's also not great news for avoiding home runs that Chafin has recorded a strikeout in just 15.9% of plate appearances this season, 118th among the 135 qualified.
Whether it's luck or skill, the answer appears to partly be that Chafin is getting more calls at the bottom of the zone. Compare the team's called strike rate (left) with Chafin's, especially down in the zone.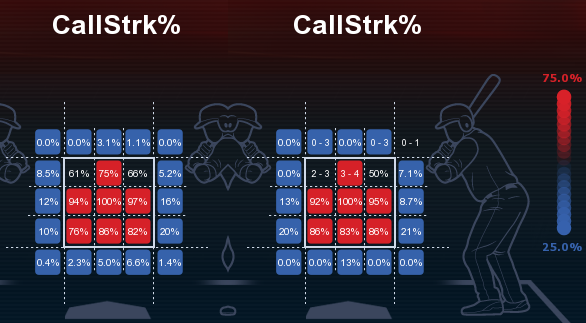 Chafin has had fewer balls called on either of those bottom two corners, but the extra 10% down and to Chafin's arm side has a lot to do with him being left handed, but it's still a pretty big deal. 19% of Chafin's pitches this season have been in the strike zone, but in the bottom third — and he's zeroed in on that little box down to his arm side. The samples are still small, but with 41 pitches and just 3 hits in that one location, it seems to be helping.
The key to Chafin's success, however, has been and may always be his success against lefties. In 2014 in both the majors and minors, Chafin registered a 62% GB% and 22% strikeout rate against lefties, a devastating (and rare) combination that maybe only Zach Britton has mastered right now against hitters from both sides. He hasn't quite done that in the majors this year — his high GB% is still powered by his numbers against lefties, who have a 64.7% GB% against him so far this season. That is just as fantastic as it's ever been, and against lefties, that ground ball rate is so high that it deeply impacts the quality of those ground balls, as well. Small wonder that lefties are hitting just .235 against Chafin on ground balls, .228 against him on all balls in play, and .219 overall.
Chafin's strikeout percentage against lefties isn't as high as it was last year, down about 8 points from 22% to 13.9%. But what he has done is become much more effective against righties, almost completely eliminating what was a spectacular platoon split. This is the sort of thing we should expect of a reliever who is aimed at same-handed batters often, and yet used for full innings or longer: as may have been the case with Oliver Perez, the platoon split flattens out when the quality of competition becomes less even. It may be that the righties Chafin faces tend to be not quite as good as the average right-handed hitter, and it may also be that the lefties Chafin faces tend to be better, on average, than the typical lefty.
Chafin has faced RHH that were 1-5 in the batting order 45 times this year, and RHH in the 6-9 spots of the order a whopping 66 times. Considering 5 spots are more than 4, that's pretty surprising. Flip the hitters around, and Chafin has faced LHH in the top five spots 41 times, and in the 6-9 spots 31 times. That's definitely an imbalance. But watch this:
| | | | |
| --- | --- | --- | --- |
| | # faced | wOBA | SHAV |
| Lefties 1-5 | 41 (57% of LHH) | .272 | .457 |
| Lefties 6-9 | 31 (43% of LHH) | .294 | .357 |
| Righties 1-5 | 45 (41% of RHH) | .265 | .372 |
| Righties 6-9 | 66 (59% of RHH) | .297 | .417 |
Small samples, no question — but here we're just trying to explain Chafin's current numbers. And while Chafin does seem to face weaker RHH more often than we would expect, it's not like that's why his platoon split is gone. wOBA is the weighted catchall offensive stat that is meant to be similar to OBP numbers, and Chafin isn't just good across the board here, but actually quite a bit better when facing hitters at the top of the order. Not bad, friends. This looks a lot like Chafin's success is not a matter of unsustainable flukes, but, again — small samples, no conclusions.
Against lefties, Chafin has been pretty much a two-pitch pitcher this year, 61% four-seam and 37% slider. For righties, Chafin gets a bit more of an advantage by mixing in a sinker a meaningful amount (10%) and even throwing a few changeups. He still throws sliders, but just a garden variety 19% of the time. Throwing it 26% of the time overall, Chafin ends a ton of at bats with the pitch, with batters able to reach it but not square it up; it has a pedestrian (for a slider) whiff rate of 21%, and it's the only one of Chafin's four pitches with a whiff rate over 4%. Hitters, however, have a ground ball rate of 68% on Chafin's slider, to go along with a 53% GB% on his four-seam, and 100% GB% on the handful of sinkers put in play.
Chafin does not appear to be a case of smoke and mirrors, but of a pitcher with a limited but great arsenal. As Jeff said, Chafin should keep doing what he's doing. The D-backs should keep using him in the very same role. This is exactly where he belongs, and if he can stick to his pitching plan without seeing any one hitter more than once in a game, the results could be quite good for a long time.