Hey, here's something fun! Well, it's fun to me, maybe it's not fun for you. How should I know what you think is fun? That first sentence is all kinds of presumptive but, really, I just don't care. I'm betting that you think this is fun. Luckily, I'm not betting very much. But anyways, here's the challenge:
Tell me what the following list of players has in common.
Matt Williams, Lenny Harris, Craig Counsell, Shea Hillenbrand, Troy Glaus, Chad Tracy, Mark Reynolds, Melvin Mora, Ryan Roberts, Martin Prado, Aaron Hill
All of them are males between the age of whatever and whatever, call it middle-age. There's a couple major league managers on the list, some tattoos, okay a lot of tattoos, and of course, this bundle of sexual energy:
— Chad Tracy Everyday (@Chad_T_Everyday) August 21, 2015
But, this is also the list of all Opening Day third basemen in Diamondbacks history. It's not that long for obvious reasons. And, it's also not exactly full of superstars. Consider the D-backs careers of each: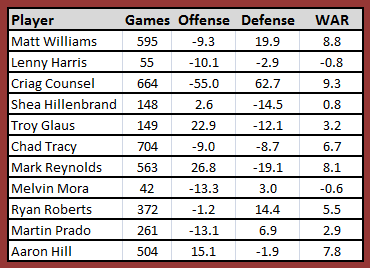 Wow, if that's not a great list of performances, I don't know what is. I'm kidding, of course, as this is a pretty rag-tag group, especially when you consider that a bunch of that value that was produced comes from Counsell playing shortstop, Prado playing all over, Hill at second, etc. Where they made their appearances count isn't really all that important. What is important is that not one single guy who has taken the field on Opening Day at third base has ever amassed 10-wins worth of value at any accumulation of spots and/or seasons. That's bad. That's real bad. In fact, Josh Donaldson might just end 2015 with more Wins Above Replacement than any Diamondbacks Opening Day third baseman ever produced for the club.
I also just really, really like Josh Donaldson, but that's another story.
With that bad news comes some good news: the Diamondbacks will probably have a new Opening Day third baseman in 2016. It'll be their 12th such player in 18 seasons. It'll also probably be Jake Lamb. That is, unless there's a lefty on the mound, so we'd better hope they don't face off against the Giants or the Dodgers or wherever David Price goes or the White Sox. The team has been extremely reluctant to give him much playing time at all against lefties, as you've probably noticed since Ryan bemoans it a couple times a week. He's a bemoaner, what can I say?
It appears that Chip Hale's dreams are the exact opposite of my dreams. #FreeJakeLamb https://t.co/pnlIt5wPQc — Ryan P. Morrison (@ryanpmorrison) August 21, 2015
But he's also got a point, because Jake Lamb really should be playing more. And while I've given Chip Hale props for using platoons this season to maximize output, especially in the outfield and with the shuffling of the batting order, there's a good chance that he should be giving Jake more of a chance to figure out lefties. Why? Because there's more to picking proper matchups than making selections based on handedness alone. And maybe by finding the lefties that match up well against Lamb is the key to breaking him in against same-handed pitching altogether.
Back in the winter of 2013, Andrew Koo unveiled a new kind of split, one we knew existed but hadn't seen much coverage publicly. That split was about batted-ball tendencies. Rather than looking at handedness (right v. left, left v. right, etc.), Koo explored the success of groundball hitters versus groundball pitchers, fly ball hitters versus groundball pitchers, groundball hitters versus fly ball pitchers and fly ball hitters versus fly ball pitchers. Did you catch all of those balls? Yes? Good. Moving on.
There are generally mechanical reasons why some guys hit the ball on the ground frequently, or in the air frequently or what have you. There are generally mechanical or pitch-based reasons why pitchers get the ball hit on the ground frequently or hit in the air frequently or what have you. But the combination of those two things – the hitter's tendencies and pitcher's tendencies – matter a great deal to the likely batted ball outcome of an at-bat.
Examples are good. Have a short pitcher who throws a flat fastball? Let's call him Matt Stites. He gives up a lot of fly balls. But based on Koo's findings, ground ball hitters were best against fly ball pitchers? Why? Because guys who routinely pound the tops of diving sinkers down in the zone actually tend to hit just under the flat fastballs, resulting lots of line drives and robust offense. Guys who routinely get under those diving sinkers (fly ball hitters) get way under those flat fastballs and pop them up, resulting in a lot of outs. Since the angle at which the bat meets the ball matters so much, picking matchups to maximize contact has become something that teams can exploit. And do exploit. The A's might have been the first team to get recognized for doing it, but there are teams throughout the game using this strategy.
So, how does this help Jake Lamb? What kind of hitter is he and whom might he fair well against? Well, if you notice, he's done a lot of looking for the ball low in the zone. Part of that is just his natural swing. It's steep and he doesn't keep the bat in the zone for a particularly long time. Because of the swing path (steep) and where he's looking to make contact (low), he's naturally hit a lot of grounders. Well, not a ton, technically, but more than average. Take a look at some video I took this spring.
So with these factors in mind, there's got to be a set of ideal left-handed pitchers to help Lamb get his feet wet. These would probably be guys who tend to yield a lot of fly balls. It might help if they didn't have big, elite, sweeping breaking pitches that they'd no doubt throw down and away to the fellow lefty. So while I'd suggest a guy like the previously-alluded-to Chris Sale might be a bad idea, a starter with average-isn velocity and some fly ball tendencies who maybe tries to keep it down in the zone but isn't the best at it might make a lot of sense.
I don't have a list of guys who fit that description. Honestly, there probably aren't a lot of them because guys that fit that description have a hard time staying in the majors. But they exist and the Diamondbacks would do well to give Jake Lamb some starts against them. There's a lot more to a proper platoon than just looking at what hand a guy uses. That's lazy for today's game. It could very well do wonders for Jake Lamb to face some lefties that appear to match up well, and that includes pitch selection and batted ball data. The ability to handle lefties has taken David Peralta to new heights this season. Lamb isn't far behind Peralta in terms of experience and it's time they give him a chance, too.