Zack Godley's work in the major league rotation through three starts has really been something to behold. When Chase Anderson was finally decommissioned, it wasn't Allan Webster, A.J. Schugel or Aaron Blair called up. Maybe the Diamondbacks have something against guys whose first names start with the letter "A" because they went in the exact opposite direction by calling up Godley instead. The results, well, the results have spoken for themselves: three starts, eighteen innings pitched, three earned runs, seventeen strikeouts, five walks, fourteen hits and two homers. Two of the outings were of the shutout variety, so he hasn't exactly flown under the radar. He's exploded upon it.
By ERA, Godley's 1.50 mark resembles his last name. That's pretty dominant. By FIP, he's still been decent with a 3.81 mark and by xFIP he's been better at 3.39. I think at this point, everyone's taken notice of what Zack Godley has done in his first three starts, it's now about projecting what his true talent level is and who he becomes for the Diamondbacks down the road. Is he a rotation fixture? Did he catch lightening in a bottle somehow? Is his luck about to run out or is this a relatively sustainable approach that we're seeing out of the seemingly unknown 25-year old?
Let's start with the stuff itself, and by stuff, I mean raw pitches. While a handful of fastballs from his first start were categorized as four-seamers, there haven't been any of late and that was either a short-lived pitch or a misclassification for a new pitcher. I'm thinking it was more of the latter, but either way, let's work with the assumption that Godley deliberately throws a cutter, a two-seamer, a changeup and a curveball. The mixture of fastballs is unique in that one has glove-side run (cutter) and one has arm-side fade (two-seamer). Nothing is straight and it's generally assumed that it's tougher to square up a pitch with movement than one that's on a consistent path. The changeup comes in at seven to eight miles per hour slower with a little less horizontal movement than the sinker but more depth. The curve is pretty much 12-6 with a decent amount of drop. Here's the full breakdown via BrooksBaseball.net:

None of those pitches are wildly out of the norm, but none are particularly bad, either. They're essentiall four workable pitches that can play to average with good command. There's no out pitch here – not a dominant fastball to blow by hitters or a hammer curve that guys just can't touch. But that was never forecast for Godley and it's no surprise that the arsenal looks pretty run-of-the-mill.
Of course, there are ways to make that kind of arsenal play up. The most obvious way to do that is through command and being able to really put the ball where he wants it. That's come and gone throughout his starts. Another way is by deception, but as you've probably seen, Godley's delivery is mostly straightforward, although you could argue he does a good job hiding the ball. One way is sequencing pitches to achieve maximum efficiency. We've only got three starts to work with here and no real methodology, but here's one example: after throwing two consecutive two-seamers down and in to the right-handed Ryan Zimmerman, Godley switched it up and threw a cutter in on his hands. The pitch started similarly to the two-seamers, but instead of running in off the plate, the ball cut slightly, just enough get the inside corner for the backwards K. You'll see what I mean at the 1:00 mark in the video below:
There might be something to this. Having a cutter and two-seam fastball seems like a nice pairing in so far as they come out of the same arm slot but behave differently after being thrown. They're not wipeout sliders and they aren't going to generate a ton of swings and misses, but they may be likely to avoid being hit hard regularly. And, Godley's changeup is decent and plays well off of the two-seam look as it, too, comes out of the same arm slot and he does a good job maintaining his arm speed to disguise the offering. With the drop in speed and the increase in sink, the pitch looks like a two-seamer, then delays and falls. The curve stands out by itself, and that's mostly by design. It's a pitch that he's thrown sparingly, but it's been effective when thrown, at least in terms of whiffs.
And if it looks like I'm trying really hard to figure out why Zack Godley has been good, it's because I am. Ryan wrote about Godley's debut early last week and I went on record as saying that I didn't expect a lot from him moving forward. We've seen plenty of guys that don't have much in the way of a scouting report on them come up for a start and catch a team by surprise. The Brewers had just traded a veteran in Aramis Ramirez before the game and they're really bad to begin with, so I felt like Godley probably benefitted from some good timing on his end. But what he did on Monday night was impressive yet again, although some sparkling defensive work helped save him some trouble. And as I watched his start, a point that Ryan made kept coming back to me: Godley was very frequently pitching outside the strike zone and getting away with it. Don't believe me? It's not as if he's exactly "pounding the zone."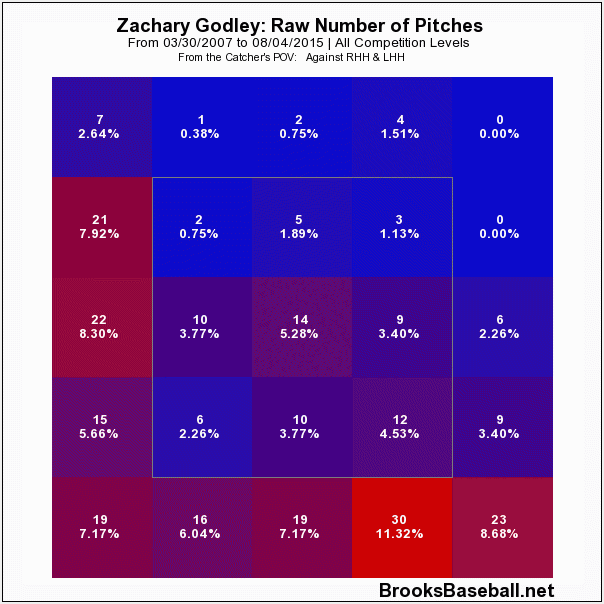 Maybe that doesn't look extreme enough. After all, the zone quadrants here are pretty big, so if he's just missing by a hair or two, that might be a good thing. Let's instead look at Godley's zone rate, the percentage of his pitches that are in the strike zone among all starters with at least ten innings pitched this year (230 total pitchers):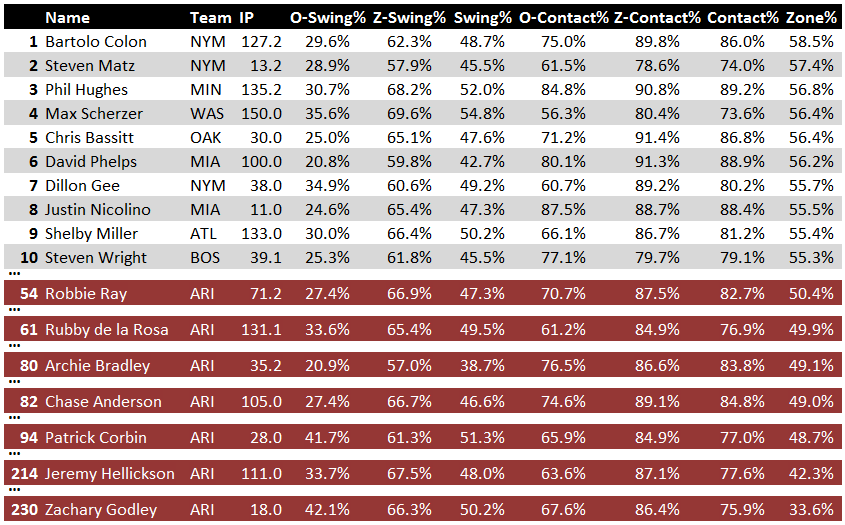 Yeah, Zack Godley has thrown the lowest frequency of pitches in the strike zone in baseball out of the 230 starting pitchers in the majors with at least ten innings pitched. It's not even close, either. He's thrown 5% fewer strikes than the next lowest starter, Homer Bailey (38.7%). Throwing in the zone too much can be a problem as well and it's important that each pitcher find the right balance. In general, pitching in the zone more leads to a better FIP and better overall results. Godley, so far, is clearly an outlier here (circled in black).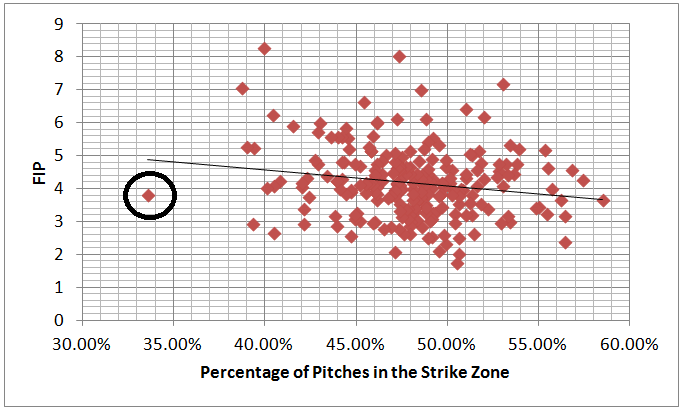 This is easily obscured, however, as Godley has generated an average number of strikes. In fact, he's 134th in strike rate at 63.39% strikes. Strikes are sometimes in the zone, but sometimes they're out of the zone in the form of  a foul ball, a swing and a miss, a ball put in play or a called strike outside the strike zone (robot umps?). Godley is using one of these at an inordinate pace to make up for the lack of pitches in the zone.
He ranks first in the majors, again out of the 230-pitcher sample, in outside-the-zone swing rate. Batters are chasing nearly half of his pitches out of the zone (49.1%). This huge number is partly a sample size issue, and it should be noted that the next closets pitcher to him in terms of generating whiffs, Joe Ross of the Nationals, is at 40.0%. Some other notables pitchers in this category, like Drew Smyly (39.9%), Jose Fernandez (38.8%), Masahiro Tanaka (38.7%), Max Scherzer (37.4%), Patrick Corbin (37.1%), Felix Hernandez (34.3%), Chris Archer (34.3%) and Clayton Kershaw (33.7%), are far, far below Godley in getting batters to chase. Oh, and after profiling his pitches, this just seems weird and lucky, because his stuff is nothing like that of the pitchers named above, yet he lies far ahead of them in this category.
When Godley came up, there was really no scouting report on him, at least not a well-defined one. The Brewers' coaching staff might have called around the minors for a report and dug up some video, but Godley hadn't been broken down like most MLB starters are. After three starts and a ton of pitches out of the zone, one has to wonder: what happens when opposing teams catch on to this and just stop swinging? Does he have the stuff to adapt? Can he make those adjustments? The league catches up with everyone not named Paul Goldschmidt and while Zack Godley has been a great surprise, it's not likely to last, at least not without some serious adjustments.
This shouldn't be surprising. He's made three starts. Anyone can get hot for three starts and it happens all the time, these just happen to be his first three starts. Calling it a sample size issue is an unsatisfactory explanation to a lot of fans, but when you do the research and dig in, well, it appears to be a sample size issue –  it's just that now it's a more reasonably backed up one. Who Zack Godley is long terms remains to be seen and it'll largely depend on his ability to counter the move that will be made by his opponents. On one hand, he was a 25-year old in A-ball for a reason. Then again, he's proven that he can get guys out, even if it's in an unsustainable way. How that all shakes out is a mystery, but do me a favor and just take it easy when projecting the rest of his career. We've seen very little of Zack Godley, and even if we like what we've seen so far, there isn't enough to get worked up about just yet.