I'm not sure which thing was more unexpected: that Zack Godley pitched an absolute gem on Thursday last week, or that he was called on to make the start in the first place. There are no flaws in the box score: 6 scoreless innings, in which Godley faced just three batters more than the minimum, striking out 7 while yielding just 4 hits and (most impressive) zero walks. Still, it's probably the fact that there was a start that is the more remarkable thing.
What a difference a few months make, right? Just after the Trevor Cahill trade and just before the season, we took a look at some likely rotation scenarios this year. The big traffic jam on the horizon was likely to be July, or the transition from June into July, and a surprising number of things have worked out the way the team probably hoped. The only things that have really gone "wrong" are that Archie Bradley was sidelined early in the season and Josh Collmenter struggled and was removed from the rotation — and yet Bradley probably would have been shut down by now anyway, and as a holdover from the Towers era that didn't fit the new front office's fireballing template, Collmenter might have been more likely to get a change in role than we might have anticipated.
Patrick Corbin is in, locking down a rotation spot that had become kind of a grab bag, and Robbie Ray has entrenched himself securely as both 1) within the team's experimental plan for the season and 2) pretty damned good anyway. When Chase Anderson was put on the DL with a shoulder injury, there happened to be no cars in the intersection, unless you were looking a bit ahead to Aaron Blair (who probably is right on the verge right now).
That all led to Godley getting the call last week, with Phil Gosselin moved to the 60-day DL to open up a spot on the 40-man, and Matt Stites getting optioned back to Reno (a man can dream… hopefully to learn a Capps Leap). Godley is no spring chicken, having turned 25 in April, and yet he'd tallied just 3 starts above the Single-A level by taking three turns with Mobile just before his debut. Chase Anderson was older at the time of his promotion, a recent reminder that age isn't always everything — and yet while Anderson was also promoted straight from Mobile, he'd put in 27 starts there, in addition to spending half a season at Triple-A.
Expectations were low, maybe, and the move was all the more curious in that the D-backs didn't necessarily need to put him on the 40-man this winter in order to protect him from the Rule 5 draft. The team has been conservative with pitcher promotions, so it certainly looked like Godley was destined for a Zeke Spruill type of role. The start on Thursday, however, was anything but Spruill-like.
Godley threw 88 pitches on Thursday, 75% for strikes. Throughout it all, Godley rarely pitched in the zone, as just 24 pitches were within the rulebook zone per PITCHf/x.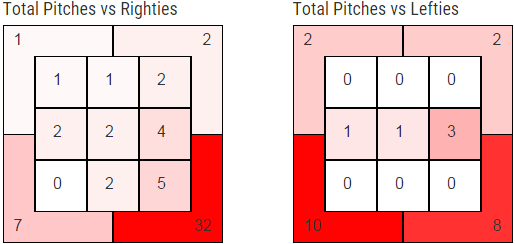 Earlier this month, Jeff took a look at how the D-backs were one of the league leaders in pitching down in the zone, and how the returns on that strategy hadn't been great. For Godley, this was incredibly consistent, pounding away below the zone (note just 7 pitches in the bottom third), and it's hard to call that a coincidence. It's possible that the team thought Godley was already doing something they wanted, and also possible that he was coached this way on his arrival (or that's how Oscar Hernandez was asked to call the pitches).
There's reason to think that below the zone is where Godley lives, however. So far this season, he has a 56% ground ball rate, a Miley-esque mark that is pretty uncommon for a major league starter; less common still was Godley pairing that ground-ball-heavy approach with good strikeout results (8.66 K/9 in the minors this year). Groundballers tend not to have high strikeout rates in part because the approach lends itself to balls in play. I'm finding this really hard to believe, but the data at mlbfarm.com says that Godley threw just 748 pitches in the minors this year in 89.1 innings, which would be an absurd 8.37 pitches per inning — it would also mean an average of 2.04 pitches per each of the 367 batters he faced. That's ridiculous, but even if that were "kind of" wrong, you can see why the strikeouts are so surprising.
The difference between Godley and some of the other pitchers on the staff who have been pitching down is that he wasn't after the corner of the zone down to his arm side, like we've seen from Hellickson and Bradley. Instead, he went after the classic part of the zone — low and away — where average velocity fastballs tend to thrive. It's a good plan for a pitcher that saw his fastball top out at 93.7 mph (per PITCHf/x), and who hung around in the 91-92 range for much of the game.
This was no picnic for the Brewers, who despite a lost season have surged in the last month or so. Over the last 30 days, the Brewers are 2nd in baseball (and 1st in the NL) with 120 runs scored. Godley almost certainly benefited from his unknown status, however; he did record strikes on 75% of his 88 pitches, but just 27% of his pitches were actually in the strike zone. Getting ahead of batters helps one avoid the zone, but it's unlikely he'll get to twelve 0-1 counts (in twenty-one batters) without challenging hitters more next time.
Godley's repertoire also looks unusual, although take this with a grain of salt because it's not coming from Brooks Baseball, and there's some disagreement between the numbers reported at FanGraphs and what I pulled direct from MLBAM through Baseball Savant. On Thursday, Godley's bread and butter pitch appears to have been a cutter, but that was one of three different fastballs that accounted for 67 of his 88 pitches. According to the PITCHf/x information at FanGraphs, Godley threw 37 cutters, 16 four-seam fastballs and 14 sinkers; in addition to those 15 changeups, he also mixed in 6 curveballs. Something about the movement on his pitches helped Godley generate 14 swings and misses, an excellent total for a fastball-reliant pitcher, especially one without a slider; the fact that he lived so completely out of the zone, however, makes one wonder if this is something he can keep up.
What I pulled from Savant looks… quite a bit different from that: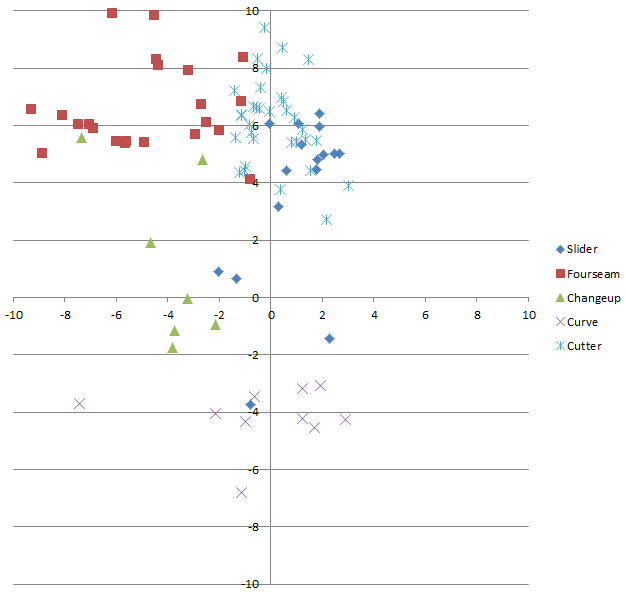 Not really sure what's going on here, but it looks like the element of surprise was not the only thing that helped Godley. Those three fastballs helped keep hitters from squaring him up; the cutter had a little bit of glove-side run, which helped earn Godley some good results on the arm-side running four-seam and sinker. Here are the totals from FanGraphs on another scatter plot: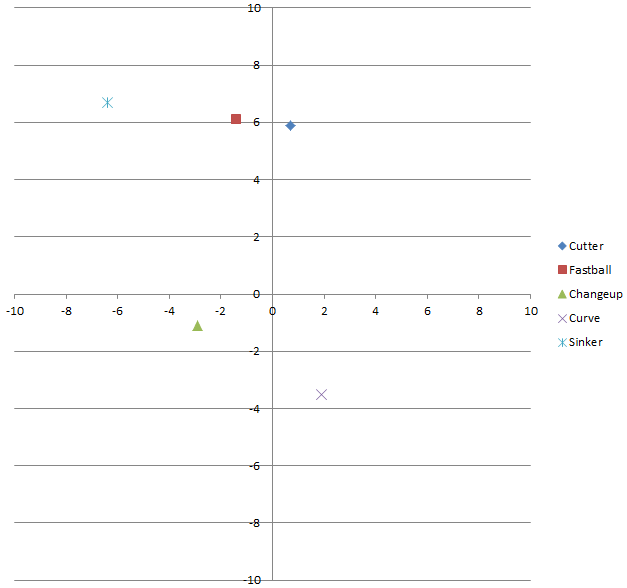 This at least makes sense… I'll update this if and when Brooks Baseball is back up and running. Sure, hitters don't think in terms of PITCHf/x pitch classifications, but you can still see how Godley may have posed something of an information challenge — if you don't really know what he's throwing, that's a big time difference in horizontal movement for the three pitches coming in around 89-92, especially if the change looked similar out of the hand.
We may see a major adjustment on the part of major league hitters, and that may come almost immediately in Godley's next start, scheduled for tomorrow night in Seattle. Pitching below the zone is a plan that has worked for Godley in the minors, it appears, but that and his mix of fastballs may be precisely the type of thing that works much, much better on low-minors hitters than on major leaguers. Just another reason to watch.