Ups and downs are part of the game of baseball. Whether you want to admit it or not, it's this series of changes that helps make baseball so compelling. Without the ebbs and flows, the waxing and the waning, the ever-changing currents, the game would be far too static. This a lot easier to admit when you're working with that current and riding the wave like David Peralta is right now. It's a lot harder when you're swimming upstream and struggling to do so like Nick Ahmed. While Peralta's breakthrough's being hailed throughout the baseball media, it's Ahmed's trials and tribulations that've gone mostly unnoticed.
The theme here is expectations. Ahmed's were to play a good defensive shortstop and not provide much offensively. It seemed like being a Role 6 defender who hit .230 was to be expected. After the first month of the season, it was clear that Ahmed was more like Role 7 defender, nearing the peak of the defensive spectrum at short. At the plate, he couldn't reach the Mendoza Line and it wasn't clear if Nick Ahmed could stick in the majors, even with a truly elite glove. Then May and June happened and Ahmed took a massive leap forward at the plate without losing anything in the field. Unfortunately, the success was fleeting as he followed up two excellent months with two really, really poor ones.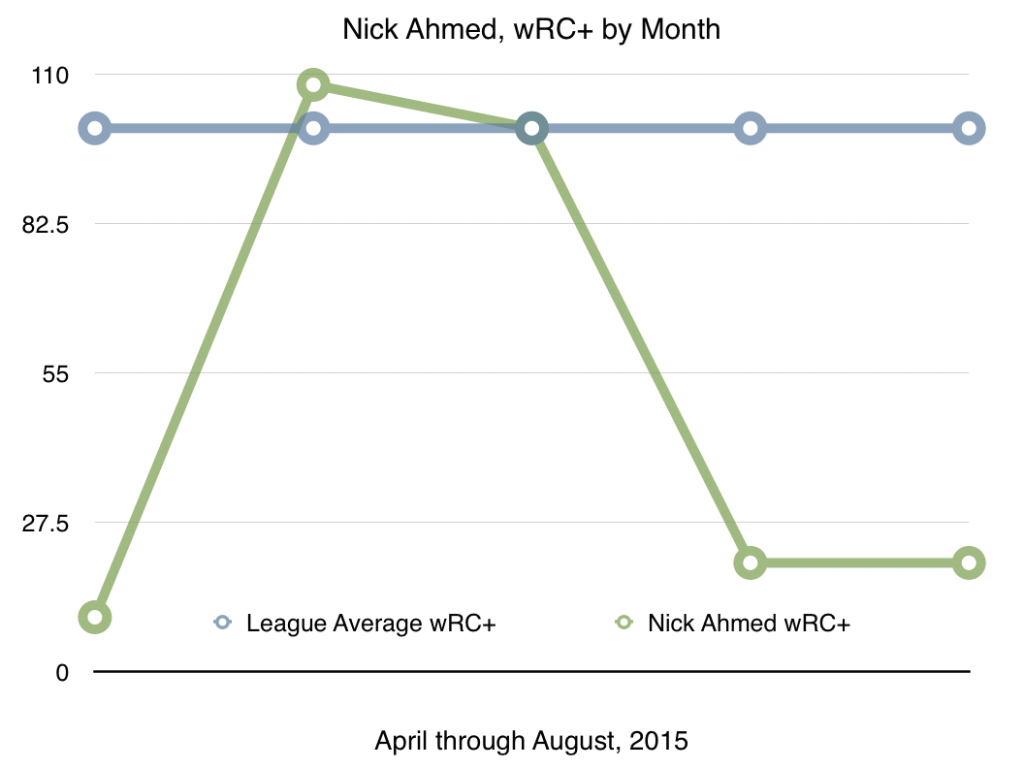 Nick Ahmed has met or exceeded expectations in the field, but he's never met them at the plate – he's either underwhelmed or far-exceeded what was projected offensively. The hot and cold nature of his production leaves many questions, namely: can Nick Ahmed get back to being productive at the dish? If the answer is "no," then it would appear that Ahmed will have a short-lived career as a second divisions starter and ultimately a utility guy. If the answer is "yes," then he might just be an All Star someday. The gap here is pretty wide and hinges on his performance in the batter's box.
So what drug him down in the first place? As it turns out, there are some pretty obvious answers when we look at the data. As a general methodology, let's compare two chunks of time, Ahmed's "hot" May and June and his "cold" July and August. We'll throw out March because he was still getting his feet wet and learning to play every day at the major league level.
His plate discipline, judged by his propensity to swing, during his "hot" months, was pretty good. See below: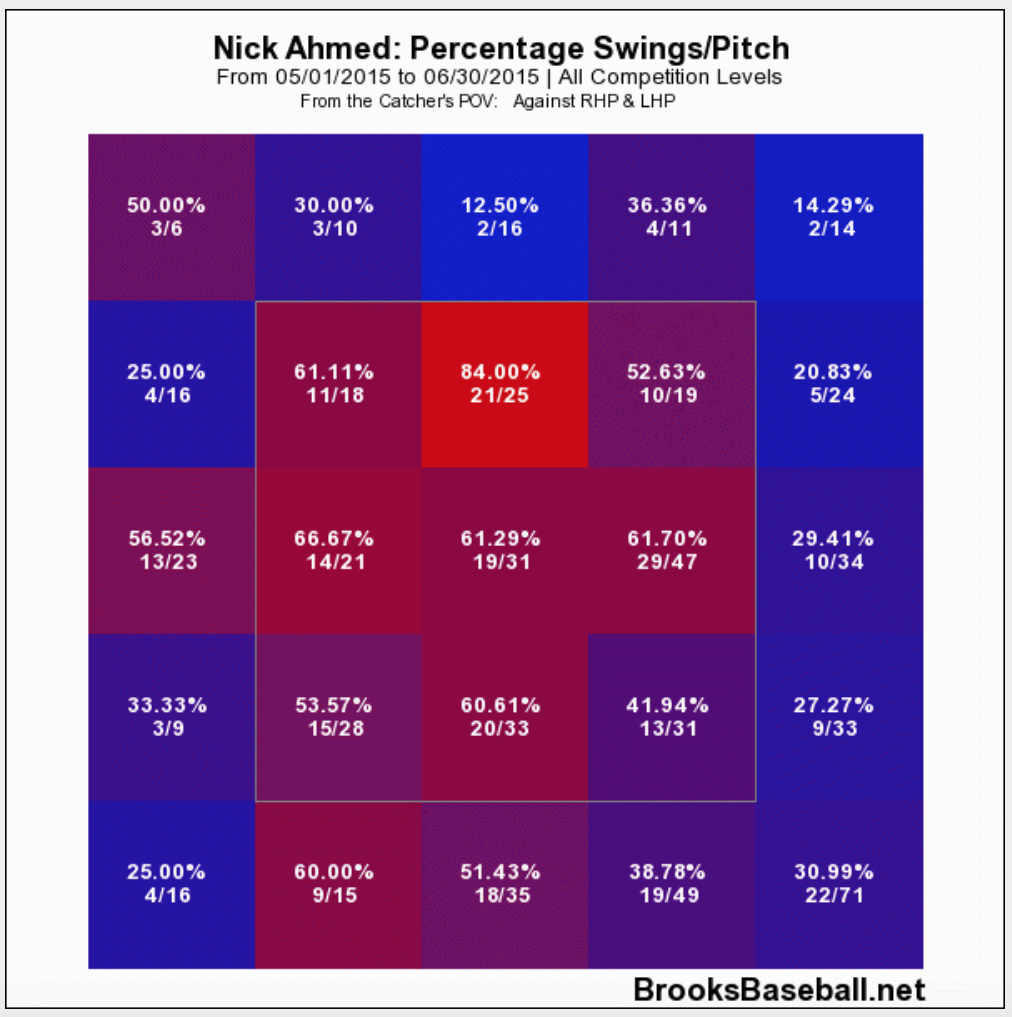 Not a lot of chasing, lots of swings in the zone. The plate discipline looks pretty sound. This resulted in 41 hits in 48 games. Now take a look at his plate discipline, measured the exact same way, over the following two "cold" months, resulting in 30 hits in 47 games.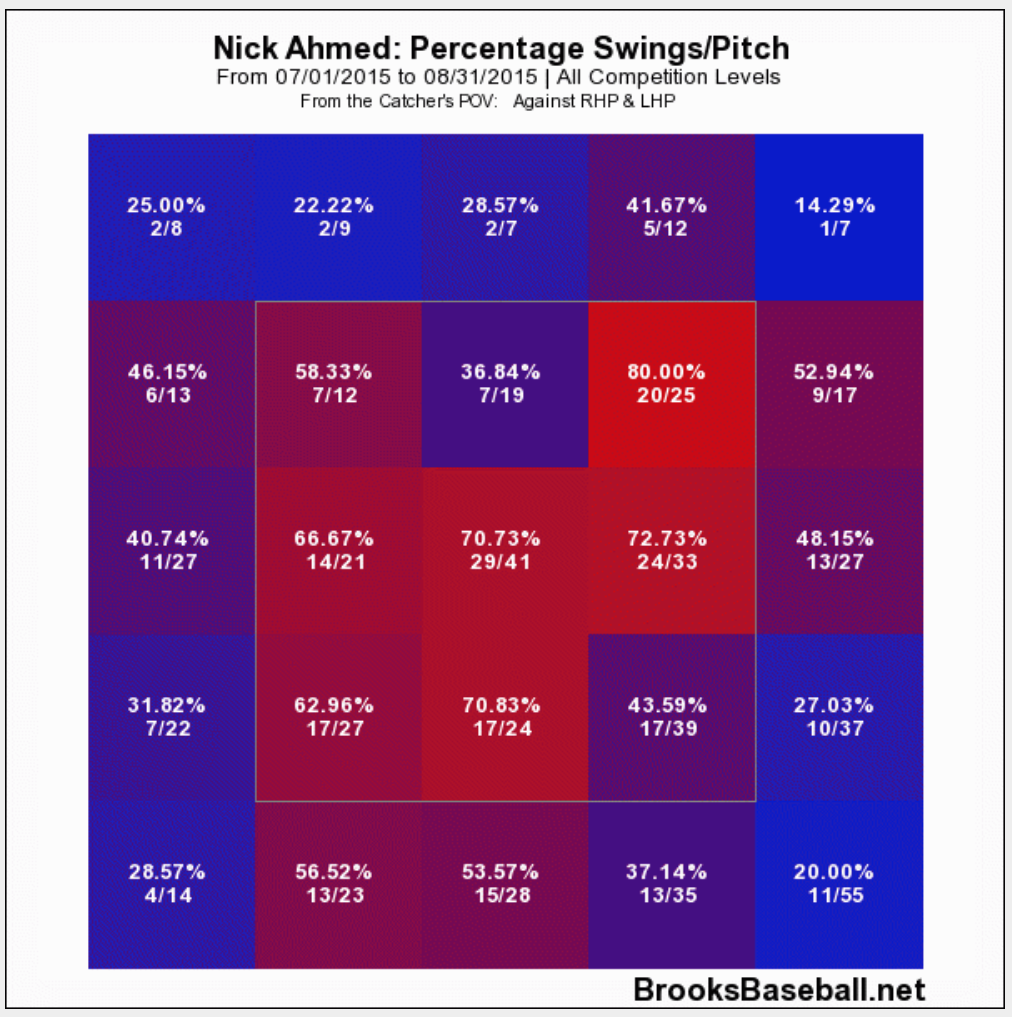 He still likes the pitch inside, but over his cold period, he started expanding the zone outside. He also swung more down in the zone. He did lay of some of the high pitches that had been plaguing him in the past, but the rest of the zone expansion didn't do him any favors. Those swings aren't productive. Ahmed has done the vast, vast majority of his damage in the zone as one would expect.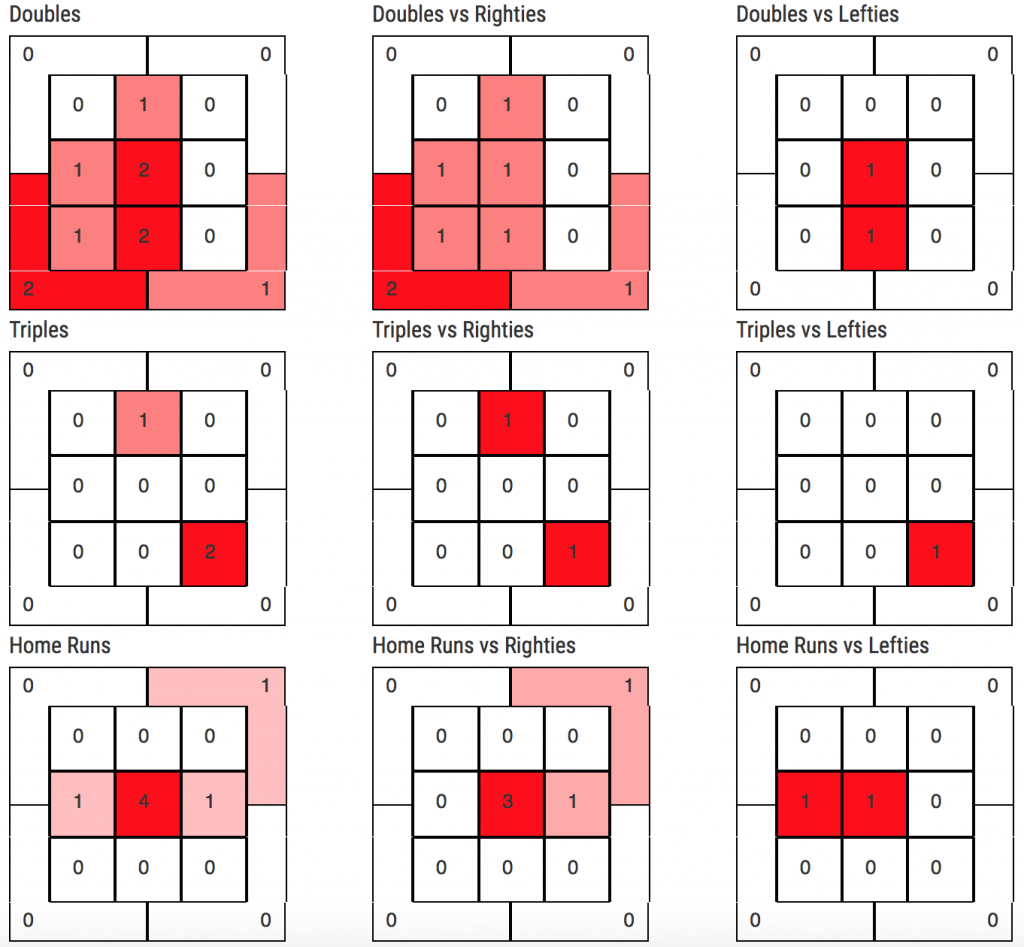 Those swings out of the zone aren't producing positive results, they're just putting him behind in the count. It's tough for a young hitter, particularly one who doesn't hit the ball consistently hard, to get behind. During his hot months, he was behind in the count for 106 of the 398 pitches (26.6%) he was thrown. During his cold months, he was behind with 180 of the 415 pitches (43.4%) he saw. That's a massive shift that's clearly effecting his outcomes. Instead of sitting in the driver's seat, he's getting behind early and putting himself in poor counts where he's trying to survive and not doing so.
And this all comes back to his expectations. Offensively, they were low but we've seen glimpses of what Nick Ahmed is truly capable of. It would appear that for a guy like Ahmed, one who isn't an offensive force but has the tools to hold his own, the little things are going to matter greatly. Not falling behind and keeping himself in good hitter's counts makes a huge difference. His glove will keep him in the game, but in the National League, there's already one hole in the batting order and good teams can't afford two (or three, Chris Owings). The reduced plate discipline is diminishing Nick Ahmed's ability. If he can get back to controlling the zone, he'll give himself a chance to hit. He doesn't have to hit a lot to earn his reps, but he can do better than this. We've seen it before and, hopefully, we'll see it again very soon.