Round Up: D-backs Roster Movement; Fresh Blood; Where's Aaron Blair?
The Diamondbacks' roster has been on full-fledged WTF Mode for about two weeks now. Up and down, down and up, maybe a little sideways mixed in for good measure; players have been moving all over the place. Initially I wanted to create a "Where in the World is Carmen San Diego"-inspired map to show how it's all gone down, but that just seemed like too much work for describing transactions involving A.J. Schugel and Phil Gosselin and such. Well, that and I'm utterly incapable of making a visual of any sort of high quality.
So, let's just talk about all of the roster movement that's taken place. First, it's important to point out that a lot of it is less-than critical, but still it matters a little bit. Every move has a consequence and if we look really hard, we might just be able to discern something larger among all the moving pieces. We'll set the starting point as August 19th since that's when things started getting Miley Cyrus/Nikki Menage-level crazy. Don't judge me, you watched the VMA's, too, you're just not willing to admit it. Setting our pride aside for a moment, let's take a look at the Diamondback's receipt for what's transpired over the last two weeks.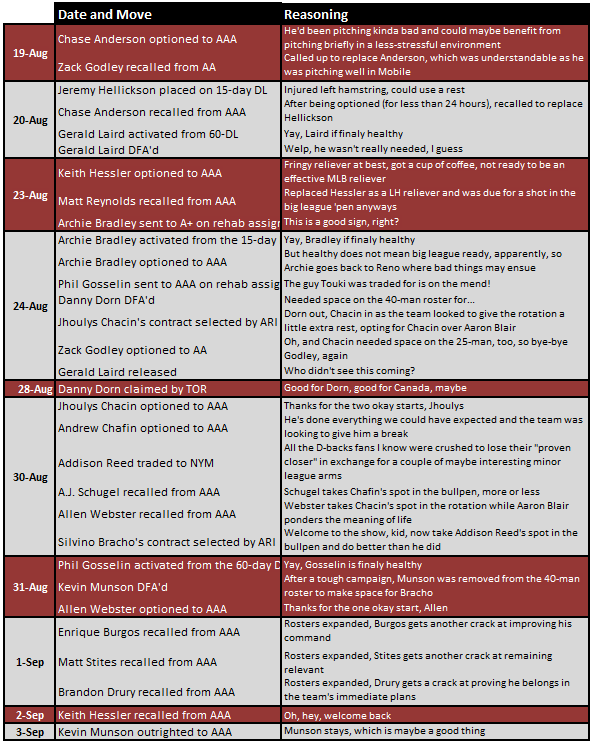 The zaniness starts with Chase Anderson who was sent down, then immediately called back up following Jeremy Hellickson's hamstring issue. Jhoulys Chacin (which autocorrect just loves "fixing" for me) made two decent starts before being sent back to Reno. Zack Godley did something similar, making one start with the big club before heading back below deck. Keith Hessler's had some fun, too, making frequent car rides from Reno to Phoenix and back. Kevin Munson has had his first tough season in the minors and lost his spot on the 40-man for it. Matt Stites is going to get another look and so is Enrique Burgos. The former hasn't pitched much for the big club this year while the latter will look to regain the form we saw earlier in the season. We shouldn't leave out Archie Bradley who made some rehab starts, then went to Reno. I'd think we see him again at some point this year, but who knows.
Speaking of "who knows?", lets not forget about some dude named Aaron Blair who's toiling down in Reno right now. He's as ready as he's gonna be, yet the team has passed him up a number of times. Maybe that's an issue of them needing guys on a particular day and those not matching up with Blair's throwing schedule. Maybe they're hoping to see something else from the big right-hander. They'd do well to stretch him to about 180 innings this year, and that should leave him another three or four starts in 2015. At this point, I'm starting to think he won't see the majors at all in 2015 no matter what. Common responses on twitter have revolved around the team not wanting to start his service time clock, but they did that with Brandon Drury so…
Oh yeah, that's right. Brandon Drury is in the majors now and it's nice to see some fresh blood in the middle infield. He's played second and third, something that was expected when he arrived. His positional flexibility is nice to go along with the fact that he can absolutely hit. The power numbers have been down for him this year, but it appears that he's traded in some of the power production for more contact and, well, it's worked. He's not a huge power guy, but there's reason to think average power will come for him. For now, he'll have to jockey with Phil Gosselin, Chris Owings and Jake Lamb for playing time, but that's okay given that he's had a full year's worth of at-bats in the minors this year. With the expanded roster, things are a little crowded and the added exposure for Drury, however much of it there ends up being, will have to come at the expense of other dudes.
Gerald Laird and Danny Dorn were lost in the shuffle, literally. Laird was outright released and Dorn was picked up off waivers by the Blue Jays who immediately inserted Dorn for Edwin Encarnacion in the every day lineup in Toronto. Okay, that didn't happen, but a guy can dream, right?
The call ups aren't over, there's bound to be a bevy of other roster moves this month and through all of the shuffling we're bound to get a couple of pieces of information. Can Brandon Drury produce up here? Will Aaron Blair get his chance? Is Enrique Burgos actually part of the bullpen's future? What does Silvino Bracho do? Maybe Archie Bradley takes the mound for the D-backs a time or two before it's all said and done. There's plenty to look forward to even as the window of contention slammed shut a little while back.
And, if you don't recall, we came into this season announcing that this was the year of the Grand Experiment. Some things have panned out (I'm lookin' at you outfield), others have not (Allan Webster, seriously). But that's the point of running the experiment in the first place. You know you're gonna win some, you know you're gonna lose some – you just hope that the wins supersede the losses and while that hasn't been the case in the standings, it has been in terms of finding parts of this team to carry into 2016. The Arizona Diamondbacks are in a vastly different place than they were a year ago and we should be thrilled about that. The tricky part is keeping it going, and some of these roster moves will give us insight to that.
On to the links!
On behalf of the entire staff at Inside the 'Zona (don't laugh), we would like to congratulate Paul Goldschmidt on becoming a father! This comes on the heels of his longest career homer, an absolute blast that Nick Piecoro broke down over at AZ Central. Paul is one of the good guys in baseball and we wish him and his family well. I've taken the liberty to issue a warning to the next generation already
Paul Goldschmidt has made spawn. Warn the children of all current pitchers for their own safety. https://t.co/oxCxNbQESe

— Jeff Wiser (@OutfieldGrass24) September 2, 2015