Closers are overrated. Think about it: saves are a made up stat and all closers really are are the best reliever on their respective teams. Can you name a team who used their best reliever consistently in the 8th inning? Yeah, neither can I. And I think we'd all agree that Brad Ziegler was Arizona's best reliever in 2015. So why remove him from the closer's role? I don't have a good answer, but he doesn't necessarily have the typical "closer's profile" and the team has been active seeking another alternative. Can Daniel Hudson be that guy?
In a press conference Monday, Dave Stewart and Tony LaRussa were outspoken that they may choose to add depth to the bullpen rather than part with prospects to acquire a closer. They also opined that Ziegler has done a good job in that role and that they don't need to move him from it. But GM-speak should be taken with a healthy dose of sodium – they may just not wish to sound eager to add pieces on the day after the season ended. Why sound desperate immediately? Kevin Towers frequently said too much and this crew has been a little less obvious in their comments, but needs are needs and the team might be best served to put Ziegler back in a "fireman" role where he can come in frequently and roll a much-needed ground ball double play. That would be helpful, but it would also leave a hole in the 9th.
It's worth noting that Daniel Hudson has closer stuff. The team sounded 100% sure that he will be retained through what is sure to be an intriguing arbitration process. But they sound 100% unsure what role he'll fill in 2016. He could continue coming out of the bullpen or make the move back to the rotation where he'd prefer to pitch. If he continues to relieve, he could possibly see a more prominent role by moving to the closer's spot. And if he did, it's worth considering how he might stack up.
So let's think about what a "closer" looks like. Strikeouts are good, walks are bad. Ground balls are good, home runs are bad. Big velocity is common, so are swings-and-misses. So with these characteristics in mind, let's compare Daniel Hudson to every closer with at least 25 saves in 2015. I know, I know, saves are fictional, but let's just try it.
Strikeouts and Walks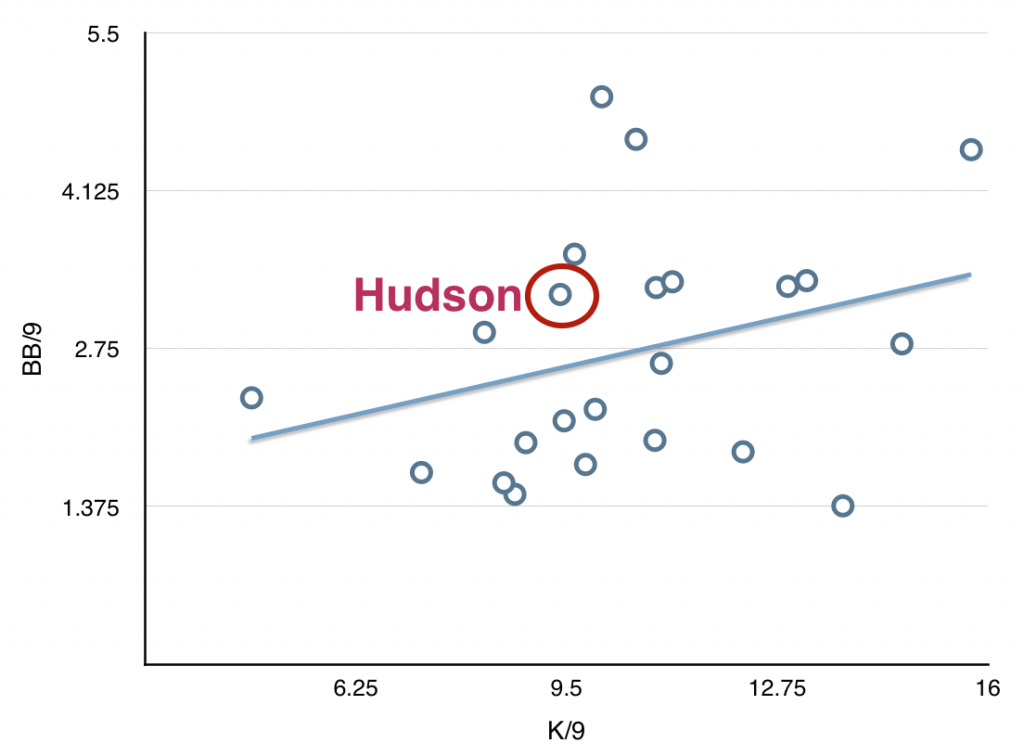 So Hudson, even with his 9.4 K/9, is pretty much run-of-the-mill for closers. The data is skewed significantly when compared to all pitchers, but most elite closers are the game's biggest strikeout artists. And strikeouts are vital when protecting a lead because the ball is never in play. They don't go down the line for doubles or leave the park as home runs. He's a bit above average in terms of walks as he walked a bit above 3 batters per nine (3.22 BB/9). We've seen that change as the season has worn on, however. In August and September, he walked far fewer batters, which may bode well heading into 2016. Then again, it could be a sample size thing.
Ground Balls and Homers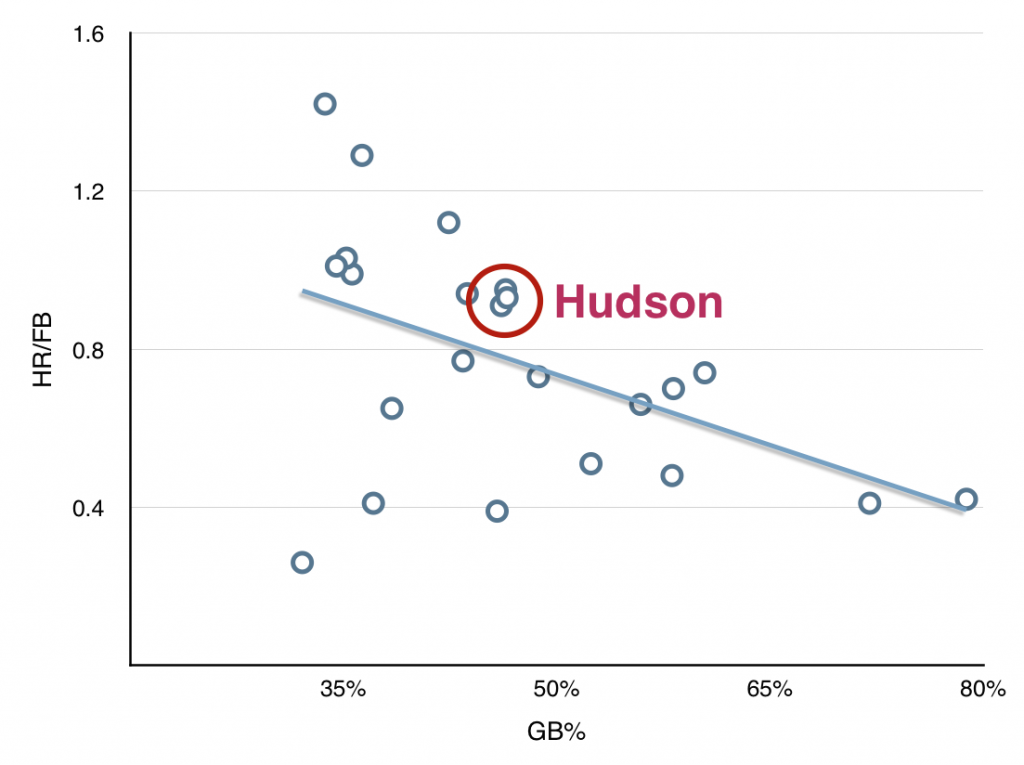 Calling Hudson "homer-prone" would be a disservice to him and would be far too kind to Addison Reed. But he was above average in allowing the long-ball compared to this group. And in terms of grounders, he was merely average at best. He clumped in with two other guys in the graph above. Those guys were Francisco Rodriguez of the Brewers and Santiago Casilla of the Giants. Those aren't elite closers by any means and might give us a small window into who Hudson might be in the 9th innings.
Velocity and Whiffs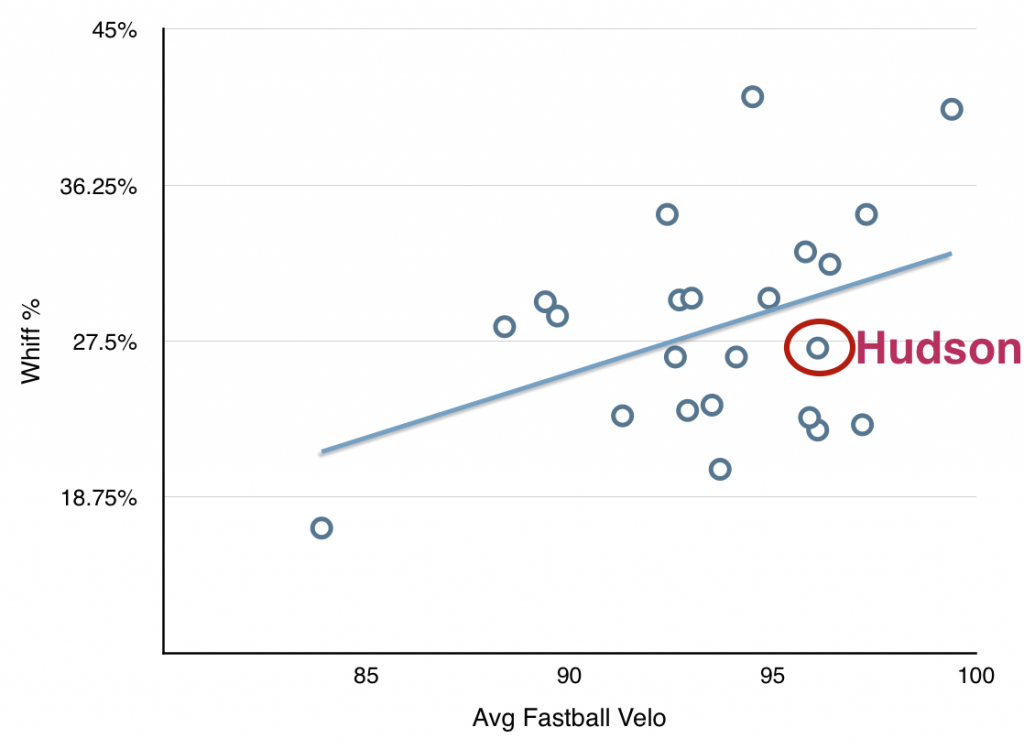 There's no denying that Hudson has serious heat. When his fastball hit 100mph at Coors in September, everyone took notice. And better yet, he didn't seem to lose the control. And as we can see here, he's ahead of pack in terms of fastball velocity. When it comes to swings and misses, however, he's a bit below where you'd expect. Hudson's right around average in that department, and that obviously factors heavily into his K/9 above. It's clear that after returning from two Tommy John surgeries, Hudson has found another gear. That big velocity allows his changeup to play up and it's his best secondary. The slider hasn't returned to form, however, and that's kept him from dominating righties. With his elbow growing healthier, it wouldn't be a shock to see the slider take a step forward.
When It's All Said and Done
When the notion of Hudson being the team's closer was brought up on The Pool Shot before the season began, I scoffed. No one had seen Hudson in a MLB contest at that time and the thought of inserting him in the 9th inning seemed absurd. But as the season progressed, so has our evaluation. If he pitches like he did in 2015, Hudson would appear to be an average MLB closer. Should his command and his slider improve just a little, he could move into another category.
And that's a pretty lucrative proposition. It would help the team by freeing up Ziegler to shutdown opponents in earlier innings, especially high-leverage situations in the 7th and 8th. It would surely be easier to find another 7th inning guy on the market than a closer. And if the team is looking for a closer, they need to be of a far higher pedigree than what Ziegler of Hudson can be already. It makes no sense to acquire a middle-of-the-road closer when they have Ziegler on board and the data above indicates Hudson could fill that role adequately.
So the solution is either go big, or stay home with what you have. And the comment about adding depth starts to make a whole lot of sense. I've long advocated for moving Rubby De La Rosa to the bullpen where he can provide some length, Andrew Chafin isn't going anywhere, Ziegler and Hudson are also obviously in the fold. Adding another arm or two isn't out of the question. But those arms need to either support Hudson and Ziegler or be good enough to push them back and pitch at a very high level, because while the internal options aren't elite, they're still pretty darn good.