Per Cot's Contracts, the 2014 D-backs payroll was the first nine-figure payroll for the team since its attempt to keep its World Series team intact in 2002. At just over $112 million to finish dead last in the majors, we saw an attempt to "retool" the roster last offseason, with $24 million cut in payroll one result.
Unlike 2015, 2016 is unlikely to be one big experiment. The information has (largely?) been gathered. The team's core is in place. This offseason won't be about acquiring projects, but pieces that can help this team set up base camp on Mount Five Hundred and scale the next mountain.
We can't know what this team's payroll limit will be for this season, and chances are pretty good that there's no specific dollar amount used as a target — it will be partly about the opportunities out there, and hitting it where it's pitched. What we can know, however, is the team's starting point.
The 2015 Opening Day payroll was $88.2M, but quite a few salaries are off the books. No $9.5M to Bronson Arroyo (and no $4.5M buyout, either, thanks to the Braves). No $6.8M in dead money to Trevor Cahill (thanks again, guys!), or $9.5M for Cody Ross. Not really in our calculation are the signing bonuses for Yasmany Tomas or Yoan Lopez, but those won't be paid a second time. Put those together with the missing salaries of Mark Trumbo, Addison Reed, Cliff Pennington, Oliver Perez, and — at least for now — David Hernandez.
And Jordan Pacheco. And the nearly $1M paid to Gerald Laird. Yep. That happened.
Committed Salaries
If the source of this team's power is its young, affordable talent, saying so would be selling the Paul Goldschmidt contract short.
Brad Ziegler and Josh Collmenter are no-brainers, but both are options. That's it, friends! This time last year, a bunch of decent-sized obligations to mid-range players. Now, there's really just the one salary along those lines.
Arbitration Eligible Players
The payroll discussion has to start with arbitration players. How these cases progress may be the dominant storyline of the offseason, other than a few attention-garnering pursuits of top free agents. That's why one big, overarching strategy seems like a good idea — and I think that should be a "file and trial" strategy, based on the team's negotiations in the last year.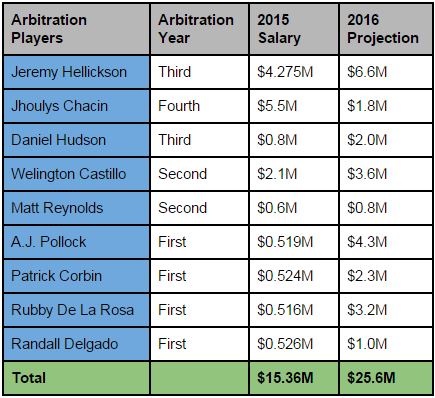 Technically these aren't the only players eligible for arbitration; Josh Collmenter will probably have his first option exercised. And Reynolds is the farthest thing from a sure thing. As we saw with Chacin's situation last year, though, Reynolds could be a candidate to stick around just long enough to be released with only a quarter of his salary owed. Either way, though, we're not talking about a big impact on the payroll, since someone would be in that roster spot—unless the team kept Reynolds in Triple-A all year. As we talked about recently on the podcast, the team isn't likely to keep all of Reynolds, Will Locante and Keith Hessler on the 40-man roster, and non-tendering Reynolds would be a quick solve. Even with control issues, though, I'm not sure the team would pass on the 8.26 K/9 Reynolds threw out there in his first real season back from Tommy John surgery.
A.J. Pollock is a pretty big part of it, but a $10M raise for these nine players is a pretty big chunk of next year's payroll.
League Minimum Players
By definition, this is the category of player that is hardest to pin down. And, while I'm including this for completeness, it really doesn't matter — this is how the rest of the 25-man gets filled. But, here we go: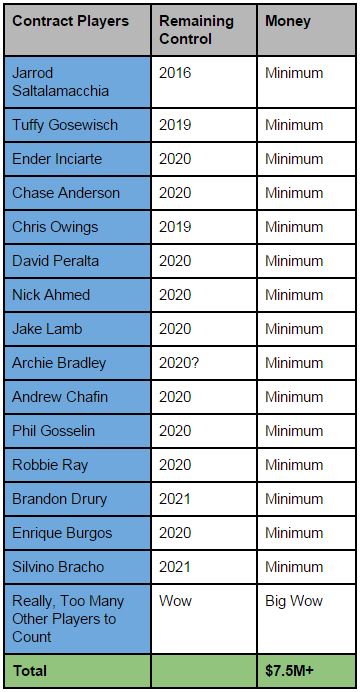 We have 11 roster spots left to fill, and there are fifteen guys here—the chances that a few players with guaranteed salaries get put on the shelf before Opening Day are pretty high. Still — there are more players on the MLB bubble in this organization than there will be opportunities. But no matter.
***
This exercise has been pretty interesting in years past, but this season… it really couldn't be simpler. The totals: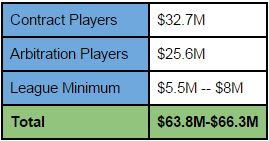 Starting point: more than $20M less than Opening Day 2015, which was more than $20M less than the year before that. The reason all of the team's arbitration cases are so important is because the cycle isn't even — it could be the case that 8-10 core players on this club are all receiving $3M-$5M raises at the same time. This is the flip side of that, though — an offseason with only small increases, and a ton of money off the books, all at once. The team's money-shrugging moves in the last year definitely help.
If the team is going to move to the $90M payroll range, there's real money here for change: about $25M in money, at least in the short term. If the team really is gearing up for an immediate run and is willing to spend above $90M…
…things are about to get interesting.